Mary Robnett
Summer is all about carefree weekend getaways, but before you can have any fun, first you need to find the perfect weekend bag. Whether you're looking for a tote to sling over your shoulder at the beach or a duffle to throw in the trunk for a road trip, it's not always easy to find a bag that's fashionable and functional. We've tested a bunch, from an eye-popping, pink-confetti weekender to a convertible garment bag made of smooth leather, and selected our favorites. Read on to find your new favorite travel companion.
Jennifer Arnow
Everlane Reverse-Denim Weekender
The Tester: Arabella Bowen, Editor-in-Chief
The Review: My husband took one look at this affordable Everlane bag and immediately wanted it for himself. It would have suited him better: Its duo-tone denim, large size, and long leather handles make this a smart, highly functional men's weekender (it was a bit overwhelming for my small frame). It held everything I needed for a weekend in Toronto with room to spare; slid handily into the small overhead bin on a regional jet; and flattened out completely when empty, for convenient storage when not in use. A deep front pocket held my book and passport for easy on-the-go access. I felt stylish and urbane with it over my shoulder.
The Catch: There is nothing firm about this bag—even the bottom is supple. It's fine for a casual beach weekend, but not for a business trip.
The Verdict: This is a sharp-looking bag at a terrific price point. It would make a great gift.
The Price: $95, buy it here.
Jennifer Arnow
Faguo Weekend Bag
The Tester: Michael Alan Connelly, Editor, Fodors.com
The Review: I used this Faguo bag as a carry-on for a recent trip to Germany, and was very happy with how many items I could fit inside: at least four days of clothing plus a couple pairs of shoes, with room left over for souvenirs. The handles are big enough to carry over the shoulder, and the removable strap makes it easy to hold if the bag is stuffed; either way, it's easy to keep your hands free. I also love the look of this particular model, and I received plenty of compliments on it both at home and abroad. The colors may be inspired by the French flag—Faguo is a French brand, after all—but that red, white, and blue is perfect for summer's patriotic holidays.
The Catch: My only complaint—and it's a small one—is that tiny pieces of the suede handles would rub off and stick to the outside of the bag, but they were easily brushed off.
The Verdict: I highly recommend this bag, and would happily buy it for myself or as a gift to others.
The Price: 115 €, buy it here.
Mary Robnett
Free People Savoy Weekender
The Tester: Cate Starmer, Senior Content Management Strategist
The Review: This weekender comfortably held everything I needed for a two-night, warm-weather road trip, including a pair of flats and flip-flops. I liked having both the leather handles and long strap, and the woven fabric would definitely hold up after many trips. The square shape means it can be hard to find items that drift to the bottom, so I definitely used the small interior pockets to stay organized.
The Catch: The pattern (Sunset Multi) inspired great debate in the Fodor's office. You'll either love it or hate it, but it is available in different colors.
The Verdict: It's a nice, vintage-inspired tote, but some people may prefer a more basic style.
The Price: $228, buy it here.
Jennifer Arnow
Filson Duffle – Small
The Tester: Siobhan O'Hare, Director, Content Management and Publishing Technology
The Review: I took this sturdy duffle to Florida for three nights. With it thrown over my shoulder, I walked for a half-mile to the train, carried it onto a flight (stored it in the overhead bin), and threw it into the backseat of a rental car. In addition to casual clothes and toiletries, I had to pack a dress, extra shoes, a tiny hair dryer, and clutch, so it was filled to the brim. The leather handles wrap all the way around, instilling confidence, but they are joined in a way that allows for the shape-shifting one expects from a duffle. The color is great—a nice departure from black.
The Catch: I found the opening a bit small. It was hard to access things without unpacking, and when the bag is full, the handles are uncomfortable to use.
The Verdict: I would use this bag again, for a shorter trip. It is a nice weekend bag, not a long-weekend bag.
The Price: $265, buy it here.
Jennifer Arnow
Ghurka BLAZER No. 278 Khaki Twill Backpack
The Tester: Sara Quaranta, Editorial Intern
The Review: I took this backpack on a short weekend trip to Greenwich, Connecticut. It easily carried a swimsuit, two light dresses, an extra pair of shoes, a makeup bag, and a book, and the two front pouches were great for chargers and my wallet. I got lucky using it on a beautiful weekend because it offers no room for over-packing.
The Catch: The bag would be too small for a trip in any other season; a couple of knit sweaters would overstuff it. Because of the light color, it would be hard to keep clean, and it's expensive.
The Verdict: If price isn't a concern, this is a nice bag for a short day trip or a summer weekend. It's easy to carry, and I got a lot of compliments on it.
The Price: $995,
Mary Robnett
Graf & Lantz Bedford Weekender
The Tester: Jennifer DePrima, Senior Production Editor
The Review: I took this bag to Nashville for a long weekend (Thursday to Monday) and was impressed by how much it held. I was running a half marathon and needed to pack my workout gear and running shoes in addition to my regular day/night outfits and two other pairs of shoes. Everything fit with room to spare for the souvenirs I brought back home. On top of that, the bag looks great and drew compliments from several strangers.
The Catch: This bag is really not designed to be carried very far. When it's full, it's bulky, and the shoulder strap isn't very comfortable.
The Verdict: This gorgeous tote will fit more than enough to carry you through a long weekend and is perfect to toss into your car to run away to the beach or mountains in style.
The Price: $425, buy it here.
Jennifer Arnow
Hook & Albert Leather Garment Weekender Bag
The Tester: Maren McCamley, Subsidiary Rights Manager
The Review: I took it on a weekend trip to Ohio. The bag is a work of art: beautiful leather, solid straps, and many useful pockets. It held everything I needed for a short weekend trip to my parents' and expands to a flat suit bag by unzipping the sides completely. However, it was not easy to carry once packed. It is much too large for a shoulder bag and almost needs wheels to carry it around the city or the airport. I was skeptical that it would fit in the overhead bin, but with a little extra push, I got it in.
The Catch: A taller person might have better luck with this bag; it is just too large for an average woman to carry when fully packed.
The Verdict: This bag is lovely. If it were half the size, it would be perfect. As is, it's best suited for a road trip, and it would definitely work as a shared bag for two friends or a couple.
The Price: $585, buy it here.
Mary Robnett
Lipault 18" Weekend Satchel
The Tester: Linda Cabasin, Editorial Director
The Review: The Lipault traveled by car with me on a quick overnight to Bucks County, Pennsylvania. It's super light and roomy for a weekend, holding more than I needed, from extra pants, tops, and shoes to a book. The solid bottom and wire-frame top let me open it wide and pack easily, and the sturdy handles were comfortable for carrying it by hand. No outside pockets create a sleek look; there are some inside, though.
The Catch: It was sometimes tricky to re-zip around the wire frame. For plane trips, I would prefer a bag with an outside pocket and a shoulder strap.
The Verdict: The roomy, stylish Lipault (in various colors) is lovely for weekend car trips.
The Price: $99, buy it here.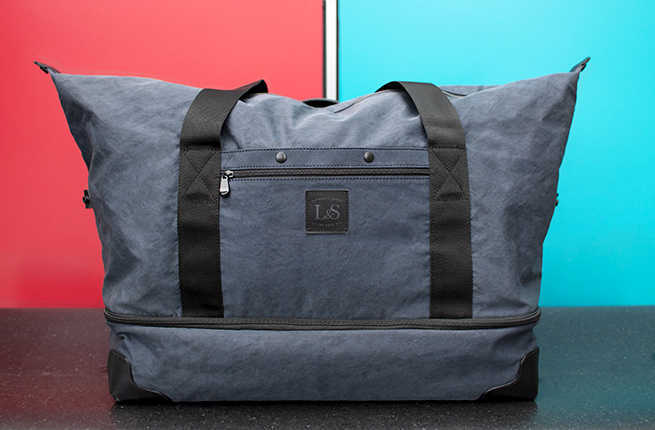 Jennifer Arnow
Lo & Sons The Rhodes
The Tester: Dennis Tyrrell, Senior Manager, Online Marketing
The Review: I was lucky enough to take this bag for a weekend wedding road trip with my lovely wife. I'm a fan of any bag I can share with my wife so that we have less to carry along the way (though we did have an additional garment bag to hold our fancy clothes for the event). We were able to fit all of our clothes, shoes, toiletries, a book, an e-reader, and an extra purse for my wife. The bottom zippered compartment was the greatest thing for me. A man with a size 13 shoe always has issues packing an extra pair, but with the Rhodes, it was not an issue. Additionally, there are several convenient small pockets in and outside of the bag to store jewelry, makeup, phone chargers, a GPS, and sunglasses without worry. Even though we packed the bag pretty well, it's huge and we still would have had room for more if needed.
The Catch: Though it was a little heavy when packed, it is sturdy and at no point did we worry about a tear or a strap breaking.
The Verdict: I highly recommend this bag to anyone going away for a weekend traveling by bus, car, train, or plane.
The Price: $398, buy it here.
Mary Robnett
Longchamp Baxinyl Travel Bag
The Tester: Megan Bell, Executive Director
The Review: I took my royal blue and black bag on a quick, two-day trip to Savannah, Georgia, to firm up wedding plans. The material is durable, and I loved the black bottom. The semi-structured bag has handles and an adjustable shoulder strap, a zipper to expand for extra room, and standard inside pockets. I packed three outfits, two pairs of shoes, and a large toiletries bag. I could easily have included workout attire, sneakers, and outerwear.
The Catch: It's a roomy bag, which may give you the motivation to over-pack. That being said, the bag was pretty heavy for toting around the airport.
The Verdict: It was a perfect bag for the weekend, and I had plenty of extra room. I would definitely recommend using it for a long-weekend road trip, and the price point is moderate for the quality and brand.
The Price: $250, buy it here.
Mary Robnett
Vera Bradley Weekender Travel Bag
The Tester: Caroline Trefler, Senior Editor, Cities and Cultural Destinations
The Review: I packed this bag for a long weekend in Austin, Texas. I needed multiple outfits because I wanted cool, sophisticated clothes for the evening and casual wear for biking, hiking, and exploring during the day. Shoes are always a big packing issue for me, but I managed to fit high-heeled wedge sandals, casual flats, and sneakers in here, along with all the clothes, toiletries, and accessories I needed, though I did put my laptop in a separate tote I use as a purse.
The Catch: I love all the compartments on this bag: one on each exterior side, plus an inner pocket. I also liked that this has a handle and a shoulder strap, but because the bag is so roomy, it got heavy. And during those long airport corridors and the trek from the house to the subway, I missed my wheelie bag.
The Verdict: I loved the bright colors of this bag. It's fun and flirty and sophisticated. I felt like other travelers were looking at it with envy. I'd definitely use it again. And it's at a good price point!
The Price: $98, buy it here.