Jennifer Arnow
When you're traveling, knowing where your luggage is at all times—and never having to wait at the baggage carousel—can make your journeys a lot less stressful. But not all carry-on bags are created equal, so we put dozens of them to the test this year and picked our favorites. With a wide variety of size, style, color, and price, these winners include options for every type of traveler. Here are 17 carry-on bags we think make great travel companions for all of your future trips. —Fodor's Editors
Jennifer Arnow

Briggs & Riley Sympatico International Carry-On Spinner
The Tester: Michael Alan Connelly, Editor, Fodors.com
The Review: I took this relatively lightweight (6.7 lbs.) carry-on with me for a ten-day trip to Sicily over the summer, and it served me well. (Because of the hot weather, I didn't have to pack any bulky clothing.) It's well-engineered and durable, with a telescoping handle with three height settings and sturdy wheels. Unlike some hardside clamshell suitcases that are basically empty inside, this one has one half that zips up and another half with a divider that keeps everything in place. Aside from the quality of the construction, I appreciated the built-in combination lock, which made me feel secure any time I had to leave my bag alone. Another great (albeit pricier) Briggs & Riley option is the Baseline International Carry-On Expandable Wide-Body Spinner; both come with the company's lifetime guarantee.
The Catch: I had no complaints about this carry-on, but if you're the type of person who likes pockets, this one isn't for you.
The Verdict: I would strongly recommend this to anyone, plus the lifetime guarantee is a huge asset when investing in luggage.
The Price: $389, buy it here.
Jennifer Arnow

Fjällräven Duffel No. 6 Small
The Tester: Salwa Jabado, Senior Editor, Countryside and Adventure
The Review: I see the stylish Fjällräven Kanken backpacks all over Brooklyn, so I was excited to test run this bag from the Swedish company. I took this carry-on with me over Thanksgiving in a crowded car transporting four adults and one toddler. The soft-sided duffle held all of my husband's clothes for the long weekend, including sweaters. There are two zippered pockets useful for gadgets, socks, etc., one outside and one inside the main compartment. Because it was a soft-sided duffle, we were able to cram in into an already-full trunk. He was impressed by the straps that convert the duffle to a backpack, and the padded panels that make it comfortable to wear this way (the straps can be snapped into their own compartment when not in use). It's made with Fjällräven's rugged G-1000 Heavy Duty material, which means it is water resistant, but they recommend waxing it to increase this property, something that seems well worth it for a bag that is built to last a lifetime.
The Catch: I was less thrilled than my husband by how much weight the straps and padding to convert the duffle to a backpack add to the somewhat heavy canvas-style bag. This is really for those who prefer to wear backpacks but want the shape and convenience of a duffle.
The Verdict: I think this is a great bag for weekend trips for men and women who prefer to schlep backpacks instead of the one-shoulder duffle.
The Price: $200, buy it here.
Jennifer Arnow

Victorinox Swiss Army WT 22-Inch Dual-Caster
The Tester: Michael Alan Connelly, Editor, Fodors.com
The Review: I tend to like Victorinox Swiss Army luggage because it's durable, functional, and it strikes the right balance between style and substance. This carry-on, which I took on a trip to Mexico City, easily fit everything I needed for four days, including casual and formal outfits. I found it easy to maneuver this carry-on through airports and on city streets thanks to its dual-caster wheels. One thing that makes me nervous about carry-on luggage is that I won't have room to pack things I buy when I'm traveling; the WT 22 Dual-Caster solves that problem with 2.5 inches of expansion when needed. Sure, you'll have to check it if you use the expander, but that beats going to the post office while you're on vacation.
The Catch: This bag is acceptable as a carry-on for domestic airlines, but it won't be allowed on most international airlines. Fortunately, a 20-inch version is also available.
The Verdict: This carry-on is extremely reliable, and I'd recommend it to anyone for domestic travel.
The Price: $369.99, buy it here.
Jennifer Arnow
Bric's X-Bag 21-Inch Carry-On Spinner
The Tester: Caroline Trefler, Senior Editor, Cities and Cultural Destinations
The Review: I took this bag to Madrid for a long weekend and I totally overpacked because the forecast was for cool, rainy weather, and because I wanted to have funky clothes for going out at night as well as comfortable things to wear for walking around. I had two pairs of jeans, running clothes and shoes, a pair of Toms, a pair of heels, two dresses, a few T-shirts, two sweaters, my jean jacket, a bathing suit (always take a bathing suit, you never know where you'll end up!), and toiletries—and it all fit with room to spare. I also carted around an annoyingly heavy hardcover copy of Jonathan Franzen's Purity, which fit perfectly in the front pocket. This bag looks small, but it's deceptively roomy, and I was thrilled by how easy it fit in the overhead compartment. I also love the four-way wheels, which make it easy to pull behind you or walk it next to you.
The Catch: The bag doesn't have interior pockets, if you like those, but it does have interior straps to hold the contents in place.
The Verdict: This is a great bag and I would definitely use it again. The price is good, and I'm giving bonus points for the awesome color options, including lavender and mustard.
The Price: $199, buy it here.
Jennifer Arnow

Samsonite Omni PC 20-Inch Spinner
The Tester: Michael Alan Connelly, Editor, Fodors.com
The Review: I brought this Samsonite carry-on to Chicago for a long weekend, and it had a lot more space than I needed for three days of clothing. Here are some reasons I love this carry-on: it has four wheels, making it easy to move; the micro-diamond texture on the polycarbonate shell just looks cool; the clamshell design makes it easy to pack and unpack without digging through layers of clothing; and the telescoping handle has three height settings. There's a built-in, TSA-approved lock, and it expands a couple of inches if needed. I wish it weighed a little less (it's 6.8 lbs. when empty), but this is a great carry-on overall.
The Catch: Unfortunately on my flight back to New York, United made me check the bag because the overhead bins were full. When I picked it up from the conveyor belt, it had a huge scratch across the front, not a surprise given how luggage is handled. Still, the product is advertised as "extremely scratch-resistant," so I wasn't expecting that to be a problem.
The Verdict: If you think simple is better, this hardside carry-on with only one pocket on the inside is a great option. It's hard to imagine finding a better bag for this price.
The Price: $129.99, buy it here.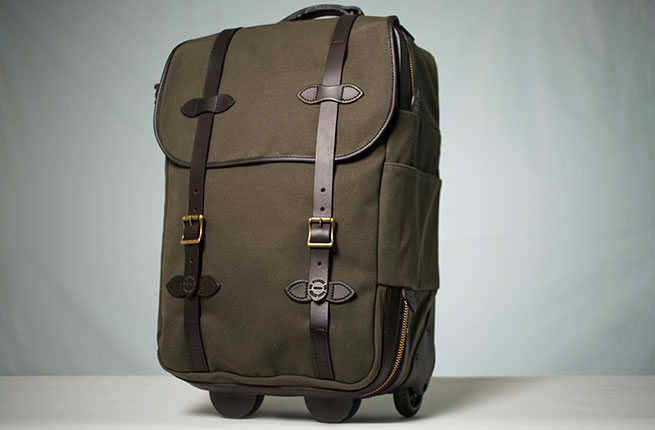 Jennifer Arnow

Filson Rolling Carry-On Bag – Medium
The Tester: Margaret Kelly, Senior Editor, Special Projects
The Review: This carefully constructed bag was perfect for my weekend in Beacon, New York. Big, heavy-duty wheels and the strong, retractable handle made navigating the subway and the train a snap. I pack light, so there was plenty of room; this would have been perfect for a longer trip. I love the rugged handsome look of this carry-on, with its leather front straps, heavy stitching, brass zippers, and sturdy canvas exterior. The thick, elastic interior straps were easy to adjust and held everything snugly in place. A huge bonus, and one to consider when buying any piece of luggage, is that this one comes with a lifetime guarantee.
The Catch: I missed having the navigability of a four-wheel spinner bag, especially in tight places, like the turnstile of the subway or when going through revolving doors.
The Verdict: This is an elegant, well-made bag that I would love to add to my collection.
The Price: $595, buy it here.
Jennifer Arnow

Osprey Ozone 22-Inch
The Tester: Michael Alan Connelly, Editor, Fodors.com
The Review: Osprey's redesigned Ozone line looks so much better than it used to, but it still has the same great features. The main sell here is the lightweight aspect—this one only weighs 4.37 lbs. That fact alone made it a joy to test out on a bus trip to Maryland over a long summer weekend. There's plenty of space inside the bag to fit a week's worth of clothing; the internal and external compression straps make it easy to pack a lot. The nylon shell and aluminum frame are extremely durable, which is amazing considering how little the bag weighs. I especially appreciated the spacious front and rear pockets, as well as the retractable handle and top and side handles.
The Catch: The sporty look of this bag isn't for everyone.
The Verdict: A solid option for many travelers, this lightweight luggage would be ideal for overpackers.
The Price: $230, buy it here.
Jennifer Arnow

Delsey Montmartre + Carry-On Expandable Spinner Trolley
The Tester: Jennifer Arnow, Senior Photo Editor
The Review: I took the Delsey carry-on with me on a five-day trip to Mexico. The bag is incredibly light and easily fit all the clothes I packed, which was more than I needed for the time away: three dresses, three tank tops, three pairs of shoes, two pairs of shorts, t-shirts, and bathing suits. It has many different compartments that I filled to the brim: a laptop sleeve in front, a side compartment, and a compartment for wet items. Although I didn't use them as intended (I used them for books and flat shoes), the pockets still came in handy and nicely accommodated my items. The bag also comes with a bag for your liquids that snaps in and out of place, making airport security checks a breeze. As I was about to board my flight, I was asked to place the bag in the carry-on baggage sizer. I was worried I had overfilled the bag, but it easily fit and I was allowed to bring it on board. The bag also comes with a TSA-approved lock, which I liked having, in case I wanted or needed to check it.
The Catch: If you use every compartment, the bag looks overstuffed. I was asked to use the carry-on baggage sizer once, and another time an airline employee investigated the bag size while other people's bags were not looked at.
The Verdict: Overall I'd say this is a fantastic carry-on bag. I'd use it again as well as recommend it to anyone.
The Price: $153, buy it here.
Jennifer Arnow

Max Mirani LAMOVE Mobile Closet
The Tester: Michael Alan Connelly, Editor, Fodors.com
The Review: By far the most stylish carry-on bag I've ever seen, the LAMove Mobile Closet is designed for women, a fact I did not realize when I volunteered to road-test it. No matter—I still had fun jetting off to Milan and London for five days with this in tow, as it quickly became a conversation piece wherever I went. In addition to its visual appeal, the bag is smartly designed to act as a closet, meaning you don't have to unpack if you don't want to. There are two sections inside: a garment area for hanging items, and a removable wardrobe section that zips out and turns into a fashionable tote bag. I chose to remove that part for my trip, which effectively doubled the capacity, but the removable section features dedicated pockets for jewelry, shoes, toiletries, undergarments, and more. Aside from these unique features, the luggage comes with a lifetime guarantee.
The Catch: Because of its design, it's better not to unpack this bag, which some travelers will love and others will hate.
The Verdict: While clearly not the ideal carry-on for me, I'd recommend this to any fashionista who likes to keep her heels, jewelry, flatiron, and everything else in its right place.
The Price: $575, buy it here.
Jennifer Arnow

LAT_56 Road Warrior Carry-On Suitcase (8-Wheel)
The Tester: Arabella Bowen, Editor in Chief
The Review: LAT_56's slick new Road Warrior carry-on held up brilliantly over several flights and a lot of road-tripping on a recent trip to Bhutan. I often ding bags on rugged journeys, and this bag's high-performance lining and cushy outer shell didn't crack under pressure. Multiple compartments are designed for frequent travelers: The pull-out toiletry kit streamlined my security screening time; the internal snap-on shoe bag kept hiking boots away from my clothes; and a flat outside pocket put my travel documents and in-flight reading within easy reach. Extra bonus: A thick rubber handle and calibrated spinner wheels made it a cinch to steer through airports.
The Catch: At 8.1 lbs. when empty, it's already 2.3 lbs. heavier than my regular carry-on. Fully packed, it's a clunker to hoist into the overhead compartment.
The Verdict: As its name suggests, this bag is really intended for "road warriors"—a.k.a. business travelers. It's best for travelers who are packing light, zipping through security, and planning to work on the go. If weight matters to you, opt for the two-wheel Road Warrior carry-on, which weighs 6.8 lbs and includes a built-in garment bag.
The Price: $449, buy it here.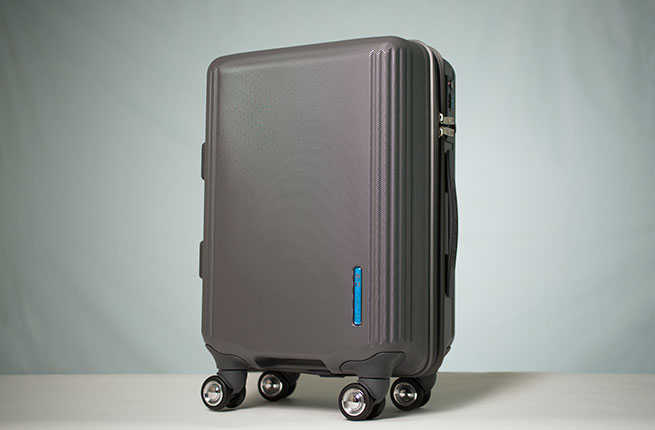 Jennifer Arnow

Flight 001 DSH-1 Carry-On
The Tester: Michael Alan Connelly, Editor, Fodors.com
The Review: For a long September weekend in Rome, this Flight 001 carry-on was perfect. It weighs only 6.4 lbs. and was able to tackle airports and cobblestone streets equally well. Of the hardside clamshell designs I've tested, this one was the best at keeping me organized, because the interior features a detachable hanging panel, perfect for storing toiletries, and a zippered compartment, ideal for stashing dirty clothes. The polycarbonate shell feels both flexible and strong, the wheels are great, and the TSA-approved combination lock is always a welcome feature. One standout feature, especially when compared with similar carry-ons, is that this one has an easy-to-grip handle both on the top and the side, which comes in handy more than you might think.
The Catch: In my opinion, there is no catch.
The Verdict: I'd recommend this carry-on to any traveler, especially if minimal weight is a priority.
The Price: $335, buy it here.
Jennifer Arnow

Granite Gear Reticu-Lite 22-Inch Wheeled Carry-On Upright
The Tester: Salwa Jabado, Senior Editor, Countryside and Adventure
The Review: I had high expectations for this Granite Gear carry-on, given how much I love their Cross Trek 26″ Wheeled Duffle (reviewed in Fodor's Approved: Best Checked Luggage for 2015). This bag held my clothes, including sweaters, books, and a blanket for my daughter on our Thanksgiving road trip. The selling point here is how light the bag is, at just 6 lbs. There are only two wheels, which means you do have to tilt it but it also doesn't roll away from you. The material is water repellent, including the zippers, and the wheels are sturdy. I really like the teal color as well. Overall I was more impressed by their larger wheeled duffle, but this bag is a good smaller option.
The Catch: I found the small exterior pocket to be too tight to really make use of.
The Verdict: This is a fine bag for someone who wants a more sporty-looking carry-on.
The Price: $149.99, buy it here.
Jennifer Arnow

Eagle Creek No Matter What Flatbed AWD 20
The Tester: Michael Alan Connelly, Editor, Fodors.com
The Review: This carry-on was perfect for a long summer weekend at a Wisconsin lake house, and it easily held everything I needed for those three days. (Had I packed more, the external compression straps would have come in handy.) It's rare to see carry-ons that are "sporty" and have four wheels, but this one does, thankfully. Not only that, but the wheels are treaded, so they can handle different terrains without getting clumsy like some other bags. I'm a big fan of the three handles on this carry-on (top, side, and bottom) and also the zippered pocket on top, which is big enough to hold everything in your pockets plus some sunglasses and a bottle of water.
The Catch: The telescoping handle could use a third height setting.
The Verdict: This carry-on offers great value, and at less than 6 lbs., it won't weigh you down.
The Price: $140, buy it here.
Jennifer Arnow

Travelpro Platinum Magna 2 20-Inch Expandable Business Plus Spinner
The Tester: Teddy Minford, Assistant Editor
The Review: I brought this bag to northern California for a long weekend in the fall. I packed boots, sweaters, jeans, and dresses. I'm a light packer, so I loved the compact size of this bag. Inside, there's a main section for clothes, and then some useful zippered sections, including a plastic waterproof pouch for toiletries. When empty, the bag is lighter than it looks, which is a plus. It's a beautiful bag with four wheels instead of two, so it takes almost no effort to maneuver it through the airport.
The Catch: This was my first time using a bag with four wheels, so it took a little bit of getting used to. The bag moved beautifully on the linoleum airport floors (I was late for my flight and the bag made a great running companion in JFK) but on city streets, the little wheels did not fare so well. In addition, it seemed like every time I let go of the bag it would speedily roll away from me, which could probably be attributed to user error.
The Verdict: I would recommend this bag to a friend, and my next carry-on purchase will definitely be a bag with four wheels.
The Price: $237.99, buy it here.
Jennifer Arnow

Genius Pack 22-Inch Carry-On w/ Integrated Suiter
The Tester: Michael Alan Connelly, Editor, Fodors.com
The Review: This Genius Pack carry-on comes with a lot of bells and whistles; whether you appreciate them depends on the type of traveler you are. I used this bag on a five-day Thanksgiving trip to Chicago, which required packing lots of sweaters and warm clothing, all of which fit easily. This carry-on looks big and feels heavy (it's 7.2 lbs. when empty), but it holds a lot and it keeps you organized. One external pocket is designed for easy access to reading material, while another has a dedicated holder for a battery (sold separately) to charge your phone. There's also a compartment for a small umbrella (sold separately), a water bottle holder, and a strap that holds rolled-up jackets in place. Inside, there's a packing list and dedicated compartments for socks, underwear, and chargers. My favorite feature was the built-in, removable laundry bag that uses compression technology to save space.
The Catch: The telescoping handle only has two options, and both were at an awkward height for me, so I wished there had been a third option somewhere in the middle. Since this bag can get fairly heavy when packed, I missed the ease of having four (or more) wheels—this one has only two.
The Verdict: If organization, innovative features, and space are important to you, then this is a perfect carry-on.
The Price: $218, buy it here.
Jennifer Arnow

Vera Bradley Lighten Up Wheeled Carry-On Luggage
The Tester: Linda Cabasin, Editorial Director
The Review: My long-weekend jaunt by car to seaside Cape May, New Jersey, required layers of clothing and different shoes due to changing weather and windy beach walks. This lightweight rolling duffel held my gear with room to spare; you could use it for a week. I loved the separate zippered section at the bottom, perfect for shoes; the roomy top compartment; and the large, handy pocket on the outside. The sturdy fabric is water resistant so you can wipe off any dirt, too.
The Catch: If you don't fill the duffel, it may tip when standing or rolling. So the bag isn't ideal for light packers; otherwise, it's fine.
The Verdict: I'd recommend this for duffel fans who appreciate the rolling option and smart compartments.
The Price: $198, buy it here.
Jennifer Arnow

REI Wheely Beast Wheeled Duffel – 22-Inch
The Tester: Michael Alan Connelly, Editor, Fodors.com
The Review: I took this REI bag for a long weekend in St. Lucia and found it to be straightforward and reliable to use. The interior is empty aside from one small mesh pocket, so the 42-liter capacity is all yours to fill. I appreciated that, in addition to the retractable handle, there are additional handles on the top and side. The construction of the bag leads me to believe it could withstand a lot and not fall apart. Conveniently, there are pockets on the back and front, for whatever you want to access quickly. The added benefit of a bag like this is that it doesn't take up too much room when you're not using it.
The Catch: This was not an issue for me, but an overzealous gate agent might force you to check this bag because the wheels extend beyond the frame significantly, making the depth more than the allowed nine inches.
The Verdict: If you're looking for simplicity and durability, this is the bag for you.
The Price: $169, buy it here.