AdStock RF/Shutterstock
When the days get short and the nights get cold, there's nothing like a good long soak in a hot bath—with 50 of your closest friends. Europe's hot springs have been making wintertime feel like a summer beach party since the days of the ancient Greeks, but nowadays they're often housed in posh spa complexes with such attractions as Finnish saunas, Celtic temples, Ottoman-styled nap lounges, indoor Mediterranean palm gardens, and the universally appealing swim-up bar. Here's our list of some of the best hot baths on the continent.
By Valerie Hamilton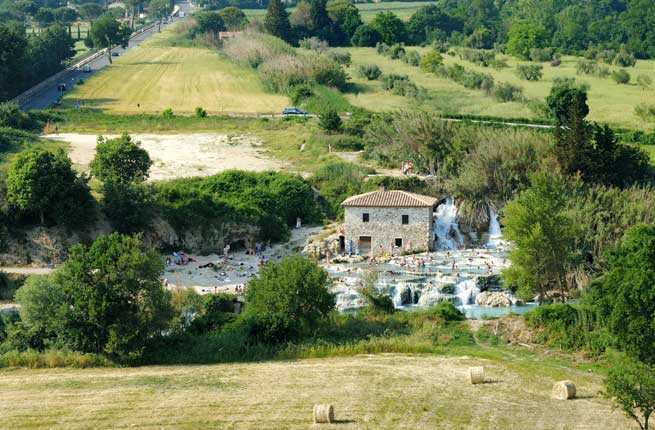 MNStudio/Shutterstock
WHERE: Tuscany, Italy
Set in spectacular Tuscan countryside below a classic hill town, Saturnia's sulfur springs send up clouds of steam you can see for a mile. While locals dip in the calcium-decked open-air waterfall at the end of the hot stream, a few miles below town, the best place to take the waters is at the source, in the massive travertine pool around which the luxe Terme di Saturnia spa complex is built. While there's every kind of treatment here from massages and mud packs to steam inhalation therapy, everyone's favorite activity is just bobbing quietly in the hot water.
Where to Stay: You can't beat the location of the Hotel Terme di Saturnia, 140 expensively neutral rooms and suites built around the thermal pool itself. The hotel restaurant, all'Acquacotta, even has a Michelin star.
PLAN YOUR TRIP: Visit Fodor's Tuscany Guide
WHERE: Viterbo, Italy
The "baths of the popes" isn't just a fanciful name – Gregory IX started splashing around here in the 13th century, Boniface IX came for a cure in the 15th, and Nicholas V built his country getaway here a few decades later. The hot spring here also gets a nod in Dante's Inferno. The Terme dei Papi is still a favorite spa getaway for Romans in the know, who buy a day ticket to float in the 1930s-era stone pool and sprawl on lounge chair. The water is shallower and very hot where thermal water flows from the original stone faucets, and cools down enough to allow for a relaxing swim in the deep end.
Where to Stay: Set amid gardens at the end of a long, cypress-flanked private drive, Alla Corte delle Terme evokes the time of the popes in an up-to-date, brand-new resort complex. For maximum relaxation, mini-vans shuttle guests to and from the spa in their bathrobes and sandals.
PLAN YOUR TRIP: Visit Fodor's Viterbo Guide
Terme Erding via Wikimedia Commons
WHERE: near Munich, Germany
Self-styled as Europe's biggest hot spring spa, this glass-domed complex set in farmland outside Munich is a thermal Disneyland with a selection of themed pools, saunas, solariums and lounges complete with a faux-tropical palm garden and swim-up bar. Therme Erding's spas are divided into two sections, family-friendly and "textile-free," and each covers the continent's attractions, from a Finnish sauna with its own Northern Lights show to an Ottoman-style relaxation lounge to hot tropical rain showers in a stone grotto. Other exciting attractions include wintertime hot waterslides for the kids, late-night pool parties for adults, and several good restaurants to cover a full day's entertainment.
Where to Stay: Until Therme Erding's on-site resort hotel opens in 2014, the best place to stay for a visit here is in Munich, 45 minutes away. The soberly stylish Hotel Louis has an award-winning Japanese restaurant and its own rooftop sauna with views over the city.
PLAN YOUR TRIP: Visit Fodor's Munich Guide
Artem Furman/Shutterstock
WHERE: near Berlin, Germany
The mineral-rich hot spring that feeds the Spreewald Therme was discovered just 12 years ago, but the spa makes up for lost time with a grand glass-and-steel complex reminiscent of a very fancy airport—one that just happens to be set a rural town near the Polish border amid picturesque woods and fields. Inside are hot and cold pools, saunas, a restaurant, and spa. The indoor pool has a fountain and massage jets; the outdoor pool a man-made river that pulls you along through the warm water.
Where to Stay: No need to get dressed in anything beyond your bathrobe; the brand-new Spreewaldthermen Hotel connects to the spa via a glass walkway. Simple, quiet, smallish rooms with German-style split beds are fine for a night's rest.
PLAN YOUR TRIP: Visit Fodor's Berlin Guide
WHERE: near St. Moritz, Switzerland
Hands-down Europe's chicest hot spring, the Therme de Vals sets its natural hot water pools in a stark, 60s-modernist architectural context, all slab walls and sunken staircases. Like the hideaway of a James Bond villain, it's built into a mountainside in the Alps. Inside, it looks like a very stylish nightclub but feels more like a church, as reverent bathers quietly immerse themselves in indoor and outdoor pools, "fire" and "ice" baths, and a purpose-designed sound installation. In summer, you can take in a jazz concert or chamber music while you take the waters.
Where to Stay: Therme de Vals is so remote that you don't really have a choice, so it's a good thing that the spa's on-site Hotel Therme de Vals is a comfortable stay. Remodeled "temporaries" rooms are leather-and-steel sleek; original (and less expensive) sixties-style options have built-in twin beds and private balconies.
PLAN YOUR TRIP: Visit Fodor's St. Moritz Guide
GROSSARLER HOF
WHERE: Bad Gastein, near Salzburg, Austria
The Felsen Therme is the latest, greatest spa complex in the historic town of Bad Gastein—"Bad" in German means "bath"—and its family-friendly facilities are sparkling new. There's the usual complement of snow-laced, steaming outdoor pools and indoor pools in hot, medium, and cool, as well as a hot spring "grotto" where a warm waterfall sprays over Alpine boulders. The spas are open until 10 pm, which means this is a great place to soothe tired muscles after a day on the slopes.
Where to Stay: The turn-of-the-20th Salzburger Hof brings a picture-perfect end to ski or spa days, set for postcard views over the snowy Alpine resort town of Bad Gastein. And if you can't bear to put on your snow boots for the short trek to the Felsen Therme, the hotel has its own spa too.
PLAN YOUR TRIP: Visit Fodor's Salzburg Guide
Courtesy of Fabrice Debatty/Thermes de Spa
WHERE: Spa, Belgium
Before there were spas, there was Spa, which started welcoming thirsty visitors in the 16th century—and exporting its water soon after (it's still sold for drinking today). The original spa is actually a cold spring, heated artificially to 104 degrees. The 19th century Thermes de Spa was renovated in 2003, and today it's a bright, tiled playground of warm-water pools and jacuzzis with sprays, currents, and massage jets, as well as a Turkish-style hammam. Occasionally, the spa goes Zen for meditation evenings.
Where to Stay: The Radisson Blu Palace is just down the hill from the Thermes de Spa, but don't be so pedestrian as to walk—take the private funicular instead. The hotel is otherwise a modern business hotel with a luxe breakfast buffet of smoked salmon and Champagne before you take the waters.
PLAN YOUR TRIP: Visit Fodor's Belgium Guide
Heather Cowper via Wikimedia Commons
WHERE: Bath, England
England's only hot spring spa dates to the 18th century, but it's been revered for its healing waters since the ancient Celts worshiped here more than 2,000 years ago. Today's Thermae Spa sits inside a UNESCO World Heritage Site, with a rooftop hot pool overlooking the city of Bath. Choose between the New Royal Bath's modern glass-and-stone complex, with water jets, bubble seats, and a full array of spa treatments and the historic Cross bath, a low-lit, atmospheric thermal pool situated on the site of the original Celtic shrine.
Where to Stay: The palatial Royal Crescent Hotel continues the journey back to a more elegant time, with spacious country-house suites, aristocratically battered antiques, and a private boat in summer—think Downton Abbey with massages.
PLAN YOUR TRIP: Visit Fodor's Bath Guide
Alxcrs/Shutterstock
WHERE: Budapest, Hungary
Budapest is renowned for its historic thermal baths, and the palatial Gellert Baths is the most famous. Opened in 1918, the complex is a collection of marble-clad, mosaic-decked soaking pools, with the centerpiece a spacious thermal pool flanked by carved stone pillars and stained glass and topped with a soaring glass dome. There's plenty of room to stroll here, and the architecture is stunning. The outdoor wave pool may seem like an anachronism, but in fact, it's the world's first, built in 1927.
Where to Stay: The Art-Nouveau Danubius Hotel Gellert may be Budapest's most famous hotel, but it's got a secret: a private elevator that brings guests into the Gellert Baths. Standard rooms are pretty spare; upgrade to a refurbished room for maximum comfort.
PLAN YOUR TRIP: Visit Fodor's Budapest Guide
AdStock RF/Shutterstock
WHERE: Reykjavik, Iceland
The mother of all thermal spas, the Blue Lagoon still has to be seen to be believed. Steaming, Caribbean-blue seawater fills a manmade lake in a lava field outside Reykjavik that draws half a million visitors a year to swim, wade, and just soak up the views. Believers swear that the water's unique mix of silica and natural algae rejuvenate the skin. Find out for yourself with a natural facial of geothermal mud, all under the open sky. While you're at it, consider this: before it gets to the Lagoon, all that hot water is used to generate renewable electricity at the Svartsengi geothermal power plant.
Where to Stay: The central Hotel Borg, Reykjavik's oldest hotel, is 30 minutes from the Blue Lagoon but a world away; trade those lava walls for heated marble floors and geo-rustic for Art Deco chic.
PLAN YOUR TRIP: Visit Fodor's Iceland Guide