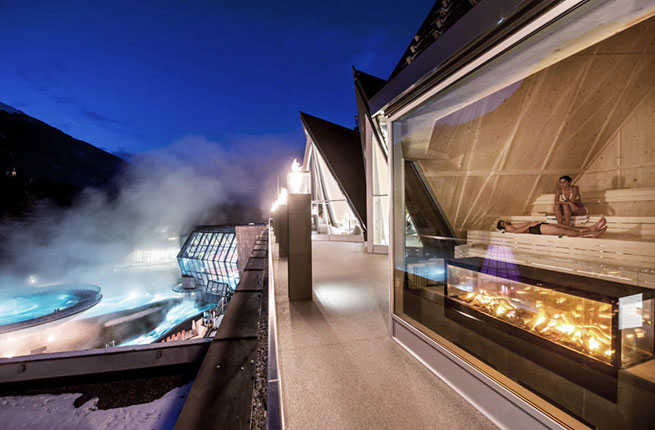 Courtesy of Aquadome
Think of lavish spas and signature treatments that fold in exotic, local ingredients and you probably imagine utopian places—for spa lovers, at least—like Arizona, Hawaii, Mexico, and South Florida. However, in pockets around the globe that are more known for adventure travel, safaris, or cuisine, the spas are just as grand. From Taipei to the Austria's Tirolian region, from Easter Island to Abu Dhabi, here are 9 spas that should be on the life list of any pampered traveler.—Kristine Hansen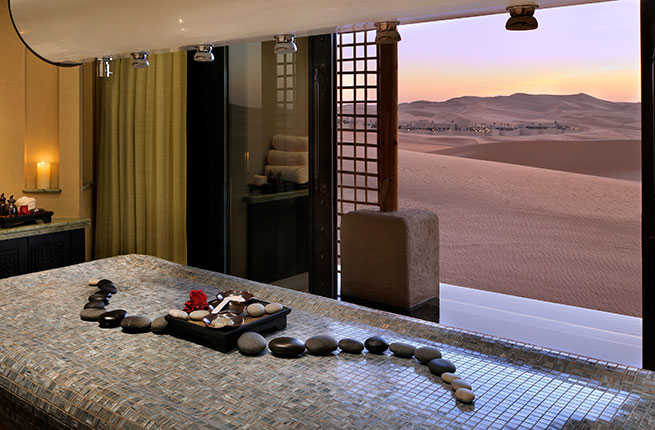 Qasr Al Sarab Desert Resort by Anantara
Qasr Al Sarab Desert Resort by Anantara
WHERE: Abu Dhabi, United Arab Emirates
Naturally, the U.A.E. understands the art of luxury pampering—but what makes Qasr Al Sarab Desert Resort's spa unique is its spiritual setting in the red-sand desert. An hour from Abu Dhabi, this rural wonder is filled to the brim with decadent food, pools, and a spa with services such as the 270-minute Arabian Rose and Ruby Ritual package, and a section on the menu with "ancient time rituals" (a traditional rose hammam is one).
PLAN YOUR TRIP: Visit Fodor's Guide to United Arab Emirates
Asaf Kliger
Ice Hotel
WHERE: Jukkasjärvi, Sweden
Fresh off its opening, Ice Hotel 365 is Ice Hotel's year-round hotel, no longer limiting the seasons to visit. This hotel-within-a-hotel offers 20 suites (the nine deluxe suites have private saunas and hot tubs) and the opportunity to book a private, guided 10-step sauna ritual (including a wood-fired outdoor bath, and either an ice plunge or river dip, depending on the season). While not a traditional spa offering massages, it's more like the entire place is a spa. On a clear winter night, you just might see the Northern Lights.
PLAN YOUR TRIP: Visit Fodor's Guide to Sweden
The Red Carnation Hotel Collection
Bushmans Kloof Wilderness Reserve & Wellness Retreat
WHERE: South Africa
It's worth the trip to check into Bushmans Kloof, a pampering retreat with just 16 rooms that's 160 miles from Cape Town. A brand-new reiki master on the spa team bolsters services already offered, such as yoga classes, theraputics in the treatment rooms (including a chakra-balancing candle massage incorporating color therapy, and an African foot ritual using an energy-balancing copper bath), sessions in the crystal steam room, and a health bar brewing Rooibos tea (sourced from South Africa).
PLAN YOUR TRIP: Visit Fodor's Guide to Italy
Chena Hot Springs Resort
Chena Hot Springs Resort
WHERE: Fairbanks, Alaska
While rustic and laid-back (massages—including a hot-stone massage—are serviced in log cabins, for instance), Chena Hot Springs Resort is still a highly coveted destination for those who seek Insta-worthy views of the Northern Lights, or Aurora Borealis. (The resort has also attracted celebs like John Krasinski.) "Healing waters" on the property are hot springs rich in minerals and designed to, through a soak, soothe bronchial disorders, arthritis, and muscular pain.
PLAN YOUR TRIP: Visit Fodor's Guide to Alaska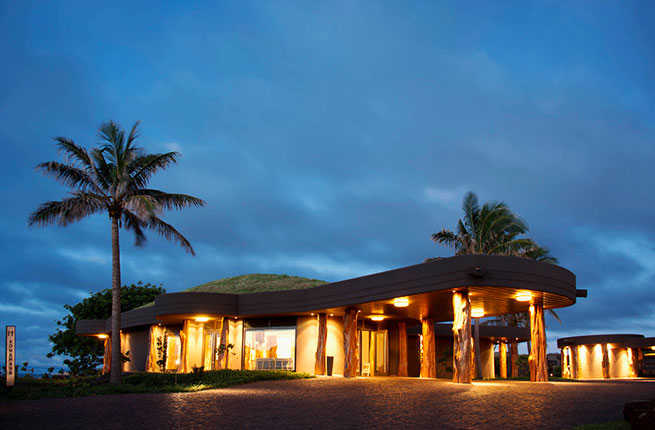 Hangaroa Eco Village & Spa
Hangaroa Eco Village & Spa
WHERE: Easter Island, Chile
Open since 2012—and one of South America's most highly anticipated openings in recent years—Hangaroa's Spa Manavai is mere steps away from the shore, separated only by al fresco chaise lounges. The range of treatments is vast, such as bamboo-therapy massage, chocolate body wraps, and acupuncture. Just like the hotel, which is crafted from clay, cypress logs, and volcanic stone, there's a keen focus on sustainability and a nod to the local Rapa Nui culture. With the Full Board program, guests' meals and some spa time are covered—as is access to the island's largest pool.
PLAN YOUR TRIP: Visit Fodor's Guide to Easter Island
Palazza di Varignana Resort & Spa
Palazza di Varignana Resort & Spa
WHERE: Emilia-Romagna, Italy
Most people flock to this region 20 minutes from Bologna for tortellini and balsamic vinegar. At Palazzo di Varignana, hotel rooms, the VarSana Spa (which keeps on expanding: new this year will be a Moroccan hammam), and a restaurant are tucked into what was once a family's castle. Surrounded by vineyards, it's not hard to obtain a glass of local vino (yep, even poolside). Treatments at the spa—which are further heightened with a Finnish sauna, ice waterfall and a chroma-therapy room with colored lights—cover head to toe, like a foot massage or a Lomi Lomi Hawaiian massage.
The American Club's Kohler Waters Spa
The American Club's Kohler Waters Spa
WHERE: Kohler, Wisconsin
In the land of cheese and brats is a luxury spa linked to the high-end plumbing company Kohler, snug in the company town of Kohler, an hour north of Milwaukee. Kohler Waters Spa is a cozy retreat even when it's snowing: the top-floor glass conservatory with a see-through fireplace is a definite hot seat. Suites above the spa in the Carriage House mean you never have to go outside. Whenever possible, treatments are serviced in Kohler tubs or employing Kohler showerheads, including a Kohler Custom Vichy Shower for the new "The Rain Man" treatment, designed for men and using hot stones.
PLAN YOUR TRIP: Visit Fodor's Guide to Wisconsin
​Watergate Hotel
Watergate Hotel
WHERE: Washington, D.C.
You already know The Watergate Hotel from historical events, but the recent $200 million refresh (the Foggy Bottom hotel reopened last summer) pumps new life into the property. At the $3.5 million, 10,500-square-foot Argentta Spa, this five-star vibe translates to glam treatments, incorporating Cabernet Sauvignon grape seeds (for the Cabernet Contour body scrub) and a salt scrub enhanced with Icelandic moonflower aromas. Also in the facilities, which boast a sleek interior of gray hues, is a pool with three lap lanes and a calendar of yoga classes.
PLAN YOUR TRIP: Visit Fodor's Guide to Washington D.C.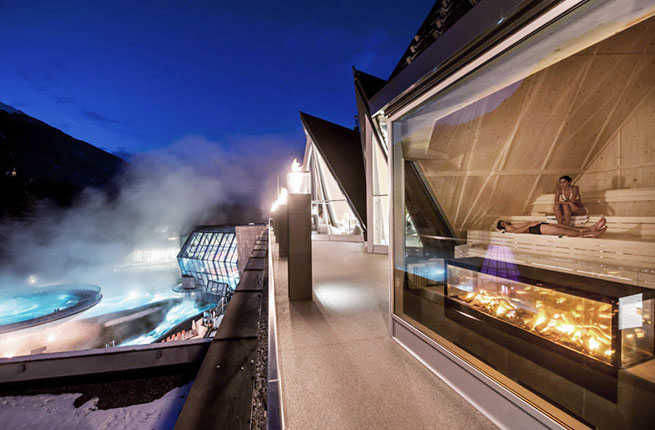 Aqua Dome
Aqua Dome
WHERE: Langenfeld, Austria
A popular destination for Austrians and Germans, Aqua Dome's hot springs are the big draw. Their pool-like mazes lie mostly outdoors, leading to the signature domes, and are most magical under a dark, starry night. Even the sauna goes deep, with 13 different experiences. In fact, the spa is so huge, it is nearly triple the size of the hotel's accommodations and dining. At the indoor spa, a new treatment this year is the sheep's wool cocooning (a wrap in sheep's wool—a take-home gift—with pine and alpine rose, followed by a massage using balls of sheep's wool). Locavore services include a stone massage with locally sourced stones and a detox massage incorporating oil from local beech trees.
PLAN YOUR TRIP: Visit Fodor's Guide to Austria