Jennifer Arnow
When you're traveling, it's certainly possible to cram the essentials into any old carry-on bag, but when you're on the go as often as we are here at Fodor's, you understand the difference a great bag can make. In order to find the best new carry-ons of 2014, we've rounded up an array of bags—varying in size, style, color, and price—and tested them everywhere from the streets of New York City to the beaches of Curaçao. Here are 10 carry-on bags that we think make great travel companions, no matter where you're going or what you haul inside.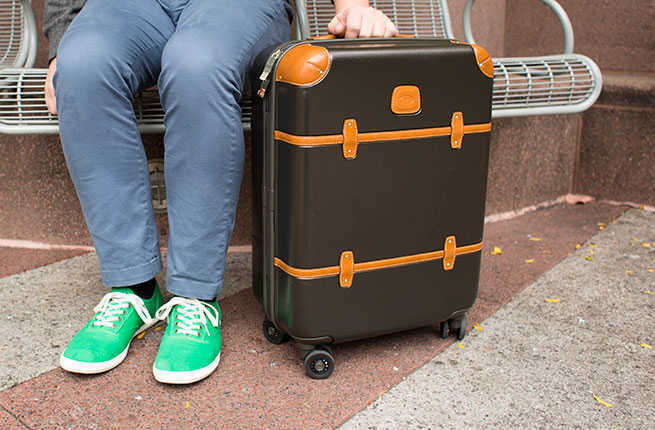 Jennifer Arnow
Bric's Bellagio Carry-On Spinner Trunk
The Tester: Perrie Hartz, Associate Travel Editor, Resorts and Cruise
The Review: I took the Bric's ($525) to Curaçao for four days. I packed the usual beachwear: bathing suits, cover-ups, casual clothing. I loved it as a carry-on. It was extremely light and wheeled nicely. It's really stylish and I got a bunch of compliments at the airport! The details and color contrast definitely stand out.
The Catch: The handle sometimes got slightly stuck when I tried to pull it up or down. It is small and very shallow, so not for travelers who like to stuff their carry-ons to the brim.
The Verdict: I would definitely use this again on a short trip, and would definitely recommend it to friends.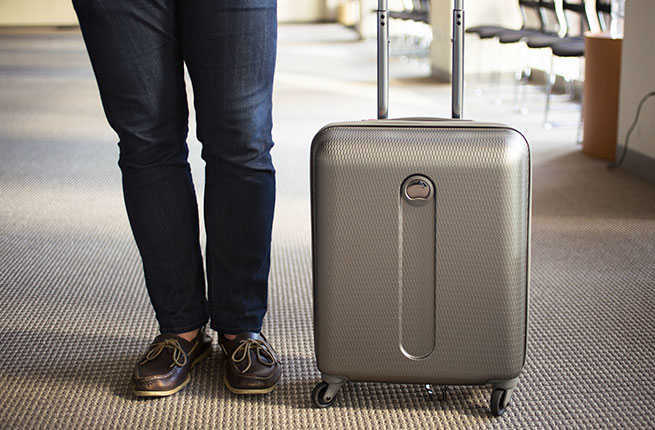 Jennifer Arnow
Delsey Helium Carry-On Trolley Case
The Tester: Caroline Trefler, Senior Editor
The Review: I took the Delsey ($140) to Toronto for a long weekend (and the NYC subway and NJ Transit to get to Newark). I had never traveled with a hard-case and had some reservations but I ended up loving it! The bag is separated into two compartments—one side zippers closed, the other has straps to hold the contents—and together they held so much! I packed more than usual, to be prepared for cold, rainy weather, and included several changes of running clothes, plus my computer, and various odds and ends. I was thrilled about how light the bag is: with everything packed inside, it was still easy to carry up and down stairs on the subway and to lift it into the overhead compartment on the plane.
My main concern was that a hard case wouldn't fit in the overhead compartment of the small Porter Airlines planes, but there was no problem at all—and I saw other people with hard cases struggling and ultimately having to gate-check their bags.
The Catch: I thought the four-wheeled design was fabulous because I could pull the bag easily, or roll it along right next to me in the crowded airport. The only issue is that it kept trying to roll away from me on the subway—if there was some kind of wheel lock that would be an added bonus but this wouldn't be a deal breaker for me.
The Verdict: Yes, I would definitely use this bag again, and I'd whole-heartedly recommend it. I used the "steel grey" version but the bag comes in other more vibrant colors, which I find more appealing.
Jennifer Arnow
TUMI Tegra-Lite Max International Expandable Carry-On
The Tester: Michael Alan Connelly. Editor, Fodors.com
The Review: I brought this Tumi ($695) on a two-day trip to upstate New York, so I wasn't able to use it on a plane, but I shared it with a friend and it easily held our clothes and accessories for the weekend. As with all Tumi products, this one is stylish and attractive. This particular bag's standout features are the integrated TSA-approved combination lock, a clamshell configuration that makes it easy to separate dirty clothes from clean ones, and four multidirectional wheels that make it easy to move the bag around. The bag is made with Tegris, a "revolutionary polypropylene thermoplastic composite material" that only Tumi has the rights to use in the luggage industry. This bag also expands a full two inches; when not expanded, it meets the new carry-on size restrictions.
The Catch: Though the bag is obviously durable and well constructed, I would be reluctant to check it at an airport, as the semi-flexible exterior seems like it might dent if handled roughly.
The Verdict: The price may be prohibitive for some, but if money isn't a factor, I'd recommend this to anyone looking for a stylish carry-on bag that can do double duty for non-airline travel. It's also worth noting that Tumi offers a five-year warranty on its luggage products that covers normal wear and tear.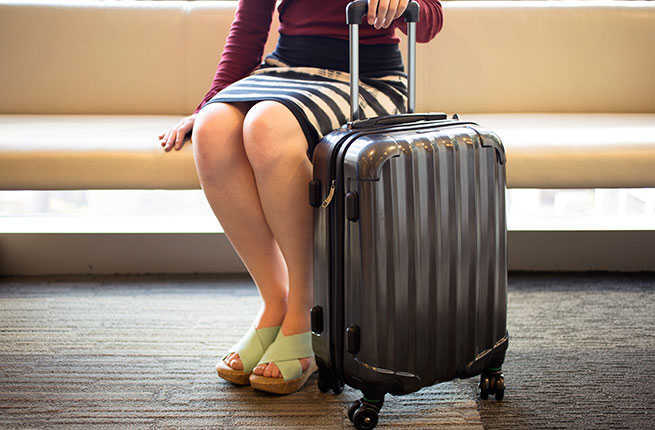 Jennifer Arnow
Genius Pack 21″ Hardside Carry-On
The Tester: Margaret Kelly, Senior Editor, Special Projects
The Review: I didn't exactly go on a trip with the Genius Pack ($158). I had a lot of stuff in my office that I wanted to take home, so I packed it all up and carried it from Manhattan to Brooklyn. That said, the trip involved about 10 minutes of walking on sidewalks, two elevator rides and tons of subway stairs.
The bag performed extremely well given the circumstances—it was filled with books, bottles of wine, and a few articles of clothing, more weight that I would normally take on a carry-on. In rolled over curbs and bounced up and down stairs with no strain or damage to the wheels, zippers, or handles.
The best part of the bag was the compartments inside. I loved the deep, zippered pockets for storing cords, socks and laundry.
The Catch: The only drawback to this bag was that the when the handle was extended, it was a bit wobbly. It could use a little more reinforcement.
The Verdict: I would absolutely use this bag again and recommend it to a friend.
Jennifer Arnow
Lipault 2-Wheeled 19″ Carry-On
The Tester: Salwa Jabado, Senior Editor of Countryside and Adventure
The Review: I took the Lipault ($169) on a quick weekend jaunt to Miami to attend a bridal shower. It held a pair of heels, a pair of sandals, two dresses, a couple t-shirts and shorts, a hard-cover novel, a packable down coat and scarf, as well as some bridal shower props. It was super easy to pack with a big main compartment, soft sides, and flexible cover that formed themselves around my items. I took it as a carry-on and it worked great—I was able to stuff my coat and scarf into the bag quickly once I got to the airport and take them out again easily. The standout is the small size and the soft sides that adjust to what you pack. The flights were full and the airline decided to gate-check bags that did not easily fit into the bag sizer causing a lot of distress for some passengers, but I sailed by with this bag.
The Catch: There is a lip over the outside pocket, which made it hard to stuff my novel into it. I wish the lip was removed and the zipper was higher up—as a carry-on, it should be able to fit a magazine or hardcover without a problem. If you are a chronic over-packer, this bag may rein you in, but it may be too small for more than a long weekend.
The Verdict: Yes, I would use this bag again for a short trip. It fit in a really tight space in the overhead bin on a crowded flight and I didn't have to gate-check it. That is a win to me!
Jennifer Arnow
Travelpro Crew 10 21″ Exp. Spinner
The Tester: Michael Alan Connelly. Editor, Fodors.com
The Review: I took this carry-on ($193.76 on Amazon) with me on a four-day trip to Fort Lauderdale. This bag's dimensions are the biggest that can be brought on a plane, so it holds a lot; in my case, I packed seven outfits, toiletries, and two pairs of shoes with room leftover for shopping and souvenirs. The bag is roomy, well constructed, and easy to transport thanks it to its four multidirectional wheels. Other standout features include the retractable handle with adjustable length, a hidden name card holder in case your bag is misplaced, and a folding garment holder for shirts and jackets.
The Catch: the merlot color is not my favorite, but I have no other complaints about this bag. However, light packers might find it too big for their needs.
The Verdict: I would definitely use this bag for future trips, as it allows for the most room for packing without having to check the bag.
Jennifer Arnow
Flight 001 F1 Avionette Carry-On
The Tester: Teddy Minford, Managing Editorial Assistant
The Review: I took the Flight001 ($195) on a weekend trip to North Carolina. This bag was incredibly lightweight with a nylon shell and brass hardware. It was spacious enough to hold clothes for 3 days, a pair of boots, and an extra jacket with room to spare. Inside the bag there was a zippered pocket for toiletries or small items and the outside has a zippered pocket where I kept my book, water bottle, and scarf while I was traveling. The bag felt really sturdy and durable and has a leather handle that made for easy transitions between subways, stairs, escalators, and overhead compartments.
The Catch: As a carry-on this bag is great, but if you were to check a bag this small you might prefer a hard-shell suitcase to avoid the bag getting crushed.
The Verdict: Overall, this was a great bag. I would use this bag again and recommend it to a friend.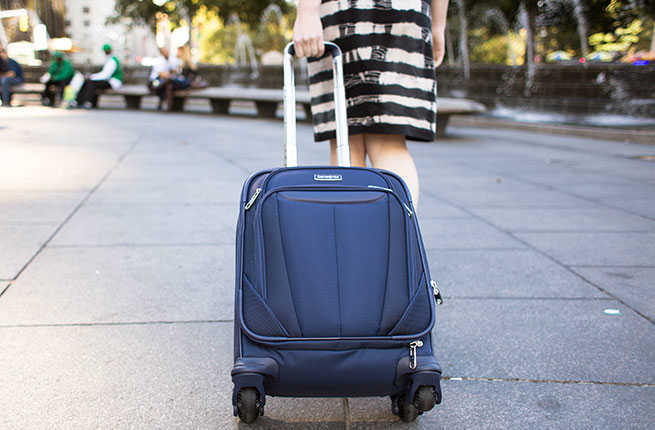 Jennifer Arnow
Samsonite Silhouette Sphere Spinner Boarding Bag
The Tester: Michael Alan Connelly. Editor, Fodors.com
The Review: I took this small bag ($179.99) on a long weekend trip to Los Angeles. I was able to pack enough warm-weather clothing for four days in addition to my dopp kit and a pair of shoes; I think it would be nearly impossible to fit sweaters or bulky jackets in this bag. I love the durable Samsonite construction of this bag—it feels like it'll last a lifetime—and the four 360-degree-rotating wheels that make transporting the bag a breeze. The two exterior pockets made it easy to access items from overhead bins on planes, and I appreciated having multiple length settings on the retractable handle. I also really liked the hidden name card holder that eliminates the need for luggage tags. The hand cushion on the handle's underside is a very thoughtful touch.
The Catch: The inside of the bag has a dedicated pocket for storing a laptop computer, but it won't fit all models: My 15-inch MacBook Pro was too big, for instance.
The Verdict: I would absolutely recommend this bag to any traveler who takes a lot of short trips and doesn't need to pack very much. Anyone looking for a bit more flexibility might find this bag too limiting.
Jennifer Arnow
Osprey Ozone 18″ Carry-On
The Tester: Linda Cabasin, Editorial Director
The Review: I took the Osprey ($200) on a weekend road trip to Bucks County, Pennsylvania, and also gave it a good run on my bus commute to Fodor's office. The backpack-on-wheels look suited my casual jaunt, and its many handy pockets—inside and outside, vertical and horizontal—made it a snap to store walking shoes, a few tops and pants, a sweater, and random gear. The wheels work fine, but the highlight for the ozone series Osprey is its incredible lightness: I loved that.
The Catch: If you prefer a formal style of bag, the backpack design won't appeal.
The Verdict: I'd use the Osprey Ozone again for its lightness and ease of packing; I even liked the green! It's a great choice for outdoorsy travelers.
Jennifer Arnow
Victorinox Avolve 20" Wheeled Carry-On
The Tester: Amanda Sadlowski, Assistant Editor
The Review: I took the Victorinox Avolve ($250) on a week-long trip through Wales. I'm not known for my light packing skills, so I was pleasantly surprised that it held a week's worth of fall clothes. It was easy to navigate through the airport and between my different hotels, and was very lightweight. By the end of my trip, I'd acquired quite a few souvenirs (including three pints of beer) and everything still fit into the suitcase and wasn't unbearably heavy.
The Catch: The wheels are great for navigating through busy airports, but not great for staying still. If I let go of the handle, the wheels didn't brake and would start moving. Not the best for taking on public transportation.
The Verdict: I would definitely use it again. It's a sleek, classic design that can fit a lot without getting too heavy.