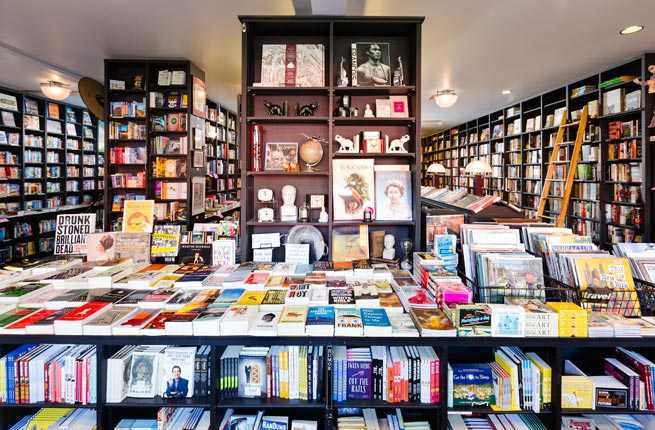 Russell Gearhart Photography
In a literary era dominated by Kindles, you might be surprised to learn that there's no shortage of outstanding independent bookstores around the country, beautiful places where you can connect with your favorite authors and receive knowledgeable, one-on-one recommendations based on your interests. In honor of the first-ever national Independent Bookstore Day (May 2, 2015), here are sixteen of our favorite shops, which offer unique services including special navigation apps and outdoor, honor-system buys.
By Sara Quaranta
Courtesy of Tattered Cover Bookstore
WHERE: Denver, Colorado
Tattered Cover's award-winning owner Joyce Meskis purchased the 950-square foot store in 1974, and today has expanded it to four locations, along with three more in the Denver International Airport concourses. Although it's a huge, two-story hardcover haven, the plush sofas and armchairs give it a tiny bookshop feel. Browse the more than 400,000 new, used, and bargain edition books at the Colfax Avenue location and treat yourself to a "Tattered Cover Blend" in a house ceramic mug and a bagel, scone, or sandwich from the shop's café as you listen to an afternoon reading or lecture from one of the 400 public figures and authors who come through every year.
PLAN YOUR TRIP: Visit Fodor's Denver Travel Guide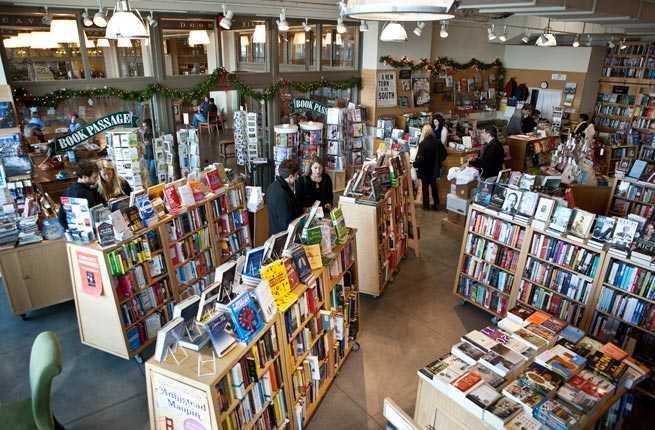 Courtesy of Book Passage
WHERE: San Francisco, California
For more than thirty years, Book Passage has been providing nationally acclaimed in-store writing and book business classes, as well as three annual writing conferences and more than 700 author talks (from presidents to Nobel Prize winners) and events every year for the Bay Area. The booksellers here hold custom service and expansive book knowledge at the highest shelf. Stop by for a Book Passage-led discussion group or join an in-store book club to fully experience this bookstore.
PLAN YOUR TRIP: Visit Fodor's San Francisco Travel Guide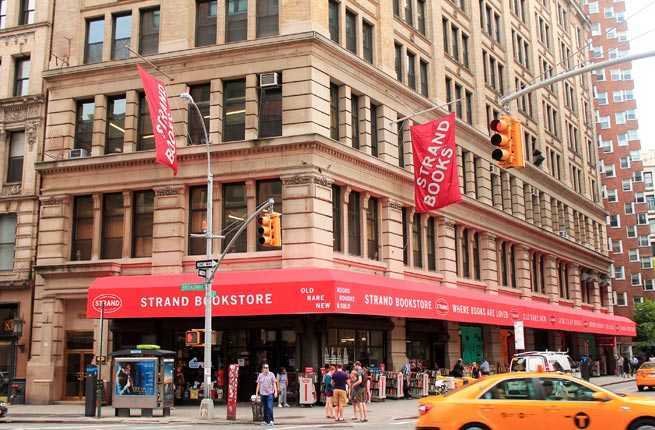 Courtesy of The Strand
WHERE: New York City, New York
A must for all bibliophiles, The Strand is still operated by the family who opened the store eighty-eight years ago. It's the proud home to "18 miles of books," including brand-new titles, hundreds of signed volumes, discounted reviewer's copies, and a plethora of collector's items. The Rare Book Room is lined in leather-bound treasures, first editions, Einstein-inscribed books, and a signed Princess Diana dress collection catalogue. The space holds up to 200 people, and The Strand is willing to let you rent and cater it out for everything from weddings to burlesque nights.
PLAN YOUR TRIP: Visit Fodor's New York City Travel Guide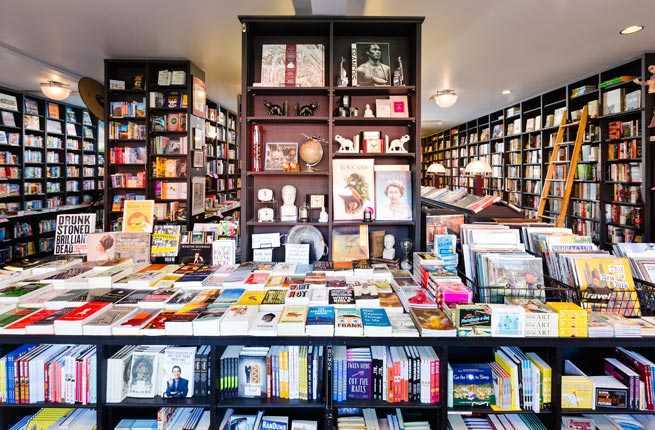 Russell Gearhart Photography
WHERE: West Hollywood, California
Vinyl records, random kitschy trinkets, and an expansive collection of film, photography, and art books define Book Soup. Check out the employee-written book reviews as a guide to this cozy little shop at the heart of L.A. It's easy to get lost for hours thumbing through its multitude of signed copies or perusing The New Yorker Briefly Noted book reviews at the register.
PLAN YOUR TRIP: Visit Fodor's Los Angeles Travel Guide
Courtesy of Powell's City of Books
WHERE: Portland, Oregon
Portland's paperback paradise is a trip in itself. As the world's largest independent bookstore, Powell's contains more than 1.5 million books. Pick up a map before you set out on your literary journey through this expansive shop with nine color-coded rooms housing 3,500 sections, or make navigation even easier with its free app's turn-by-turn directions. But keep your eyes peeled for the sci-fi author-signed pillar; this is an experience you can't download.
PLAN YOUR TRIP: Visit Fodor's Portland Travel Guide
WHERE: Coral Gables, Florida
Focusing on the arts, architecture, and Florida, Books & Books is a locally owned manuscript mecca with three South Florida locations and three affiliate stores. The 9,000-square foot, Mediterranean-esque location in Coral Gables has retained its original flooring, beamed ceilings, fireplace, courtyard lounge, and retro café, which are perfect for leisure writing and reading. The shop hosts about sixty book signings, readings, and other author events every month and boasts Story Time Saturdays and a nationally and internationally stacked newsstand.
PLAN YOUR TRIP: Visit Fodor's Miami Travel Guide
WHERE: Washington, D.C.
With more than 8,000 square feet of sale space and even more for its café, this bookworms' favorite, owned by two ex-Washington Post reporters, knows the book-buying experience is one to be cherished. The staff is dedicated to assisting customers, chatting and insisting they hold onto a book and read it a bit before purchasing. Politics and Prose is home to a massive children's department thanks to its acquisition of the Cheshire Cat, but more excitingly, it houses Opus, a machine that spits out paperbacks in less than ten minutes per copy.
PLAN YOUR TRIP: Visit Fodor's Washington, D.C. Travel Guide
Courtesy of Elliot Bay Book Company
WHERE: Seattle, Washington
Pick any day, and Elliot Bay Book Company is going to have an author reading of fiction, nonfiction, or even Spanish poetry. The family-owned bookstore offers hand-written book review cards, in-depth features, and tips to find the best books. Grab a sweet treat at the downstairs café and spend a couple hours browsing five rooms of locally authored fiction, limited editions, and handbounds. Bonus: They would be more than happy to special order the title you're looking for.
PLAN YOUR TRIP: Visit Fodor's Seattle Travel Guide
Courtesy of Warwick's
WHERE: La Jolla, California
Warwick's has made a name for itself in the literary world as the oldest continuously family-owned and -operated independent bookstore in the U.S. William T. Warwick founded the empire in 1896, and since then, the now fourth generation run shop has more than doubled in size, acquiring spaces doors down. With author signings and a huge collection of staff and customer recommendations, this is a must-visit for all bookies. And they deliver! If you spend at least $25 and live in the area from La Jolla Shores to Bird Rock, your most coveted copies can be brought to you for $5 or for free on orders more than $50.
PLAN YOUR TRIP: Visit Fodor's San Diego Travel Guide
Rainy Day Books
WHERE: Fairway, Kansas
Rainy Day Books is your go-to for a personalized book-buying experience. The staff will special order texts, ship them giftwrapped around the world, and offer custom reading suggestions. If you buy just one book every six months, you can be part of the Loyal Customer Program. You'll get 20% off The New York Times current bestsellers and 10% off most other books without membership fees or even having to tote around a card. The Kansas City literary legacy also puts on more than 300 author events every year and was said to have "set the Gold Standard" for these events in Publishers Weekly.
PLAN YOUR TRIP: Visit Fodor's Kansas City Travel Guide
Courtesy of Anderson's Bookshop
WHERE: Naperville, Illinois
Unlike the neighboring chain bookseller, Anderson's provides you with hand-written index card recommendations and hosts a slew of impressive authors. This bookstore is exactly what you picture when imagining your local neighborhood shop. It's full of t-shirts, cards, and nostalgic toys and is big on giving back to the community. It sponsors a used book drive for both children and adults, a personalized donation program for children in need, an arrangement with U.S. troops that send soldiers books, and a reading setup with the alternative high school scene that brings in a book collection and guest young adult authors. It's a one-stop-shop to fulfill your needs, both charitable and literary.
PLAN YOUR TRIP: Visit Fodor's Chicago Travel Guide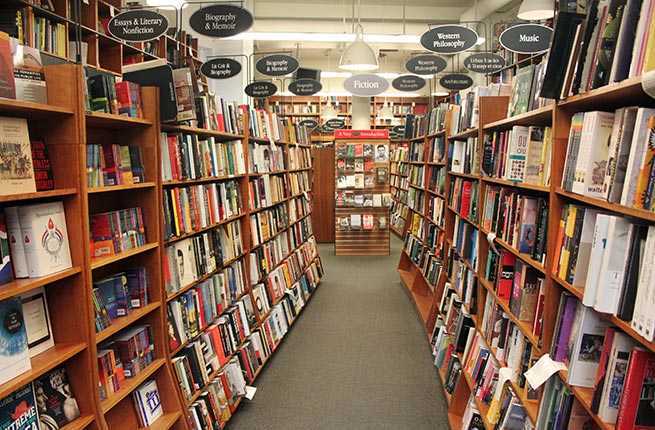 Alex W. Meriwether
WHERE: Cambridge, Massachusetts
This local literary landmark was started with a borrowed $300 and has since been serving Cambridge for almost eighty-five years with its massive collection of new and used books. Harvard Books offers a "green" delivery service to the greater Boston area, meaning you get your books delivered to you by bicycle on the same day you place your order. It is also home to an on-demand book printer that cranks out manuscripts of public domain Google texts, publisher-permission copies, and out-of-print titles (also a budget-friendly choice for self-publishers). Make the trip to check out this bookworm's dream on a Friday during the summer and get 15% off all fiction as a part of Fiction Fridays.
PLAN YOUR TRIP: Visit Fodor's Boston Travel Guide
Jarek Steele
WHERE: St. Louis, Missouri
This treasure trove of texts in St. Louis encapsulates an independent bookstore, with a knowledgeable staff and huge, continually updated selection of new, used, hard cover, and paperback titles. Left Bank is also involved in the neighborhood, entertaining book groups and author events and partnering with local schools for recommendations, reading lists, and book fairs. It also recently released its community-curated catalog "Black Lives Matter," which comprises works investigating race in the U.S. that are discussed in the Black Lives Matter Reading Group.
PLAN YOUR TRIP: Visit Fodor's St. Louis Travel Guide
Courtesy of Joseph Beth Booksellers
WHERE: Lexington, Kentucky
With high, arched ceilings, a skylight, and a fireplace surrounded with plush leather chairs, Joseph Beth will make you want to toss your e-reader aside so you can keep coming back to browse the countless shelves and tables stuffed with books, puzzles, and gifts. Pop in for an appearance from celebrity authors, politicians, and other public figures. Don't forget to stop by the Bronte Bistro for its extensive breakfast, lunch, dinner, and dessert menus or to grab a cup of coffee or glass of wine to go with your newest read.
PLAN YOUR TRIP: Visit Fodor's Kentucky Bluegrass Country Travel Guide
Alex Colevas
WHERE: Rehoboth Beach, Delaware
Take a detour from the boardwalk to this little, overflowing reading refuge. It has a vast assortment of titles, unique gifts, and beautiful stationery. Sip on some freshly brewed tea as you browse the beachy knickknacks on display and extensive local interest section about Delaware and its history. Despite the fact that it doesn't report its sales to The New York Times, which would normally inhibit the store from hosting best-selling authors, Browseabout still attracts household names like Tim Gunn, Hoda Kotb, and Vice President Biden. With phenomenal customer service, a dedication to its community for around forty years, and that intoxicating bookstore smell, not even the ocean will be able to pull you away from Browseabout.
PLAN YOUR TRIP: Visit Fodor's Rehoboth Beach Travel Guide
Brett Childs
WHERE: Ojai, California
The idea for Bart's Books began when, in 1964, the owner moved his bursting bookshelves outside so those walking past his house could check out the titles, which were sold on the honor system through coffee cans. Today, the largest independent outdoor bookstore in the U.S. sells everything from those honor-system copies to thousand-dollar art volumes. The doorway leads to more outdoor books, and every corner you turn will result in new literary discoveries, like the kitchen filled with books.
PLAN YOUR TRIP: Visit Fodor's Santa Barbara and the Central Coast Travel Guide