Kirkikisphoto | Dreamstime.com
These McDonald's locations will make you go, "What the hell is this? This is not a McDonald's!" Except it is. These are the fanciest McDonald's restaurants in the world.—Audrey Farnsworth
This Former Sea Captain's Home McDonald's
WHERE: Freeport, Maine
This McDonald's is just a fancy, Greek Revival–style house, and was once the home of a sea captain. Now it's a McDonald's, but also still looks like the home of a sea captain.
WHERE: Madrid, Spain
This McDonald's looks like an actual palace on a street of other historical buildings that also look like actual palaces. They sell chocolate-dusted cappuccinos, which are fancy drinks that aren't typically sold at McDonald's. This location is a bit more "regular café" than "McDonald's, the fast-food restaurant."
Kirkikisphoto | Dreamstime.com
Giant Happy Meal McDonald's
WHERE: Dallas, Texas
This McDonald's is a gigantic happy meal, and inside is the biggest McDonald's Playplace you've ever seen. For being so gargantuan and generally goofy looking on the outside, the inside is startlingly fancy, decorated with Ralph Lauren wallpaper, mahogany booths, and crystal chandeliers for some reason. We have no idea what is going on with this McDonald's, but it is excellent.
Actual Mansion McDonald's
WHERE: New Hyde Park, New York
This is another house-shaped McDonald's, except this McDonald's is shaped like an actual mansion. They've got a grand staircase. They've got a glass-enclosed porch. If ever you've wanted to visit a mansion and a McDonald's at the same time, this is your lucky day.
McDonald's With an Eagle on It
WHERE: Porto, Portugal
Housed in a building from the 1930s, this McDonald's is immediately confusing, as there is a gigantic and very regal looking eagle statue sitting atop the sign. Inside, it is, of course, decorated with stained glass, chandeliers, mirrors, and other things that aren't supposed to be inside of a McDonald's.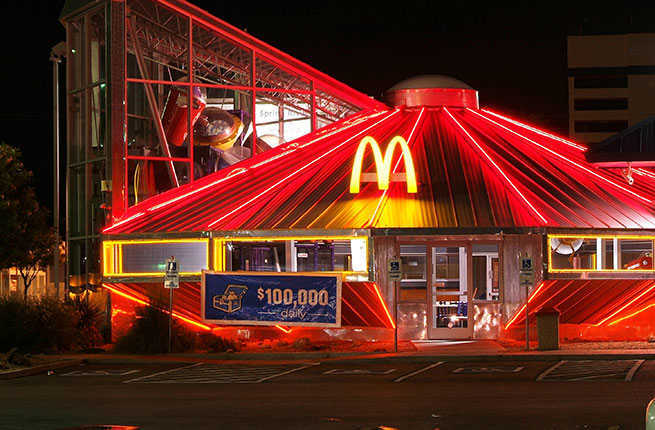 Olgacanals | Dreamstime.com
WHERE: Roswell, New Mexico
This McDonald's is shaped like an actual spaceship, which isn't surprising because of Roswell's history of UFO activity.
WHERE: St. Louis, MO
This McDonald's is a river boat, on the Mississippi River. It's a whole boat and also it is a McDonald's.
McDonald's That Looks Like a Space Observatory
WHERE: Tbilisi, Georgia
One might look at this building on the busy streets of Tbilisi and think, "Why does that space observatory say 'McDonald's' on it?" and then be startled to find out that the reason is "because it is a McDonald's and not a space observatory." It looks like a space observatory though, so it's an honest mistake.
McDonald's With a Whole Plane Attached to It
WHERE: Taupo, New Zealand
This McDonald's has a whole decommissioned plane as part of the store for some reason. You can even eat on the plane, if you enjoy eating McDonald's on an airplane without the whole "flying" part. Before it retired and moved into a McDonald's, this plane was one of three used by South Pacific Airlines, from 1961 to 1966.
McDonald's in the Mountains
Nestled in the gorgeous, remote landscape of the scenic province of Guangxi in Southern China is…a McDonald's. This particular McDonald's is more exotic than most—it has its own bridge.