You can find incredible food anywhere in the world, but there's no denying that Europe is home to an extremely high concentration of amazing cuisines. Truffles, Champagne, pasta, prosciutto—all these and more delicious treats can be found on the Continent. Whether you're looking for top-rated restaurants, authentic cafés, or award-winning wineries, our favorite European food and wine destinations are guaranteed to satisfy your appetite.
Edonalds | Dreamstime.com
In a land where glorious wines define both lifestyle and cuisine, you'll find savory, soul-warming dishes, from garlicky escargots to coq au vin, both of which pair beautifully with the local wines. While Burgundy's glittering wine trade imparts a sophisticated image to the region, Burgundy itself is basically prosperous farm country. Traditional cuisine here reflects the area's farm-centric soul, with lots of slow-cooked, wine-laced dishes. Distinctive farm-produced cheeses, such as the magnificent, odiferous Époisses, and the mild Cîteaux, made by Trappist monks, cap meals with rustic flourish. During a day of wine tasting in the Côte d'Or, dine at a traditional bistro to savor the jambon persillé, chunks of ham enrobed in a parsleyed aspic jelly, or a rich bœuf bourguignonne. In summer, be sure to spend a morning at one of the region's bountiful weekend markets—maybe Saulieu on Saturday. Afterward, enjoy a Charolais steak à la moutarde at a local café and raise a glass to the good life.
PLAN YOUR TRIP: Visit Fodor's Burgundy Guide
A new wave of culinary confidence has been running through one of the world's great food cities and spilling over both banks of the Seine. Whether cooking up grand-mère's roast chicken and riz au lait or placing a whimsical hat of cotton candy atop wild-strawberry-and-rose ice cream, Paris chefs—established and up-and-coming, native and foreign—have been breaking free from the tyranny of tradition and following their passion. Like the chefs themselves, Paris diners are breaking away from tradition with renewed enthusiasm. New restaurants, wine bars, and rapidly multiplying épicieries and sandwich shops recognize that not everyone wants a three-course blowout every time they dine out. And because Parisians are more widely traveled than in the past, many ethnic restaurants—notably the best North African, Vietnamese–Laotian, Chinese, Spanish, and Japanese spots—are making fewer concessions to French tastes, resulting in far better food.
PLAN YOUR TRIP: Visit Fodor's Paris Guide
Ralukatudor | Dreamstime.com
Many of Florence's restaurants are small, so reservations are a must. You can sample such specialties as creamy fegatini (a chicken-liver spread) and ribollita (minestrone thickened with bread and beans and swirled with extra-virgin olive oil) in a bustling, convivial trattoria, where you share long wooden tables set with paper place mats, or in an upscale ristorante with linen tablecloths and napkins. Those with a sense of culinary adventure should not miss the tripe sandwich, served from stands throughout town. This Florentine favorite comes with a fragrant salsa verde (green sauce) or a piquant red hot sauce—or both. Follow the Florentines' lead and take a break at an enoteca (wine bar) during the day and discover some excellent Chiantis and Super Tuscans from small producers who rarely export.
PLAN YOUR TRIP: Visit Fodor's Florence Guide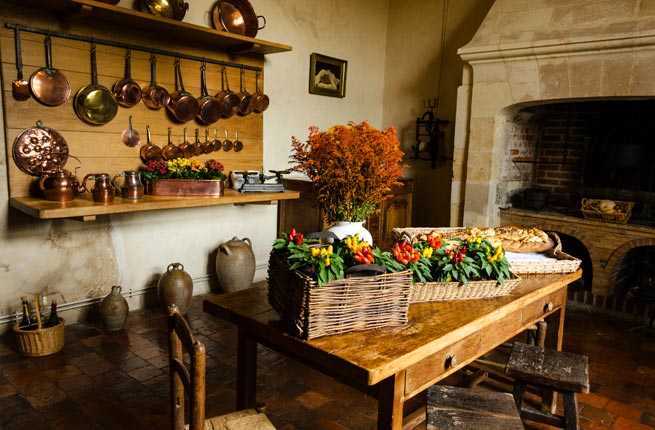 Esinel | Dreamstime.com
Finesse rather than fireworks marks the gastronomy of this gentle region, known for exceptional white wines, delicate fish, and France's most bountiful fruits and vegetables. The serene Loire imposes its placid personality throughout this fertile valley. The weather, too, is calm and cool, ideal for creating the Loire's diverse and memorable wines, from the elegant and refined Savennières to the mildly sweet, pretty-in-pink rosés of the Anjou. No big, bold, heavily tannic wines here. The culinary repertoire evokes a sense of the good life, with a nod to the royal legacy of châteaux living over centuries past. Many dishes are simply presented, and they couldn't be better: a perfect pike perch, called sandre, from the river, bathed in a silky beurre-blanc sauce; coq au vin prepared with a fruity red Sancerre; a tender fillet of beef in a Chinon red-wine reduction. It is the wines that highlight the Loire's gastronomic scene, and these alone justify a trip here, although, of course, you could make time to visit a château or two while you're in the neighborhood.
PLAN YOUR TRIP: Visit Fodor's Loire Valley Guide
The influence of the ancient Etruscans—who favored the use of fresh herbs—is still felt in Tuscan cuisine three millennia later. Simple and earthy, Tuscan food celebrates the seasons with fresh vegetable dishes, wonderful bread-based soups, and meats perfumed with sage, rose­mary, and thyme. Throughout Tuscany there are excellent upscale restau­rants that serve elaborate dishes, but to get a real taste of the flavors of the region, head for the family-run trat­torias found in every town. The service and setting are often basic, but the food can be memorable. Chianti restaurants serve Tuscan dishes similar to those in Florence, but they also have local specialties, such as pasta creations made with pici (a long, thick, hand-rolled spaghetti). You'll find other pasta dishes, like pappardelle alla lepre (a long, flat type of pasta noodle with hare sauce), and soups, such as pappa al pomodoro (a thick tomato soup) and ribollita (Tuscan bread soup), on most menus.
PLAN YOUR TRIP: Visit Fodor's Tuscany Guide
Philldanze | Dreamstime.com
Locals say they have "one foot in the fishing boat, one in the vineyard"—and a fortunate stance it is, as you can count on eating simple, fresh, seasonal food, and lots of it, with tutti i sapori della campagna verace (all the true flavors of the countryside). From the gulfs comepesce alla griglia (grilled fish), calamari (squid), aragosta (lobster), and gamberone (shrimp). Wood oven–baked thin-crust pizzas start with the classic Margherita—tomato sauce, basil, and cheese—and marinara—"marinated" with tomato, garlic, and oregano—and go from there to infinity. La Cucina Costiera seems more sensuous amid all this beauty. Sun-dried tomatoes and chili peppers hang in bright red cascades on balconies and shopfronts. ("Viagra naturale" boasts a hand-lettered sign in Amalfi.) Ingredients grown in terraced plots include plump olives pressed into oil or eaten whole, tiny spring carciofi (artichokes), and sweet figs. Sponzini, orpomodori del pendolo, the tomatoes carried from Egypt long ago by fishermen, grow in the mountains and muddy fields of Furore and Conca dei Marini. Eggplant, asparagus, and mushrooms thrive in the Tramonte uplands, while tomatoes come from Campora. Soft fior di latte (cow's-milk cheeses) are from the high hill pastures of Agerola, while the world's best buffalo mozzarella comes from Paestum.
PLAN YOUR TRIP: Visit Fodor's Amalfi Coast Guide
No other city in France teases the taste buds like Lyon, birthplace of traditional French cuisine. Home to both the workingman's bouchons and many celebrity chefs, the capital of the Rhône-Alpes region has become the engine room for France's modern cooking canon. Restaurants here offer a compelling jux­taposition between simple workingman's fare and sophisticated haute cuisine. Casual restaurants called bouchons offer classic everyday dishes like grati­née lyonnaise (onion soup) and boudin noir (pork blood) sausages. At the other end of the spectrum, über-chef Paul Bocuse—the original master of Nouvelle Cuisine—serves elevated preparations like black-truffle soup encased in pastry. And a coterie of creative young chefs like Anthony Bonnet have emerged, making it hard to go wrong in this food-focused city.
PLAN YOUR TRIP: Visit Fodor's Lyon Guide
Vienna Woods, Lake Neusiedler, and The Danube River
The epitome of Austrian viticulture is found in the Wachau, those few precious kilometers of terraced vineyards along the north bank of the Danube River. There are few nicer ways to spend an afternoon than to travel to the fabled wineries of the valley and sample the golden nectar coaxed from the vines. It's usually possible to stop in and meet the winemaker, who will be happy to pour you a taste from the latest vintage and share some of the secrets of the trade. A late-spring drive through enchanting villages like Dürnstein, when the apricots are in blossom, is an experience not easily forgotten. Here you can discover some of the finest white wines in Europe. The elegant, long-lived Rieslings are world-renowned, but the special glory of Austria is the Grüner Veltliner, an indigenous grape that can produce anything from simple Heurigen thirst-quenchers to wines of a nobility that rival the best of Burgundy.
With few exceptions, food in this region is on the simple side. The basics are available in abundance: roast meats, customary schnitzel variations, game (in season), fresh vegetables, and standard desserts such as Palatschinken (crepes filled with jam or nuts, topped with chocolate sauce) and Apfelstrüdel.
PLAN YOUR TRIP: Visit Fodor's Danube Valley Guide
Food in Istria is more sophisticated and varied than in the rest of Croatia. Culinary tourism is one of the region's biggest draws, and you will get (for a price) a markedly better meal here than elsewhere in the country. The quaysides and old town squares have a plethora of touristy restaurants, and many new exceptional places have opened in recent years, helping to set the standard for the country's gastronomical identity. Istrian food today means fresh and simple seafood dishes, locally madefuži (egg noodles), elegant truffle sauces and flavors, and earthy pršut (air-dried local ham), alongside the familiar Italian staples of pizza and pasta. Seafood is usually grilled, baked in sea salt, or servedcrudo (raw) with a dash of local olive oil. Truffles are the superstars of the interior villages and work their way onto autumn menus in pastas, game dishes, and on beds of homemade polenta. Keep your eyes peeled for traditional favorites like supa, a brew of red wine, sugar, olive oil, pepper, and warm, toasted bread; and meneštra, an Istrian bean soup, both popular in winter.
PLAN YOUR TRIP: Visit Fodor's Istria Guide
Ross Brinkerhoff / Fodor's Travel
In Rome, the Eternal(ly culinarily conservative) City, simple yet traditional cuisine reigns supreme. Most chefs prefer to follow the mantra of freshness over fuss, and simplicity of flavor and preparation over complex cooking methods. Rome has been known since ancient times for its grand feasts and banquets, and though the days of Saturnalia feasts are long past, dining out is still a favorite Roman pastime. But even the city's buongustaii (gourmands) will be the first to tell you Rome is distinguished more by its good attitude toward eating out than by a multitude of world-class restaurants. Romans like Roman food, and that's what you'll find in the majority of the city's trattorias andosterie (wine bars). For the most part, today's chefs cling to the traditional and excel at what has taken hundreds, sometimes thousands, of years to perfect. This is why the basic trattoria menu is more or less the same wherever you go. And it's why even the top Roman chefs feature their versions of simple trattoria classics like pasta all'amatriciana with a tomato, Roman bacon, chili pepper, and pecorino cheese sauce—sometimes with onion, although for some that's an issue of debate. To a great extent, Rome is still a town where the Italian equivalent of "what are you in the mood to eat?" translates to "pizza or pasta?"
PLAN YOUR TRIP: Visit Fodor's Rome Guide
Vinicius Tupinamba / Shutterstock
Spain's capital draws the finest cuisine—from seafood to rice dishes—from all over the Iberian Peninsula, but Madrid's most authentic local fare is based on the roasts and stews of Castile, Spain's mountain-studded central tableland. With a climate sometimes described as nueves meses de invierno y tres de infierno (nine months of winter and three of hell) it's no surprise that classic Madrid cuisine is winter fare. Garlic soup, partridge stew, and roast suckling pig and lamb are standard components of Madrid feasts, as are baby goat and chunks of beef from Ávila and the Sierra de Guadarrama. Cocido madrileño (a powerful winter stew) and callos a la madrileña (stewed tripe) are favored local specialties, while jamón ibérico de bellota (acorn-fed Ibérico ham)—a specialty from la dehesa, the rolling oak parks of Extremadura and Andalusia—has become a Madrid staple. Summer fare borrows heavily from Andalusian cuisine, while minimalist contemporary cooking offers lighter postmodern alternatives based on traditional ingredients and recipes.
PLAN YOUR TRIP: Visit Fodor's Madrid Guide
Local cooking is influenced by the neighboring regions of the north; foreign conquerors have left their mark; and today well-traveled Milanese, business visitors, and industrious immigrants are likely to find more authentic ethnic cuisine in Milan than in any other Italian city. Milan runs counter to many of the established Italian dining customs. A "real" traditional Milanese meal is a rarity; instead, Milan offers a variety of tastes, prices, and times of day, from expense-account elegance in fancy restaurants to abundant aperitivo-time nibbles. The city's cosmopolitan nature means trends arrive here first, and things move fast. Meals are not the drawn-out pastime they tend to be elsewhere in Italy. But food is still consistently good—competition among restaurants is fierce and the local clientele is demanding, which means you can be reasonably certain that if a place looks promising, it won't disappoint.
PLAN YOUR TRIP: Visit Fodor's Milan Guide
Tashka | Dreamstime.com
Dom Pierre Pérignon was the first to discov­er the secret of Cham­pagne's production by combining the still wines of the region and storing the beverage in bottles. Today, the world's most famous sparkling wine comes from the very same vineyards, along the towering Marne Valley between Épernay and Château-Thierry and on the slopes of the Montagne de Reims between Épernay and Reims. When you take a Champagne tasting tour, you won't be at the vineyards—it's all done inside the various houses, miles away from where the grapes are grown. Champagne firms—Veuve-Clicquot, Mumm, Pommery, Taittinger, and others—give travelers tours of their chalky, mazelike caves (cellars).
Smoked ham, pigs' feet, gingerbread, and Champagne-based mustard are specialties of the Reims area, along with sautéed chicken, kidneys, stuffed trout, pike, and snails. One particularly hearty dish is potée champenoise, consisting of smoked ham, bacon, sausage, and cabbage. Apart from Champagne, try drinking the region's hydromel (mead, made from honey) and Ratafia, a sweet aperitif made from grape juice and brandy.
PLAN YOUR TRIP: Visit Fodor's Champagne Country Guide
The felicitous combination of dairy farms, apple orchards, and the sea inspire Normandy's crème de la crème cuisine, featuring voluptuous cream sauces, tender cheeses, lavish seafood platters, and head-spinning Calvados brandy.Normandy's verdant landscape—a patchwork of pas­tures and orchards bordered by the sea—heralds a region of culinary delights. The apples feature in tarts, cakes, sauces, and cidre bouché, a sparkling cider sold in cork-top bottles. Brown-and-white cows—the famous vaches normandes—grazing beneath the apple blossoms each produce up to seven gallons of milk a day, destined to become golden butter, thick crème fraîche, and prized cheeses. Coastal waters from Dieppe to Granville are equally generous, yielding sole, turbot, and oysters. To fully appreciate Normandy's gastronomic wealth, stroll through a weekend market, such as the splendid Saturday morning affair in Honfleur on Place Ste-Catherine, sam­ple a seafood platter at a boardwalk café in Deauville, or meet the omelet of your dreams at La Mère Poulard at Mont-Saint-Michel.
PLAN YOUR TRIP: Visit Fodor's Normandy Guide
Romrodinka | Dreamstime.com
You'll eat later in the south, rarely before 12:30 for lunch, usually around 8 for dinner. In summer, shops and museums may shut down, after their morning hours, from noon until 3 or even 4 pm, as much to accommodate lazy lunches as for the crowds taking sun on the beach. But a late lunch works nicely with a late breakfast—and that's another southern luxury. As morning here is the coolest part of the day and the light is at its sweetest, hotels and cafés of every class take pains to make breakfast memorable and whenever possible serve it outdoors. Complete with tables in the garden with sunny-print cloths and a nosegay of flowers, accompanied by birdsong, it's one of the three loveliest meals of the day.
PLAN YOUR TRIP: Visit Fodor's Provence Guide