Jess Dewes Photography
There's no sweeter way to end a meal (or a day) than with a delectable dessert (and with some of these desserts, you might want to just go ahead and skip the meal). From fudgey brownies topped with smooth ice cream to truly artistic pies and cakes, the US has a lot to offer when it comes to tasty treats. So forget about the calories, and indulge your sweet tooth with our 20 top American dessert spots!
By Emily Wasserman
WHERE: New York, NY
New York City's Serendipity 3 has been a popular dessert spot since its opening in 1954. While Serendipity is most famous for its frozen hot chocolate, there are plenty of other sweets and treats to choose from. Guests can enjoy the Can't Say No Sundae with humble pie, ice cream, banana and hot fudge, or a slice of the restaurant's Crème De La Crème Cream Cheese Cake. For a major splurge, try the Golden Opulence Sundae, which holds the Guinness World Record for the most expensive sundae in the world.
PLAN YOUR TRIP: Visit the Fodor's New York City Guide
Jess Dewes Photography
Dessert at Bailey's Chocolate Bar
WHERE: St. Louis, MO
From chocolate martinis to lavishly plated desserts, Baileys' Chocolate Bar has it all. Guests can choose from a variety of chocolate-inspired creations, including the Chocolate Inebriation cake with layers of chocolate stout and bittersweet chocolate ganache, or the Brownie Royale with dense, fudgy brownie, bananas, hot fudge and a cherry. Chocolate aphrodisiacs can sample the Lover's Plate, which features nine of the restaurant's most popular desserts.
PLAN YOUR TRIP: Visit the Fodor's St. Louis Guide
Dessert at Flour Bakery + Café
WHERE: Boston, MA
For some of the best Boston cream pie in the country, visit Flour Bakery + Café. In addition to the legendary pie, chef and owner Joanne Chang whips up some of the city's most delicious confections—including Midnight Chocolate Cake with a milk chocolate buttercream filling, and a Milky Way tart with chewy caramel and a milk chocolate mousse.
PLAN YOUR TRIP: Visit the Fodor's Boston Guide
Bhofack2/Dreamstime.com
Float at St. Francis Fountain
WHERE: San Francisco, CA
Since 1918, San Francisco's St. Francis Fountain has served up classic ice cream sundaes and old-fashioned soda fountain treats. The diner's dessert menu includes everything from a double dip ice cream soda to a dreamsicle float with vanilla ice cream and orange sherbet. Ice cream specials include the Battleship sundae with three types of ice cream and sauces, or the Buster Brown with a warm fudge brownie, vanilla ice cream and raspberry sauce.
PLAN YOUR TRIP: Visit the Fodor's San Francisco Guide
Dessert at Mindy's Hot Chocolate
WHERE: Chicago, IL
Chef Mindy Segal uses fresh, locally sourced ingredients to create desserts at her namesake restaurant, Mindy's Hot Chocolate. The restaurant's dessert menu changes seasonally, and includes everything from brioche doughnuts with hot fudge and caramel corn, to chocolate "souffled" tart with salted caramel ice cream and house made pretzels. A glass of Segal's signature hot chocolate with fluffy, homemade marshmallows is the perfect antidote to a cold Chicago night.
PLAN YOUR TRIP: Visit the Fodor's Chicago Guide
Leigh Beisch Photography
Sundae at Ghiradelli Ice Cream & Chocolate Shop
WHERE: San Francisco, CA
Visit San Francisco's Ghiradelli Ice Cream & Chocolate Shop for decadent ice cream treats and a taste of the company's world famous chocolate. Guests can enjoy old-fashioned ice cream sundaes topped with cherries, nuts and whipped cream, and sample the shop's homemade hot fudge. The shop also offers a variety of shakes, floats and chocolate drinks, including a chocolate-bar infused milkshake and sea salt caramel hot cocoa.
PLAN YOUR TRIP: Visit the Fodor's San Francisco Guide
Lisaveta/Shutterstock
WHERE: Atlanta, GA
For over 75 years, The Varsity has satisfied hungry customers' sweet tooth. The drive-in offers 16 flavors of ice cream, and fried apple and peach hand pies that are made fresh daily. For a larger treat, try the pie a la mode or the drive-in's famous Frosted Orange, a cross between a milkshake and a slushie.
PLAN YOUR TRIP: Visit the Fodor's Atlanta Guide
Red velvet cake at Doughboys
WHERE: Los Angeles, CA
Doughboys is a dessert lover's dream. The café's extensive menu includes everything from cakes to scones, and the bakery makes its desserts and pastries fresh daily. Stop by for a slice of the famous red velvet cake, or try a pecan shortbread cookie filled with chunks of white chocolate and dried cherries.
PLAN YOUR TRIP: Visit the Fodor's Los Angeles Guide
Ice cream at Lula's Sweet Apothecary
WHERE: New York, NY
Sweet and healthy don't often go together, but at Lula's Sweet Apothecary, that's exactly what you'll find. The ice cream shop offers a variety of vegan and gluten-free flavors, and tops its sundaes with organic sauces and syrups. Traditional favorites receive a healthy makeover, as guests can order New York Egg Creams without the cream and eggs, or shakes and malts with rice milk. The best part? You won't even taste the difference.
PLAN YOUR TRIP: Visit the Fodor's New York City Guide
Crown Candy Kitchen
Treats at Crown Candy Kitchen
WHERE: St. Louis, MO
Walking into St. Louis's Crown Candy Kitchen is like stepping into a different era. The soda fountain and candy shop has been serving up treats since 1913, and uses a copper candy kettle to create its homemade ice cream. Popular menu items include the French Sundae with toasted cashews and chocolate sprinkles, or one of the shop's flavored malts: guests can choose from chocolate banana, butterscotch, and hot fudge. According to shop policy, anyone who drinks five malts in 30 minutes gets them for free.
PLAN YOUR TRIP: Visit the Fodor's St. Louis Guide
Rosemhenri/Dreamstime.com
Cupcakes at Lulu's Sweet Shoppe
WHERE: Boston, MA
For gourmet cupcakes with a unique twist, visit Lulu's Sweet Shoppe in Boston's North End neighborhood. Owner Sandy Russo started the shop in honor of her mother, an accomplished home baker who made her desserts from scratch. Cupcakes include pistachio with port wine, chocolate cherry bomb, and chocolate explosion.
PLAN YOUR TRIP: Visit the Fodor's Boston Guide
Hot Licks Homemade Ice Cream, Inc.
WHERE: Fairbanks, AK
America's most northerly state is home to some of the country's best ice cream. Fairbank's Hot Licks makes its ice cream in small batches, and uses natural, local ingredients to craft its flavors. Guests can sample everything from Alaska Blueberry with handpicked wild blueberries from Interior Alaska, to Kahlua made with fresh ground North Pole coffee beans.
PLAN YOUR TRIP: Visit the Fodor's Fairbanks Guide
iv Friis-larsen/Dreamstime.com
Chocolate-covered strawberries at Something Sweet Dessert Lounge
WHERE: Tucson, AZ
Something Sweet Dessert Lounge in Tuscon offers a variety of sweets and treats. The dessert menu includes everything from shakes and sundaes to cream pies and cheesecakes, and also features unique desserts like peanut butter chocolate chip and banana melts. The brave at heart can try one of the restaurant's giant eclairs, while chocolate lovers will enjoy the chocolate volcano cake with a gooey ganache center.
PLAN YOUR TRIP: Visit the Fodor's Tucson Guide
Beignets at Café du Monde
WHERE: New Orleans, LA
New Orleans is famous for its beignets, and Café du Monde is the place to get them. The cafe serves up its world-famous doughnut fritters 24 hours a day, seven days a week, and all doughnuts are made-to-order and dusted with powdered sugar. The fritters work well as a morning, afternoon, or anytime treat, and are best paired with a cup of café au lait.
PLAN YOUR TRIP: Visit the Fodor's New Orleans Guide
Elkeflorida/Dreamstime.com
Key Lime pie at Kermit's Key West Key Lime Shoppe
WHERE: Key West, FL
For a taste of fresh Florida Key Lime pie, stop by Kermit's Key West Key Lime Shoppe. In addition to its signature pie, the shop also offers key lime pie bars and "key lime pie on a stick"—a slice of the shop's key lime pie dipped in Belgian chocolate.
PLAN YOUR TRIP: Visit the Fodor's Key West Guide
Sunflowersister/Dreamstime.com
Shave ice at Jo-Jo's Shave Ice
WHERE: Kauai, Hawaii
From the outside, Jo-Jo's Shave Ice looks like a small beach cottage—but the inside offers so much more. The shop serves over 60 flavors of shave ice made with all-natural ingredients, and is a favorite among visitors and locals. Popular combinations include passion fruit and mango ice with macadamia nut ice cream, and Jo-Jo's special with chocolate, butterscotch and vanilla ice cream. A word to the wise—the shop closes for big surf and luaus.
PLAN YOUR TRIP: Visit the Fodor's Kauai Guide
Briancweed/Dreamstime.com
WHERE: Providence, RI
On Providence's historic Federal Hill is Pastiche, a European-style café and bakery that creates handmade, from-scratch desserts. The bakery offers delicately crafted pies, cookies, and cakes, and also features traditional European pastries such as cannoli, eclairs and tartlets. Favorite treats include fresh lime mousse tart and Italian mascarpone torte.
PLAN YOUR TRIP: Visit the Fodor's Providence Guide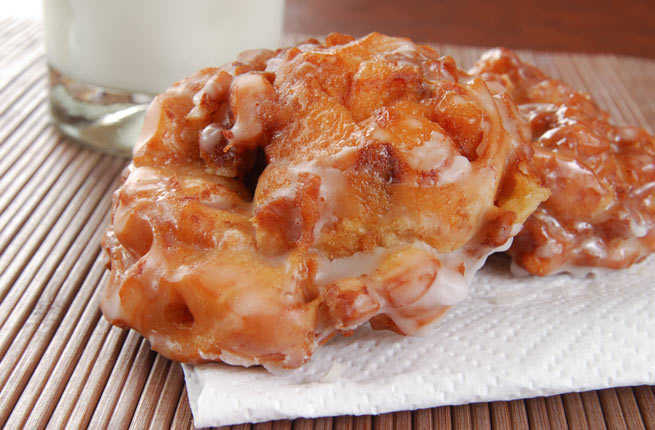 MSPhotographic/Shutterstock
Dessert at Beiler's Bakery
WHERE: Philadelphia, PA
For a taste of Amish baking, visit Beiler's Bakery in Philadelphia's Reading Terminal Market. The stand features a variety of handcrafted Amish desserts, including sticky buns, apple fritters, and authentic shoofly pie. Guests will enjoy the bakery's homemade doughnuts—popular flavors include chocolate chocolate chip and harvest apple.
PLAN YOUR TRIP: Visit the Fodor's Philadelphia Guide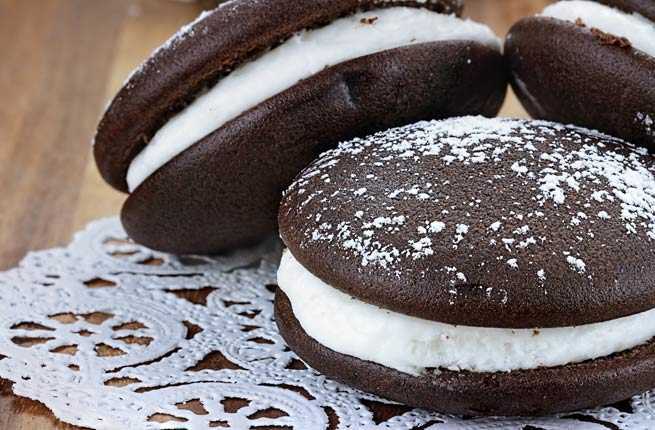 Stephaniefrey/Dreamstime.com
Whoopie pies at Labadie's Bakery
WHERE: Lewiston, ME
While the origin of whoopie pies is unclear, Labadie's Bakery in Lewiston, Maine is one of the best places to find them. The bakery sells its fluffy, cream-filled pies by the dozen, and also offers French cream horns and large whoopie pie cakes. Whoopie pie flavors include chocolate peanut butter, vanilla, and original chocolate.
PLAN YOUR TRIP: Visit the Fodor's Maine Guide
Bananas Foster at Brennan's
WHERE: New Orleans, LA
Brennan's created the original bananas Foster in the early 1950s, and has since developed an extensive dessert menu that will please any palette. Specialties include "Crepes Fitzgerald" with Grand Marnier, sour cream and strawberries, and the "Bread Pudding St. Joan of Arc" with Southern Comfort-infused raisins and cranberries. Guests can also enjoy Southern classics like Louisiana Chocolate Pecan Pie and Creole Chocolate Suicide Cake.
PLAN YOUR TRIP: Visit the Fodor's New Orleans Guide