The Rathskeller
The world's most popular beer gardens might be in Munich, but that doesn't mean that you need to whip out your passport to enjoy a pint. Beer gardens are cropping up across the United States, giving thirsty patrons a chance to sample local and international brews. The taps might be different, but all the places on our list offer a friendly ambiance and a passion for the craft. From an urban setting in Manhattan to a venue with a koi pond in San Diego, these 23 beer gardens will have you raising a glass. —Emily Wasserman
Stone Brewing World Bistro & Gardens
Stone Brewing World Bistro Gardens
WHERE: San Diego, CA
For a beer garden that marches to its own beat, stop by San Diego's Stone Brewing World Bistro and Gardens. The space is home to a two-story indoor location with greenery and floor-to-ceiling windows, and an acre of outdoor beer gardens with trees, flowering plants, and a koi pond. Forty beers on tap round out the menu. Beer enthusiasts can also choose from a selection of more than 100 bottles and a food menu with organic and locally sourced fare. Public and private tours allow visitors to get an inside look at the brewing process.
PLAN YOUR TRIP: Visit Fodor's San Diego Guide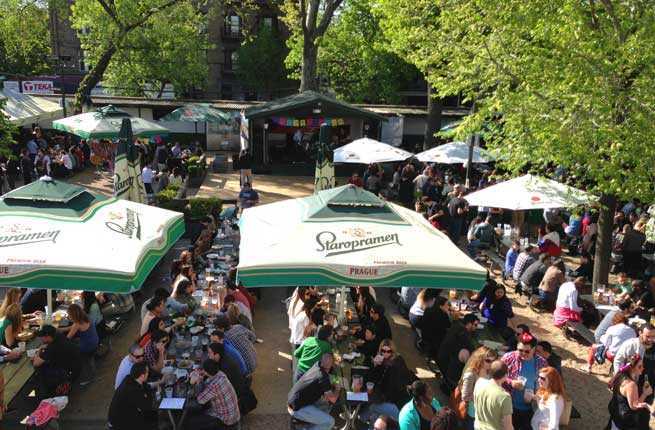 Courtesy of Bohemian Hall and Beer Garden
Bohemian Hall & Beer Garden
WHERE: Queens, NY
It's difficult to imagine Bohemian Hall & Beer Garden as a farm, but that's exactly what it used to be. The Bohemian Citizens' Benevolent Society bought the space at the beginning of the 20th century, and it slowly evolved into a beer hall and outdoor park with covered picnic tables and trees. A draft menu features beer from the United States and eastern Europe, and guests can enjoy a diverse food menu with traditional American bar fare, German staples, and Czech dishes. Don't miss the beer garden's nightly live music or the Czech & Slavic Festival held each spring.
PLAN YOUR TRIP: Visit Fodor's Queens Guide
Courtesy of Garden District
WHERE: Washington, D.C.
Tucked away off Washington, D.C.'s bustling 14th Street Corridor is Garden District, the city's answer to an old-world beer garden. Pull up a seat at blue picnic tables under Hofbräu umbrellas and enjoy a pint. Smoky pulled-pork sandwiches are made to order and guests can also snack on fresh doughnuts during the weekend. Make sure to show up early, because the garden closes when they run out of barbecue.
PLAN YOUR TRIP: Visit Fodor's Washington, D.C. Guide
Tom Taddeo
WHERE: Charlotte, NC
Bigger is better at Charlotte's VBGB Beer Hall & Garden. The lively drinking hole has 30 beers and ciders on tap, and also offers flights of craft brew. Chow down on a giant soft pretzel or homemade bratwurst, or head to the garden's giant backyard patio to play large versions of board games such as Jenga, chess, and Connect Four. Visitors can also take a break from drinking at the beach volleyball courts, ping-pong tables, and corn hole spaces.
PLAN YOUR TRIP: Visit Fodor's Charlotte Guide
Photo by Greg Hume [CC BY 3.0], via Wikimedia Commons
WHERE: Cincinnati, OH
Cincinnati's Mecklenburg Gardens has stayed true to its roots over the years. Once a German meeting place in the early 1900s, the garden is now a popular spot to chow down on classic German fare and popular beer. Sip a brew under 100-year-old grapevines and sample dishes including schnitzel, sauerbraten, and locally made bratwurst. German lagers, local craft beer, and hefeweizen are on tap, and live music adds to the ambiance on the outdoor terrace.
PLAN YOUR TRIP: Visit Fodor's Cincinnati Guide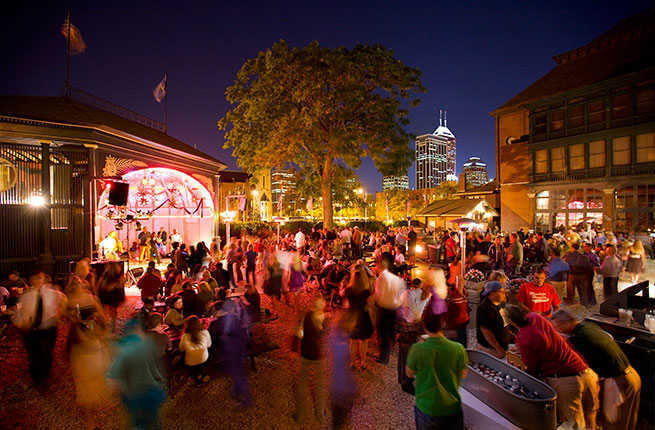 The Rathskeller
WHERE: Indianapolis, IN
Indianapolis's Rathskeller combines the best of both worlds. Located in a historic 19th-century building downtown, the beer garden includes a quiet, elegant indoor space and a lively outdoor beer hall with picnic tables and a stage for live entertainment. Quaint decorations abound, with stag heads mounted on walls inside and traditional décor draped on the outdoor pavilion. Local craft beer and selections from Germany and Europe make an appearance on the menu. A separate beer garden menu features traditional pub fare including warm soft preztels and frikadelle, the Rathskeller's twist on a German hamburger.
PLAN YOUR TRIP: Visit Fodor's Indianapolis Guide
Courtesy of Standard Biergarten
WHERE: New York, NY
Located beneath The High Line in New York's Standard Hotel, The Standard Biergarten is a beer lover's dream. The 4,000-square-foot enclave includes two bars and three ping-pong tables, not to mention a classic German menu with sausages, beers, and oversized pretzels. Enjoy a pint while perched on pastel-green chairs at a high-top table, or get a group together at one of the garden's long picnic tables. Come during the summer, when the garden transforms into an outdoor oasis.
PLAN YOUR TRIP: Visit Fodor's New York City Guide
PWP Studio
WHERE: Atlanta, GA
Atlanta's Der Biergarten offers an authentic beer garden experience. Visitors will find family-style seating and Bavarian décor, with walls decked out with hand-painted murals and a German-manufactured model railroad that circles the restaurant. Visitors can sip a brew in a white-tablecloth dining room, or head to the indoor/outdoor beer garden for a more laid-back experience. To take a break between pints, head to the Fussball and table shuffleboard alley.
PLAN YOUR TRIP: Visit Fodor's Atlanta Guide
Truck Yard
WHERE: Dallas, TX
Dallas' Truck Yard came about when the owner wanted to recreate his childhood tree house with a bar inside. The beer garden has a honky-tonk atmosphere that hearkens back to dance halls and biergartens of days past. True to its laid-back atmosphere, the space serves cans and drafts priced individually or by the pack. Grab a cup and sit at one of the giant wooden tables outside the "bar," or truck that serves up brew. Visitors who stop by on the weekend can enjoy live music from local performers.
PLAN YOUR TRIP: Visit Fodor's Dallas Guide
Raymond Thompson
WHERE: Austin, TX
The Texas capital is home to one of the best beer gardens around. Easy Tiger is best known for its hand-selected assortment of craft beers and cheeses, but also features traditional German fare such as corned beef, sausages, and pretzels. Pull up a seat at the bar's outdoor patio along a canal or relax inside with a drink. Taps rotate regularly, but visitors can request a special brand or brew. Don't miss the bar's signature cheese and homemade Bavarian pretzels.
PLAN YOUR TRIP: Visit Fodor's Austin Guide
Patrick Eberle
WHERE: Chicago, IL
For some, beer isn't beer without barbecue. At Sheffield's in Chicago, this adage rings true. The Second City beer garden serves fresh smoked slabs of ribs, and meat for the pulled-pork sandwich is smoked for 14 hours and shredded to order. There's a huge selection of craft beers, including over 40 brews on tap and bottles from European breweries. Enjoy a drink at a shaded picnic table on the patio, or grab a seat at the dark-wood bar.
PLAN YOUR TRIP: Visit Fodor's Chicago Guide
Dragon Images/Shutterstock
WHERE: New Orleans, LA
For a break from the bayou heat, stop by New Orleans's Bayou Beer Garden. The Mid-City bar offers an impressive collection of local brews, national craft beers, and imports. Snag a table on the patio, where umbrellas offer a reprieve from the heat and humidity. For guests who come hungry, the bar's signature "gravy fries" with savory roast beef gravy are sure to please, and on the weekends, come for the crawfish boil and fixings.
PLAN YOUR TRIP: Visit Fodor's New Orleans Guide
Rhein Haus
WHERE: Seattle, WA
Once known as "Von Trapp's," Seattle's Rhein Haus has been making waves in the city's beer scene. The beer garden is home to bocce courts, and Rhein Haus is quick to remind visitors that the game is played in Germany and Austria (in addition to Italy). Guests can sample four brews at a time, with a selection that runs the gamut from lagers and kolsch to Oktoberfest and weisse, or wheat beer. Don't miss the dinner menu, which features classic upscale dishes such as morels and spring peas spaetzle and zitronewurst, or a lightly smoked pork sausage seasoned with lemon zest and garlic. Shared plates for groups are also offered and include house-baked pretzels, Nuremberg mini-brats, and an "Oktoberfest sampler" with house-made charcuterie, rye bread, and pickles.
PLAN YOUR TRIP: Visit Fodor's Seattle Guide
Courtesy of Lowry Beer Garden
WHERE: Denver, CO
Located in a renovated airplane hangar, Lowry Beer Garden is more than your average bar. The space boasts more than 4,500 square feet of outdoor gardens and Oktoberfest-style picnic tables that can seat up to 350 guests. Taps rotate frequently, but the bar's main focus is on Colorado craft beers from brewers such as Avery and Odell. German beers and national craft brands round out the diverse list. Come with an appetite; the spicy bison brats and chipotle slaw pair well with icy pints.
PLAN YOUR TRIP: Visit Fodor's Denver Guide
Courtesy of The Butcher Shop
WHERE: Miami, FL
The brainchild of a father–son butcher duo, The Butcher Shop Beer Garden & Grill takes its brews seriously. Visitors can pull up a seat at high-top tables under spinning fans or grab a table outside under an umbrella. The beer garden offers 12 rotating craft beers every day, which include domestic and international brews. Local brews also make an appearance on the menu. Don't miss the house bratwurst, which is served on a pretzel stick and comes with a side of sauerkraut and caramelized onions.
PLAN YOUR TRIP: Visit Fodor's Miami Guide
Courtesy of STARR Restaurants
WHERE: Philadelphia, PA
Philadelphia's Frankford Hall mixes the best of both worlds. Contemporary architecture and a lively German biergarten atmosphere come together in a modern industrial space. Visitors can enjoy a wide variety of German essen und trinken (food and drink), including 14 draft beers that come in two sizes. The food menu has authentic fare such as strudels, schnitzels and bratwursts, which pair well with craft and German beers. Grab a table at the 250-seat courtyard or find a table inside, where exposed brick walls and a recycled wood bar add to the classic charm.
PLAN YOUR TRIP: Visit Fodor's Philadelphia Guide
Wurstkuche
WHERE: Los Angeles, CA
L.A.'s Wurstküche is a hip spin on a traditional German beer hall. Sleek wooden picnic-style tables line the interior, and exposed brick walls add to the space's contemporary feel. Draft and bottled beers from Germany and Belgium are standouts, and North American drafts also make an appearance on the menu. Don't leave without trying one of the bar's sausages, which are served on a baked roll and come with gourmet mustard. Consider tacking on a klein or groot of Belgian fries for good measure.
PLAN YOUR TRIP: Visit Fodor's Los Angeles Guide
Courtesy of Grunauer
WHERE: Kansas City, KS
To sample Austrian fare in the heart of the Midwest, look no further than Kansas City's Grunauer. The eponymous restaurant of Austrian chef Peter Grunaeuer features an extensive list of draft beer and import bottles by the glass, ranging from dark Austrian lager to German pilsners. Brews pair with classic Viennese menu items like grilled, marinated flat iron steak and schwammerl (mushrooms in a white wine paprika sauce with Austrian potato dumplings).
PLAN YOUR TRIP: Visit Fodor's Kansas City Guide
Courtesy of Hofbrau Beer Hall Miami
WHERE: Miami, FL
Miami's Hofbräu Beer Hall draws its inspiration from Munich's Hofbräuhaus, offering visitors an authentic experience that rivals the original beer garden. Foaming glasses of classic Bavarian brews feature heavily, and revelers can also sample a selection of seasonal beer including Hofbräu Maibock and Hefe-Weisse Dunkel. For food, try the beer hall's Münchner Weisswürste, or Bavarian white sausage served with a soft baked pretzel. The sauerbraten comes with savory dumplings and traditional red cabbage.
PLAN YOUR TRIP: Visit Fodor's Miami Guide
WHERE: San Francisco, CA
San Francisco's Zeitgeist offers an extensive beer menu that includes draft and bottled selections, not to mention craft and international brews at affordable prices. Pull up a seat at a wooden table with a group of friends and a pitcher of microbrew at this Mission institution. Check out the bar's hamburgers, brats, or home fries in between beers. The beer garden also whips up a mean Bloody Mary.
PLAN YOUR TRIP: Visit Fodor's San Francisco Guide
WHERE: Los Angeles, CA
A Los Angeles institution since 1959, the Red Lion Tavern has evolved over the years. Originally a traditional English pub with red leather and dark woods, the bar transitioned to a German beer garden when the new owner's German wife taught homestyle cooking to the head chef. Now, the gasthaus and beer garden continue to serve traditional food and offer a variety of German brews. Beer garden specialties include fried German pickles and bratwust on a roll served with sauerkraut.
PLAN YOUR TRIP: Visit Fodor's Los Angeles Guide
Estabrook Beer Garden
WHERE: Milwaukee, WI
Milwaukee knows its beer, and Estabrook Beer Garden stays true to the city's strong heritage. The biergarten features beer imported from the Munich Hofbräuhaus, and serves its brews in either half-liter or full-liter glass mugs. Groups can gather at wooden picnic tables or under umbrellas and enjoy a pint while looking out over the Milwaukee River. Traditional German bar fare such as smoked sausage, bratwurst, giant pretzels, and obatzter, or creamy cheese with onions, herbs and spices, is also available to order.
PLAN YOUR TRIP: Visit Fodor's Milwaukee Guide
Aviahuismanphotography | Dreamstime.com
Asbury Festhalle & Biergarten
WHERE: Asbury Park, NJ
In a shore town known for its nightlife, Asbury Festhalle & Biergarten stands apart from the pack. The beer garden features a 9,000 square-foot rooftop beer garden with views of the surrounding area and a 6,000 square-foot indoor hall. Revelers can choose from 60 bottled beers and 31 drafts that hearken back to Germany and other western European countries. Enjoy a pint at a communal table while listening to live music. Late-night visitors can sample traditional beer garden fare, including sausages and "happy face" pretzels.
PLAN YOUR TRIP: Visit Fodor's Jersey Shore Guide