Courtesy of Lady Dinah's Cat Emporium
If the nonstop sharing of Internet cat videos is any indication, people will always be obsessed with felines. Even though these beloved pets are known to sometimes have icy personalities, there's just something about seeing a bouncy kitten or a curled-up cat that remind us of the comforts of home. Luckily for cat-loving travelers, a cuddly fix on the road is now possible.
The first cat cafe, the Taipei-based Cat Flower Garden, opened its doors in 1998, and since then, the furry concept has spawned a worldwide trend. Now, whether you're tanning on Melbourne's beaches or backpacking through western Europe, there's a plethora of cozy hangouts to stop into for coffee and kitty time. Ahead, discover ten cat cafes around the world that are worth visiting—that is, if you're in need of a cute pick-me-up in between all that sightseeing and adventuring.
By Jinnie Lee
Cat Man Of West Oakland
Cat Town Cafe
WHERE: Oakland, California
This nonprofit Oakland feline rescue spot, America's first permanent cat cafe, has served a noble cause since it opened in 2014. Though Cat Town Cafe's top priority is to find loving homes for its furry friends (to date, they have found families for more than 600 cats), the cafe—serving local coffee, bagels, and treats—also warmly welcomes walk-ins for folks passing through the neighborhood. But because only fourteen visitors are allowed in every hour, it's highly recommended to make a reservation in advance.
PLAN YOUR TRIP: Visit Fodor's The Bay Area Travel Guide
Ethan Covey / ethancovey.com
Meow Parlour
WHERE: New York, New York
It's fitting that New York City's first cat cafe operates much like a regular cafe, complete with free Wi-Fi and feline-themed snacks. For a mere $4, visitors can stop in at the Meow Parlour for an adorable half-hour session, or stay for up to five hours (the difference is paid upon leaving). Those with little ones are encouraged to reserve a spot during the daily designated "children's hour" in the middle of the afternoon. Situated in the bustling neighborhood of the Lower East Side, Meow Parlour is the ideal spot to unwind or decompress from a shopping spree or a day of gallery hopping.
PLAN YOUR TRIP: Visit Fodor's New York City Travel Guide
Courtesy of Cafe Neko
Cafe Neko
WHERE: Vienna, Austria
Cafe Neko, named after the Japanese word for "cat", serves as a sanctuary for feline-loving tourists. The spot is conveniently located on a quiet, tucked-away cobblestone street in the center of Vienna. While the real showstoppers at Neko are the Maine Coons—shaggy cats that can grow up to twenty-five pounds—there are also a handful of smaller fur balls that roam around, all rescued from local animal shelters. For visitors in need of refueling, the spot also offers a selection of tasty homemade pastries, hot teas and coffees, fresh juices, and free Wi-Fi.
PLAN YOUR TRIP: Visit Fodor's Vienna Travel Guide
Courtesy of Lady Dinah's Cat Emporium
Lady Dinah's Cat Emporium
WHERE: London, England
Through a successful Indiegogo crowdfunding campaign, London's very first cat cafe is now a must-visit attraction in the hip Shoreditch neighborhood of East London. And in true English form, Lady Dinah's Cat Emporium boasts two types of 90-minute bookings—one for afternoon tea, the other for traditional high tea—all while a total of twelve cats freely roam around the two floors of the cafe. An entrance fee of £6 (which is used to help raise the furry residents) gets you into this kitten haven. It's advised to make a reservation in advance.
PLAN YOUR TRIP: Visit Fodor's London Travel Guide
Courtesy of La Gatoteca
La Gatoteca
WHERE: Madrid, Spain
If the adoptable fur balls of La Gatoteca don't immediately put you at ease, the homey interior certainly will. This cafe, which is set up like a living room—complete with bookshelves, plushy couches, and cat artwork on the walls—is a must-visit spot for Madrid tourists in need of unwinding after perusing the Museo Nacional Centro de Arte Reina Sofía next door (the country's go-to spot for twentieth-century art). Admission into La Gatoteca is a few euros for an hour, and that ticket also includes a free drink.
PLAN YOUR TRIP: Visit Fodor's Madrid Travel Guide
Courtesy of Neko no Jikan
Neko no Jikan
WHERE: Osaka, Japan
Considering the nation's heavy hand in catapulting cat cafes to global popularity, it's only appropriate that our list includes a Japanese spot. In fact, Neko no Jikan claims to be Japan's very first cat cafe. Though this particular spot, in the entertainment district of Osaka, is pricier than most (the establishment even charges for use of its toys), visiting one of the original cat cafes is an unmatched experience. Plus, with up to twenty felines roaming around, it's guaranteed that every cat lover will leave satisfied.
PLAN YOUR TRIP: Visit Fodor's The Kansai Region Travel Guide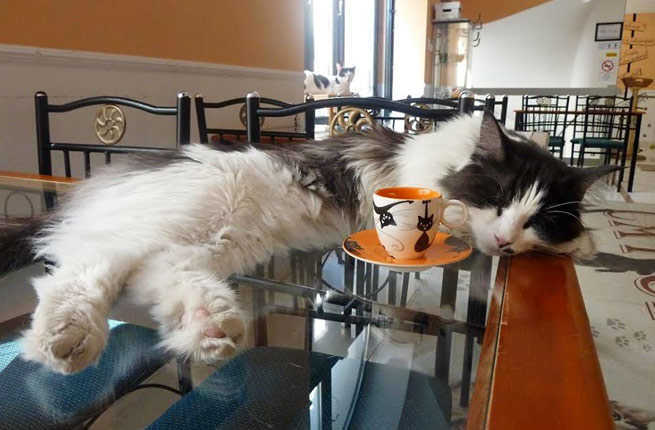 Courtesy of Cat Cafe Budapest
Cat Cafe Budapest
WHERE: Budapest, Hungary
If you're not visiting this aptly-named cafe for its array of low-key felines, it's highly recommended you do so for its adorable cat-themed menu—among the offerings are cupcakes and macarons decorated with kitty faces and pristinely prepared "cat-puccino" lattes with paw-print foam art. Set up more like a traditional coffee spot than a living area, the Cat Cafe Budapest is conveniently open for both reservation-holders and casual walk-ins.
PLAN YOUR TRIP: Visit Fodor's Budapest Travel Guide
Courtesy of Pee Pees Katzencafe
Pee Pees Katzencafe
WHERE: Berlin, Germany
Famously known as Berlin's first cat cafe, the cheekily named Pee Pees Katzencafe (Thomasstraße 53; +49 30 68086600) is located in a quiet neighborhood just outside of the city proper (meaning you may want to grab a taxi for a visit). And like the unfussy street where the cafe resides, Pee Pees is quaint, comfy, and low-frills, with two cats permanently living in this charming setting where you can have a simple bite of dessert.
PLAN YOUR TRIP: Visit Fodor's Berlin Travel Guide
Courtesy of Cat Cafe Neko no Niwa
Cat Cafe Neko no Niwa
WHERE: Singapore
Unlike other cat cafes that may rush customers, Singapore's first cat cafe, Cat Cafe Neko no Niwa—Japanese for "cat garden"—actually requires a minimum one-hour stay (admission starts at $12). The idea is to get very comfortable with the cafe's four-legged friends; guests are even asked to remove their shoes before entering. Serene and relaxing, this delightful spot is sure to leave visitors feeling fuzzy inside.
PLAN YOUR TRIP: Visit Fodor's Singapore Travel Guide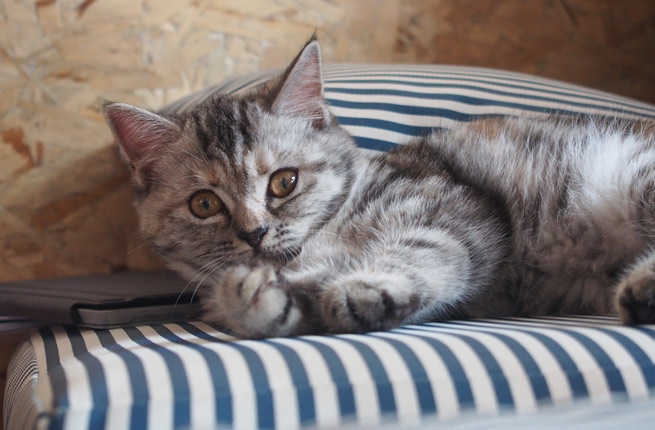 Bernhard Mueller
Catmosphere Cat Cafe
WHERE: Chiang Mai, Thailand
As one can gather from the name, Catmosphere Cat Cafe is no ordinary shop. It's a Star Wars-esque, space-themed kitten haven where every one of the nineteen felines has a designated role, such as "pilot," "sith lord," and "cuddle princess." Despite its adventurous wink, the overall atmosphere is quite pleasant and low-key, with a robust and highly lauded menu. There's even an extra bonus for movie lovers: The cafe boasts a "Cat Cinema," where visitors can watch daily classics with willingly cuddly kitties.
PLAN YOUR TRIP: Visit Fodor's Chiang Mai and Environs Travel Guide