Many culinary schools have restaurants that are open to the public, an oft-overlooked secret weapon for diners. If you're hungry for a taste of what some up-and-comers are doing in kitchens around the globe, it's a great idea to dine at restaurants where the students are doing the cooking. Prices tend to be a fraction of those at regular fine dining restaurants, and you may even experience the talents of the next top chefs before they become Michelin stars. But if you're the type that doesn't want a rookie behind the stoves, there are schools where experienced, professional chefs (and instructors) are doing the cooking, too. Either way, dining at a culinary school is a great way to escape a restaurant rut while traveling. Here are 10 of the world's best.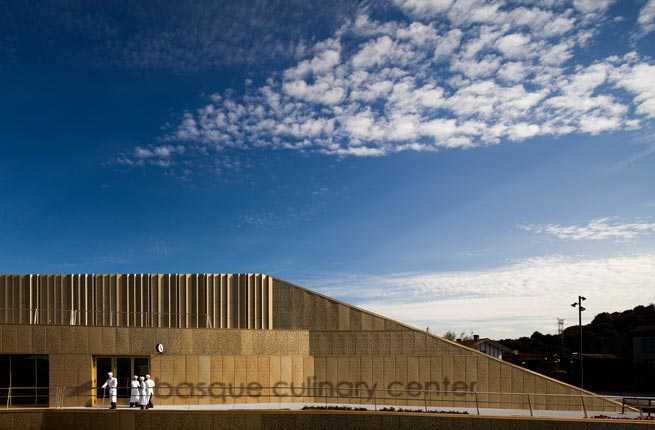 Courtesy of the Basque Culinary Center
WHERE: San Sebastian, Spain
Founded in 2009 by leading local chefs Juan Mari Arzak and Martin Berasategui, with the mission of advancing research and development in modern culinary arts, visitors can see the students in action in the center's Cafeteria. The "gastronomic landscape" menu, featuring the food of Basque Country, Galicia, Catalonia, and Andalucia, offers a terrific tour of regional cuisine.
PLAN YOUR TRIP: Visit Fodor's San Sebastian Guide
International Culinary Center
WHERE: New York, NY
Some of the world's most famous chefs, such as Jose Andres, Jacques Pepin, and Emily Luchetti, are among the deans here; don't be surprised if you spot them grabbing a meal at L'Ecole, the in-house restaurant. Choose between the "professional menu," made by the instructors, or the "student menu," prepared by the apprentices. Alumni such as Dan Barber and Wylie Dufresne mastered their rack of lamb recipe here.
PLAN YOUR TRIP: Visit Fodor's New York City Guide
Courtesy of Rory Daniel
Coriander Leaf Cooking Studio
WHERE: Singapore
Classes that cover more than 15 different types of Asian cuisine come to life on a la carte and set menus at the 12-year-old Coriander Leaf Bistro. Behind the scenes, students are sharpening the skills, such as hand-cutting soba noodles and firing up a tandoori oven, necessary to present flavors spanning from Burma to Vietnam.
PLAN YOUR TRIP: Visit Fodor's Singapore Guide
Photo by Sharon Blance / Image Workshop
William Angliss Institute
WHERE: Melbourne, Australia
With over 70 years' experience training the best chefs Down Under, the Angliss Restaurant not only features students in the kitchen, but also trains hospitality apprentices in front-of-the-house traditions. While visitors can sample student preparations of dishes such as braised veal shanks, the restaurant also features a "great chefs" program, inviting some of Melbourne's finest toques to share their creations, too.
PLAN YOUR TRIP: Visit Fodor's Melbourne Guide
The Culinary Institute of America
Culinary Institute of America Greystone
WHERE: St. Helena, CA
With a restaurant sponsored by Wine Spectator magazine, expect plenty of great pairings to go with the plates coming from this Napa Valley branch of the famed CIA. The restaurant "emphasizes sustainable cookery," with ingredients grown right on the property garden—so the tasty dinosaur kale in the crispy-creamy risotto has zero food miles. Trustees like Thomas Keller help keep up the stellar quality coming out of the kitchen.
PLAN YOUR TRIP: Visit Fodor's St. Helena Guide
WHERE: Lyon, France
The chairman, and namesake, immediately signals the esteem of this academy devoted to fine French gastronomy. The elegantly appointed Saisons restaurant within the Institut has two three-course menus that showcase the utmost in classical cooking. The "saveurs" menu may include features such as filet de sole, while the "chateaux menu" has a supreme of guinea hen among its highlights.
PLAN YOUR TRIP: Visit Fodor's Lyon Guide
Courtesy of Le Cordon Bleu Ottawa
WHERE: Ottawa, Canada
The world's largest hospitality school with campuses spread across 5 continents, LCB's reputation for grooming great chefs stretches back to 1895. The Bistro at Signatures in Canada's only LCB campus is set within an historic mansion, where acclaimed chef Yannik Anton presides over a team of experienced professionals. Thomas Naylor, the executive chef for the Canadian ambassador in Washington, DC, is among the chefs who mastered the art of international cuisine in the classrooms at the partner school.
PLAN YOUR TRIP: Visit Fodor's Canada Guide
Courtesy of Prue Leith Chef Academy
WHERE: Pretoria, South Africa
The only culinary school in South Africa to have a highly-rated fine dining restaurant has been priming chef-quality palates since 1997. Here, students learn everything from classical French to traditional Ethiopian to modern molecular gastronomy in order to compete in the annual World Culinary Olympics. Cheer on the students as they perfect some of award-winning dishes, such as coxcomb ravioli.
PLAN YOUR TRIP: Visit Fodor's Pretoria Guide
Courtesy of Arq. Patricio García Muriel
Centro de Estudios Superiors de San Angel
WHERE: Mexico City, Mexico
Mexico's first school to offer undergraduate studies in hospitality, dating back to 1976, also debuted Latin America's first restaurant-school nearly 20 years later. Diners can choose from three restaurants: two at the San Angel headquarters and one at the Estado de Mexico branch campus. Alumni such as Francisco Migoya, chocolatier and former pastry chef at The French Laundry, have landed at some of the best restaurants around the world.
PLAN YOUR TRIP: Visit Fodor's Mexico City Guide
Courtesy of Raymond Blanc Cooking School
Raymond Blanc Cooking School
WHERE: Oxford, England
While the students aren't preparing the meals at this two-Michelin-starred eatery, instructor Raymond Blanc is. The glorious setting of the Relais and Chateaux hotel, Le Manoir Aux Quat'Saisons, provides an unforgettable backdrop for this eatery. Blanc's two-acre garden yields over 90 vegetables and 70 varieties of herbs, and the wine cellar holds over 1,000 bottles to accompany his signatures such as Cornish cod, red pepper, and chorizo with parsley and cockle vinaigrette.
PLAN YOUR TRIP: Visit Fodor's Oxford Guide