Courtesy of American Airlines
From airplane seats the size of couches to in-flight bars and islands in the sky, air travel is getting bigger, sexier, and yes, a little uncanny. We reported yesterday on Samoa Air's new "couch" seats and took note of American Airlines' new stand-up bars (yes, on their planes), but they're not the only ones souping up their cabins. Richard Branson isn't one to be left out, and even KLM is introducing some saucy new services. Here are the five craziest we've seen lately.
By Carrie Seim
Courtesy of American Airlines
American Airlines: Bar on Board
Paging Don Draper. American Airlines' new"> wide-body planes boast the first stand-up bar on a US carrier since the 1970s. Perfect for mingling with the jet-set over mile-high martinis, the bar also is stocked with plenty of midnight snacks. American's 777 fleet, which flies international routes between New York, Dallas, and Los Angeles to/from London and Sao Paulo, keeps passengers plugged in with international WiFi as well as power outlets and UCB ports at every seat, while premium class promises Bose noise-cancelling headsets and lie-flat beds.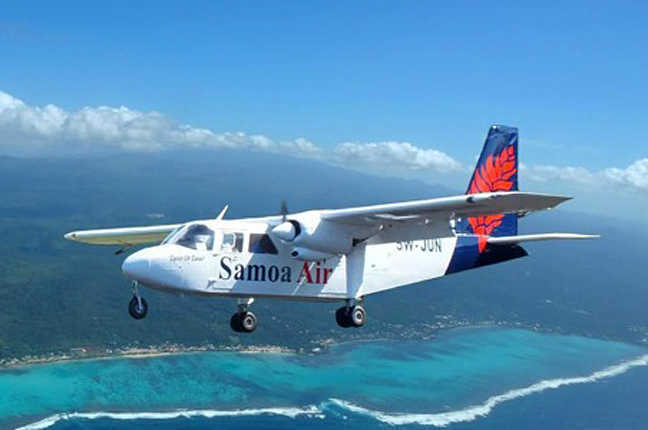 Courtesy of Samoa Air
Samoa Air: Flying Couches
Pass the popcorn. Samoa"> it's now offering supersized seats the size of a "two-person couch." The seats—created by removing an armrest between two regular sized seats and nixing a row to provide 14 extra inches of legroom—are designed to accommodate extra-large passengers. The airline previously gained notoriety for its "pay-as-you-weigh" pricing plan. It also recently partnered with a local fitness center to give members vouchers good for "three kilos for the price of one" on Samoa Air. No word on whether the couch seats also come with three meals for the price of one.
Via Virgin America/Youtube
Virgin America: Who's the Hunk in 14A?
Leave it to Richard Branson to make sure his Virgin American planes come with an onboard system that allows passengers to send drinks to the foxy guy in 14A or texts to the cute girl next to the lavatory. The seat-to-seat delivery service (you can send your plane crush anything from a beer to a tub of hummus) and texting are explained in a video called—of course—"Sir">." But before you scoff, keep in mind the man does always seems to end up on top…
Courtesy of Fiji Airways
Fiji Airways: Island in the Sky
This month Air Pacific is relaunching">. The transition comes complete with brand new A330 planes and a major makeover of the fleet's interiors, devised to capture the look and feel of a tropical resort. Lighting schemes, fabrics, and even the pillows are inspired by indigenous designs and island colors. Just pack your grass skirt.
Courtesy of KLM
KLM: In-flight Matchmaking
Attention, hopeless romantics (and stalkers)! KLM's "Seat">" program lets passengers do a little social media creeping before they even get to the gate. Participating passengers can view their fellow seatmates' Facebook and LinkedIn profiles before boarding. Perfect for finding love—or a restraining order—in the friendly skies.