Courtesy of Cunard Line
Not all cruise ship staterooms are created equal. Yes, many standard cabins are on the cozy (like under-200-square-feet-cozy) side, but if you can splurge, there are a handful of plush, indulgent suites on almost every ship that deliver all the comforts of a luxury resort—including butler service and private verandas with whirlpools. Here are 10 top suites that inspire smooth sailing.
By Donna Heiderstadt
Courtesy of Cunard Line
Grand Duplex on Queen Mary 2
At a sprawling 2,249 square feet, these"> are the largest suites at sea, featuring two levels of lavish living and sleeping space, two marble bathrooms with separate whirlpool tubs and showers, and a large balcony overlooking the pool deck. Called the Balmoral and Sandringham Suites, they come with butler service and exclusive access to the Queens Grill Lounge and feature Art Deco décor, Beidermeier furnishings, and a frosted-glass staircase to the second floor bedroom. (Seven-night cruises from $24,000 per person)
Courtesy of Seabourn Cruise Line
Wintergarden Suite on Seabourn
Not one but two decadent tubs—a large whirlpool for two in the bathroom and a soaking tub in a glass-enclosed solarium with a daybed—offer relaxation in total privacy in this"> available on the three newest Seabourn ships. (Seven-night cruises from $11,499 per person).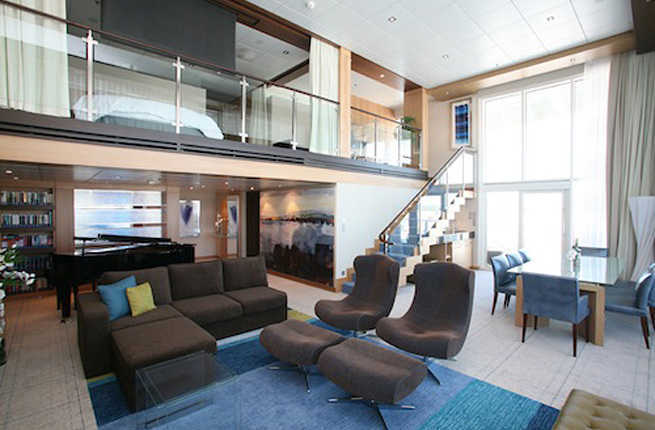 Courtesy of Royal Caribbean Cruise Line
Royal Loft Suite on Royal Caribbean
Yes, you are at sea with 5,300 other passengers with 25 restaurants, 10 hot tubs, and even an ice skating rink, and seven neighborhoods (including Central Park-themed open-air atrium), but with a"> you can be content to just chill. At 1,599 square feet (plus an 874-square-foot balcony) Royal Caribbean's largest suite features two floors, two bedrooms, a baby grand piano, a wet bar, and a balcony with dining area and whirlpool tub. (Seven-night cruises from $11,999 per person)
Courtesy of Crystal Cruises
Crystal Penthouse on Crystal Cruises
During each cruise on 1,070-passenger Crystal Serenity just four lucky couples get to experience these"> with their Jacuzzi tub, private workout room, lounge/media room, dining area, large balcony, and guest bathroom. And there is also a butler's pantry (and butler service) with a cappuccino maker. (13-night cruises from $23,600 per person).
Note: While the rest of Serenity was redecorated in 2011, the ship's four Crystal Penthouses will be gutted and upgraded in November 2013 to look similar to the two Crystal Penthouses aboard sister ship Crystal Symphony, shown here.
Courtesy of Celebrity Cruise Line
Reflection Suite on Celebrity Cruises
The first two-bedroom suite in Celebrity Cruise's fleet, this"> lets you enjoy a superb ocean view—even when you shower! (Non-exhibitionists can flip a switch to tint the windows). Other amenities include a Reverie Dream Sleep mattress (with elevation and massage features), butler service, and a large verandah with a lounge setting and whirlpool tub. (Seven-night cruises from $11,499 per person).
Courtesy of Azamara Club Cruises
Club World Owner's Suite on Azamara Club Cruises
It's not just the space (560 square feet inside and 233 square feet of veranda) but also en-suite extras like English butler service (he'll unpack your luggage and see that garments are pressed), daily afternoon tea and savories, plus complimentary seating in 694-passenger Azamara Journey's two specialty dining venues, Prime C and Aqualina that make this">. There's also a marble bathroom with whirlpool tub and separate shower, a spacious living/dining room, and a guest bathroom. (Seven-night cruises from $8,300 per person).
Courtesy of Oceania Cruises
Owner's Suite on Oceania Cruises
Spanning the entire aft on decks 8, 9, and 10 on each of Oceania Cruises' Marina and Riviera ships, these"> are 2,000 square feet and feature elegant furnishings by Ralph Lauren Home, a dramatic foyer, full living room and dining room, and indoor and outdoor whirlpool spas (the latter with a flat-screen TV). You also get 24-hour butler service, complimentary in-suite bar, priority restaurant reservations (there are four, including Jacques by Jacques Pepin), and access to the Canyon Ranch SpaClub's private terrace. (Seven-night cruises from $12,499 per person, including roundtrip airfare from 26 North American gateways).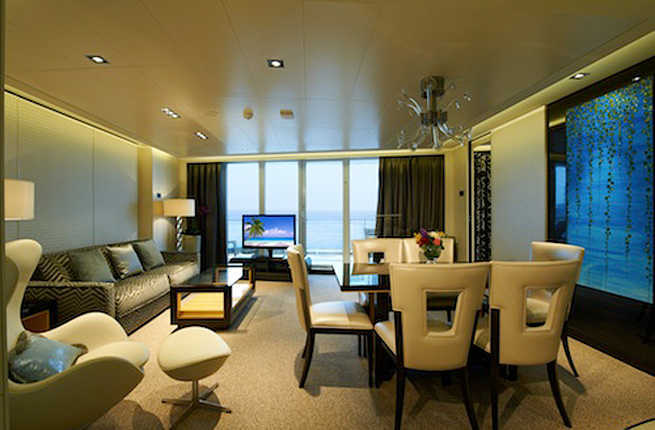 Courtesy of Norwegian Cruise Line
The Haven Deluxe Owner's Suite on Norwegian Cruise Line
You may be onboard megaship Norwegian Breakaway (it debuted in May 2013, accommodates 4,000 passengers and features 28 dining venues and bar/lounges), but by booking this"> in The Haven—a private enclave of staterooms and suites hidden away at the top of the ship—you'll have plenty of private space (932 square feet with a wrap-around balcony) as well as a marble bathroom with sea-view whirlpool tub and special key-card access to the exclusive Haven pool, lounge, and restaurant. (Seven-night cruises from $8,499 per person).
Courtesy of Paul Gauguin Cruises
Owner's Suite (701) on Paul Gauguin Cruises
At 457 square feet, this"> on Paul Gauguin Cruises' 332-passenger flagship vessel may not be the largest at sea, but both its bedroom and living area open onto a 77-square-foot verandah—the perfect place to sip cocktails as you sail amidts the scenic islands on the ship's Tahiti itineraries. Redecorated in a soothing blue palette in late 2011, the butler-serviced suite features a spacious bathroom with separate shower and tub, as well as a dressing area and walk-in closet. (Seven-night cruises from $10,195 per person, including roundtrip airfare from Los Angeles).
Courtesy of Silversea Cruises
Grand Suite on Silversea Cruises
With the option to be in either a 1,532-square-foot one-bedroom suite or a 1,879-square-foot two-bedroom suite (including a 702-square-foot wraparound veranda), the"> onboard 560-passenger Silver Spirit is great for a couple or a family (as a two bedroom, it features two full baths and a powder room). Amenities include butler service, a walk-in closet, a minibar stocked with libations, luxury linens, WiFi access, and more. (Seven-night cruises from $9,350 per person).