Some are so far off the radar they're virtually inaccessible—would you be willing to make the trek?
A trip to any of America's National Parks usually conjures up images of packing the car, hitting the road, and happily crossing that first brown sign, ready for a scramble in a busy parking lot. But what if that road trip required arriving by floatplane, hiking for three miles just to get to the entrance, or kayaking your way in without another person in sight? For some units of the National Park system, that's reality. Here are 10 spots where the journey truly is just as important as the destination.
Bering Land Bridge National Preserve
Located on the northern side of the Seward Peninsula, the Bering Land Bridge National Preserve is one of the most remote stretches of American landscape. What's left of this ancient passage serves as a reminder of our glacial past, the monument preserving a swath of the 1,000 miles that once connected North America to Asia. No roads lead into this land of hot springs, lava, and wildlife—gain access by snowmobile, boat, airplane, dog sled, or foot.
The preserve sees roughly 2,500 visitors a year, and those who dare to make it get to experience volcanic fields, lakes, and mountains on their own path, on their own time, quite literally: The preserve is always open and visitors are invited to freely wander the grasslands and tundra, no backcountry permit required.
INSIDER TIP
Serpentine Hot Springs is the most "popular" location within the preserve, though Devil Mountain Lakes (the largest maar in the world) and the twelve Trail Creek Caves are worthy of note, too. There are no trails to follow, and that's on purpose—hikers are asked to stick to durable areas and spread out, leaving no footprint on this pristine wilderness.
Katahdin Woods and Waters National Monument
In the belly of Maine's North Woods, days away from most Americans, rests the newest national park: Katahdin Woods and Waters National Monument joined the list in August 2016. The Katahdin Loop Scenic Road is an easy way to get good views of Mt. Katahdin and the northern hardwoods, but to dive in for the more concealed waterfalls and wildlife, don your snowshoes, put on your hiking boots, or hop on your mountain bike. The beauty of Katahdin isn't done justice from its exterior.
INSIDER TIP
The monument's quickly changing since its inception, but there's still a lot of work to be done. There's no visitor center and limited services, meaning any adventurists need to come doubly prepared. However, there's reward in the ruggedness, and its current lack of development limits crowds and expands opportunities for silent hikes, moose spotting, and dark skies.
Continue Reading Article After Our Video
Recommended Fodor's Video
Rio Grande Wild and Scenic River
Though 69 miles of the Rio Grande snake through Big Bend National Park, the rest belongs to a wild, rugged part of Texas that rarely sees human life. Only 300 visitors a year get on the 100+ miles of water outside of Big Bend, making the Rio Grande Wild and Scenic River one of the most remote NPS sites of all.
And not for good reason—there are three incredible limestone canyons for kayakers, canoers, and floaters to consider, each offering their own views and variety of adrenaline. Mariscal Canyon, with 1,400-foot cliffs and Class III rapids, is a quick 10 miles, while a trek through the Lower Canyons could go for 127 more.
INSIDER TIP
If you've got newbies in your group, consider a float through Boquillas Canyon; it's 33 miles long and the calmest section of the Rio Grande. Most who choose this option camp alongside the river for 2-3 nights alone in the wilderness.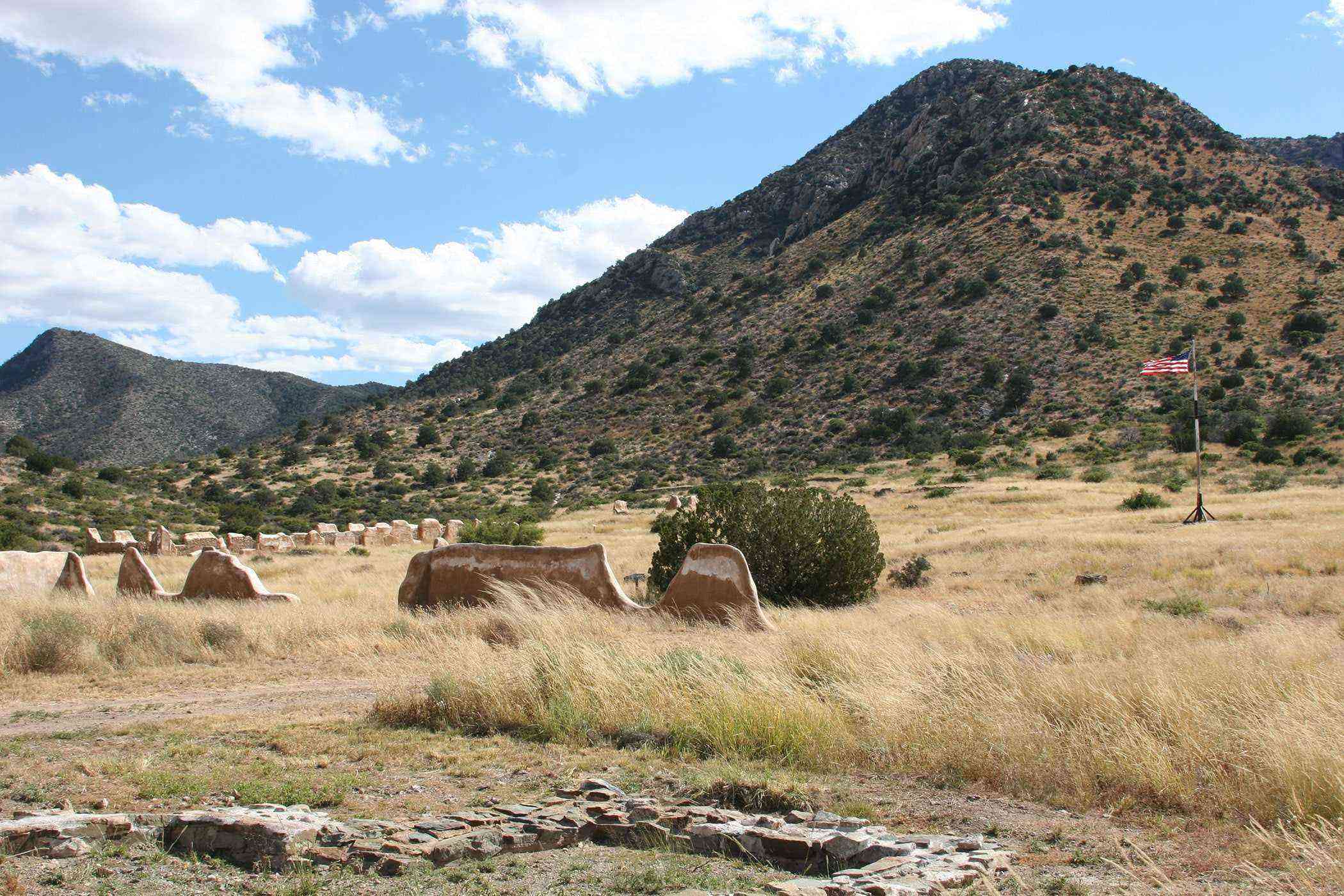 Fort Bowie National Historic Site
While most NPS sites have a simple sign or gate letting you know you've entered, not so at Fort Bowie National Historic Site in southern Arizona—making the 1.5-mile hike to the fort's ruins explicitly designed as part of the experience. The trail preserves the memory of the Chiricahua Apaches and their battle against the U.S. Army in 1886; it also makes certain visitors see important sites along the way, like Apache Spring, Siphon Canyon, and Butterfield Stage Stop.
INSIDER TIP
The 3-mile round-trip is generally labeled as moderate and has around 200 feet in elevation gain. If you're with someone who can't make the hike in, there's a small handicap lot close to the second fort ruins along Apache Pass Road.
Kalaupapa National Historical Park
Already on one of the least-visited Hawaiian islands, Kalaupapa National Historical Park is set to be one of the most inaccessible sites of all: To get to the peninsula, not only will you need a permit through Damien Tours, but you'll need to rely on a plane, boat, mule, or your own two feet to get there—it's a steep, challenging trail that's roughly 3.5 miles long. Few amenities greet you upon your arrival, mirroring the isolation once forced on these people—Kalaupapa is a former leper colony and prison. That being said, with the Pacific on three sides and mountains on another, you'd never guess.
INSIDER TIP
More than 8,000 people have died here, though a few elderly residents remain to tell their stories. Taking pictures of them is only permitted with their explicit permission.
Pictured Rocks National Lakeshore
Getting to Michigan's Upper Peninsula is a trek in and of itself, but then you'll be taking back roads and spur routes to and throughout the lakeshore—more than 40 miles along the southern waters of Lake Superior, the largest and deepest of the Great Lakes. Here you'll find waterfalls, sand dunes, wildflowers, nearly a hundred of miles of hiking trails, and the famous seaside cliffs for which the site is named. In winter, Pictured Rocks becomes a completely different world: snowshoeing, ice climbing, and cross-country skiing hog the spotlight.
INSIDER TIP
Lake Superior—and all the Great Lakes—are far more dangerous than most realize. Due to their size, they contain their own current that can be quite dangerous and volatile. If you plan to take to one of the Greats, be prepared. These waters are known for being beautiful and pristine, but turbulent and cold. The inland lakes of Pictured Rocks, however, are fair game.
Nicodemus National Historic Site
Hours and hours from any major urban center, Nicodemus National Historic Site is one-of-a-kind: It's the oldest and only remaining black settlement chronicling the daring movement westward after the American Civil War. Founded in 1877, the town was part of the "Promised Land," where former slaves could finally exercise personal freedom.
The town is quite small, though there are efforts to energize the community—a few members are descendants of the original settlers. The historic site itself encompasses five buildings, each with stories to tell.
INSIDER TIP
If you'd like to leisurely walk around town at your own pace, stop at the visitor center first for a walking brochure. And don't be surprised if you're all alone—a whopping 367 people visited in 2016.
Port Chicago Naval Magazine National Monument
Port Chicago Naval Magazine National Monument commemorates 320 lives lost in an explosion that shook buildings and lit up the night sky on July 17, 1944—two ammunition ships erupted into a fierce blaze in what would be the worst homefront disaster of WWII. Those who survived refused to report to work and were put on trial for mutiny. Most were African-American, and this event ultimately spurred the desegregation of the US Navy.
Today, Port Chicago, though a registered national monument, is still an active military base—reservations are required weeks in advance. Largely due to this obstacle, fewer than a thousand people visit per year despite it being less than an hour from San Francisco.
INSIDER TIP
Visitors get a two-for-one on a visit to Port Chicago—all shuttles depart from John Muir National Historic Site in Martinez, CA.
PHOTO:
NPS Photo - Brenner
Alibates Flint Quarries National Monument
In the Great Plains, north of Amarillo, there's a spot that's been used to make tools for the past 13,000 years—the colorful flint from the Texas soil was once excavated for spears and arrowheads, and later on, these rocky dugouts were used as foundations for primitive houses.
Today, Alibates Flint Quarries National Monument preserves these ancient quarries and the archaeological significance of the area. If you go, you'll be one of only 4,000 visitors per year to see the rainbow colors of Alibates—reservations are required in advance to get ranger-led tours through the monument.
INSIDER TIP
Petroglyphs can be found throughout the monument, one of the most notable the shape of a turtle near the Antelope Creek Village site. Keep an eye on the rocks—they may tell a more evident story than you think.
Aniakchak National Monument and Preserve
Possibly the most primitive, rugged, and hard-to-get-to site of them all is Aniakchak National Monument and Preserve—it's consistently ranked last in popularity, and only veteran, hardened adventurists are bold enough to seek out its challenges.
Floatplane or backpacking gets you into the preserve, and there you'll be met by bears, wolves, volcanic calderas, turbulent weather, and wild rivers—a no-man's-land of adventure that somehow lingers on. Most visitors hike the six-mile-wide crater Aniakchak sits on, others take on the rocky rapids of the Aniakchak River, but everyone experiences the moods and wiles of Alaskan nature first-hand.
INSIDER TIP
Most visitors choose to land via floatplane in Surprise Lake, inside Aniakchak Crater, though you can also hike in from the nearby village of Port Heiden.