Courtesy of Heavenly
In December 2015, Puerto Rico's Toro Verde Adventure Park opened the world's longest zip line, appropriately named El Monstruo, or "The Monster." Approximately 7,590 feet long and stretching 1,200 feet above the ground, The Monster allows riders to reach speeds of up to 90 mph, making it a new must-do for thrill seekers. But even for adventure lovers not planning a trip to Puerto Rico anytime soon, there's no shortage of high-flying, death-defying thrills to be found around the world. Read on to see 20 zip lines that will inject a huge dose of adrenaline into your next vacation. —Zachary Laks
Courtesy of Icy Strait Point
WHERE: Icy Strait Point, Alaska
Coined as the "no sweat adrenaline" zip line, the patented ZipRider zip line offers thrill seekers the chance to kick back in a chair and enjoy the view. A franchise with 21 global outposts, ZipRider stands out for its simplicity as riders are not required to wear helmets, not fitted for any equipment before the ride, and there's no training prior to the flight. Leading the company as the largest and arguably most thrilling ZipRider, Icy Strait Point features six 5,495 foot zip lines descending 1,320 feet. Speeds can reach up to 65 miles per hour as groups of six race to the base, 300 feet above the Alaskan tundra.
PLAN YOUR TRIP: Visit Fodor's Alaska Travel Guide
Chedtha Nuilek
Flight of the Gibbon, Thailand
WHERE: Mae Kampong, Thailand
Mae Kampong, Thailand marks the spot on the map of one of the world's first zip line parks, where more than four miles of wire weaves riders through the heights and depths of the Thai jungle. Located an hour east of Chiang Mai, plan to spend an afternoon at the Flight of the Gibbon, where Asia's longest single flight—coming in over 2,600 feet in length—is a standout among the course's 33 platform stations. In addition to the sky-high dangling, expect to test your might as you cross two hanging sky bridges and rappel two descents throughout the course. As a reward for a day among the treetops, a classic Thai meal is served al fresco.
PLAN YOUR TRIP: Visit Fodor's Thailand Travel Guide
Courtesy of Costa Rica Sky Adventures
Arenal Volcano Park, Costa Rica
WHERE: El Castillo, Costa Rica
One of the world's most active volcanoes until 2010, there's no more thrilling way to survey the ever-evolving landscape of Arenal Volcano Park than on the two and a half hour zip line tour. The journey begins in the open-air chassis of the SkyTram, a gondola that brings riders up to the mountain peak. From there, seven zip lines over the Costa Rican rainforest await, ranging from the longest at 2,493 feet to more abbreviated glides at 656 feet. As you make your way down the course, keep your eyes peeled for the indigenous monkeys, hummingbirds, and even the occasional tropical toucan.
PLAN YOUR TRIP: Visit Fodor's Costa Rica Travel Guide
Courtesy of Camelback Resort
Camelback Mountain Resort, Pennsylvania
WHERE: Tannersville, Pennsylvania
A quick two hour trip from New York City, adrenaline is on tap at Camelback Mountain Resort where its Twin Zip-Flyers send riders down the mountain at speeds up to 60 miles per hour. Start at base camp where a chairlift or shuttle bus—depending on the season—brings you to the summit where little briefing is required. Place your feet on the metal gate, lean back, and let gravity go to work as the 4,000 foot journey provides incredible panoramas of the ski resort and the Pocono mountains. Built with ease-of-use in mind, no helmets or harnesses are required, allowing for a seamless "hop on and fly" experience.
PLAN YOUR TRIP: Visit Fodor's Poconos Travel Guide
Courtesy of Skyline Eco-Adventures
Haleakala Skyline Tour, Maui, Hawaii
WHERE: Maui, Hawaii
Noted as the first commercial zip line tour operator in the country, Haleakalā Skyline Tour has been operating on the expansive volcanic and sub-tropical rain forest landscapes of Haleakalā National Park since 2002. Built as an hour and a half tour, five individual zip lines careen down the world's largest resting volcano as you hover over canyons and 90 foot drops. The course has a few highlights which include the panic-inducing swinging bridge and Maui's only "Pendulum" zip line, where riders zip forwards and backwards, reaching speeds up to 45 miles per hour.
PLAN YOUR TRIP: Visit Fodor's Maui Travel Guide
Courtesy of Sun International
WHERE: Sun City, South Africa
It's a race to the bottom on one of the world's fastest zip lines as Zip 2000's harrowing 1.25 mile flight reaches speeds up to a hundred miles per hour over. Strapped into two harnesses while laying flat in tandem beneath a free-running trolley, there's nothing comparable to the rush of zooming over Sun City's dormant volcano and grasslands. Completed in 2004, the mega-line has clocked speeds as high as 114 miles per hour measured with proud boasts of a 100% safety record.
PLAN YOUR TRIP: Visit Fodor's South Africa Travel Guide
WHERE: Simatai, China
Take the adventurous route on the Great Wall of China and hitch a ride on the Simatai zip line. About three hours outside of Beijing, the zip line is an understated attraction on the Wall, with rustic charm adding a dose of old-world thrill, perfect for the less-inhibited adventure seekers. The 40 second trip pays off instantly with incredible aerial views of the dam-formed Madarin Duck Lake and a 360-degree view of the Wall.
PLAN YOUR TRIP: Visit Fodor's Beijing Travel Guide
Courtesy of Royal Caribbean International
Dragon's Breath Flight Line, Labadee, Haiti
WHERE: Labadee, Haiti
A sight to behold from the decks of the Royal Caribbean cruises that port exclusively in Labadee, Haiti, the Dragon's Breath Flight Line is the world's longest zip line over water. Reaching speeds up to 50 miles per hour, the 2,600 foot zip line starts 500 feet above the beaches of Labadee. Positioned in a comfortable seat back, the rush of the ocean wind adds an extra thrill as you coast down the expansive line to shore.
PLAN YOUR TRIP: Visit Fodor's Royal Caribbean Travel Guide
Ziptrek Eagle Tour, Whistler, British Columbia
WHERE: Whistler, British Columbia
Whether you're seeking trees blanketed in snow or sun-drenched mountainsides of fauna, zip lining through the Fitzsimmons Valley has its rewards in any season. A standout outdoor activity of the region, the Ziptrek Eagle Tour is a five zip line course combined with four treetop bridges that lasts about three hours. Highlights along the course include the park's newest zip line that spans 2,400 feet, launching from Whistler Mountain's Olympic Station at over 3,200 feet elevation. Ziptrek amps up the adrenaline on the course with the option on certain zip lines to ride backwards, starfish—arms and legs spread open—and even upside down over the treetops of the Whistler & Blackcomb Mountains.
PLAN YOUR TRIP: Visit Fodor's Whistler Travel Guide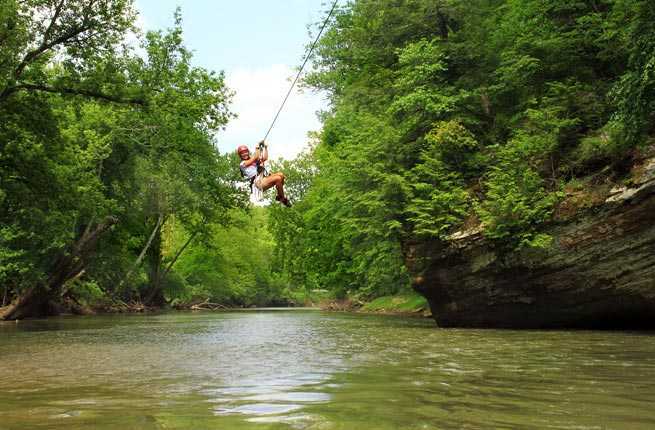 Courtesy of Hocking Hills Canopy Tours, Rockbridge, OH
WHERE: Hocking Hills, Ohio
Exploring Ohio's heartland has never been more thrilling than on the wires of Hocking Hills' Canopy Tours, especially on the company's newest "X" Tour. Built as a three hour zip lining expedition, the course combines trees and canopy towers for eleven zip lines including two Hocking River cross-overs. Those up for a challenge can expect an adrenaline-filled afternoon descending into a cave, clipping through the trees, and earning your marks as a fearless flyer.
PLAN YOUR TRIP: Visit Fodor's Ohio Travel Guide
Courtesy of Royal Caribbean International
ROYAL CARIBBEAN OASIS CLASS ZIP LINE
WHERE: Oasis of the Seas, Harmony of the Seas, Allure of the Seas
Rising to meet the expectations of thrill seekers who board the world's largest cruise ships, Royal Caribbean's premier zip lines are a first in onboard adventure. Don't mind the gap above the ships' aft atrium as a taut line sets passengers airborne. Stretching 82 feet and nine decks above the ship's boardwalk area, the no-fee thrill attracts a long line of cruisers on days at sea, so consider stopping by the station around meal times for quicker access.
PLAN YOUR TRIP: Visit Fodor's Royal Caribbean Guide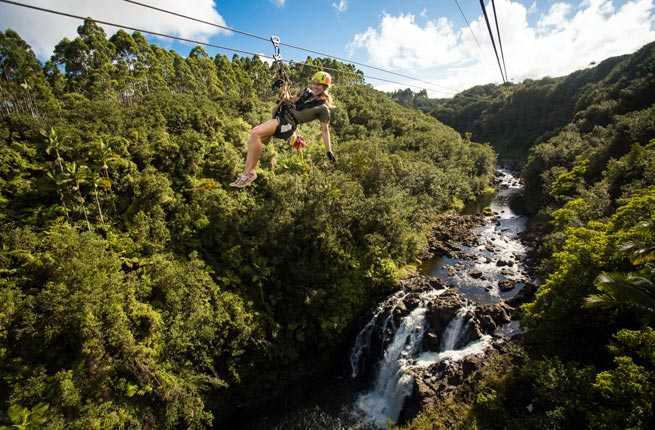 Courtesy of Zipline Through Paradise
A standout zip line experience that sends riders through the lush trees and gushing waterfalls of Hilo Forest Reserve in Hilo, Hawaii, The Kapohokine Zipline offers a nice alternative to a day on the beach. Built with couples in mind, the all-dual track is primed for a race as you and your partner descend over a thousand feet throughout the course. A few suspension bridges and suspended staircases keep the course interesting as you work your way up to the final line, Line 8—the longest line on the course. Ending on a high note, Line 8 spans more than a half mile long and hovers over a river where plenty of rapids make for a picture-perfect finish.
PLAN YOUR TRIP: Visit Fodor's Hawaii Travel Guide
Courtesy of Stowe Mountain Resort
Stowe Mountain Zip Line, Vermont
WHERE: Stowe, Vermont
Descending from the clouds of Mt. Mansfield, Vermont's highest peak, the adrenaline takes no time to kick in on Stowe Mountain's zip line tour. After a test flight at the mountain base, a gondola scales the mountain to the summit where the Nosedive Zip tests limits, darting riders down 4,462 feet of wire and reaching speeds up to 60 miles per hour. The two hour tour continues with the Haselton Zip providing near-perfect views of the Smuggler's Notch in the Green Mountains, and a final run on the Perry Merrill Zip, renowned for its speed—also reaching up to 60 miles per hour—and its low-dangling line that hovers close to the mountainside trees.
PLAN YOUR TRIP: Visit Fodor's Stowe Travel Guide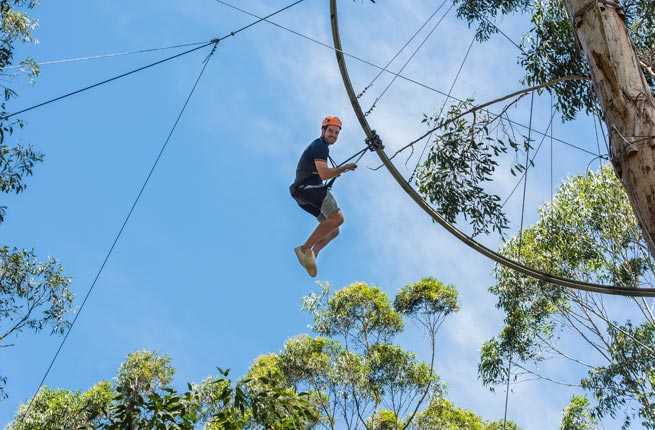 Courtesy of TreeTops
WHERE: Ourimbah State Forest, Australia
Making your way from point A to point B has never been more thrilling than on the TreeTop Crazy Rider, the world's longest roller coaster zip line—3,280 feet long and 59 feet tall—in Australia's Ourimbah State Forest. About an hour and a forty minutes north of Sydney, thrill seekers from around the globe are making their way to the outback to experience the thrilling five-minute hybrid ride that incorporates all the elements of a traditional zip line into a twisted track of sharp turns and sudden drops. The high-wire act opened to the public in 2014, custom built by the park owners and outdoor thrill engineers at Ecoline.
PLAN YOUR TRIP: Visit Fodor's Sydney Travel Guide
HGAN Photography / Rajesh Lamsal
WHERE: Kathmandu, Nepal
Well over a mile long—about 5,905 feet in length—you'll have plenty of time to admire the view on your two minute glide down from the mountains of Kathmandu, Nepal. Rushing at speeds beyond 70 miles per hour, the ZipFlyer Nepal ranks among the longest and steepest zip lines in the world with an astonishing 2,000 foot vertical drop. And as for the view, snowcapped mountains loom in the distance as vibrant shades of green fill the mountains and valleys below.
PLAN YOUR TRIP: Visit Fodor's Kathmandu Travel Guide
WHERE: Belmopan, Belize
Zoom into the depths of a cave for one of the most adventurous flying experiences on the Jaguar Cave Zipline. A highlight of Belize's outdoor adventure culture, mainline cruises that port in Belize City—including Royal Caribbean and Carnival Cruises—send passengers by the bus load to the Belizean rainforest course. Adventurers seek out the course for the chance to coast through ancient Mayan caves, try their balance on the rickety suspension bridges, and hover among stalactite and stalagmite formations.
PLAN YOUR TRIP: Visit Fodor's Belize Travel Guide
Gianluca Minin
GALLERIA BORBONICA – SPELEO TOUR
WHERE: Naples, Italy
An enchanting labyrinth of tunnels below the streets of Naples, you haven't experienced the city until you've explored its dark underground roots. For an added thrill, opt for the Speleo Tour where guests have the option to be propelled down a zip line over a cistern. The zip line comes at the end of the two hour long tour through the bowels of the city that mixes history, mystery and adventure as the route encounters abandoned city streets with antiquated cars and bikes and wooden walkways that extend through long tunnels of water.
PLAN YOUR TRIP: Visit Fodor's Naples Travel Guide
Courtesy of Ziptrek
Ziptrek Ecotours, New Zealand
WHERE: Queenstown, New Zealand
Internationally renowned for its extreme outdoor sports, New Zealand does not disappoint with its zip line offerings, especially when it comes to Ziptrek Ecotours' Kea Tour featuring the world's steepest zip line. A course built for adrenaline junkies, six tree-to-tree zip lines garner a good lay of the land in and around the beech forest. The real clincher comes at the end of the three hour tour with the world's steepest zip line, a roaring 30 story descent that reaches speeds up to 40 miles per hour.
PLAN YOUR TRIP: Visit Fodor's New Zealand Travel Guide
Courtesy of NY Zipline Adventure Tours
Hunter Mountain, New York
Only a two-and-a-half-hour drive from New York City, there's three reasons New York Zipline Canopy Tours is a top U.S. zip line destination: longest, fastest, and highest—in North America. Sprawling across 4.6 miles of the mountains of the Catskills, the three hour zip line tour begins with a chair lift ride to the peak of Hunter Mountain. From there, the fastest way down the mountain is soaring on the five side by side racing zip lines. Riders can expect to reach speeds north of 50 miles per hour on the course that can extend as far as 600 feet above the valley. And for those up for a little more of a physical challenge, the course's unique zap line is self-powered, requiring riders to keep momentum by way of running and jumping.
PLAN YOUR TRIP: Visit Fodor's Catskills Travel Guide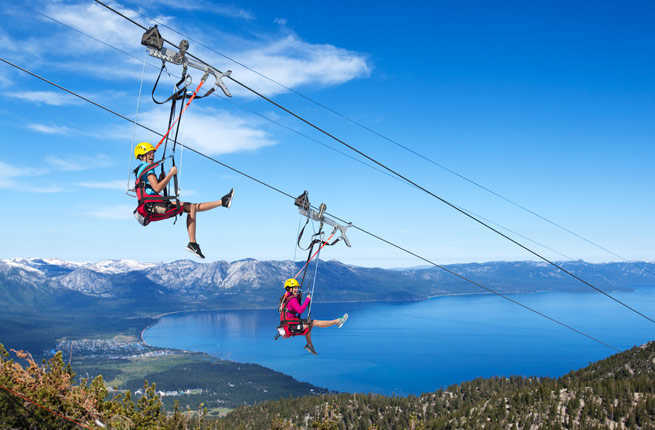 Courtesy of Heavenly
WHERE: South Lake Tahoe, California
Primed for a race amongst a group of four, prepare to want to linger a little longer than expected on the launch pad for Heavenly's summer zip line as the sweeping views of Lake Tahoe, Pyramid Peak, and Mt. Tallac entrance. Newly installed last summer, the Hot Shot Zip Line reaches top speeds of 40 miles per hour as racers are propelled down 1,000 feet of mountainside terrain. The new line pairs well with the more intense Hot Shot Zip Line, where 3,300 feet of cable send riders soaring up to 55 miles per hour with idyllic views of the Carson and Sierra Nevada mountain ranges.
PLAN YOUR TRIP: Visit Fodor's South Lake Tahoe Travel Guide