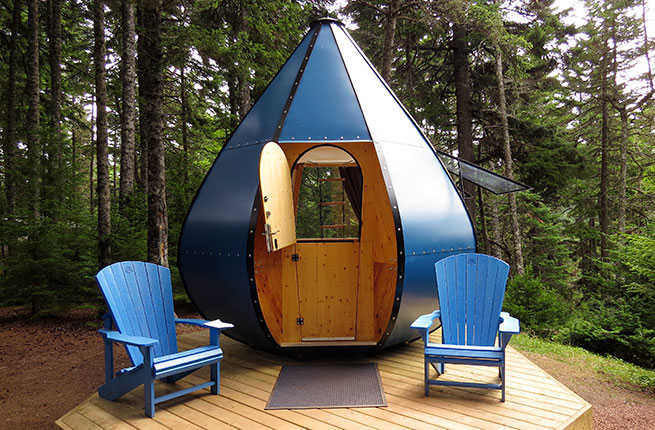 A scenic stay in the forests, beaches, and mountains of Canada's great outdoors doesn't have to include ground-level discomfort in nylon enclosures. Elevate your personal discovery of Canada's incredible natural spaces by exploring the unique accommodation options available across the country. Whether you're looking for an adventurous family getaway or romantic outdoor retreat, check out our picks for the 9 ways to camp outside the tent in Canada.—Claudia Laroye
Kerry Maguire; Adam Clarke
Free Spirit Spheres
WHERE: Vancouver Island, British Columbia
Climb the winding wooden staircase to spend a tranquil night or a week in one of three Free Spirit spherical treehouses. A lush coastal rainforest canopy near Qualicum Beach on Vancouver Island surrounds these beautiful suspended orbs, each with their own name. This unique treehouse resort for adults-only offers a blissful combination of back-to-nature experiences with the popular comforts of glamping. It's open year-round and well-situated to encourage exploration of nearby wineries and natural attractions.
PLAN YOUR TRIP: Visit Fodor's Vancouver Island Travel Guide
Parks Canada; Parks Canada / Eric Beaudoin
WHERE: Cape Breton Highlands National Park, Nova Scotia
Sleep under the stars and be lulled into slumber by Atlantic Ocean breezes off the Cape Breton coast in the spherical Cocoon Tree Bed. A steep set of steps leads to the suspended cocoon pod, anchored in the trees with tight wires that allow some gentle sway. It's the perfect place to lay your weary head after a day of hiking on the world-famous Cabot Trail that runs through Cape Breton Highlands National Park.
PLAN YOUR TRIP: Visit Fodor's Cape Breton Island Travel Guide
Parks Canada / Eric Beaudoin
WHERE: Fundy National Park, New Brunswick
In a place where the world's most extreme tides rise and fall daily, it is fitting that the Goutte d'Ô resembles a water droplet. The Bay of Fundy has no shortage of drama along its coastline, and sleeping within this bright blue structure offers a dramatic change from old-school tent camping. The Goutte d'Ô has a sofa bed on the main level and a hammock loft above and can accommodate couples or a family. Guests need to bring bedding and cooking supplies, as the Goutte d'Ô isn't heated, and all cooking must take place outdoors.
PLAN YOUR TRIP: Visit Fodor's Fundy Coast Travel Guide
Photo Sépaq
WHERE: Quebec
A bright, modern cabin with floor-to-ceiling windows, the EXP brings the sights of nature inside and gives guests the sense of living outdoors in the wilderness. Tucked away in the woods of some of the most scenic parks in Quebec, each EXP. Cabin is designed for two people and reflects the personality of each individual park. The EXP. has all the comforts of home, including heat, hot water, a bathroom, and a two-burner stove for romantic dinner prep with a forest view.
PLAN YOUR TRIP: Visit Fodor's Quebec Travel Guide
Parks Canada / Ethan Meleg
WHERE: Bruce Peninsula National Park, Ontario
Channel your inner wanderer by enjoying a stay in the modern version of a traditional dwelling used by the nomads of Central Asia. Ten yurts are available along the shores of Cyprus Lake in Bruce Peninsula National Park near Georgian Bay. The semi-permanent yurt structure is circular in shape, and comes with a wood stove and enough room for four, with the added bonus of a skylight dome to view the magical night sky in this Dark Sky Preserve.
PLAN YOUR TRIP: Visit Fodor's Ontario Travel Guide
Parks Canada / Eric Baril
WHERE: Riding Mountain National Park, Manitoba
The Micro-Cube is a tiny room with a view. Its signature feature is a large panoramic window on one side of the cube, looking out onto the woodlands of Riding Moutain National Park in Manitoba. The Micro-Cube is a contemporary wooden design with a double bed, two chairs, and a table. No cooking is allowed inside the cube, and guests are advised to come equipped for snuggling on colder days, as the micro-cube is not heated.
PLAN YOUR TRIP: Visit Fodor's Canada Travel Guide
Aspen Crossing
WHERE: Calgary, Alberta
Any train enthusiast will enjoy a sleep aboard one of these unique caboose cabins. Situated in a campground surrounded by trees south of Calgary, Alberta, three caboose cabins come complete with kitchenettes, bathrooms, outdoor firepits, and sleeping quarters for four. While the caboose used to play a critical role in railroad operations, these three refurbished editions enjoy a stationary life on the rails as unique destinations in their own right.
PLAN YOUR TRIP: Visit Fodor's Calgary Travel Guide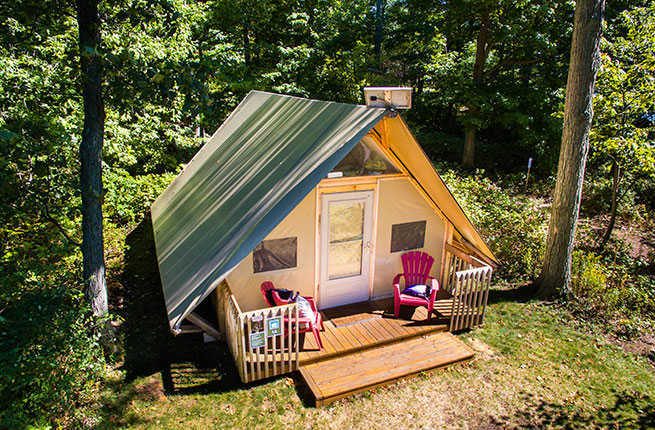 Parks Canada / Troy Glover
WHERE: Banff National Park, Alberta
The oTENTik is a cross between an A-frame cabin and a prospector tent, mounted on a raised wooden floor. A stay in an oTENTik is as glampy as it gets at Banff National Park, functioning as a handy "ready-to-camp" site that requires no set-up by guests. It's an ideal way for visitors who prefer the comfort of a bed and floor to discover the joys of camping in Canada's first and most popular national park.
PLAN YOUR TRIP: Visit Fodor's Banff National Park Travel Guide
Clayoquot Wilderness Resort
Glamping at Clayoquot Wilderness Resort
WHERE: Tofino, British Columbia
This isn't your grandma's canvas tent. The 20 luxury glamping tents at Clayoquot Wilderness Resort are located in the Bedwell Sound Estuary and Clayoquot Biosphere Preserve north of Tofino. The structures, which are set up and taken down each season, feature king-sized beds, luxury linens, vintage antiques, and ensuite bathrooms complete with an outdoor shower underneath centuries-old Douglas Fir trees. This Relais & Chateaux property is a five-star dining, bucket list-worthy wilderness glamping experience.
PLAN YOUR TRIP: Visit Fodor's Vancouver Island Travel Guide