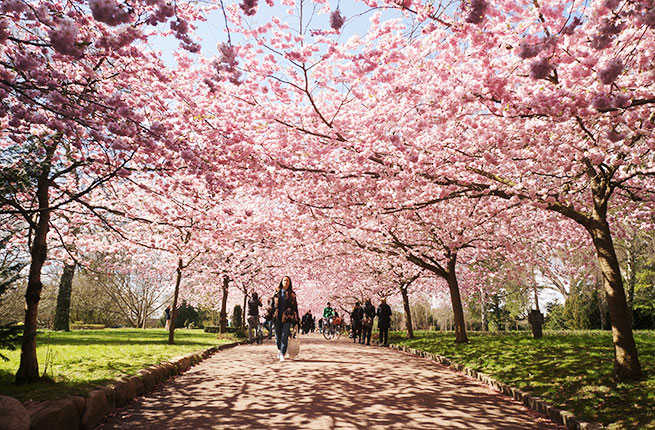 Katjaolsen | Dreamstime.com
Ah, springtime: When nature takes a box of crayons to the drab gray winter. The world (well, the northern hemisphere) blooms March through May, offering blossoms so beautiful they're worth a trip halfway around the world. From the National Cherry Blossom Festival in Washington DC to the Madeira Flower Festival in Portugal and beyond, here are nine fabulous spring flower festivals around the world.—Jordan Simon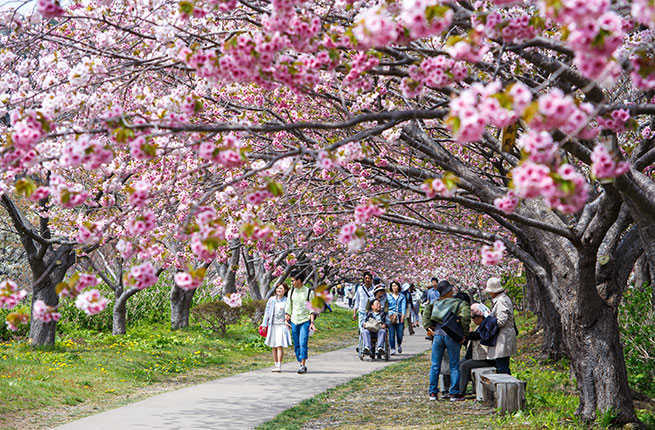 Jajaladdawan | Dreamstime.com
Matsumae Koen Park Cherry Blossom Festival
WHERE: Matsumae, Japan
When: Late April to mid-May
The sakura (cherry blossom) is Japan's national flower and the country's festivals have revered its beauty for nearly 1,500 years. Spring begins to bloom in February in Okinawa, then travels northward to Hokkaido, where the blossoms peak in early May. Mountains, parks, and cities are covered in pink and mauve, and petals shower bypassers like confetti. Reflecting the fleeting blooming cycle (usually just 1-2 weeks), the revelries are tinged with a sense of the evanescence of life, a Buddhist belief.
Of the dozens of Japanese festivals, Matsumae's may be the most magnificent. More than 10,000 cherry trees paint this seaside town on Japan's northernmost island of Hokkaido. The grounds of the exquisite 17th-century Matsumae Castle hold more than 250 varieties of the famed tree. Commencing with a grand parade, the festivities also feature booths purveying local seafood, tea ceremonies, crafts, haiku competitions, fireworks, and even a karaoke contest.
Insider Tip: If you can't make it up to Hokkaido, consider the Himeji Castle Cherry Blossom Viewing Festival, held in early April, 60 miles northwest of Kyoto.
PLAN YOUR TRIP: Fodor's Hokkaido Guide
Rabbit75 | Dreamstime.com
National Cherry Blossom Festival
WHERE: Washington, D.C.
When: March-April
The annual event, inaugurated in 1927, celebrates Japan's 1912 gift of 3,000 ornamental cherry trees. Highlights include the Blossom Kite Festival with handmade kite displays and competitions. Paddleboat rides in the Tidal Basin delight families and couples alike. Travel photographers conduct workshops, including special sunrise and twilight flower safaris. Kids construct koi mobiles at the Textile Museum, and Cherry Blossom Food Tours show guests delectable dishes inspired by both cherries and the area's Japanese influence. The celebrations climax with the National Cherry Blossom Festival Parade down Constitution Avenue—one of the nation's largest spectacles.
Visitors can head to the U.S. National Arboretum for its self-guided "Beyond the Tidal Basin" tour, showcasing nearly 40 varieties of flowering cherry trees, including some developed by its scientists (the so-called, willow-like weeping Yoshinos are extraordinary).
Insider Tip: For cherry blossom-inspired cocktails like the Sakura, visit The Rye Bar, inside the Rosewood Washington D.C.
PLAN YOUR TRIP: 25 Ultimate Things to Do in Washington, D.C.
Katjaolsen | Dreamstime.com
Copenhagen Sakura Festival
WHERE: Copenhagen, Denmark
When: April
In 2005, the Danish Honorary Consul of Hiroshima gave Copenhagen 200 flowering cherry trees to commemorate the bicentennial of beloved storyteller Hans Christian Andersen's birth. The festival locale Langelinie Park, home to the first plantings as well as the famous Little Mermaid statue inspired by an Andersen tale, appropriately resembles a fairytale come to life. Traditional martial arts demonstrations from karate to kendo (fencing with bamboo rods), authentic folk dances, taiko drum performances, and tea ceremonies enliven the proceedings. Free workshops highlight Japanese crafts like origami, calligraphy, and ikebana (the art of flower arranging).
Insider Tip: The nomi no ichi (flea market) near the main stage is a treasure-trove of manga comics, wooden carvings, wire sculptures, and more.
PLAN YOUR TRIP: How to Spend a Long Weekend in Copenhagen
Wilmington and Beaches CVB
North Carolina Azalea Festival
WHERE: Wilmington, North Carolina
When: April
Founded in 1948, the North Carolina Azalea Festival is the state's largest event of its kind: a county fair featuring a circus, competitions, celebrity headliners, galas, and more. More than 200,000 celebrants attend the annual street fair and throng to watch the main parade. Over 1,000 volunteers help stage 50-plus events ranging from concerts to art contests to coin shows. Proud locals open their homes and gardens for tours. The traditional arrival of Queen Azalea opens the festivities, but the pink, lavender, and white blossoms preen all spring long.
Insider Tip: The blossoms take the spotlight during the Cape Fear Garden Club's Azalea Tour, which opens private residences ranging from fanciful cottages to stately antebellum mansions.
PLAN YOUR TRIP: A Perfect 5-Day Road Trip Through North Carolina
Prakobkit | Dreamstime.com
WHERE: Sobaeksan National Park, South Korea
When: Late May-Early June
Sobaeksan, one of the 12 Sobaek Mountains skirting the border between Chungbuk Province and Gyeongbuk in South Korea, comprises a national park famed for its biodiversity, yew trees, wildflowers, and royal azaleas. By late May, its peaks like Birobong, often compared to the Swiss Alps, seem to don a pale pink jeogori (traditional Korean jacket). Noted Confucian scholar Toegye Yi Hwang says it's like "walking through a colorful silk curtain as if I've arrived at an extravagant party." Various musical performances, activities, and artisanal workshops celebrate the energetic qualities of the azalea.
Insider Tip: The more adventuresome can enjoy the rugged region's highs (ridge hikes between Birobong and Yeonhwabong peaks or down riverbeds, where you'll pass breathtaking temples and waterfalls) and lows (subterranean spelunking amid the crystal gardens of Gosu Cave).
PLAN YOUR TRIP: 10 Ways to Experience Korean Culture in Seoul
Febriyanta | Dreamstime.com
WHERE: Ottawa, Canada
When: May
In gratitude for Canada's providing safe harbor to the Dutch royal family during World War II, Princess Juliana presented Ottawa with 100,000 tulip bulbs. The Canadian capital has memorialized the gift for six decades through this funfest where millions of tulips rim the iconic Rideau Canal. The entire city participates, with a virtual United Nations of neighborhoods from Little Italy to Chinatown offering their unique spin. Highlights include the black-tie Tulip Ball, the Floral Hair Competition, and kid-friendly happenings like a Tulip Treasure Hunt and the Mad Hatter Tea Party on Mother's Day.
Insider Tip: Arguably the single most impressive tulip display is in Commissioner's Park at Dow's Lake: almost 300,000 tulips from 60 different varieties bloom in 30 flower beds.
PLAN YOUR TRIP: Fodor's Ottawa Guide
NBTC/Holland Media
WHERE: Noordoostpolder, Netherlands
When: April – May
Noordoostpolder, an hour's drive northeast of Amsterdam in central Flevoland, is the Netherlands' youngest tulip-growing area, but one of its largest. You can drive, bike, or hike during the annual Countus Tulpenfestival, which attracts over 50,000 visitors. Horse-drawn carriage tours and organized hikes also escort you along canals and over bridges to view the vividly hued tulip fields. The Centrum Amateurkunst Flevoland's Passie in de Polder (Passion in the Polder) tours visit specially created art installations that interact with their surroundings. In the annual Koetsentocht, coachmen of Menvereniging Castle drive the tulip queen and her entourage in a special authentic coach, followed by a procession of horse- and pony-drawn carriages.
Insider Tip: Though it's in the opposite direction, flower fans should visit the renowned Keukenhof, occupying 15th-century hunting grounds outside Amsterdam.
PLAN YOUR TRIP: 10 Places to Visit in the Netherlands (Besides Amsterdam)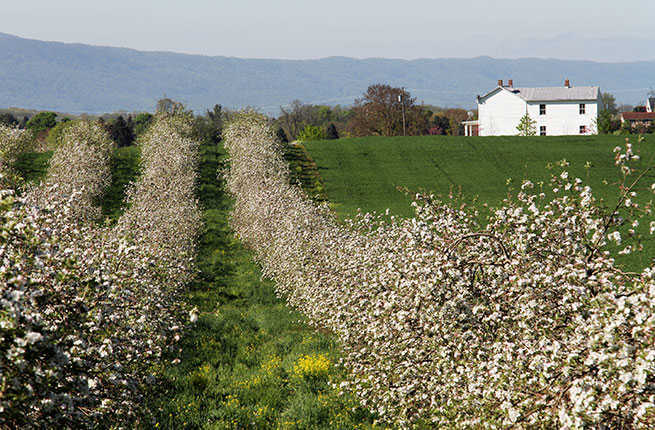 Winchester-Frederick County Convention & Visitors Bureau
Shenandoah Apple Blossom Festival
WHERE: Winchester, Virginia
When: April – May
One of Virginia's oldest civic celebrations, the annual Shenandoah Apple Blossom Festival was first held in 1924. Locals adorn the streets (and themselves) in green, pink, and white to welcome the 250,000+ revelers (more than 10 times the town's population). Savvy promoters with Hollywood ties have long lured celebrity guests like Lucille Ball. Highlights include a Grand Feature Parade, Firefighters' Parade, Bloomin' Wine Festival, apple pie competitions, orchard tours, upscale food & wine events, fireworks, concerts, carnival, and amateur golf tournaments.
Insider Tip: Though many events evoke classic Southern gentility, don't miss such unexpected traditions as the Kids' Bloomin' Mile Race and A Night In Havana Dance Party (think Latin Tropical in shades of hot pink, lime green and orange, with a 14-piece Latin band performing salsa, merengue, cumbia, bachata, and more).
PLAN YOUR TRIP: Fodor's Virginia Guide
Francisco Correia Photos
WHERE: Madeira, Portugal
When: May
Nicknamed the "Floating Garden of the Atlantic," Madeira is a 90-minute flight from Lisbon. In Funchal, the island's largest city, the annual Flower Festival has been called the botanical equivalent to Mardi Gras. The week overflows with concerts, folkloric performances, and more. Local artists create exquisite floral carpets and sculptures along the main streets. The Flower Exhibition in the Largo da Restauração showcases the plants in a quaint setting where saleswomen dress in traditional costume. Hundreds of flower-bedecked youths, each carrying a single blossom, proceed in the Children's Parade to the Praça do Município (Town Hall Square), where they construct the Wall of Hope with their flowers. The festival culminates with the Allegorical Flower Parade, featuring dozens of elaborate floats and thousands of costumed dancers.
Insider Tip: While there, sample Madeira at the Old Blandy Wine Lodge, try toboganning down the hillside roads, and take a hike along one of the scenic levadas (irrigation canals that spiral around the island's hills).
PLAN YOUR TRIP: Fodor's Madeira Guide