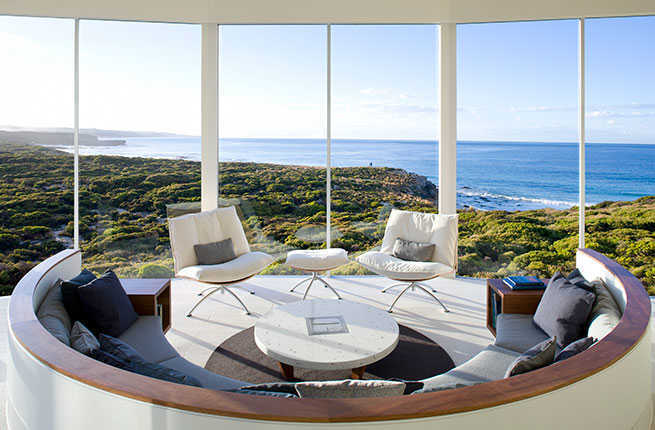 George Apostolidis
Tired of tourists but don't want to spare the luxuries? Book a prime resort in these far-flung locations for maximum tranquility. From a mountain lodge in the red rock mountains of Colorado to a clifftop spa off the coast of Australia, these unique resorts have a unique sense of place. So far in the middle of nowhere, these luxurious resorts might seem like a mirage.—Amber Gibson
Resort at Paws Up
Where: Greenough, Montana
Glamping was invented here in 2005, and the heated blankets, granite-tiled bathroom floors (also heated) and personal camping butlers strike the perfect balance of modern comfort and rustic wilderness. ATV tours and horseback rides are the best way to explore the 37,000-acre ranch and an aerial adventure course, geocaching and Grizzlyman Fitness Trail will challenge all ages and fitness levels. The resort also hosts world-class culinary events several times a year, so you can take cooking classes with James Beard Award–winning chefs and feast on summer's cornucopia of flavors at a long table with 200 guests.
PLAN YOUR TRIP: Visit Fodor's Missoula, Kalispell and Northwest Montana Guide
Fogo Island Inn
WHERE: Newfoundland, Canada
There are seven seasons here: berry season, pack ice season, and trap berth season in addition to the usual suspects. Local takes on a deeper meaning when the ice in your cocktail is from a passing iceberg. All the birch and spruce furniture and the colorful quilts on the bed are made just across the street, and the most popular local bar is actually a recurring house party in Phil Foley's shed. Befriend a local (all guests get a complimentary tour with a local island ambassador) and maybe you'll be invited.
PLAN YOUR TRIP: Visit Fodor's Central Newfoundland and Notre Dame Bay Guide
Manoir Hovey
WHERE: Québec, Canada
A road trip through Québec to the Eastern Townships brings you to this picturesque hotel amid the mountains, lakes, and rivers. Whether you're here for stand-up paddle boarding, vivid fall foliage, or ice fishing and snowshoeing in the winter, you're close to nature year-round. And once you've worked up an appetite, Restaurant Le Hatley quells hunger with wild-caught game and foraged produce.
PLAN YOUR TRIP: Visit Fodor's Québec Guide
Gateway Canyons Resort
WHERE: Gateway, Colorado
It's the Wild West out here in the red rock desert, so race a Pro Baja truck, fire a shotgun, or take a helicopter ride for an aerial view of the magnificent canyons surrounding this Colorado oasis. Academic types will enjoy exploring millions of years of history etched in the rocks while searching for dinosaur tracks on a geological hike.
PLAN YOUR TRIP: Visit Fodor's Grand Junction Guide
Red Carnation Hotels
Summer Lodge Country House
WHERE: Dorchester, United Kingdom
Evershot, with its idyllic countryside and simplicity (the one-street parish has just 200 residents) is a popular weekend getaway for Londoners looking to relax, but there aren't too many international visitors yet. Between enjoying the spa, greenhouse pool, afternoon tea, and an epic cart laden with a cornucopia of local cheeses, you'll feel like a British aristocrat in no time at all.
PLAN YOUR TRIP: Visit Fodor's Dorchester Guide
George Apostolidis
WHERE: Kangaroo Island, Australia
Rugged natural beauty meets luxury lodge on Kangaroo Island. The intimate clifftop spa feels like it's at the edge of the earth. Koalas, kangaroos, sea lions, and ospreys roam free along with a rare strain of Ligurian bees that produce a delectable range of honey that the lodge serves with pastries in the morning and in desserts at dinner. Meals are enjoyed with wine pairings from the Barossa Valley and Adelaide Hills.
PLAN YOUR TRIP: Visit Fodor's Kangaroo Island Guide
Sonora Resort
WHERE: Sonora Island, Canada
Between snorkeling with salmon and going on a grizzly bear tour, this is the closest you'll get to a North American safari experience. Scrumptious four-course dinners utilizing the rich bounty of the Pacific Northwest are included in the room rate. Whether you want to relax at the spa after a leisurely hike or spend all day at sea trying to catch a tyee salmon, anything is possible here.
PLAN YOUR TRIP: Visit Fodor's British Columbia Guide
Venissa
WHERE: Venice, Italy
At this boutique wine resort, you can stay in the walled vineyard estate on Mazzorbo restored by the Prosecco-producing Bisol family, or on a rainbow-colored house on the fishing island of Burano. This is the first hotel in Venice's outerlying lagoon islands (but easy to get to via water taxi) and offers a rare intimate chance to live among locals. When the sun goes down on Burano and the day-trippers leave, you'll be the only one left that doesn't speak Italian.
Insider Tip: Taste Venissa's wine, the only wine in the world made from native Venetian Dorona golden grapes. Its saline honey notes pair wonderfully with sea bass and vegetables from Venissa's garden served at the resort's Michelin-starred restaurant, helmed by four young international chefs.
PLAN YOUR TRIP: Visit Fodor's Venice Guide
Old Edward Inn
WHERE: Highlands, North Carolina
Southern families have been summering in this quaint mountain town for generations, but most people still think of Scotland before North Carolina when they hear "Highlands." Sumptuous guestrooms, a five-star spa, and gourmet cuisine blend Southern hospitality with European elegance at Old Edwards Inn. Each gesture—warm sandals after a massage, freshly baked cookies for turndown—is thoughtful and heartfelt.
PLAN YOUR TRIP: Visit Fodor's North Carolina Mountains Guide