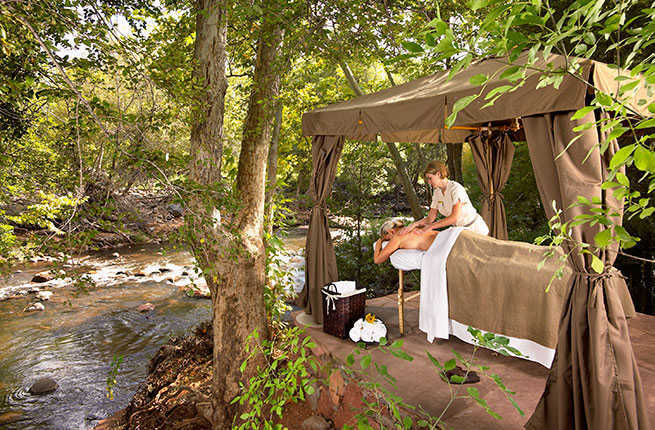 L'Auberge de Sedona
The practice of Shinrin-yoku, a term coined by the Japanese Ministry of Agriculture and Forestry in the 1980s, translates to "forest bathing". With this treatment, the idea is to slow down and immerse yourself in nature in a mindful way to promote physical and mental health—initial studies show it can help lower stress and improve our immune system. Forest bathing involves guided trail hikes, outdoor stretching and yoga, and deep breathing exercises. We've rounded up nine spots where you can take in this booming wellness trend.—Kelly DiNardo
Ford Yates
WHERE: Tennessee
This luxury resort, tucked into the foothills of the Smoky Mountains, introduced its Deep Healing Woods program based on Japanese forest bathing research in 2014. The program includes active adventures in the woods, like an endurance hike and forest run, and mindful approaches that include yoga and meditation. Each activity, offered daily, aims to connect guests with nature so they can increase focus and decrease stress.
PLAN YOUR TRIP: Visit Fodor's Tennessee Side Smoky Mountains Guide
Courtesy of Mohonk Mountain House
WHERE: New York
This Victorian castle resort just 90 miles north of New York City has offered guided nature walks as part of their outdoor program since first opening in 1869. More recently, they've woven mindfulness exercises into these walks to include the essence of forest bathing in the excursions. Guided walks that are led by the resort's naturist aim to connect guests to the outdoors through tracking and print identification. Those led by the director of mindfulness include guided meditations.
PLAN YOUR TRIP: Visit Fodor's Hudson Valley Guide
Navutu Dreams Resort & Wellness Retreat
WHERE: Cambodia
This wellness resort in Siem Riep integrates leisure walks within the Angkor Archeological Park, rich in medicinal plants, with guided activities. Led by the resort's holistic healer, the aim is to help guests relax and connect with nature. Along with forest bathing, Navutu Dreams also offers sunrise meditation and various yoga therapies.
PLAN YOUR TRIP: Visit Fodor's Siem Riep Guide
Courtesy of Big Cedar
WHERE: Missouri
Guests at Big Cedar Lodge in the Ozarks can amble along the resort's guided trail walks or take a forest bathing session that includes four yoga stops to work on strength, flexibility, balance, and breathwork. The yoga breaks include stops overlooking a waterfall and another on a suspension bridge overlooking Devil's Pool spring. The resort also offers spa treatments that bring the outdoors in and utilize elements of the surrounding forest.
PLAN YOUR TRIP: Visit Fodor's Branson Guide
Keith Scott Morton
WHERE: Pennsylvania
This Poconos retreat is one of two resorts in the U.S. certified by the Association of Nature & Forest Therapy Guides and Programs. Each guide at Woodloch takes a different approach to forest bathing—some incorporate journaling, others utilize relaxation and breathing techniques—to offer a tailored experience for each guest. For those interested in a more literal approach to forest bathing, the spa offers a Deep Forest Ritual that includes a bath with white pine, balsam fir, and juniper.
PLAN YOUR TRIP: Visit Fodor's Poconos Guide
L'Auberge de Sedona
WHERE: Arizona
Nestled within the Red Rocks of Sedona, on the outskirts of Coconino National Forest, this spa offers weekly complementary forest bathing sessions. Guests are led by a certified forest bathing guide on a gentle walk along Oak Creek, which includes a variety of sensory immersion exercises that encourage guests to smell, touch, and hear the forest around them.
PLAN YOUR TRIP: Visit Fodor's Sedona Guide
Courtesy of Mayflower Grace
WHERE: Connecticut
Nestled into rolling farmland and surrounded by 3,000 acres of nature preserve, this boutique hotel and spa offers a forest bathing walk. Guides take guests on a two-hour walk and encourage them to connect with nature through all of the senses. On the return trip, guests are invited to join a silent, walking meditation and, at the end, to share their experiences with the group.
PLAN YOUR TRIP: Visit Fodor's Connecticut Guide
Courtesy of Stowe
WHERE: Vermont
Throughout the summer, this ski resort offers a weekly Mindful Meditation class that begins in the studio, where guests are asked to leave their cell phones behind. The group starts with a meditation session before heading out into the woods to take in the sights, sounds, and smells of the forest. The class ends with breathing exercises in the woods and a final meditation in the studio. During the winter months, a similar class is held with snowshoes.
PLAN YOUR TRIP: Visit Fodor's Stowe Guide
Courtesy of Trout Point Lodge
WHERE: Canada
Located next to Nova Scotia's largest protected wilderness area, The Tobeatic, Trout Point offers forest bathing as a guided activity. The luxury lodge aims to help guests disconnect, learn about local ecology, and detoxify. Forest bathing walks, available most days of the week, can also be complemented with a forest-side massage and foraging walks for edible treats from the woods
PLAN YOUR TRIP: Visit Fodor's Nova Scotia Guide