Everybody deserves at least one sunny escape during winter, a season when gray skies and long underwear can quickly take their toll on your mood. That's when Mexico and the Caribbean come to the rescue with warm locales that are only a few hours away by plane. And since relaxation is key, you should consider maximizing the convenience factor by staying at an all-inclusive resort, which takes the guesswork out of budgeting for your vacation. Drop the calculator and get ready to head to one of these fifteen resorts, where premium bars, scuba diving in coral reefs, and private motorboats are all yours for no extra cost. —Zachary Laks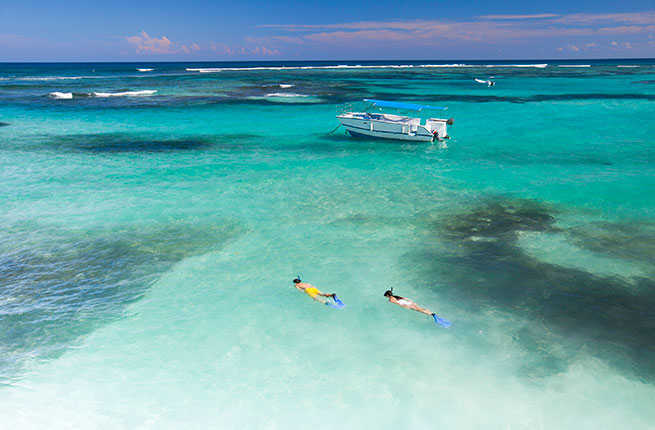 Club Med
Club Med Punta Cana
WHERE: Dominican Republic
Set on an expansive white-sand beach, Club Med Punta Cana offers superb service and family-friendly accommodations on the eastern coast of the Dominican Republic. Club Med partnered with Cirque du Soleil to launch CREACTIVE, a playground where kids and adults can participate in circus acts including the flying trapeze, tightrope, trampoline, and clowning led by a Cirque du Soleil-trained staff. There are 30 activities in total, making CREACTIVE a truly unique feature.
Insider Tip: The 5 Trident Luxury Space is worth the upgrade fee for its access to the resort's amenities and concierge service.
PLAN YOUR TRIP: Visit Fodor's Punta Cana Travel Guide
Fowl Cay Resort
Fowl Cay Resort
WHERE: Bahamas
Small and exclusive, Fowl Cay Resort is the rare Caribbean destination where privacy is guaranteed, as only six unique villas welcome a handful of guests to experience paradise on a remote island. Well-appointed and decidedly luxurious, the villas feature fully stocked kitchens if you're inclined to cook, or just let the island chef prepare a delectable meal for you to enjoy alfresco. Every villa comes with its own motorboat, allowing guests to explore the island coast independently, with destinations that include coral reefs, secluded beaches, and dolphin-watching spots.
Insider Tip: Come prepared for the mosquitos with an ample supply of repellent.
PLAN YOUR TRIP: Visit Fodor's Bahamas Travel Guide
Velas Resorts
Grand Velas Riviera Maya
WHERE: Playa del Carmen, Mexico
Overlooking the pristine waters surrounding the Yucatán Peninsula, Grand Velas Riviera Maya has 491 suites spread across 80 acres. The 1,000-foot-long private beach is the main draw here; the resort welcomes families to swim with dolphins, scuba dive in marine parks, and kayak along the coast. A world-renowned destination for rejuvenation, Author's Spa has pools, whirlpools, waterfalls, and saunas, plus an impressive 42 treatment suites; you should plan to spend a lot of time there.
Insider Tip: If you're seeking a quiet getaway, the Zen suites tend to be quieter and offer more privacy during your stay.
PLAN YOUR TRIP: Visit Fodor's Riviera Maya Travel Guide
Courtesy of Hermitage Bay
Hermitage Bay
WHERE: Antigua
An independent, privately owned resort on the west coast of Antigua, Hermitage Bay offers 27 free-standing suites; guests can choose between beachfront and hillside suites, the latter of which feature infinity pools that overlook the Caribbean Sea. Located 40 minutes from the airport, Hermitage Bay offers a serene and peaceful atmosphere, where the crash of the waves can be heard throughout the grounds. And when it comes to cuisine, the all-inclusive resort rolls out the white linens for an upscale menu that changes daily, featuring fresh fish and locally farmed fruits and vegetables.
Insider Tip: While the beach suites are luxurious and in the heart of the resort, forego the convenience and opt for one of the higher hillside suites, where the views and private infinity pools are second-to-none.
PLAN YOUR TRIP: Visit Fodor's Antigua and Barbuda Travel Guide
Courtesy of Casa de Campo
Casa de Campo
WHERE: Dominican Republic
An iconic property on the southeastern coast of the Dominican Republic, Casa de Campo was founded as a 7,000-acre destination resort in 1974. Boasting three Pete Dye golf courses (Teeth of the Dog is often ranked among the best courses in the Caribbean), Casa de Campo attracts challenge-seeking golfers and sun worshipers who fall for the white-sand beach. With an outpost of New York City's legendary restaurant Le Cirque on-site, the resort takes fine dining seriously. All-inclusive packages include meals at one of six restaurants (Le Cirque is not included, unfortunately), drinks, and activities, though it should be noted that there are more restrictions than typical on the all-inclusive rate.
Insider Tip: Take aim and fire at the resort's skeet-shooting range, considered one of the world's best.
PLAN YOUR TRIP: Visit Fodor's Dominican Republic Travel Guide
Andreas von Einsiedel 2011
The Body Holiday
WHERE: St. Lucia
A palatial, adult-only resort with a seemingly endless list of included amenities, The Body Holiday treats its guests to a life of luxury. Perhaps most enticing among the included extras of a stay at the resort is the complimentary 50-minute daily spa treatment (excluding check-in and check-out days), providing all the pampering you could ever want. Activities include scuba diving, golf, tennis, and even archery. As for dining, all the options are excellent, including Cariblue and the world-renowned Asian eatery Tao. Don't miss the nightly entertainment in the piano bar, which perfectly encapsulates this resort's feel-good vibe.
Insider Tip: Built on a hillside, there's a lot of stairs to navigate when getting around the resort, something to note for the less-mobile travelers.
PLAN YOUR TRIP: Visit Fodor's St. Lucia Travel Guide
Courtesy of Mango Bay
Mango Bay
WHERE: Barbados
Privately owned and operated, Mango Bay is a small, simple, low-key all-inclusive resort with 78 rooms and one restaurant on the western coast of Barbados. Water-skiing, pedal boats, kayaking, a glass-bottom boat ride, and snorkeling with sea turtles are just some of the fun activities available here, but if you're looking to change things up a bit, the resort is a short walk from historic Holetown, where restaurants and shops offer a bit of diversity.
Insider Tip: Opt for an ocean-facing room not only for the view but also because the rooms facing the road can be noisy at night.
PLAN YOUR TRIP: Visit Fodor's Barbados Travel Guide
Courtesy of Elite Island Resorts
Palm Island Resort
WHERE: St. Vincent and the Grenadines
Paradise can be found on 135 secluded acres at Palm Island Resort, located on a tiny island that is accessible by prop jet or boat from St. Vincent. This all-inclusive resort has 43 guestrooms, comprised of suites and villas. Minibars are mostly free here, and kayaking, snorkeling, tennis, and bicycling are some of the many included activities. For the adventurous traveler, the resort offers lessons in kitesurfing, the challenging sport that pairs surfing with a parasail.
Insider Tip: When booking your stay, be sure to specify that you want a beachfront room, not just one with a beach view.
PLAN YOUR TRIP: Visit Fodor's St. Vincent and the Grenadines Travel Guide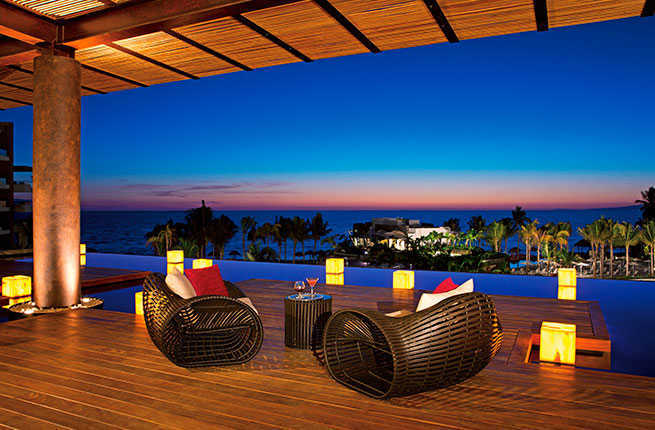 Courtesy of AMResorts
Secrets Vallarta Bay
WHERE: Mexico
With its registered trademark "Unlimited-Luxury," Secrets Vallarta Bay sets the bar high. The resort is an all-encompassing, all-inclusive, adults-only resort that stands out on the horizon of Puerto Vallarta with its towers of suites and incredible amenities. With seven restaurants on the grounds that range from French to pan-Asian cuisine, four bars and lounges serving unlimited top-shelf spirits, and 24-hour room service, you'll never go hungry or thirsty. Golfers will appreciate complimentary green fees at three local golf courses, while those looking to lounge will love this resort's infinity pool; free, unlimited WiFi; and easy beach access.
Insider Tip: The pool chairs can go quickly so it's best to get a head start on the day and claim your spot early before the late-morning rush.
PLAN YOUR TRIP: Visit Fodor's Puerto Vallarta Travel Guide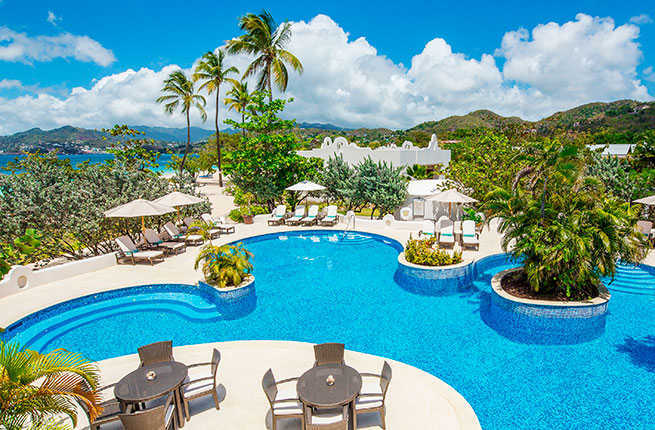 Courtesy of Spice Island Beach Resort
Spice Island Beach Resort
WHERE: Grenada
The golden sands of Grand Anse Beach set the scene for the idyllic Spice Island Beach Resort, a family-friendly, all-inclusive resort on the southern coast of Grenada. Kids enjoy all-day activities at the Nutmeg Pod, which includes a nap room, electronic games, and kid-size recliner chairs. Older guests, meanwhile, might find themselves sipping tropical cocktails by the expansive pool all day long. Newly updated, Janissa's Spa brings an island vibe to treatments which including seaweed and mud wraps, as well as aromatherapy massages. For dining, Oliver's Restaurant, one of two restaurants on the property, serves locally inspired cuisine with heavy Creole influences and freshly caught fish.
Insider Tip: Don't miss out on the world's first underwater sculpture park, sponsored in part by Aquanauts, Spice Island Beach Resort's water sports partner.
PLAN YOUR TRIP: Visit Fodor's Grenada Travel Guide
Courtesy of Elite Island Resorts
St. James's Club Morgan Bay
WHERE: St. Lucia
Four pools and six restaurants anchor St. James's Club Morgan Bay, a family-friendly all-inclusive that stands out with its long list of amenities and best-in-class kids program. All of its 345 units are simple and understated, with private balconies and close proximity to the beach. The resort recently added four new tennis courts (two are illuminated for nighttime play) along with an instructor to help you improve your game. With wellness in mind, the resort also features daily exercise classes including aerobics, Pilates, and tai chi.
Insider Tip: Keep your finer threads at home and pack light, since the evening dinner dress code is referred to as casually elegant.
PLAN YOUR TRIP: Visit Fodor's St. Lucia Travel Guide
Palace Resorts
Sun Palace
WHERE: Mexico
A couples-only escape where serenity comes naturally, Sun Palace has romance in the air. Removed from the hustle and bustle of Cancún's Hotel Zone, this resort is most recognized for its oversize infinity pool (one of three!) on the beach. Dining options on the property include an upscale buffet, a fine Italian eatery, and 24-hour room service. Guests staying five to eight nights receive a $1,500 resort credit to use towards golf, spa treatments, tours, and more.
Insider Tip: Ladies, leave your flat iron at home: Sun Palace provides professional-quality flat irons and hairdryers in each room, a rare amenity in the Caribbean.
PLAN YOUR TRIP: Visit Fodor's Cancún Travel Guide
Courtesy of Meliá Hotels International
The Reserve at Paradisus
WHERE: Dominican Republic
A favorite among families, The Reserve at Paradisus Punta Cana is an upscale resort-within-a-resort with 132 expansive suites that feature separate living and dining areas, balconies, and jacuzzis for two. With a private community feel and all-inclusive rates, The Reserve caters to guests of all ages with a kids pool and specially appointed concierges for those who stay in any of the 48 Family Concierge Suites. A host of entertainment programming includes dance classes, aerobics, and archery; the resort is ideal for bikers as well, with a few bike stations throughout the grounds, perfect for an afternoon ride along the coast.
Insider Tip: If you're traveling without kids, considering booking a Royal Service room (available only to adults), which comes with personalized butler service.
PLAN YOUR TRIP: Visit Fodor's Dominican Republic Travel Guide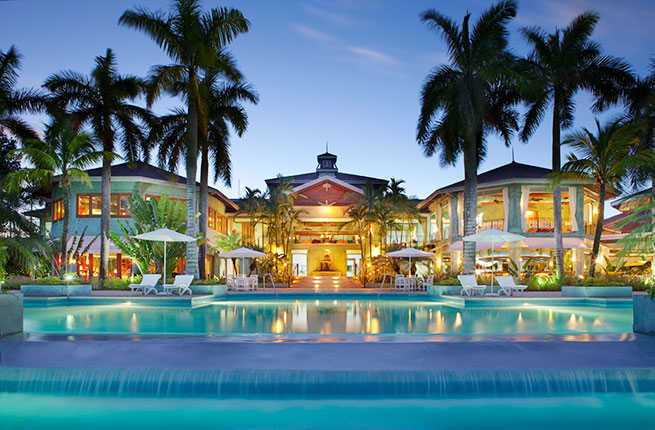 Couples Resorts
Couples Negril
WHERE: Jamaica
Just off the shores of Bloody Bay, Couples Negril is an adults-only resort perfect for couples looking to mix adventure with relaxation. The all-inclusive rate goes above and beyond to include top-shelf spirits, unlimited golf, off-site excursions, free WiFi, airport transfers, and even scuba diving. When it comes to adventures, expect top thrills on a zip-line course, ATV safaris, bamboo rafting, and the chance to swim with dolphins. The contemporary well-appointed rooms come standard with iPod docks and flat-screen TVs. As for dining, the resort's five restaurants are chic and modern, serving up authentic Caribbean cuisine and more.
Insider Tip: Don't pass up the catamaran cruise, as it gets adventurers closest to local caves you can swim through and explore.
PLAN YOUR TRIP: Visit Fodor's Jamaica Travel Guide
Courtesy of Fairmont Mayakoba
Fairmont Mayakoba
WHERE: Mexico
Set on the beaches of the Riviera Maya, Fairmont Mayakoba is a 401-room luxury resort located on more than 200 acres of tropical forest. Mangroves, dunes, and lagoons contrast with palm trees and white-sand beaches, providing a picture-perfect backdrop for the resort's five swimming pools. Featuring all-inclusive rates and specials, the resort's packages offer incredible value, with highlights including premium beverage service throughout the resort, bike rentals, tennis courts, free WiFi, and valet parking.
Insider Tip: For the most unique views, ask for a canal-view room, where the bird-watching is plentiful and you can often see fish in the clear-water canal.
PLAN YOUR TRIP: Visit Fodor's Riviera Maya Travel Guide