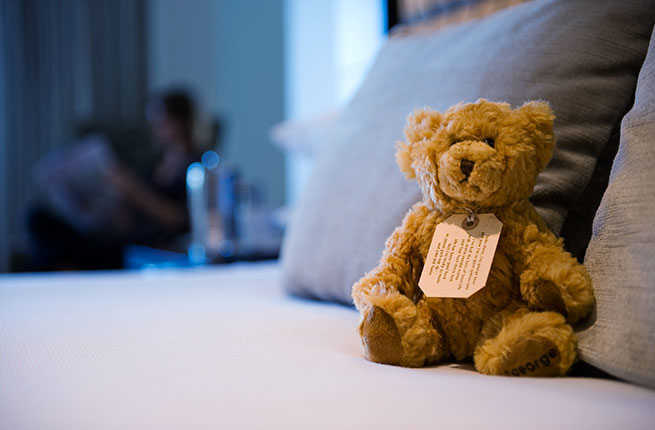 Courtesy of The George
Turndown service is a hallmark of five-star hotels and resorts, with water, slippers, and a simple piece of chocolate or mint . Not so at these 10 properties that go the extra mile to surprise and delight guests at bedtime. Edible or not, these creative treats are a memorable way to end the night.—Amber Gibson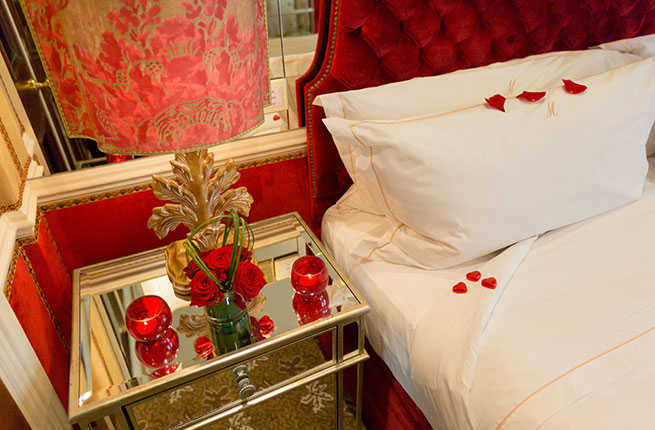 Courtesy of The Milestone Hotel
This elegant London boutique hotel overlooking Kensington Gardens has just 56 guest rooms and suites, and personalizes turndown service for each guest and occasion. Mini books of Shakespeare's plays, nightlights, and candies that founder Bea Tollman has discovered in her travels around the world might await you, or even a framed photo of you and your loved ones from your stay. There are special romantic and kid-friendly turndowns available too, and a bath butler and soap basket are offered to guests staying in one of the 12 suites.
PLAN YOUR TRIP: Visit Fodor's London Guide
Courtesy of Portrait Firenze
At this Ferragamo family–owned all-suite boutique hotel in the heart of Florence, you'll be pampered with your favorite Ferragamo Bianco di Carrara toiletries each night. Choose from an anti-aging face mask, eye cream, face cream, hand cream, or lip balm to refresh yourself each evening as you watch the sun set over the Ponte Vecchio through the floor-to-ceiling windows from one of 36 suites.
PLAN YOUR TRIP: Visit Fodor's Florence Guide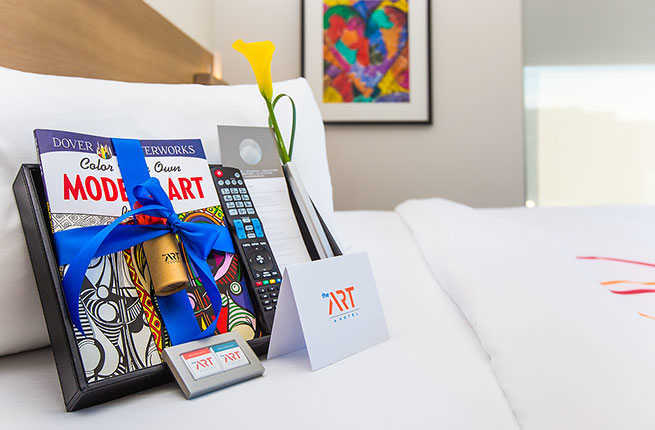 Courtesy of The Art, A Hotel
Guests in all of the 20 suites at this Denver boutique hotel receive a copy of Color Your Own Modern Art Paintings accompanied by coloring pencils at turndown. This adult coloring book features 30 black-and-white line drawings of 20th-century modern art, reflective of the collection at the hotel. It's a gentle and creative nudge to put away your laptops and smartphones and unwind with a meditative art session.
PLAN YOUR TRIP: Visit Fodor's Denver Guide
Courtesy of the Allison Inn and Spa
At this comfortably luxurious Oregon wine country retreat, a therapeutic touch from the award-winning 15,000 square-foot spa comes to your room each night. Every evening you'll find a different miniature bath and shower oil from Aromatherapy Associates on the nightstand, along with intention cards inviting you to "take in the essence of the Pacific Northwest" and "create a place of bliss." A grapefruit, rosemary, and juniper oil blend revives your spirit while frankincense and wild chamomile clear your head.
PLAN YOUR TRIP: Visit Fodor's Willamette Valley Guide
Courtesy of One & Only Palmilla
Miniature ceramic cacti reflecting the different species native to Los Cabos are left on your bed each night here, along with a note explaining the species and its relevance to indigenous communities.During whale-watching season, you might find a ceramic whale on your bed to remind you to keep an eye out for breaching whales from your balcony. Along with handmade ceramics, the resort chocolatier will also leave you jewel-like turndown bonbons in flavors like passion fruit and raspberry. And on the penultimate night of your stay, a fresh floral surprise awaits.
PLAN YOUR TRIP: Visit Fodor's Los Cabos Guide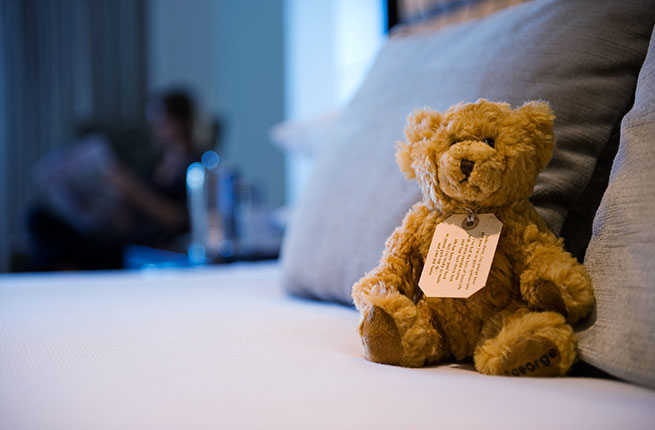 Courtesy of The George
Soft and cuddly George Bear greets guests in the evening at this quaint New Zealand hotel. The stuffed toy reflects the friendly spirit at The George and will make anyone feel like a kid again. "Hello there, I'm George Bear and now I'm in your special care" begins the poem encouraging you to take him on your next adventure and share photos of George Bear around the world on his own Facebook page. One particularly avid guest has even started an Instagram page for his George Bear.
PLAN YOUR TRIP: Visit Fodor's New Zealand Guide
Courtesy of Omni La Mansion Del Rio
Wish your worries away with the colorful worry dolls placed on your pillow at this Spanish Colonial hotel on the River Walk in downtown San Antonio. The peace-loving Yanaguana Indians extended their hospitality to Spanish settlers by presenting them with these handcrafted worry dolls.According to tradition, by telling one worry to each doll before bedtime, then placing the dolls under your pillow, your worries will disappear by dawn.
PLAN YOUR TRIP: Visit Fodor's San Antonio Guide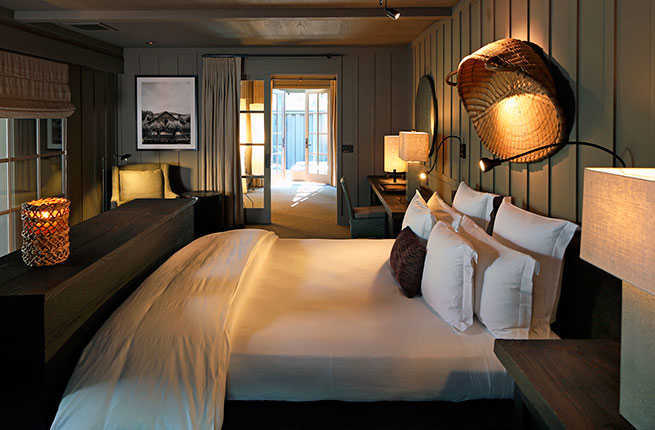 Courtesy of Meadowood Napa Valley
Pastry sous-chef Elaine Townsend keeps guests guessing with different homemade sweet treats left in a small burlap pouch on the bed each night at this wine country mainstay. You might find lemon olive oil cookies, chocolate pistachio nougat, or shortbread scented with rosemary picked fresh from Meadowood's own garden.
PLAN YOUR TRIP: Visit Fodor's Napa Valley Guide
Gateway Canyons Resort
On the first and last nights of their stay, casita guests at this Colorado ranch resort receive DIY s'mores kits with housemade marshmallows to roast over the fire pit on their private deck. Mix and match a medley of vanilla, cocoa, and mint marshmallows with graham crackers and Ghirardelli chocolate squares in dark, milk, sea salt caramel, and chocolate raspberry.
PLAN YOUR TRIP: Visit Fodor's Colorado Guide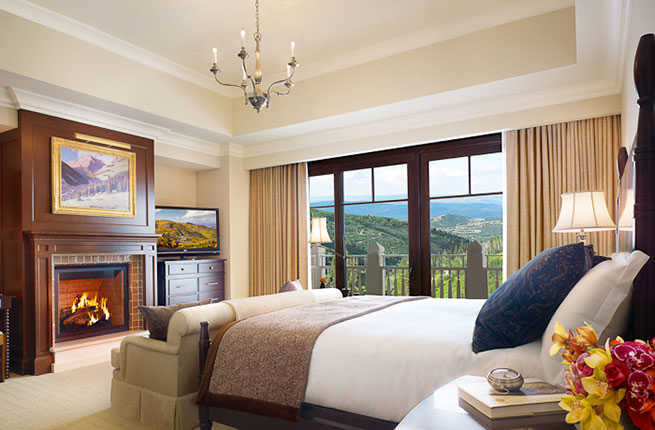 Montage Deer Valley
Montage resort offers a variety of bon bons made exclusively for the resort by executive pastry chef Stephen Jones. Flavors might include caramelized dried black currant and crystallized fennel pollen chocolate or a bittersweet chocolate piece topped with candied violet petals.
PLAN YOUR TRIP: Visit Fodor's Park City Guide