Courtesy of The BodyHoliday
Whether you've overindulged for the holidays, or just want to kick-start the New Year, January is an ideal time to reevaluate your fitness goals. Sure, you can join the hordes, fresh from their New Year's resolutions, fighting for a treadmill at the gym, or you can escape to a luxury retreat for a few days of challenging workouts, along with delicious food and beautiful scenery. While places such as St. Lucia's The BodyHoliday and Arizona's Miraval are some of the best-known names in fitness resorts, more hotels are partnering with celebrity trainers for specialty fitness-themed weeks. So whether you're already a fitness fanatic and want to take your workout to the next level, or simply want to start a new, healthier lifestyle, pack your sneakers and head to one of these 10 upscale boot camp-style vacations to break a sweat in the new year. —​Christina Valhouli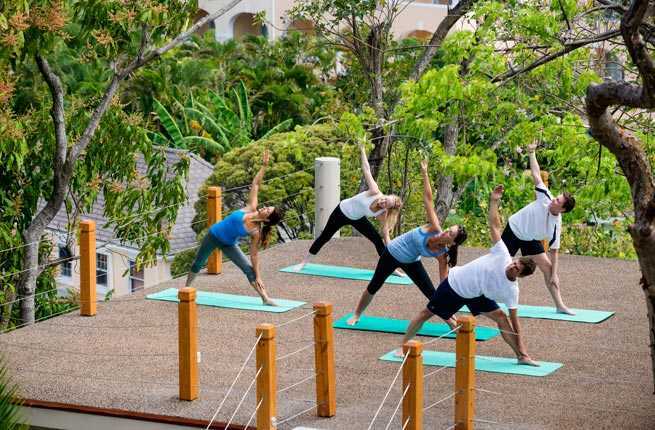 Courtesy of The BodyHoliday
WHERE: St. Lucia
The luxury, all-inclusive The BodyHoliday resort offers just about every land- and water-based activity you can think of. Guests can spend days snorkeling, waterskiing, wakeboarding, and stand-up paddleboarding, while dry activity options include yoga, Pilates, golf, and spinning. The BodyHoliday recently added a "Quadrathlon" course, which is a challenging combination of mountain biking, hiking, rappelling, swimming, and sea kayaking. Plus, a full-service spa helps soothe sore muscles.
Insider Tip: The resort recently launched a "BodyScience" program, which begins with a DNA sample and includes a consultation with an Ayurvedic doctor to assess heart rate, blood pressure, lung capacity, and 3-D heart mapping.
PLAN YOUR TRIP: Visit Fodor's St. Lucia Travel Guide
Courtesy of The Ranch at Live Oak
WHERE: Malibu, CA
Opened in September 2010, The Ranch at Live Oak Malibu appeals to those in search of an intense, no-holds-barred approach to fitness. The weeklong program is tightly structured and includes 4 to 5 hours of daily hikes in the mountains, as well as afternoon exercise classes that incorporate yoga, core and abdominal work, and weights. Afternoon massages will help ease muscle pain. Meals are organic and vegetarian, and the accommodations are luxurious.
Insider Tip: If you can't devote a full week, the Ranch at Live Oak gives a four-day version of its boot camp at the Four Seasons Westlake.
PLAN YOUR TRIP: Visit Fodor's Santa Monica, Venice, and Malibu Travel Guide
Courtesy of Omni La Costa Resort & Spa
Omni La Costa Resort & Spa
WHERE: Carlsbad, CA
This Spanish-colonial style resort, with its Premier Fitness Camp, recently launched an all-inclusive "Spa Fit" experience, lasting between three and seven day days. The program at Omni La Costa Resort & Spa is meant to work both the mind and the body with a combination of high-intensity fitness classes, along with yoga and meditation at the on-site Chopra Center. Participants meet with nutrition and fitness experts, and do a complete baseline health and fitness evaluation, including blood work and heart rate monitoring.
Insider Tip: The resort's 8,825-square-foot Athletic Club offers 52 group fitness classes weekly, including ballet barre and aqua Zumba.
PLAN YOUR TRIP: Visit Fodor's Carlsbad Travel Guide
Courtesy of W Retreat & Spa – Vieques Island
W Retreat & Spa – Vieques Island
WHERE: Vieques, Puerto Rico
One of the most stylish hotels on the island of Vieques, the W Retreat & Spa recently launched the "ENERGIZE by Tara Stiles" yoga retreat. The three- to five-day package includes two daily yoga sessions with a Stiles-trained teacher, and outdoor activities such as kayaking on the Bioluminescent Bay, snorkeling, and horseback riding on the beach. Packages also include cooking classes and three healthy meals a day.
Insider Tip: Vieques is home to the gigantic leatherback turtle, which can weigh up to 2,000 pounds.
PLAN YOUR TRIP: Visit Fodor's Vieques Travel Guide
Courtesy of Rancho La Puerta
WHERE: Tecate, Mexico
This resort is located on 3,000 acres of gardens, mountains, and meadows in Baja California, Mexico. The programs at Rancho La Puerta are meant to balance the mind, body, and spirit, with a wide variety of activities that range from hourly fitness classes to cooking, art, and meditation. Look for special themed weeks throughout the year, like "Vitality and Happiness at Any Age" and "Mindful Sleep, Mindful Dreams."
Insider Tip: The nearby Valle de Guadalupe is emerging as a top wine region. It's been called a new Napa and some of the wineries garnering accolades include Paralelo and Casa de Piedra.
PLAN YOUR TRIP: Visit Fodor's Mexico Travel Guide
Courtesy of Bacara Resort & Spa
WHERE: Santa Barbara, CA
Celebrity favorite Bacara recently launched fitness retreats with Sky Ranch Fitness, which are meant to challenge guests and give them tools to start healthy habits. The four- or seven-day retreats include daily hikes and plenty of fitness options like yoga, Pilates, and outdoor circuit training. For pampering, guests can spend time at Bacara's massive 42,000-square-foot spa, or its tennis courts.
Insider Tip: Bacara's program also allows for a bit of indulging, with a wine-tasting and private chef's dinner in the Santa Ynez Valley.
PLAN YOUR TRIP: Visit Fodor's Santa Barbara Travel Guide
Courtesy of Miraval Arizona Resort & Spa
Miraval Arizona Resort & Spa
WHERE: Tucson, AZ
Located in Arizona's Sonoran Desert, Miraval is one of the best-known health resorts in the U.S. An all-inclusive stay here appeals to those looking to challenge themselves with different classes, and there's also a strong spiritual element here. Miraval can whip guests into shape with a combination of outdoor runs, mountain biking, and rock climbing. More unusual options include a ropes course, zip-lining, and tightrope training. The spa offers outdoor treatment rooms, as well as special healing ceremonies.
Insider Tip: Saguaro cacti can grow to about 70 feet tall and are native to the Sonoran Desert around Miraval.
PLAN YOUR TRIP: Visit Fodor's Tucson Travel Guide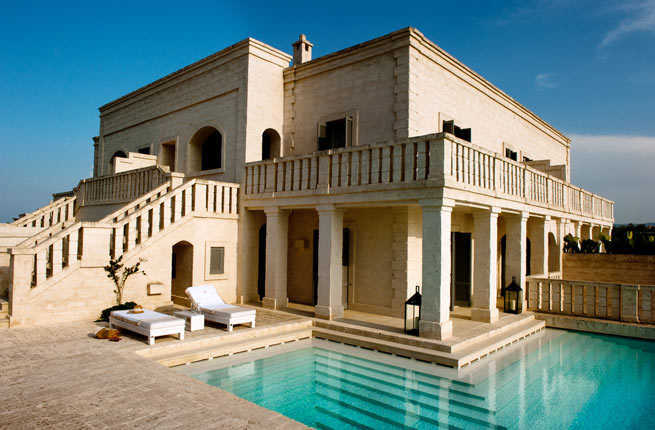 Courtesy of Borgo Egnazia
WHERE: Puglia, Italy
For a European approach to boot camp (translation: guests won't be starving themselves), consider the Borgo Egnazia in Puglia. This resort offers the six-day "FU'RE" program, which takes a balanced approach to fitness and is meant to encourage everyday healthy living rather than quick fixes. Guests can exercise outdoors by the sea or among the olive groves, and tuck into healthy (but delicious) Mediterranean cuisine. Other fitness options include dance and yoga instruction. The on-site VAIR Spa proposes music therapy and saltwater flotation sessions in its Roman-style baths.
Insider Tip: Puglia is located in the "heel" of the boot of Italy, and is known for its unusual limestone huts with conical roofs, called trulli.
PLAN YOUR TRIP: Visit Fodor's Puglia, Basilicata, and Calabria Travel Guide
Courtesy of Enchantment Resort
WHERE: Sedona, AZ
Located amid the red rocks of Boynton Canyon, the focus at Enchantment Resort is on both the mind and the body, rather than just trying to burn as many calories as possible. Enchantment's programs include nutrition workshops and classes covering topics ranging from "The Mindful Clean Plate" to juicing. Fitness classes include WOGA (a yoga/power walking combo), Pilates, and BodyPump (weight training).
Insider Tip: Enchantment offers a mountain biking program exclusively for women called "Diamond in the Rough."
PLAN YOUR TRIP: Visit Fodor's Sedona and Oak Creek Canyon Travel Guide
Courtesy of Curtain Bluff
WHERE: Antigua
One of the top resorts in the Caribbean, Curtain Bluff is known for its unfussy vibe that keeps guests coming back year after year. The all-inclusive property already offers a well-established tennis program, and is now debuting a fitness camp aimed at travelers who want to jump on their New Year's fitness resolutions. Daily one-hour classes such as dance cardio or interval training are offered as well as water aerobics, yoga, and Zumba. Wine-tasting and a cooking class are also included.
Insider Tip: Guests that want even more of a challenge can head to the nearby Antigua Rainforest Zip-Line Tours to try zip-lining.
PLAN YOUR TRIP: Visit Fodor's Antigua Travel Guide