Myersct | Dreamstime.com
Whether you're dangling over a cliff in Hong Kong or standing at the top of a 330-foot drop on the coast of Spain, thrill rides are universal. Driving attendance by the millions, theme parks now compete on a global scale to win the attention of savvy adrenaline seekers. There's no replacement for the rush of being launched to 72 mph in 2 seconds, or bracing the walloping speeds reached on the world's newest, fastest wooden roller coaster–two standouts in this compilation of the world's best amusement parks.—Zachary Laks
Sepavo | Dreamstime.com
WHERE: Copenhagen, Denmark
One of the oldest operating amusement parks in the world, Tivoli Gardens has welcomed thrill seekers since 1843. Centrally located in Copenhagen, the park attracts both locals and tourists to its lively grounds with a mix of vintage theme park attractions and cutting edge thrills. The park's original coaster, Rutschebanen—known as The Roller Coaster—remains the best coaster in the park with a track that weaves in and around a mountainside. For more modern thrills, Dæmonen (The Demon) is a steel coaster that features floorless cars and a track that packs in all three of the park's coaster inversions.
PLAN YOUR TRIP: Visit Fodor's Copenhagen Guide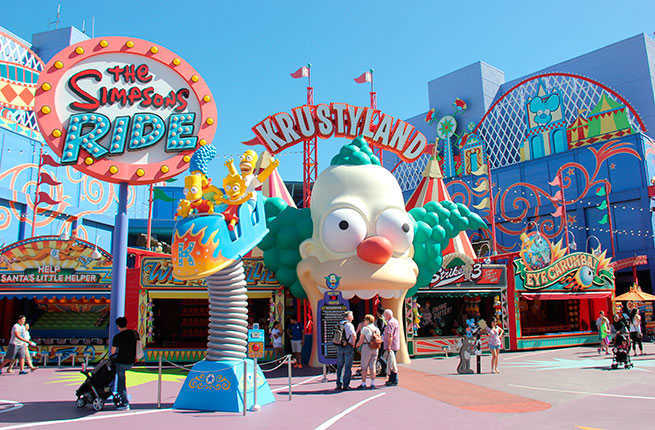 Idealphotograph | Dreamstime.com
WHERE: Orlando, Florida
An international attraction comprised of two theme parks—Universal Studios Florida and Universal's Islands of Adventure—Universal has masterfully created immersive thrill experiences tied to some of the world's most beloved entertainment franchises, from E.T. to The Simpsons. Though of recent, much of the parks' attention has shifted to boy wonder Harry Potter and his two districts within the park's Wizarding World of Harry Potter – Hogsmeade and Diagon Alley. Fans of the novels and films will marvel as the fantasy comes to life. Stop by Ollivanders wand shop to test out a new wand before you grab a refreshing pint of Butterbeer at The Three Broomsticks pub, then enlist with Harry and his friends on a thrilling adventure through Hogwarts on the Harry Potter and the Forbidden Journey ride.
PLAN YOUR TRIP: Visit Fodor's Orlando Guide
Santonius | Dreamstime.com
WHERE: Tokyo, Japan
There are no language barriers when it comes to the Disney magic at Tokyo Disneyland, Japan's most popular theme park and the third most attended park in the world after the Magic Kingdom in Orlando and Disneyland California. Now in its 32nd year, Tokyo Disneyland (which also includes Tokyo DisneySea) mirrors many of Disney's signature theme park attractions including Pirates of the Caribbean, Splash Mountain, and Peter Pan's Flight. The truly unique attractions at the parks are predominantly the shows that include a Latin-infused "Minnie Oh! Minnie" and a dinner theater production called "Mickey & Company."
PLAN YOUR TRIP: Visit Fodor's Tokyo Guide
Borlili | Dreamstime.com
WHERE: Kaatsheuvel, Netherlands
Summoning ancient myths and lore, Efteling Park is the Netherlands go-to theme park for year-round thrills. A destination since its inception in 1953, Efteling Park attracts approximately 4.6 million visitors each year with its mighty pack of six roller coasters among the park's 35 rides. For the park's ultimate thrill, head to the Baron 1898 dive coaster that opened in 2015, where a three-row train bolts down a 123-foot, 90-degree drop into a mineshaft. For the younger set, Efteling pleases with world-class immersive attractions like Droomvlucht, the park's dark ride through an enchanted forest, and classic storybooks brought to life at The Fairytale Forest.
PLAN YOUR TRIP: Visit Fodor's Netherlands Guide
WHERE: Penha, Brazil
Latin America's largest theme park, Beto Carrero World, captivates families and thrill-seekers alike with its vibrantly colored theme that stretches throughout nearly 3,500 acres. Guests are greeted by the grand Castelo das Nações, a vividly colored building that houses the ticket office along with stores and cafés. The park is divided into seven distinct areas with four roller coasters that dot the grounds, most notably Chicote de Fogo—a.k.a. Fire Whip—a suspended looping coaster that reaches speeds of over 60 miles per hour. The thrills of the coasters are matched with the park's high-octane productions including the Velozes e Furiosos Show—the park's Fast and Furious Show. Partnering with DreamWorks and Universal Studios, the action-packed stunt car show is inspired by the film franchise The Fast and the Furious.
PLAN YOUR TRIP: Visit Fodor's Brazil Guide
Tepic | Dreamstime.com
WHERE: Rust, Germany
Germany's largest theme park and Europe's second most popular theme park after Disneyland Paris, Europa Park has an international draw due to its 12 dynamic roller coasters and globally themed districts. More than 5.5 million thrill-seekers pass through the gates of the 40-year-old park annually, as rides like its newest, Arthur—a suspended indoor/outdoor roller coaster—push the limits. Expect an Epcot-like feel as you meander through each of the European-themed areas, from Italian culture by way of Leonardo da Vinci's flying machine on the Volo da Vinci, to the Swiss Alps on the Swiss Bob Run ride.
PLAN YOUR TRIP: Visit Fodor's Germany Guide
Mezairi | Dreamstime.com
WHERE: Seoul, South Korea
A mega-center of entertainment, Lotte World is South Korea's preeminent destination for theme park thrills with the world's largest indoor theme park and an outdoor amusement park called "Magic Island." Lotte World has invested an impressive amount of money into recreating some of Disneyland's most popular attractions, and there's a great deal of fun to be had in exploring the striking similarities. For starters, check out the Pharaoh's Fury that distinctly resembles Disneyland's Indiana Jones Adventure before heading over to Adventures of Sinbad–a fun wink to the iconic Pirates of the Caribbean boat ride.
Insider Tip: Be sure to opt for the "Passport Ticket" option for access to conquer both parks in one day, a feat that is easily achievable.
PLAN YOUR TRIP: Visit Fodor's South Korea Guide
Toldiu74 | Dreamstime.com
WHERE: Castelnuovo del Garda, Italy
Italy's toast of thrills, Gardaland Park, welcomes nearly 3 million visitors annually with its 30+ attractions. This past May saw the unveiling of the park's newest coaster, Kung Fu Panda Master, a steel spinning coaster inspired by DreamWorks' animated feature Kung Fu Panda. The new coaster joins an impressive line-up of genre-busting coasters including Sequoia Adventure, a wild mouse coaster with six gravity defying inversions, and Raptor, a wing coaster with three inversions. The park offers outstanding themed rides as well, most notably Ramses: Il Risveglio, a thrilling interactive ride that navigates through an impeccably-themed Egyptian tomb.
PLAN YOUR TRIP: Visit Fodor's Italy Guide
Myersct | Dreamstime.com
WHERE: Anaheim, California
The world's most famous mouse, Mickey, and his conglomerated friends have kept the bustling fairway of Main Street USA in top shape since 1955. The original park envisioned by Walt Disney, Disneyland perfectly balances nostalgia with cutting-edge technology. For the nostalgic, the long wait is well worth the enchantment in store on Peter Pan's Flight, one of the park's original rides. Make it a priority to check out Indiana Jones Adventure, where a one-of-a-kind wild ride brings explorers through the depths of a cursed temple.
PLAN YOUR TRIP: Visit Fodor's Disneyland Resort Guide
WHERE: Sandusky, Ohio
Cornering the market on roller coasters, Cedar Point earns its title as the roller coaster capital of the world with its 17 exemplary coasters. Most impressive of the pack, Millennium Force stands in a class of its own. Completed in 2000, the steel coaster presides over the park, having garnered accolades for its inspired engineering and use of the park landscape. Clip along the coaster's twisted labyrinth track at speeds reaching 93 miles per hour. Cedar Point unveils its newest coaster, Valravn, this season, setting a few new records as the world's tallest, fastest, and longest dive coaster.
PLAN YOUR TRIP: Visit Fodor's Cleveland Guide
Pindiyath100 | Dreamstime.com
Ocean Park
WHERE: Hong Kong, China
Ocean Park thrives as an amalgamated theme park destination with three major attractions including an amusement park, a marine park, and a zoo that cover about 225 acres on the south side of Hong Kong Island. Four roller coasters and two water rides stand out among the park's 80 rides and attractions in two distinct areas, The Waterfront and The Summit, connected via a cable car and funicular train. Seek out Hair Raiser at the Summit for the perfect pairing of top thrills with incredible views of the bay as the floorless steel coaster's extreme inversions are intensified while the track dangles over the mountainside.
PLAN YOUR TRIP: Visit Fodor's Hong Kong Guide
Swdesertlover | Dreamstime.com
WHERE: Pigeon Forge, Tennessee
A cultural icon with charisma to spare, Dolly Parton welcomes all to bask in her loveable charm at her brimming Dollywood amusement park. Spanning 295 acres, Dollywood amusement resort is the most popular ticketed attraction in Tennessee with 40+ rides and 15 live shows. This season the park expands with its eighth new coaster, Lightning Rod, arriving in record-setting fashion as the world's first launched and fastest wooden coaster—clocking in speeds up to 73 miles per hour. Park goers delight at the multitude of live performances and Southern-inspired comfort food standouts including plenty of BBQ options, deep-fried pork rinds, and freshly baked pie.
PLAN YOUR TRIP: Visit Fodor's Pigeon Forge Guide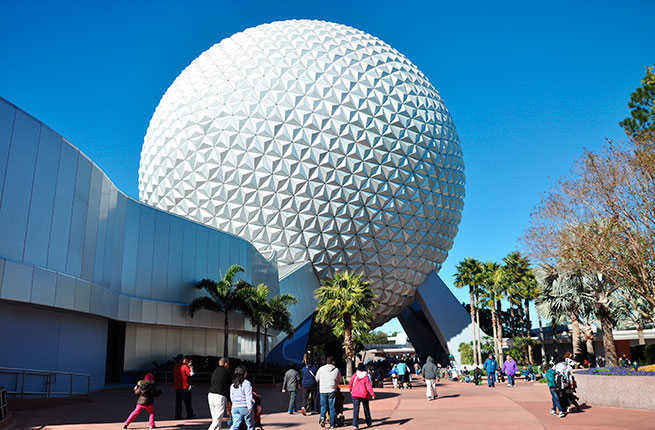 Jiawangkun | Dreamstime.com
WHERE: Orlando, Florida
No place in the world can rival Walt Disney World's incredible, all-encompassing themed experience. A sprawling conglomerate double the size of Manhattan, the park brings in more than 52 million people annually, making it the most popular resort in the world. Expect park attendance to rise in the coming years as new additions are set to include the unveiling of the Frozen: the Ride, an immersive Star Wars land, and an Avatar-themed district.
PLAN YOUR TRIP: Visit Fodor's Walt Disney World Guide
WHERE: Salou, Spain
Catalonia's PortAventura is worth the hour-and-twenty-minute drive south from Barcelona for Hurakan Condor alone, one of the world's tallest drop rides. Test your limits on the jaw-clenching 330-foot drop, offering riders the choice to sit in a regular seat, a tilting seat, or—craziest of all—a standing seat. The park wows with eight inversions on its steel coaster, Dragon Kahn, and the continent's tallest and fastest hyper-coaster, Shambhala: Expedición al Himalaya. Finishing touches are underway for a 2017 unveiling of the new Ferrari Land, the Italian car company's second theme park project after its Abu Dhabi triumph.
PLAN YOUR TRIP: Visit Fodor's Spain Guide
Karenfoleyphotography | Dreamstime.com
WHERE: Hershey, Pennsylvania
Hersheypark wins the heart of anyone with a sweet tooth and coaster fanatics alike. A pristine theme park set in the countryside of Pennsylvania, Hersheypark attracts coaster enthusiasts from around the world with a jewel box of roller coasters from old classics to new standards. Begin the day with the top thrill on Skyrush, the park's tallest and fastest coaster that pummels riders down a 200-foot drop, reaching speeds of 75 miles per hour before zipping through four hair-raising turns and five zero-G airtime hills. Speed demons looking to keep the adrenaline up should continue on to Storm Runner, where trains are launched from zero to 72 miles per hour in 2 seconds before barreling through a "Cobra Loop" and harrowing "Flying Snake Dive."
PLAN YOUR TRIP: Visit Fodor's Hershey Guide