Paul Gauguin Cruises
For many travelers, cruising is synonymous with romance and the nostalgia of old-fashioned seafaring. Cruises are an easy way to enjoy full itineraries and special excursions without all the landside luggage schlepping. Yet some people still resist, thinking the tradeoff of a packaged voyage could never beat the freedom to choose one's own adventures. But what if a cruise is the best way to a hard-to-reach destination, or even several of them, in a single vacation? Maybe it's time to consider one of these out of the ordinary cruise ideas to see what special locales await in distant harbors.—Kelsy Chauvin
Insider tip: Check out Fodor's Cruises Travel Guide for cruise-line overviews and tips.
Annalovisa | Dreamstime.com
Picture yourself on a sparkling fjord, floating along a crystal-blue waterway carved into a range of snowy mountains. Cruising around the Arctic Circle in Norway aboard a Hurtigruten or other cruise line is a unique way to easily reach many of its small, historic coastal cities—like Ålesund, Tromsø, and Trondheim—the Viking way: from the water. No matter the season, the views are spectacular from the top of the world, featuring whale watching and, in colder months, Northern Lights spotting.
PLAN YOUR TRIP: Fodor's Norway Guide
Rhombur | Dreamstime.com
Recent major evolutions in the political system helped boost the already growing tourism landscape in Myanmar (Burma). But because roads and other basic infrastructure are slow to get up to speed, cruises along the Irrawaddy River are a wise way to flow. Belmond offered one of the first luxury journeys on the river years ago. And even though there are now more travel companies to choose from, river cruises remain the most tranquil, magical way to explore ancient cities like Bagan and Mandalay.
PLAN YOUR TRIP: Fodor's Myanmar Guide
Smithsonian Journeys
There may be no river quite as exotic for cruising as the Amazon. Howler monkeys, pink river dolphins, toucans, sloths, macaws, and other fauna in their natural habitat—the wildlife alone will remind you why a waterborne South American vacation is worth your time. Smithsonian Journeys offers a 10-day, 500-mile tour down the Peruvian Amazon with nature and cultural excursions into villages.
Insider tip: Read Fodor's Top 5 Amazon River Cruises
Westwind Tugboat Adventures
Cruises up the west coast of Canada and Alaska aren't uncommon, but there are quite a few small-scale options able reach more remote inlets and fjords—including the intricate Inside Passage waterways—that offer a sense of discovery no big ship ever could. One cool option is aboard a deluxe 12-passenger Westwind Tugboat Adventure up British Columbia, where you may spot bears, whales, and eagles, and hear howling wolf packs during the weeklong voyage.
Insider tip: Read Fodor's Small Ship Cruising in Alaska's Inside Passage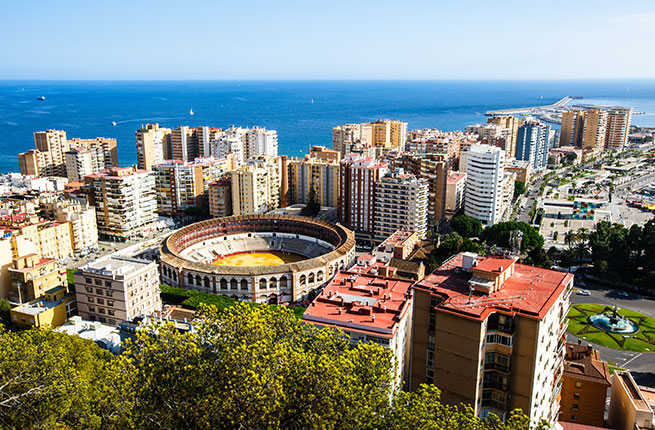 Irinasafronova | Dreamstime.com
Head south for glimpses of ancient Europe that feature Moorish architecture, flamenco, and equestrianism. Andalusia is the region of southwest Spain from which Columbus set off for the Americas, and you can see similar ports today along the Guadalquivir River. Explore stops along a journey by Croisi Europe, one of few companies operating from Córdoba to Seville to Cádiz—one of the oldest inhabited cities on the Iberian Peninsula.
PLAN YOUR TRIP: Fodor's Andalusia Guide
Paul Gauguin Cruises
If you've been waiting for the perfect reason to visit the South Pacific's picturesque islands, a cruise may be just the ticket. Art and history are the themes for Paul Gauguin Cruises' 17-day voyage from Fiji to Bali, which stops at key WWII historical sites, offers exotic snorkeling excursions in the turquoise waters, and docks at obscure ports like Lombok Island in Indonesia—home to sacred and royal sites, plus its very own Fountain of Youth.
PLAN YOUR TRIP: Fodor's Indonesia Guide
Mirceadobre1978 | Dreamstime.com
History lovers will be tempted by few other cruises with such fascinating ports as those of the Suez Canal. Only a handful of companies offer routes through the vital passage that links the Mediterranean and Red Seas. And Azamara Club Cruises may rival them all with its 17-day journey from Mumbai to Athens, with stops in Egypt, Israel, and Jordan.
PLAN YOUR TRIP: Fodor's Athens Guide
Silversea Cruises
Travelers hungry for a unique African adventure will savor an extended coastal cruise around the southern cape. Quite a few lines have routes to or from Cape Town, but Silversea has one of the most exciting, featuring excursions from safaris and canoeing to tribal village visits and nature walks. Its 15-day cruise to the Mother City originates in Mombasa, Kenya, and travels down the coast with stops in Tanzania, Mozambique, and Madagascar.
PLAN YOUR TRIP: Fodor's South Africa Guide
Poendl | Dreamstime.com
Scenic Cruises offers an all-inclusive, 22-day tour cruising between the Argentinian cities of Ushuala and Buenos Aires, aboard its "Discovery Yacht"—with unforgettable stops and excursions in Antarctica, Great Britain's South Georgia Islands, and the Falkland Islands.
Insider tip: Read Fodor's Cruises Forum on Antarctica Expeditions