Courtesy of Disney Cruise Line
Buffets, bingo, and shuffleboard are guaranteed on nearly every cruise, but when it comes to fun for the whole family, many cruise ships don't pass muster. Capitalizing on a booming trend in family travel in recent years, cruise lines are rolling out the red carpet for families seeking a destination vacation with activities for all ages. Set sail on voyages that go the extra mile in accommodating kids, with ice skating rinks, video game tournaments, and interactive cooking classes.
By Zachary Laks
Courtesy of Royal Caribbean International
Royal Caribbean Oasis Class
Toeing the line as the world's largest cruise ships, Allure of the Seas and Oasis of the Seas are nearly identical behemoths from Royal Caribbean's Oasis Class. Pushing the boundaries of cruising since 2009, the ships roll out the red carpet for kids with wall-to-wall activities and attractions on board.
Starting with the most unique, the ships' ice skating rink, the first at sea, challenges skaters to keep their balance with the smooth rocking of the ship. The balance test continues on the top deck at the two powerful FlowRider® surf simulators. Kids will love seeing familiar characters from DreamWorks throughout the ship including Shrek, the animals from Madagascar, and Po the panda from Kung Fu Panda.
PLAN YOUR TRIP: Visit Fodor's Royal Caribbean International Review
Courtesy of Norwegian Cruise Line
Proud to carry the banner as the largest ship to ever homeport in New York City, Norwegian Breakaway is decidedly a family ship. Partnering with Nickelodeon, character favorites including Dora the Explorer and SpongeBob SquarePants make special appearances in the kid's zones throughout the voyage. For the best access to the characters, plan ahead for the special Pajama Jam breakfast ($20 per person), where PJs are encouraged as kids dance along with the friendly character hosts.
Going the extra mile in accommodating its youngest sailors, Norwegian offers a special Nickelodeon Bedtime Kit ($45), where a themed blanket, pillowcase, nightlight, and evening turndown keep with the playful theme. For a bit of fun in the sun, younger kids delight in the Kid's Aqua Park, where oversized SpongeBob figurines create a playful vibe in the shallow waters.
PLAN YOUR TRIP: Visit Fodor's Norwegian Cruise Line Review
Courtesy of Disney Cruise Line
Extending Disney's patented family vacation experience to the sea, voyages on Disney's two newest sister ships, the Disney Dream and Disney Fantasy, are a send-off into bliss for the whole family. With the Dream sailing since 2011 and the Fantasy christened in 2012, the ships feature immersive themed areas for kids up to age seventeen.
Disney's Oceaneer Club stands out for its large-scale recreations of Disney Pixar favorites including toys from Toy Story in Andy's Room and the Monster's Academy area, a high-tech playroom inside the world of Monsters, Inc. For fourteen- to seventeen-year-olds, the cruises' Vibe club is a sleek and stylish hangout where movie screenings, dance competitions, and karaoke keep the hard-to-please teenager engaged.
PLAN YOUR TRIP: Visit Fodor's Disney Cruise Line Review
Courtesy of Celebrity Cruises Inc.
Celebrity Cruises' Millennium Class
On one of the more sophisticated major cruise lines sailing the high seas, Celebrity Cruises has taken great strides in welcoming families with young children on board. The Millennium Class comprises four ships, the Millennium, Summit, Infinity, and Constellation, and welcomes kids with newly upgraded facilities that bring high-tech touches to days at sea.
Kids flock to the Xbox stations at the designated youth areas Fun Factory (ages three to eleven) and XClub (ages twelve to seventeen), where tournaments and gaming theme nights culminate in crowning the ship's most skilled gamers. Activities including scavenger hunts, theme parties, and movies fill the day at both youth areas.
PLAN YOUR TRIP: Visit Fodor's Celebrity Cruises Review
Courtesy of Cunard
It's refreshing to discover Queen Mary 2's welcoming and well-organized family accommodations despite Cunard's legacy of elegance and luxury. Primarily sailing on eight-day trans-Atlantic voyages between New York and Southampton, England, families seek out The Play Zone, for youngsters aged six months to seven years old, where the fun and animated staff fill the day with competitions, songs, dancing, and computer games.
The older set seeks refuge in The Zone, an area for eight to seventeen year olds, where table tennis, deck sports, and video games add to the fun. The ship recognizes the needs of families with intuitive baby baths, high chairs in the buffet, and a Night Nursery for infants aged twelve months to twenty-three months, open from 6 p.m. to 11 p.m., providing parents a romantic evening out.
PLAN YOUR TRIP: Visit Fodor's Cunard Line Review
Courtesy of MSC Cruises
A major player in Europe, MSC Cruises entered the Caribbean cruise market in 2013 with the MSC Divina docked in Miami, Florida. Steeped in Mediterranean culture, the MSC Divina features Swarovski crystal-accented staircases, marble finishes throughout, and a glittering atrium. MSC features unbeatable deals, with free sailings for kids eleven and under and discounted rates for twelve- to seventeen-year-olds.
The MSC Divina has four designated kids' clubs on board with lively daily schedules that range from a dip in The Smurfs toddler water park to a thrilling ride down the ship's adult water slide. The ship's Happy Dinners program reunites parents and their children for dinner with special kid's menus before children are brought back to their respective clubs for evening activities.
PLAN YOUR TRIP: Visit Fodor's MSC Cruises Review
Courtesy of Princess Cruises
When the Royal Princess arrived on the Caribbean scene in 2013, it ushered in a refreshing approach for the line's family programming. The luxury liner ports in Fort Lauderdale, Florida, during winter months with voyages throughout the Caribbean.
Among the many fun family upgrades onboard the new class of ships, young travelers revel in the chance to take part in the [email protected] program ($25 per child). One of the ship's pastry chefs emerges from the hectic galley where desserts are made by the thousands to lead a small group of junior chefs, suited in toques and aprons, for a fun, hands-on cake-decorating lesson. Remix, the ship's new concept for ages thirteen to seventeen, strikes the right tone with teenagers and expands the area to include an outdoor lounge with a wading pool and favorites such as skeeball and foosball.
PLAN YOUR TRIP: Visit Fodor's Princess Cruises Review
Courtesy of Carnival Cruise Lines
The line's newest and largest cruise ship, the Carnival Breeze (in operation since 2012) is perfect for families looking to maximize fun while staying on a budget. The WaterWorks aqua park boasts two intense waterslides, the winding yellow Twister and the dizzying funnel of The Drainpipe. The ship's newest addition, Dr. Seuss and his whimsical cavalcade of characters led by the Cat in the Hat, have taken over the kid's areas of the ship, bringing with them a cruise-wide Seuss-a-palooza Parade, an interactive Seuss story time, and most endearingly, a Green Eggs and Ham character breakfast.
PLAN YOUR TRIP: Visit Fodor's Carnival Cruise Lines Review
Courtesy of P&O Cruises
Primarily operating out of Southampton, England, P&O Cruises' Ventura made its maiden voyage in 2008. Having undergone an extensive upgrade in 2013, the ship is the line's second largest in a fleet of eight. Built with families in mind, the Ventura has the biggest Kid's Club of any ship in the fleet, complete with a splash pool and dip pool on deck for the young cruisers.
It's important to note that the ship caters best to kids during designated voyages that match up with school breaks. For reference on the best time to bring the whole family, the cruise line's website provides a remarkably handy spreadsheet of ideal family dates as well as a daily count of available spaces in the Kid's Club registry.
PLAN YOUR TRIP: Visit Fodor's P&O Cruises Review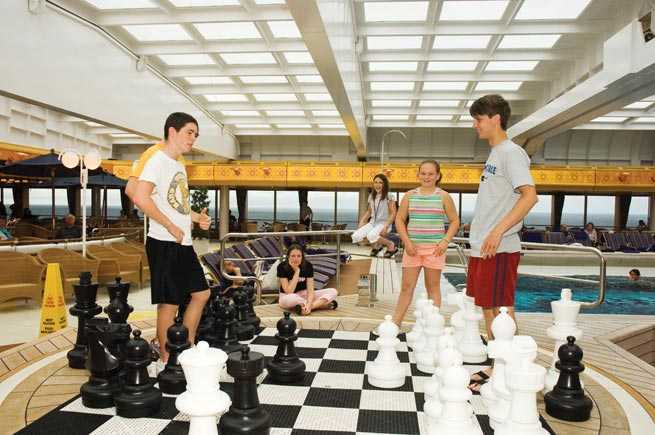 Courtesy of Holland America Line
Holland America Line's Vista Class
Holland America, a line more aligned with the traditional, upscale traveler looking for a simple and refined cruising experience, has continued to invest in its onboard experience, refreshing its programming and expanding its accommodations for kids. Holland America's Vista Class of four ships, Noordam, Oosterdam, Westerdam, and Zuiderdam, stands out for its large Club HAL children's facilities on board.
Most of Holland America's Caribbean voyages find their way to the cruise line's private island, Half Moon Cay, where the Half Moon Lagoon Aqua Park features large water toys such as whales and dolphins, along with a kid-friendly pirate ship that keeps children amused for hours.
PLAN YOUR TRIP: Visit Fodor's Holland America Line Review