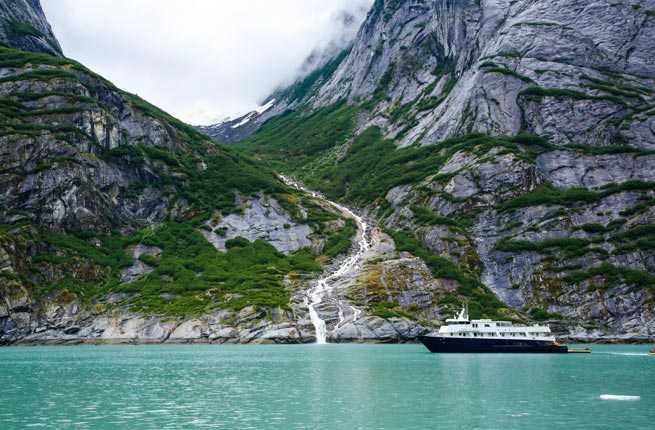 Courtesy of JD Andrews
Americans are falling in love with small-ship yacht adventures, and cruise lines are scrambling to launch smaller ships in the hopes of securing the loyalty of adventure seekers that want to experience the world's finest hidden harbors on their own terms. Three new yachts—Ponant's Le Lyrial, Windstar's Star Legend, and Crystal Espirit—entered service this year. Here are ten yachts to consider if you seek the ultimate in personalized service and intimate access to destinations around the globe.
by Andrea M. Rotondo
Courtesy of Crystal Cruises
Yacht: 62-passenger Crystal Espirit
The stunning all-suite, all-inclusive Crystal Espirit debuts December 2015 with an emphasis on "storied waters and hidden harbors." The yacht begins its inaugural year in the Seychelles and will then spend most of 2016 exploring the Adriatic coastline. The newcomer to Crystal's fleet will offer impeccable service and promises Michelin star-level gourmet cuisine, which can also be found aboard Crystal's larger ships: Crystal Serenity and Crystal Symphony. Where this little sister excels is in the very intimate ports of call the yacht can reach.
Insider Tip: Crystal turns the traditional yacht experience on its head by offering unusual amenities like a two-passenger submarine for undersea exploration. Reserve your excursion upon embarkation. The ship is also outfitted with two 10-passenger Zodiacs, a 12-passenger Wider 32-foot super yacht tender, water skis, wake boards, kayaks, and jet skis as well as fishing and snorkeling gear.
Plan Your Yacht Cruise: Visit Fodor's Crystal Cruises Guide
Francois Lefebvre
Ponant Cultural Cruises & Expeditions
Yacht: 224-passenger Le Lyrial
Launched in 2015, Le Lyrial is a sistership to Le Boreal, L'Austral, and Le Soleal. As you've probably guessed from the ships' monikers, Ponant is a French-flagged line and that means an emphasis on luxurious yet tough ship design (the ship's hull is ice rated so it can sail Antarctica); compelling interiors featuring a crisp white, cool gray, ice blue, and turquois color palette; and gourmet cuisine and wine with a decidedly French flair. Throughout the year, Le Lyrial sails Antarctica, the Greek Islands, and the Mediterranean. Especially popular is the ship's seven-night round trip itinerary out of Venice, which calls on the Croatia ports of Sibenik, Split, Korcula, Dubrovnik, Kotor, Hvar, Pula, and Rovinj.
Insider Tip: All suites are located on Deck 6, where you'll also find the pool. For the most spacious accommodations, book the 581 square foot Owner's Suite. The bedroom and bath with Jacuzzi are separated from two dressing areas, living room, dining area, and guest bath. A spacious balcony with entrances from both the bedroom and dining area afford you the ability to enjoy breakfast, lunch, and dinner al fresco.
Plan Your Yacht Cruise: Visit Fodor's Ponant Guide
Courtesy of SeaDream Yacht Club
Yacht: 112-passenger SeaDream I and SeaDream II
Personalized service. That's a hallmark of SeaDream Yacht Club. The crew seems to know everyone's name—and preferences for food and drink—from day one. Pampering is pulled off in a sincere way and, with so few other passengers onboard, you feel as if the yacht is truly yours for the week. While the line doesn't offer many shore excursions, its captains are known to lead complimentary walks, hikes, and bike trips (the ships maintain a fleet of mountain bikes) to tiny beach coves and farmer's markets. The aft watersports marina is also a true gem, allowing for swimming and snorkeling as well as wake boarding, water skiing, windsurfing, and kayaking. There's also a sailboat, towable banana boat, and several jet skis. There's nothing quite like anchoring off St. Barts and jumping into the Caribbean Sea from your very own yacht.
Insider Tip: Head to Reception the moment you step aboard and reserve a special night under the stars. SeaDream will prepare one of its 11 comfy on-deck Balinese beds with fine linens, fluffy duvet, and pillows so that you may sleep under the stars. A bottle of Champagne is provided so you may toast to sweet dreams. (Hint: Ask for the larger and more private Balinese bed at the forward end of the ship.) This experience takes glamping to an entirely new level.
Plan Your Yacht Cruise: Visit Fodor's SeaDream Yacht Club Guide
Courtesy of Four Seasons Resorts
Yacht: 22-passenger Four Seasons Explorer
If you dream of exploring the jewels of the Indian Ocean, the atolls of the Maldives, you can't do better than booking passage aboard the luxury liveaboard, Four Seasons Explorer. This 22-passenger, 129-foot, three-deck catamaran is operated by Four Seasons Hotels and plies the waters between Four Seasons Kuda Huraa and Four Seasons Landaa Giraavaru. Your days are spent at deserted island hideaways with uninhabited beaches, out of the way coral reefs, and world-class dive sites. If your ideal vacation consists of sunbathing, snorkeling, swimming, and diving, Four Seasons Explorer can make it all happen.
Insider Tip: The all-inclusive itinerary of Four Seasons Explorer is geared toward qualified divers and includes up to three dives a day at the best, and most secluded, reefs in the Maldives. During certain times of the year, manta rays and whale sharks are common sightings on those dives.
Plan Your Yacht Cruise: Visit Fodor's Maldives Travel Guide
Courtesy of Windstar Cruises
Yacht: 212-passenger Star Legend
Windstar's fleet has grown quickly in the past few years with its purchase of several 212-pasenger yachts like the 2015 addition of Star Legend. The line has always been known for providing a top-notch yet casual and comfortable experience on small ships calling upon the world's most tucked-away harbors. Star Legend sails seven-night round trip Caribbean voyages out of San Juan, calling on Culebra, St. Barts, Montserrat, St. Martin, and the British Virgin Islands of Jost Van Dyke and Virgin Gorda. From April to October, there are a variety of Mediterranean and Northern Europe itineraries as well as Reykjavik round trips that circumnavigate Iceland. (Sister yacht Star Breeze also launched in 2015 and Star Pride has been sailing since 2014.)
Insider Tip: For a spectacularly romantic sail-away with your significant other, don your bathing suit, grab a few cocktails, and head to Deck 5 forward. Walk all the way to the end of the hallway and exit through the doorway to the open deck and a hidden-away hot tub.
Plan Your Yacht Cruise: Visit Fodor's Windstar Cruises Guide
Jocelyn Pride
Yacht: 36-passenger Safari Explorer
Un-Cruise Adventures is all about getting out into nature with a small group of like-minded people who want to explore a destination in depth. From November through April, board Safari Explorer for a seven-night voyage around the Hawaiian Islands. You'll visit Maui, the Big Island, Molokai, and Lanai and will have extensive opportunities for skiff tours, kayaking, paddle boarding, hiking to the top of towering waterfalls, and snorkeling coral gardens and a sea turtle habitat. On land, Un-Cruise Adventures introduces you to locals. On Molokai you'll take part in a Hawaiian music "jam session" and a traditional island feast.
Insider Tip: Don't miss your opportunity to night snorkel with Giant Pacific Manta rays. These creatures are gentle giants and are nothing to be afraid of. Groups of snorkelers hold on to a modified surfboard with lights shining into the depths of the water to attract the rays. The experience—with the night sky filled with stars above you and graceful Manta rays in the water below you—is something you'll never forget.
Plan Your Yacht Cruise: Visit Fodor's Un-Cruise Adventures Guide
Courtesy of Variety Yachting
Yacht: 72-passenger Variety Voyager
"The Treasures of Costa Rica and the Panama Canal" is one of Variety Cruises' most popular itineraries sailed by the line's newest and sleekest mega yacht, Variety Voyager. The ship—which generally draws a young, active crowd—visits some of the most pristine nature reserves as well as the national parks of Isla Coiba and Manuel Antonio, offers an excursion through the Darien Jungle, and features a crossing of the Panama Canal. The line's next Voyager-class vessel, Voyager Pride, will make her debut in 2017.
Insider Tip: Dreaming of a yachting vacation with friends? Variety Yachting often offers discounts to groups booking six cabins or more on select voyages. Certain itineraries also are eligible for one free cabin for every five paying cabins plus several complimentary spa treatments and shore excursions.
Plan Your Yacht Cruise: Visit Fodor's Costa Rica Travel Guide
Courtesy of Blue Lagoon Cruises
Yacht: 68-passenger Fiji Princess
If you've always wanted to visit the islands of Fiji—there are more than 300 of them dotting the South Pacific smack dab between Hawaii and New Zealand—consider the 179-foot, 68-passenger Fiji Princess from local outfit, Blue Lagoon Cruises. The ship offers three-, four-, and seven-night voyages that visit the Mamanuca and Yasawa Islands. Blue Lagoon likes to say that Fiji Princess is small enough to "tie up to coconut trees during the day" and that's true. The crew will bring you to white sandy beaches for swimming and sunbathing, to healthy coral reefs for snorkeling and diving, and to villages that embody Fiji's friendly culture where everyone has a warm bula (hello) for visitors.
Insider Tip: Demand for small ship adventures around the Fijian islands has grown quickly in recent years… so much so that Blue Lagoon Cruises is currently refurbishing its luxury ship, Mystique Princess, and will bring her back to the fleet in 2017.
Plan Your Yacht Cruise: Visit Fodor's Fiji Travel Guide
Courtesy of Ecoventura
Yacht: 20-passenger MV Origin
Making its debut in January 2016 is Ecoventura's new MV Origin. Two naturalist guides and a concierge will be onboard to cater to each of the ship's 20 passengers. Expect gourmet meals (served both indoors and on the open deck), an open bar, sun deck with Jacuzzi, fitness center, and kayaks and paddleboards for independent exploration around the Galapagos Islands. The yacht will offer seven-night round trip voyages out of San Cristobal and will visit places like Darwin Bay, Prince Philip's Steps on Genovesa Island, Isabela, and Santa Cruz. If you love animals, this is the voyage you've dream of. You'll have the opportunity to see blue- and red-footed boobies, snorkel with Galapagos penguins and dolphins, spy giant tortoise and land iguanas, and learn about the volcanic islands that make up this archipelago.
Insider Tip: To get the most out of an ultra-small ship cruise like the 10-cabin MV Origin, be sure to attend the captain's welcome cocktail party on the first night of the voyage. Forge relationships with the other travelers so you can enjoy the beauty of the Galapagos Islands with friends.
Plan Your Yacht Cruise: Visit Fodor's Galapagos Islands Travel Guide
Courtesy of Alaskan Dream Cruises
Yacht: 40-passenger Alaskan Dream
The 104-foot Alaskan Dream is sleek and yacht-like but it's actually a catamaran that was purpose-built to navigate the tiny bays, coves, and narrow channels of Alaska's Inside Passage. While all 18 cabins have ultra-large viewing windows, you'll actually spend most of your time on deck, in the ship's skiffs, or exploring on land. You'll get to experience the wilderness of Alaska and may spot sea otters and whales, bald eagles and tundra swans, bears and wolves. Beyond nature sightings, you'll also explore the small towns and villages that comprise the fabric of the State of Alaska.
Insider Tip: When Alaska Dream Cruises says they have insider knowledge of the area, they aren't stretching the truth. Alaska is the ancestral home to many employees who are members of the native Tlingit Kaagwaantaan tribe and they are uniquely qualified to introduce you to the history, culture, flora, and fauna of the area.
Plan Your Yacht Cruise: Visit Fodor's Juneau, Inside Passage, and Southeast Alaksa Travel Guide