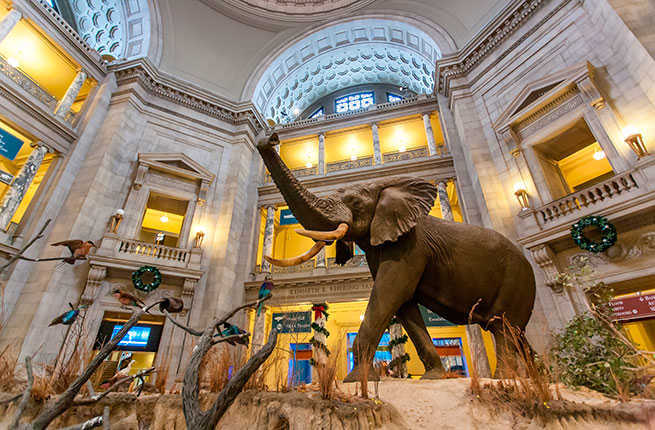 Tinnaporn | Dreamstime.com
From cabinets of curiosities to massive institutions, curios, oddities, and specimens offer visitors a connection to exotic, unknown worlds. Museum-goers travel through exhibits with the sense that only thing that separates them from the natural world is glass and time. Historically, natural history museums have worked to collect and to catalog hundreds of thousands of specimens to document biodiversity—artifacts that would, today, fall under the auspices of anthropology, geology, biology, botany, paleontology, and even astronomy. With exhibits ranging from dinosaurs to ancient humans, natural history museums inspire awe and curiosity in visitors of all ages. —Lydia Pyne, author of Seven Skeletons: The Evolution of the World's Most Famous Fossil Humans
Jennifer Arnow
American Museum of Natural History
WHERE: New York City, New York
Few museums feature dioramas as famous as those found in the American Museum of Natural History's Hall of Mammals. These still-life scenes, originally proposed by the renowned taxidermist and naturalist Carl Akeley, were meant to bring a snapshot of global ecosystems to New York museum visitors. For decades, famous scientists, explorers, and naturalists embarked on hundreds of expeditions underwritten by the museum, continually adding to the museum's immense collections, which current estimates put at more than 32 million specimens. Today, the AMNH is an iconic part of the New York City identity and experience.
PLAN YOUR TRIP: Visit Fodor's New York City Guide
Ross Brinkerhoff / Fodors Travel
Natural History Museum
WHERE: London, England
The Natural History Museum in London is one of the world's most recognized and renowned museums. From Dippy the Diplodocus to giant sloth skeletons, the museum's iconic exhibits have set the standards for natural history displays for centuries. Historically, the museum's collections have focused on botanical, biological, and paleontological specimens as well as maintaining an active archive and library—all of which are paramount to scientific research as well as the history of science. From the moment visitors step into the museum's main hall, they are imbued with the sense of gravitas that the London museum brings.
PLAN YOUR TRIP: Visit Fodor's London Guide
Origins Centre
WHERE: Johannesburg, South Africa
The Origins Centre in Johannesburg, South Africa, opened in 2006 and for the last decade has brilliantly combined natural history, archaeology, anthropology, and art to offer visitors a truly unique, intimate, and hands-on tour through human evolution. Tucked along the western edge of the University of the Witwatersrand, the Centre's exhibits include stone tools as well as artifacts that have artistic or symbolic significance, all of which date to South Africa's Stone Age. Exhibits also include beautiful examples of the region's prehistoric rock art as well as contemporary South African artists. Exhibits are immersive, and visitors are encouraged to open drawers and explore the Centre's specimen collections.
PLAN YOUR TRIP: Visit Fodor's Johannesburg Guide
Tinnaporn | Dreamstime.com
Smithsonian Institution
WHERE: Washington, D.C.
Established in 1846, the Smithsonian's National Museum of Natural History houses more than 138 million items and hosts close to 30 million annual visitors. The institution's newest exhibit hall is the David H. Koch Hall of Human Origins, which opened in 2010 on the centennial of the Smithsonian Institution, highlighting the last 6 million years of human evolution. The hall has extensive exhibits based on the archaeology and paleoecology research that are integral parts of understanding human origins as well as artistic reconstructions of fossil hominins—human ancestors—by famed paleo-artist John Gurche.
PLAN YOUR TRIP: Visit Fodor's Washington, D.C. Guide
Academy of Natural Sciences of Drexel University
WHERE: Philadelphia, Pennsylvania
The Academy of Natural Sciences is the oldest natural history museum in North America, with a collection of 17 million biological specimens as well as an impressive library archive with thousands of scientific volumes, papers, and illustrations. In 1868, the Academy was the first natural history museum to exhibit an entire dinosaur skeleton with its mounted Hadrosaurus display. Today, the Academy focuses on public programs and outreach.
PLAN YOUR TRIP: Visit Fodor's Philadelphia Guide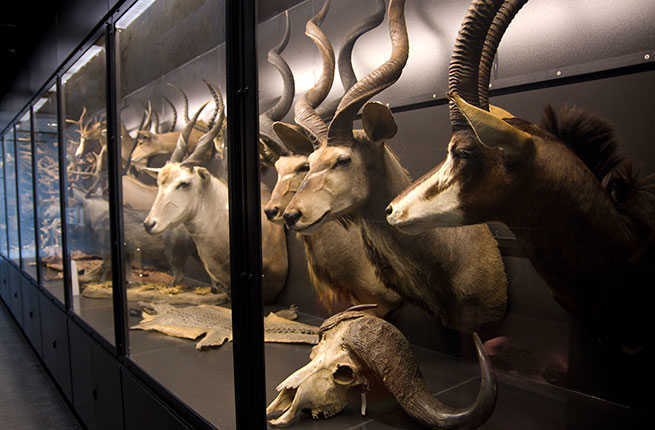 Jackbluee | Dreamstime.com
Beaty Biodiversity Museum
WHERE: Vancouver, Canada
Although the Beaty Biodiversity Museum is rather small, it offers visitors a unique opportunity to dig into their specimen collections and to see how these collections can help scientists with their research. Cabinet drawers in the middle of the rooms invite visitors to open them and learn how animals are taxidermied and how specimens are preserved. No space is wasted; when visitors walk between displays, they step over fantastic fossils, all protected by the floor's Plexiglas. The crowning specimen of the Beaty Museum is "Big Blue," the massive blue whale skeleton suspended from the ceiling.
PLAN YOUR TRIP: Visit Fodor's Vancouver Guide
Ginosphotos | Dreamstime.com
Field Museum of Natural History
WHERE: Chicago, Illinois
Although the Field Museum has more than 24 million specimens in its collections, one fossil dominates everything else in the museum—Sue, the most complete and easily the most famous T. rex ever discovered. Unveiled to visitors in May 2000, Sue has been the cornerstone of the museum's education and public outreach for more than a decade and a half. At a towering 42 feet in height and armed with her own media-savvy Twitter handle, it's no wonder that she commands such a public presence.
PLAN YOUR TRIP: Visit Fodor's Chicago Guide