©Château de Versailles, JM Manaï
Whether you love opera or have never seen a single one performed, it's impossible to deny that opera houses are some of the most culturally significant and gorgeous buildings in the world. Along with art museums and libraries, opera houses showcase the wealth and prestige of the cities in which they're built. Many of them can be toured without buying a ticket to a performance, though seeing a show at one of these lavish theaters is sure to be an unforgettable experience. From Moscow to Milan, these are the world's most amazing opera houses.
by Laura Itzkowitz
photogolfer/Shutterstock
WHERE: Paris
The opulent Palais Garnier was a major part of Emperor Napoléon III and Baron Haussmann's plan for the new Paris, characterized by the Grands Boulevards. The monumental Beaux-Arts building in the ninth arrondissement dominates the Place de l'Opéra. Bronze busts of great composers such as Rossini, Auber, Beethoven, and Mozart decorate the façade, along with sculptures personifying harmony, poetry and music. Inside, the grand staircase leads to the stunning auditorium, where Proust attended performances with the aristocracy. In 1964, the opera mounted Chagall's painted ceiling, which depicts scenes from 14 famous operas. Today, the Palais Garnier is the official home of the Ballet de l'Opéra National de Paris and puts on minor operas, though the major ones take place at the Opéra de la Bastille.
Insider Tip: Last-minute discount tickets are available and you can take guided tours of the building without seeing a show. Then head across the street to Café de la Paix, one of Paris's literary haunts where Proust used to go when he visited the opera.
PLAN YOUR TRIP: Visit Fodor's Paris Guide
<"http://en.wikipedia.org/wiki/File:La_Scala_interior.jpg">Wikimedia Commons [Creative Commons Attribution-Share Alike 2.5 Generic license]
WHERE: Milan
Empress Maria Theresa of Austria founded Milan's legendary Teatro Alla Scala, which opened in 1778 with Antonio Salieri's L'Europa riconosciuta. The theater gets its name from the Church of Santa Maria alla Scala, which was razed to make room for the opera house. Inside the opulent auditorium, Gioachino Rossi conducted some of the greatest operas ever performed and Giuseppe Verdi made his name here. After WWII, La Scala reopened under Arturo Toscanini's direction and Maria Callas became a star.
Insider Tip: Tickets for opera performances go on sale two months in advance and usually sell out the same day. If you can't get a ticket to see a show, visit the Museo Teatrale della Scala.
PLAN YOUR TRIP: Visit Fodor's Milan Guide
WHERE: London
The Royal Opera House in Covent Garden was built on a rich history of opera in London, with three theaters occupying the site since 1732. The current neoclassical opera house dates back to 1858. It was used as a dance hall during WWII, but became the permanent home of the Royal Opera and the Royal Ballet when the war ended. Some of the world's most famous singers, including Plácido Domingo and Luciano Pavarotti, have performed here. Tickets to a performance in the opulent theater will cost you anywhere from ₤3 to ₤230, but it's best to reserve far in advance. You can also take a behind-the-scenes tour to learn about the theater's architecture and history and see the backstage area and production workshop up close.
Insider Tip: In the summer, the Royal Opera House shows major performances on big screens in London's public parks for free. Check the schedule before you go.
PLAN YOUR TRIP: Visit Fodor's London Guide
WHERE: Buenos Aires
Pavarotti said that the Teatro Colón's only flaw was that its acoustics were so perfect the audience could hear any mistake a singer made. Acoustically, the opera house is considered one of the five best concert venues in the world. The Teatro Colón took nearly 20 years to build, due in part to the death of its first architect and the murder of its second. It was finally inaugurated in 1908 with Verdi's Aïda. The architecture incorporates Italian marble, French stained glass, and Venetian mosaics, making the theater a sumptuous building and a major landmark in the Argentinean capital.
Insider Tip: While you're in the neighborhood, head over to the historic Café Tortoni, once frequented by Argentina's great artists and intellectuals.
PLAN YOUR TRIP: Visit Fodor's Buenos Aires Guide
chaoss/Shutterstock
WHERE: Vienna
The magnificent Vienna Staatsoper (State Opera House) has the world's largest repertoire, with performances almost every night from now until June 2015. Opened in 1869 under the auspices of Emperor Franz Joseph and Empress Elizabeth, the Vienna opera reached a high point under the direction of Gustav Mahler. At the time, the Imperial box was reserved for Vienna's royalty and their guests. The opera house saw darker days during WWII and was bombed in 1945, but reopened in 1955 with a new auditorium. The main lobby, central staircase, Tea Salon, Schwind Foyer, and its attached veranda were unharmed in the bombing, so visitors can see them in their original grandeur today.
Insider Tip: Don't miss the celebrated "Zauberflöten" (Magic Flute) frescoes on the veranda.
PLAN YOUR TRIP: Visit Fodor's Vienna Guide
Oleg GawriloFF/Shutterstock
WHERE: Moscow
The Bolshoi Theatre, Russia's largest and oldest theater, bore Fyodor Fyodorovsky's famous gold "Soviet" curtain for 50 years and was the site of Lenin's last public speech. So it's a bit ironic that the Bolshoi was actually created as a private theater for Prince Pyotr Urusov, an 18th century prosecutor. The splendor of its architecture and décor is evident in tapestries, balconies, crystal chandeliers, and gold-leaf trim. The Bolshoi's opera and ballet troupes are two of the most famous in the world.
Insider Tip: Also check out the Russian Academic Youth Theatre next to the Bolshoi, the home of some of the country's most promising young performers.
PLAN YOUR TRIP: Visit Fodor's Moscow Guide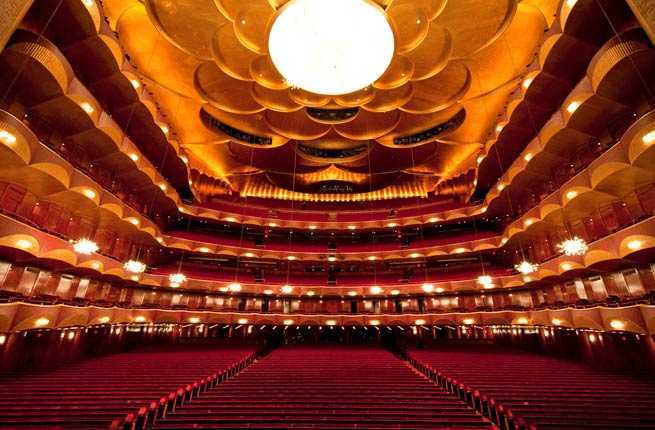 Jonathan Tichler/Metropolitan Opera
WHERE: New York City
New York City's world-famous Metropolitan Opera is part of the Lincoln Center for the Performing Arts, a huge complex designed by a group of renowned architects and opened in 1962. The Met's enormous arched windows bathe the interior in light and reveal monumental Chagall paintings, which can be seen from Lincoln Center Plaza and Columbus Avenue. The Metropolitan Opera was founded in 1883 with a building originally located on 39th Street and Broadway. The Met has premiered dozens of important operas, including Puccini's La Fanciulla del West and Il Trittico, Humperdinck's Königskinder, and Philip Glass's The Voyage. With more than 200 performances every season, the Met is the leading opera house in the U.S.
Insider Tip: Rush tickets offer orchestra seats for $20 on weekdays and $25 on weekends. For a casual meal, stop by Marcus Samuelsson's American Table at Alice Tully Hall.
PLAN YOUR TRIP: Visit Fodor's New York City Guide
WHERE: Sydney
What could be mistaken as a ship on Sydney Harbor, the Sydney Opera House is known for its ingenious architecture, making it the city's most famous landmark. Yet Danish architect Jørn Utzon's visionary design was riddled with problems. Originally planned to take four years and A$7 million to build, the project required 15 years and A$102 million, financed through the Opera House Lottery to complete. Its five theaters host performances by the Sydney Opera, the Sydney Dance Company, the Australian Ballet, and Opera Australia.
Insider Tip: Visitors are free to walk around the building or take a guided tour.
PLAN YOUR TRIP: Visit Fodor's Sydney Guide
WHERE: Saint Petersburg
When a fire destroyed Saint Petersburg's Circus Theatre in 1859, a new opera house was built and named for Empress Maria Alexandrovna, wife of Alexander II. Thus the majestic Mariinsky Theater was born. In addition to operas, the theater has hosted ballets since 1886. Here, Tchaikovsky premiered several ballets, Balanchine got his start, and world-famous dancers such as Anna Pavlova and Mikhail Baryshnikov have graced the stage. The Mariinsky's mint-green exterior makes it stand out, and its golden interior is a tribute to opera's grandeur.
Insider Tip: Operas are performed in their original language, with English subtitles for Russian operas and Russian subtitles for foreign operas.
PLAN YOUR TRIP: Visit Fodor's St. Petersburg Guide
ChinellatoPhoto/Shutterstock
WHERE: Venice
The aptly named Teatro La Fenice (The Phoenix) has burnt down and risen from the ashes three times over the course of its history. The original San Benedetto Theater crumbled in 1774 and was replaced by La Fenice in 1792, only to be destroyed by another fire in 1836. The theater was quickly rebuilt and during this period, La Fenice witnessed many important premieres, including Verdi's La Traviata, Rigoletto, Attila and Simon Boccanegra. In 1996, La Fenice was destroyed by a fire yet again and two electricians were convicted of arson. After many complications, it reopened in 2003 to mixed reviews.
Insider Tip: When in Venice, be sure to see the Biblioteca Marciana, which made our list of the World's 20 Most Stunning Libraries and the Peggy Guggenheim Collection, featured in our slideshow of 15 Museums Showcasing the Art of America's Greatest Collectors.
PLAN YOUR TRIP: Visit Fodor's Venice Guide
Courtesy of Teatro San Carlo
WHERE: Naples
Italy's oldest and grandest theater may not be as well known as La Scala, but its history is just as fascinating. Founded in 1737 at the behest of Charles III, the Teatro San Carlo immediately became an important center for art and culture. The opera house was ravaged by a fire in 1816, but Tuscan architect Antonio Niccolini restored it to its original grandeur. The enormous stage can support horses, camels, and elephants, and production managers can lift the backdrop to reveal the gardens of the Palazzo Reale. The operas performed here are some of the best in the world, in centuries past and today.
Insider Tip: Once inside the auditorium, don't forget to look up. The grand ceiling fresco depicts Apollo introducing the greatest poets in the world to Minerva.
PLAN YOUR TRIP: Visit Fodor's Naples Guide
Courtesy of Fondazione Teatro Massimo Palermo
WHERE: Palermo
Fans of The Godfather trilogy will recognize the Teatro Massimo from the end of the third movie, when Michael's daughter Mary (played by Sofia Coppola) is gunned down on the theater's monumental steps. The Teatro Massimo is actually the largest opera house in Italy and the third largest in Europe. When it was built in the 1890s, Palermo was one of the cultural capitals of Europe, though both the city and the theater suffered during WWI. The theater closed for 23 years, between 1974 and 1997, and reopened with Verdi's Aïda.
Insider Tip: When visiting the opera house, be sure to admire the busts of famous composers by Italian sculptor Giusto Liva and his sons.
PLAN YOUR TRIP: Visit Fodor's Sicily Guide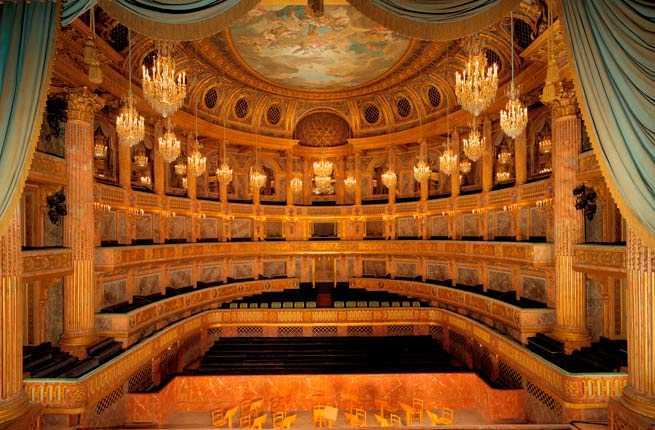 ©Château de Versailles, JM Manaï
OPERA ROYAL DE VERSAILLES
WHERE: Versailles
As if the Sun King's chateau wasn't grand enough already, the magnificent opera house on the grounds only adds to the opulence. The Opéra Royal de Versailles was finished just in time for Louis XVI's marriage to Marie Antoinette and was inaugurated during their wedding celebration. The theater's excellent acoustics are matched by its lavish décor, made of gilded and faux-marbled wood. Major composers from the Baroque and classical periods reign, and it's recommended you buy tickets a month or two in advance. The Hall of Mirrors also hosts concerts, but you can't go wrong at the opera house, where all seats have good views.
Insider Tip: On summer evenings, Versailles' gardens come alive with the Grands Eaux Nocturnes, when classical music is played and the fountains are illuminated, lending a magical atmosphere to the already sumptuous chateau.
PLAN YOUR TRIP: Visit Fodor's Versailles Guide
Andreas Praefcke [Creative Commons Attribution 3.0 Unported license], via Wikimedia Commons
WHERE: Munich
The world-renowned Bavarian State Opera premiered Wagner's Tristan und Isolde, Die Meistersinger von Nürnberg, Das Rheingold, and Die Walküre here between 1865 and 1870. King Ludwig II's patronage of the debt-ridden Wagner brought about a major heyday for opera. The stunning theater with its eight-column portico was a fitting home for operatic greats then and still is today. Though Allied bombs wreaked havoc on the theater in 1943, it was finally rebuilt in 1963. Today, it is home to some of the world's most advanced stage technology.
Insider Tip: Tickets start at as little as 4€ and can exceed 250€. Students, military, and civil servicemen can purchase tickets for 10€ two weeks prior to the performance.
PLAN YOUR TRIP: Visit Fodor's Munich Guide
WHERE: Monaco
The Opera de Monte-Carlo is just as lavish as the Casino to which it's attached, even if it garners less attention. Prince Charles III and the Société des Bains de Mer commissioned Charles Garnier to build the theater after he finished the magnificent opera house in Paris. The building, with its gold and red velvet auditorium, is similar in style to the Palais Garnier and many of the same artists worked on the two theaters. It was inaugurated in 1879 with a performance by Sarah Bernhardt. Later, great opera singers such as Enrico Caruso performed there, and in 1966, Grace Kelly and Prince Rainier III hosted a gala dinner in honor of Monaco's centenary in its hallowed halls.
Insider Tip: When in Monaco, be sure to visit the Palais Princier, which Rainier III restored and inhabited with Grace Kelly.
PLAN YOUR TRIP: Visit Fodor's Monaco Guide
Kert/Shutterstock
WHERE: Stockholm
In a tragic twist of fate, King Gustav III was shot at a masquerade ball in 1792 at his theater—the Royal Opera House he had built 10 years prior. The Swedish king loved opera so much he privately funded the construction of a lavish blue, white and gold theater. Gustav's gorgeous (but outdated) opera house was torn down in 1892 and replaced by a new Renaissance-style building with Norwegian marble. It was renovated in 1989 and restored to its original splendor. The Golden Foyer is especially beautiful, with its gold stucco walls, large mirrors, chandeliers, and upholstery in Florentine gold brocade.
Insider Tip: In addition to performances and guided tours, guests can see exhibitions that display the opera's historic props and costumes.
PLAN YOUR TRIP: Visit Fodor's Stockholm Guide
WHERE: Prague
The late 18th-century Estates Theater was built on the Enlightened belief that the public should have access to art and music. Though it was originally intended to host German dramas and Italian operas, works in other languages were added to the program. The crowd at the neoclassical green opera house welcomed Mozart more warmly than Vienna, and he conducted the premiere of his masterpiece Don Giovanni here in 1787. The first Czech modern opera was performed at the Estates Theater and the song "Where Is My Home?," which premiered at the Estates in 1834, later became the Czech national anthem.
Insider Tip: Pay homage to Mozart by visiting his memorial statue on the side of the Estates Theater.
PLAN YOUR TRIP: Visit Fodor's Prague Guide
HUNGARIAN STATE OPERA HOUSE
WHERE: Budapest
The 1884 advent of the Hungarian State Opera House was so widely anticipated that on opening night, the crowd overran the security guards in their eagerness to catch a glimpse of the magnificent building. The opera house is one of Hungarian architect Miklós Ybl's masterpieces and two marble sphinxes stand guard at the entrance to the neo-Renaissance-style theater. Limestone statues of Liszt and Ferenc Erkel, the father of Hungarian opera, greet visitors as they enter. Inside the auditorium, helmeted sphinxes hold up the boxes beneath a frescoed ceiling by Károly Lotz. Mahler conducted the opera in its early years, but the building was badly damaged during WWII and later restored in time for its centennial.
Insider Tip: Guided tours are given daily and tickets can be bought at the Opera shop.
PLAN YOUR TRIP: Visit Fodor's Budapest Guide
WHERE: Bayreuth, Germany
The sumptuous Margravial Opera House is the only perfectly preserved example of its type where audiences can experience opera as it sounded in the 1700s. Built from 1745-1750 by renowned theater architect Giuseppe Galli Bibiena, it still retains its original wood and canvas. This red, blue, and gold Baroque gem is listed as a UNESCO World Heritage site due to its stunning (and incredibly well-preserved) architecture. The Margravial brought Wagner to Bayreuth, where he lived from 1872 until his death in 1883, and every summer his operas are performed during a month-long festival.
Insider Tip: The Bavarian Palace Department is currently renovating the opera house, but visitors can still see parts of the building while it undergoes restoration.
PLAN YOUR TRIP: Visit Fodor's Bayreuth Guide
WHERE: Guangzhou, China
Zaha Hadid's futuristic white opera house in Guangzhou, China really steals the show. The enormous structure epitomizes the best of Hadid's dramatic, elegant, and innovative style. It is rated one of China's top three theaters and is the most high-tech performance center in Southern China, with state-of-the-art sound and lighting systems. In the main opera hall, which seats 1,804 people, tiny lights twinkle like the night sky. The opera house also has a black box theater for smaller performances.
Insider Tip: International opera companies, such as New York's Metropolitan Opera, the English National Opera, and the Lithuanian National Opera collaborate to put on shows in Guangzhou, so check the performance schedule before you go.
PLAN YOUR TRIP: Visit Fodor's Guangzhou Guide