When the weather warms up, the arts move outdoors—and seeing a play or musical under a starry sky is one of the best ways to spend a summer evening. Fortunately, there's no shortage of open-air venues across the country that let you take in a show while enjoying fresh air and scenic views. From theaters nestled in the mountains, to one right in the middle of Central Park, here are the country's 10 best spots for seeing live theater in the great outdoors. —Zachary Laks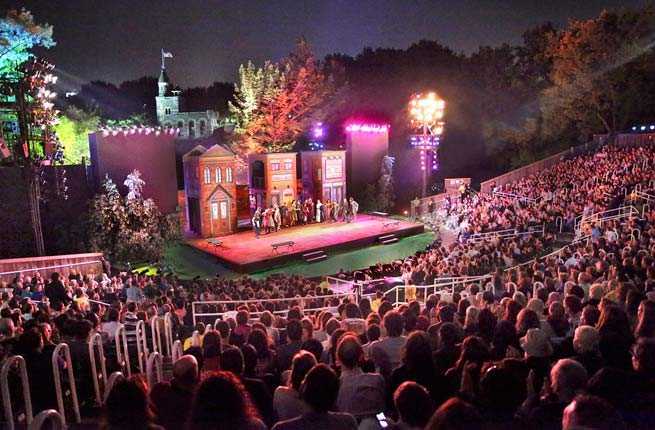 Tammy Shell
WHERE: Central Park, New York City
When: May 24–August 14, 2016
One of New York City's most treasured summer mainstays, The Public Theater's free Shakespeare in the Park has maintained its high quality and access since 1962. Featuring performances of Shakespeare's works from the greatest of the greats (past actors include Al Pacino, Kevin Kline, Meryl Streep, and Natalie Portman), every night is a sold-out affair. The best part, however, is that it's free. With eager theatergoers lining up daily well before the curtain goes up, Shakespeare in the Park hands out tickets at noon, as well as through a daily online ticket lottery. This season brings to life an all-female production of Shakespeare's The Taming of the Shrew and the rarely seen Troilus and Cressida.
Insider Tip: Danny Meyer's burger sensation Shake Shack has a location near the main entrance for Shakespeare in the Park on 77th Street and Columbus Avenue. Meyer's eatery is known city-wide for its fast-food style, gourmet burgers and thick-as-a-brick ice cream "concretes," so be sure to grab a bite before you see the Bard.
PLAN YOUR TRIP: Visit Fodor's New York City Travel Guide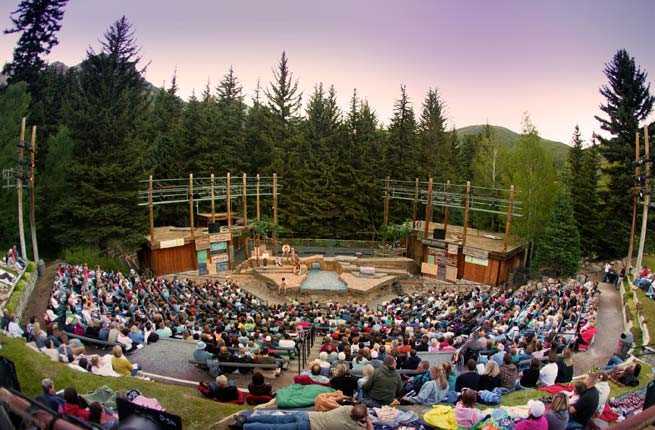 Thomas Arts, Utah Valley CVB
WHERE: Sundance, Utah
When: July 21–August 13, 2016
Winter's annual Sundance Film Festival and popular ski slopes are no longer the only attractions that make Sundance worth a visit. The summer season has taken on new life since the return of Sundance Summer Theatre in 2008. Standing amidst statuesque evergreens, the Eccles Stage Outdoor Amphitheater hosts a classic musical each season, in partnership with Utah Valley University. After a day of horseback riding, golfing, or river rafting, kick back and relax as the region's best performers croon the songs you love under the stars. This season features the beloved musical The Music Man.
Insider Tip: Patrons love the outdoor barbeque dinner that the resort offers nightly next to the theater. Make sure you reserve ahead, as the $16 meal sells out fast.
PLAN YOUR TRIP: Visit Fodor's Park City and the Southern Wasatch Travel Guide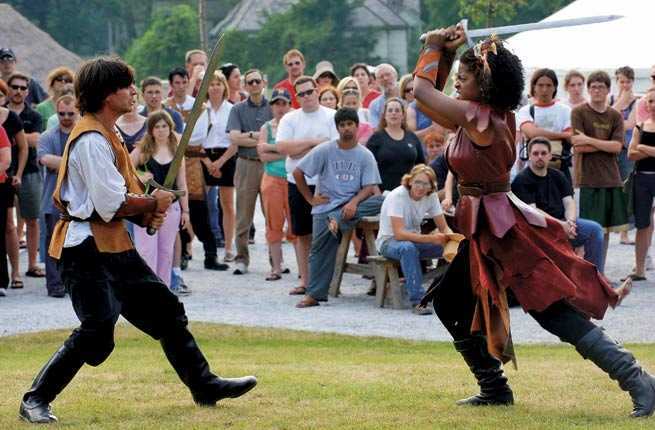 Courtesy of Shakespeare & Company
WHERE: Lenox, Massachusetts
When: The Rose Footprint Theatre is open July 15–August 20, 2016
A long-standing fixture of the Berkshires' thriving cultural scene, Shakespeare & Company offers the best of classical theater each summer. The Rose Footprint Theatre, one of four venues on campus, was built to resemble the eponymous theater where Shakespeare's plays were first performed in London. Featuring a simple stage, a large tent, and lawn chairs (provided), as well as picnic areas, this theater is a family favorite. This season, Shakespeare & Company will premiere a modern rendition of The Taming of the Shrew, in addition to Shakespearean classics.
Insider Tip: Lenox comes alive in the summer, with incredible restaurants and storied streets to stroll as you meander through local craft shops. Be sure to stop by the Alta Restaurant & Wine Bar for the area's best wine selection and the Chocolate Springs Café for its hand-made European confections.
PLAN YOUR TRIP: Visit Fodor's Berkshires Travel Guide
Muny Images
WHERE: St. Louis, Missouri
When: June 13–August 18, 2016
Perhaps the only place in the world where you can see as many Broadway stars as you can in New York, The MUNY is the country's oldest and largest outdoor theater, opened in 1917. With a robust seven-production performance calendar and each show lasting only a week, The MUNY operates a truly remarkable annual summer season, in a venue that holds 11,000 people—more than five times the average Broadway theater. This season will feature The Wizard of Oz, 42nd Street, and one of the first regional productions of Mamma Mia!
Insider Tip: Parking at The MUNY fills up quickly each night, so be sure to arrive early. Enjoy a pre-show picnic inside Forest Park.
PLAN YOUR TRIP: Visit Fodor's St. Louis Travel Guide
Leroy Gibbins
WHERE: Houston, Texas
When: June 8–11 and July 12–13, 2016
The first theater in Houston to offer free shows to the public back in 1968, Theatre Under The Stars (TUTS) keeps the summer tradition alive to this day, giving away free tickets to an annual musical production at the Miller Outdoor Theatre. The Miller's large wooden proscenium arch adds expansive acoustic resonance for the sloping lawn that accommodates up to 4,500 people. With a blanket, a basket filled with your favorite snacks, and a lawn chair, you are in for an atmospheric evening. This season, TUTS will put on two productions: James and the Giant Peach, Jr. and Million Dollar Quartet.
Insider Tip: The vast Houston Museum of Natural Science is just steps away from the Miller Outdoor Theatre. Stop by for the dinosaur skeletons in the Morian Hall of Paleontology and the crystal wonders, gems, and rubies in the Lester and Sue Smith Gem Vault.
PLAN YOUR TRIP: Visit Fodor's Houston and Galveston Travel Guide
© T Charles Erickson
Oregon Shakespeare Festival
WHERE: Ashland, Oregon
When: June 7–October 16, 2016 (at the outdoor Allen Elizabethan Theatre)
With eleven productions annually, the Oregon Shakespeare Festival is one of the world's largest independent theater festivals. Traditionally producing four Shakespeare plays every year, Oregon Shakespeare also curates new dramas and musicals for its audiences. Despite its sprawling multi-venue campus, including the outdoor Allen Elizabethan Theatre, it's possible for visitors to see most of the shows in just one weekend. Some of the standouts from this summer's roster include The Winter's Tale, Hamlet, and The Wiz.
Insider Tip: Be sure to check out the Lithia Artisans Market of Ashland, open on weekends from April through November, where local arts vendors gather to sell their hand-crafted unique goods.
PLAN YOUR TRIP: Visit Fodor's Ashland Guide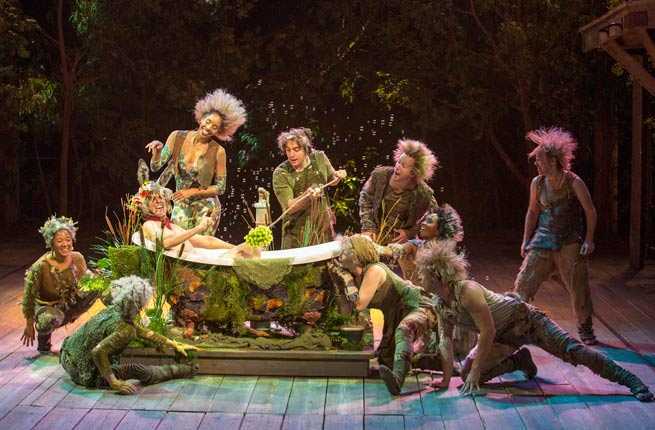 Jim Cox
WHERE: San Diego, California
When: June 19–September 18, 2016
One of the most intimate outdoor venues, with 605 seats, the Lowell Davies Festival Theatre was built with a three-quarter thrust configuration, allowing the audience to envelop the stage. The Old Globe is a year-round theater organization that hosts a wide array of musicals and dramas. Each summer, the company puts on two classical productions outdoors, often attracting Hollywood celebrities to showcase their skills among the beautiful eucalyptus trees. This summer brings an exciting new production of Love Labour's Lost directed by Kathleen Marshall, as well as Macbeth.
Insider Tip: The theater is located in Balboa Park, home to the San Diego Air & Space Museum. With an incredible display of aircraft and space satellites, there's something for everyone (don't miss the flight simulators).
PLAN YOUR TRIP: Visit Fodor's San Diego Travel Guide
Courtesy of Santa Fe Opera
WHERE: Santa Fe, New Mexico
When: July 1–August 27, 2016
The stars aren't the only ones shining bright at the legendary Santa Fe Opera. Behold the breathtaking nightly sunset against the splendor of red clay mountains that provide the backdrop of this world-class opera company. With five productions each season, Santa Fe has long been a favorite summer destination for opera's leading singers and fans. The Crosby Theatre, given an extensive renovation in 1998, seats 2,128 and features a state-of-the-art outdoor stage. La Fanciulla del West, Roméo et Juliette, and Don Giovanni are some of this season's highlights.
Insider Tip: Don't leave Santa Fe without indulging in a uniquely delicious local meal. Visit The Pantry Restaurant for some of the best home-cooked green and red chile poured over its mouth-watering burritos.
PLAN YOUR TRIP: Visit Fodor's Santa Fe Travel Guide
Ray Matthews
WHERE: Roanoke Island, North Carolina
When: May 27–August 20, 2016
With over four million viewers since its opening in 1937, The Lost Colony is the longest-running symphonic outdoor drama in the U.S. The show received a Tony Award for excellence in 2013, and its production design is helmed by legendary six-time Tony Award winner William Ivey Long. The ornate costumes and lavish sets help accentuate the historic tale of Sir Walter Raleigh's failed attempts to colonize a permanent settlement on the island off the coast of Virginia. A cast and crew of more than 200 people bring the show to life each night (except on Sundays) for an audience of vistors and locals.
Insider Tip: The VIP pass at The Lost Colony is a true value for those who want the complete experience. With a backstage tour, premium seating, rain insurance, souvenir programs, and more, the upgrade easily pays for itself at $40 per person
PLAN YOUR TRIP: Visit Fodor's Roanoke Island Guide
Courtesy of Starlight Theater
Kansas City Starlight Theatre
WHERE: Kansas City, Missouri
When: May 20–September 11, 2016 (Broadway productions)
With a capacity of 7,958, the Kansas City Starlight Theatre is known for its national tours and homegrown outdoor productions. In the summer, audiences can enjoy top-quality Broadway shows in the renovated structure: two picturesque towers that stand guard, hoisting the proscenium of the stage up into the sky. This season's roster includes family favorites such as Disney's Beauty and the Beast and Matilda the Musical.
Insider Tip: Prior to your evening at the theater, stop by the Scratch Bakery KC and pick up one their incredible pastries to enjoy at intermission.
PLAN YOUR TRIP: Visit Fodor's Kansas City Travel Guide