Mary Robnett
It's often been said that print is dead, but in recent years there's been a magazine renaissance, with new, small-circulation titles popping up what seems like every month. Much to our delight, a large portion of these magazines are dedicated to covering travel, and they do so with beautiful layouts, striking covers, gorgeous photography, and unique features. We've selected 13 of our favorite indie travel magazines, all of which will are guaranteed to feed your wanderlust. Each one has a unique voice and style, but all of them will transport you to another place.
By Annie Bruce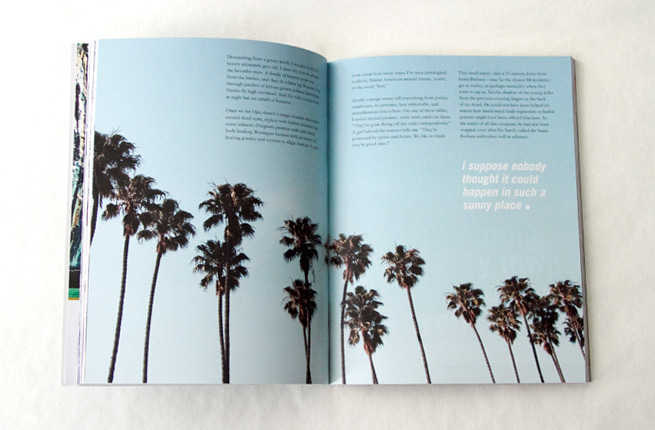 Mary Robnett
This bi-annual "out of place" journal focuses on travel literature, travel politics, and travel culture. With stories in the fourth issue ranging from, "Exactly 1 Hour," detailing a humorous attempt to reach Lewiston, Idaho, "Staycation Situation," a pajama photo spread, and "Realizations of an Over-the-Hill Backpacker," about a 35-year-old's journeys around the world, [wherever] instantly draws readers in, packing plenty of adventures into one issue. [wherever], which was founded in 2012, comes to life for those who join the Out of Place Society, with perks that include events around the world and a monthly salon series in New York, in addition to digital archive access and online store discounts.
Mary Robnett
With gorgeous photos that will instantly transport you to new places, Tiny Atlas Quarterly mixes personal stories with Q&As, igniting wanderlust every step of the way. With quick suggestions of where to stay, eat and drink, and what to do interspersed throughout the picture-covered pages, readers are left eager to plan their next trip. The summer 2013 issue includes photos of Santorini and spring flowers next to stories about bodysurfing and hiking with Tahiti Pehrson, a visual artist. By traveling to different places and conversing with locals in their natural habitats, Tiny Atlas, which launched in 2013, gives readers an all-access window into every location it covers.
Mary Robnett
For each issue of Boat Magazine, staff members move to the city they plan to cover for a couple of weeks in order to get a feel for the area. They allow the locals to point them towards story topics that truly represent each city, meaning Boat skips the tourist traps and has a more personal feel. With an indepth look at one city per magazine issue, Boat has covered Sarajevo, Lima, and Reykjavik in past issues. The eighth, and most recent, edition pulls from Los Angeles, with stories about Persian food just outside of the South LA neighborhood, the history of palm trees in the city, and a profile of singer-songwriter Moby.
Mary Robnett
This Berlin- and New York- based publication originated in 2010 and deals not only with travel but with the way travel and movement impacts peoples' lives on a regular basis. Described as a "post-tourism publication," The Travel Almanac has a grittier look than many of its fellow indie magazines, which fits with its shorter pieces and Q&As. Divided into a guests, excursions, and souvenir sections, the eight edition of the publication features a Q&A with Norwegian artist Bjarne Melgaard, photo series of winter boots, and short essay about sitting next to someone who had too much to drink before a flight. Eight pages of lined travel logs sit at the back of the book so readers can detail their own adventures as well.
Mary Robnett
With the tagline, "life happens on the weekend," this bi-annual almanac features a mix of weekend-focused lifestyle stories and travel excursions. The Weekend Almanac, which launched in 2013, is divided into Friday, Saturday, and Sunday sections and features stories about activities, like gardening and baking, next to stories about camping trips, and a how-to guide to decorating empty walls in your house, all accompanied by gorgeous photos and fun graphics.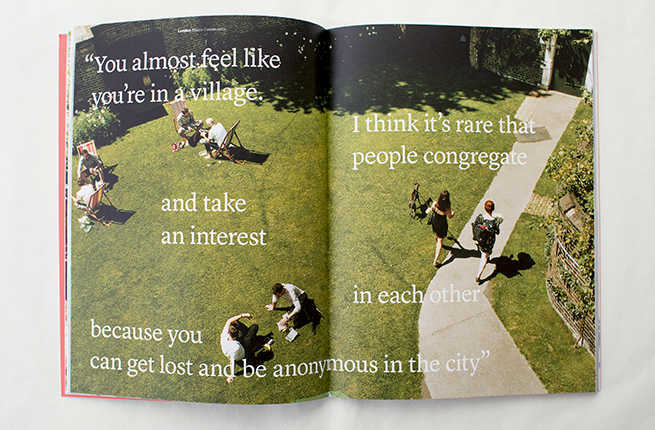 Jennifer Arnow
This brand new magazine from popular home-sharing company Airbnb released its inaugural issue late last year. Named after the fruit that symbolizes hospitality, openness, and friendship, the quarterly publication aims to focus on sharing and community across the globe. The 128-page first issue covers London, San Francisco (where the company is based), and Seoul, with neighborhood guides and personal stories written by different people in the region (from artists to entrepreneurs) accompanying each section. With this setup, Pineapple quickly draws readers in and gives an honest portrayal of life in each city, with pretty pictures and illustrations adding even more life to each page.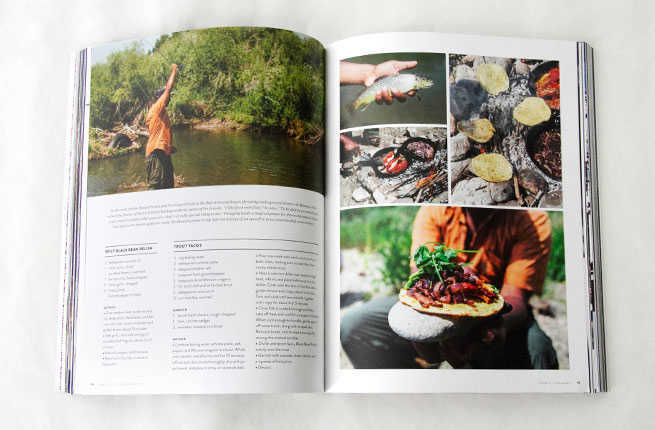 Mary Robnett
With each issue focusing on a different location across the globe, the second, and most recent, edition of The Collective Quarterly takes readers to Absaroka, a Rocky Mountain range in Montana, South Dakota, and Wyoming. As readers journey through the region via page, they are met with gorgeous full-page photos and stories about the founder of a Montana-based children's clothing line, glamping at Rock Creek, and a glassblowing studio.
Mary Robnett
This U.K.-based publication offers a minimalist approach to the indie travel magazine scene, with pages of beautiful, yet simple, pictures, accompanied by a small amount of text on each page. Cereal's eighth volume focuses on three different places (Yukon, Hong Kong, and St. Ives), along with an interlude section with a story about cashmere from Scotland and a Tuscan Sun photo essay. The quarterly publication is accompanied by online-only content, such as additional features and stories, along with playlists tailored to fit each issue.
Mary Robnett
This (free) newspaper-print-styled, adventure magazine offers a grittier look at travel expeditions. Stay Wild, which launched in spring 2014, features quarterly issues about daredevils across the globe going on adventures, from musician Jason Lytle of Grandaddy traveling a secret trail running route to the annual Babes Ride Out event for female motorcyclists
Mary Robnett
This niche publication focuses on stories from bike riders across the globe, with each issue featuring a blend of illustrations, photographs, and personal narratives about riding journeys. The Ride Journal, which launched in 2008, encompasses all forms of riding, from BMXers to freeriders, in order to provide a comprehensive magazine for all readers who love to travel via bike. Issue IX features stories about the perfect ride, losing a job, and beginning biker.
Mary Robnett
This quarterly "slow lifestyle" magazine uses travel to frame a number of stories in each section of the quarterly publication, which is divided into community, home, work, play, and food sections. The latest edition of Kinfolk, which was founded in 2011, features a story about coffee traditions in Naples, a day in the life of Copenhagen chef Mikkel Karstad, solstice traditions from Iran to Sweden, along with more lifestyle-focused articles, including a series of cookie recipes. In addition to its online city guide content, the magazine also hosts a number of events, such as dinners and workshops, across the globe.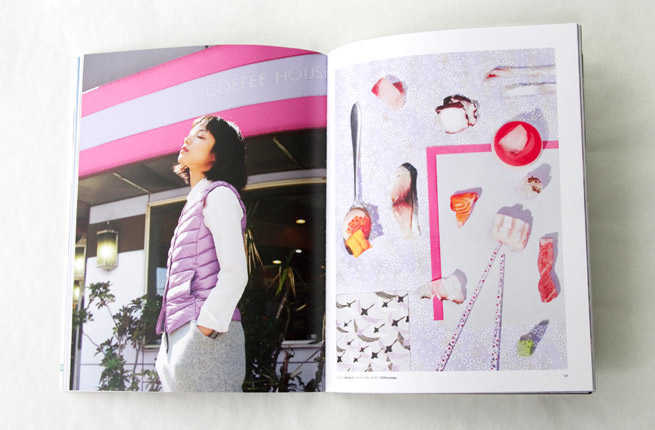 Mary Robnett
This quarterly magazine was created to change the way that readers travel, encouraging them to skip the clichés and take the road-less-traveled. Suitcase's glossy pages are filled with travel tips and guides directing readers where to eat, drink, stay, and what to pack on their journeys, with some shorter profiles and personal anecdotes mixed in. And with an emphasis on fashion, it features some more traditional-looking fashion spreads among pictures and stories about Hong Kong, Portland, and Tokyo. Suitcase also hosts events and pop-up shops throughout the year, in additon to their print magazine and online content.
Mary Robnett
Adventure, exploration, and discovery are at the forefront of Sidetracked. This online and print adventure journal (the print-side started in 2014) takes readers to unexpected locations, whether its fatbiking through the Yukon Arctic Ultra, traveling through Box Creek Canyon, or climbing the Atlas Mountains. The pages are filled with personal stories and photo essays, each one encouraging your inner daredevil to read on and start planning another adventure.