Albert Vecerka/Esto
We tend to think of museums as places that house stunning works of art or fascinating collection of historical relics, but did you know there are museums dedicated to music and designed specifically for music lovers? Across the U.S., home to one of the richest histories of music-making in the world, there are institutions that celebrate the people and instruments that make up our musical heritage. For a day of perfect harmony that stimulates your ears and your mind, head to one of these top music museums.
By Zachary Laks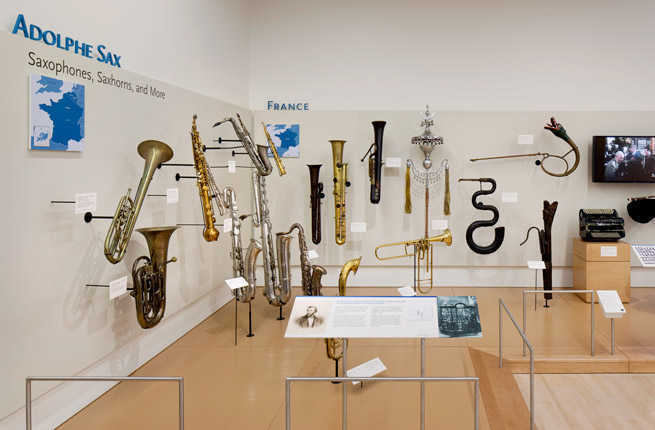 Courtesy of Musical Instrument Museum
Musical Instrument Museum
WHERE: Phoenix, Arizona
Having recently celebrating its fifth anniversary, the Musical Instrument Museum (MIM) stands as an incredible archive of global music, displaying more than 6,000 instruments collected from more than 200 countries. Plan to spend the better part of the day exploring the museum's rotating exhibitions and permanent collection, which also features videos of musical performances from each country. Make the Artist Gallery, a catalog of the modern history of music, a priority, as memorabilia from icons ranging from Elvis Presley to Taylor Swift line the walls. Plan accordingly for November's second annual MIMFest, a two-day outdoor festival bringing musical acts of every variety from around the world to share their tunes.
PLAN YOUR TRIP: Visit Fodor's Phoenix, Scottsdale and Tempe Travel Guide
Courtesy of Rock and Roll Hall of Fame and Museum
Rock and Roll Hall of Fame
WHERE: Cleveland, Ohio
Capturing the thrill of world's greatest rock musicians and delivering one of the most comprehensive overviews of rock and roll history, The Rock and Roll Hall of Fame attracts an international crowd of music lovers. With its signature glass pyramid structure on Lake Erie completed in 1995, its permanent collection features nearly a dozen exhibits, including one of the world's largest retrospectives of the Beatles and interactive kiosks that tap into the knowledge of rock critics and historians to chart rock and roll's most influential songs. Keeping with the pulse of today, head over to Right Here, Right Now, where of-the-moment artists including Bruno Mars, Katy Perry, and the Black Keys are profiled with clothing, instruments, hand-written lyrics, and more.
PLAN YOUR TRIP: Visit Fodor's Cleveland Travel Guide
Brady Harvey/EMP Museum
WHERE: Seattle, Washington
A futuristic icon on the Seattle skyline, the EMP Museum can be admired from any angle. Frank Gehry's wildly innovative structure was completed in 2000 with signature elements of curved, colorful sheet metal built to showcase and preserve pop culture. Music lovers go wild for the museum's interactive exhibits, particularly the Sound Lab, where visitors are invited to jam out in soundproof rooms with professional-grade electric guitars, drums, and mixing boards. Capturing the Seattle legends of the late '80s to early '90s, EMP has created a one-of-a-kind Nirvana exhibit that immerses visitors in the band's storied history with a treasure trove of memorabilia, original concert posters, performance footage, and oral histories that tell a harrowing tale of success and heartbreak.
PLAN YOUR TRIP: Visit Fodor's Seattle Travel Guide
Albert Vecerka/Esto
Stax Museum of American Soul Music
WHERE: Memphis, Tennessee
Take a step behind the scenes and tour the origins of soul music in the immersive Stax Museum of American Soul Music. Established in 2003, the museum preserves the legend of Stax Records, a pioneering force in the soul movement, by recreating the Stax recording studio, where artists such as Isaac Hayes, Otis Redding, and the Staple Singers laid down their original tracks. The museum starts at soul's gospel origins dating back to 1906, brought to life by an authentic, reassembled Mississippi Delta church, and covers the musical movement beyond the Stax empire as well, chronicling the likes of legends Aretha Franklin, Marvin Gaye, and The Jackson 5, among many others who rose to dominate the industry.
PLAN YOUR TRIP: Visit Fodor's Memphis Travel Guide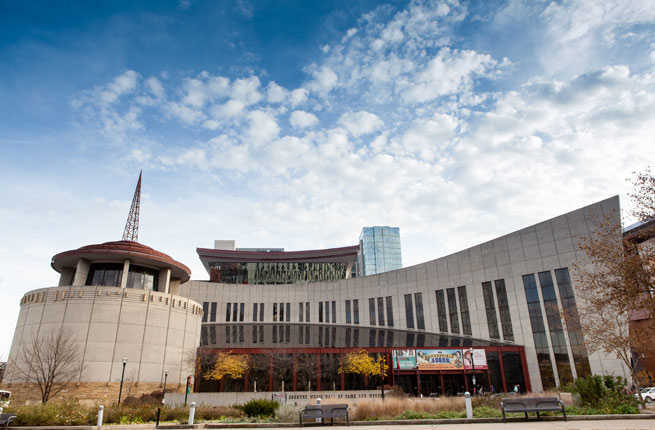 Courtesy of Country Music Hall of Fame and Museum; Photo by Dove Wedding Photography
Country Music Hall of Fame and Museum
WHERE: Nashville, Tennessee
The home of country music since 1967, the Country Music Hall of Fame and Museum is the quintessential collection of country history. Its distinct venue, completed in 2001, stands out for its music-inspired design touches, including a piano key façade and a recreation of the iconic WSM tower (the original is just a few miles south of the museum). You know you've made it as a country music star when your photo appears in the Hall of Fame rotunda, a large hall for all who have been granted the honor of industry legend. Current exhibits include an exploration of the 1966 Bob Dylan and Johnny Cash Nashville recording sessions, as well as a thoughtful and thorough retrospective on Trisha Yearwood.
PLAN YOUR TRIP: Visit Fodor's Nashville Travel Guide
Courtesy of American Jazz Museum
WHERE: Kansas City, Missouri
The American Jazz Museum gives shape to "one of America's original art forms." Visitors can expect a treasure of jazz history, as the permanent exhibit keeps the art alive with dozens of listening stations, touch screens, and interactive mixing boards. The Jazz Masters exhibit highlights some of the many legendary performers who put an indelible mark on the style, including the incomparable Louis Armstrong and Ella Fitzgerald. The museum remains committed to live performance, bringing in a wide array of celebrated jazz musicians nightly to tap into the spirit of the swing.
PLAN YOUR TRIP: Visit Fodor's Kansas City Travel Guide
Chris Pruitt, CC BY-SA 3.0 via Wikimedia Commons [Public Domain]
Alabama Jazz Hall of Fame
WHERE: Birmingham, Alabama
Though smaller in scale than the others, the Alabama Jazz Hall of Fame holds a special place in jazz lovers' hearts for its documentation and celebration of jazz luminaries. Tracing back to the early era when Clarence "Pinetop" Smith held court and logging the years up to the renowned Nat King Cole, the museum houses prized possessions and markers of milestone moments in the jazz movement. Housed in the historic Carver Theatre, an old movie theater retrofitted to a performing arts center, visitors should consider requesting one of the friendly and informed guides to tour through the exhibit, as their anecdotes and passion for the art form enhances the experience.
PLAN YOUR TRIP: Visit Fodor's Birmingham Travel Guide
Courtesy of GRAMMY Museum
WHERE: Los Angeles, California
Bringing one of the highest honors in music to life, the GRAMMY Museum opened in 2008 to preserve and celebrate the GRAMMY Awards. Variations of the miniature gramophone statue are on display throughout the museum that excels at detailing the significant artists who have been honored with the award. Favorites among the permanent collection include the Roland Live area, where all are welcome to try their hand at a variety of electronic musical instruments, and In the Studio, where eight pods bring you into a recording studio where you call the shots.
PLAN YOUR TRIP: Visit Fodor's Los Angeles Travel Guide
Patricia Bornhofen
WHERE: Vermillion, South Dakota
Tracing back to the earliest record of musical instruments through the auto-tuning widgets of today, the National Music Museum is an expansive collection of 15,000 instruments gathered from every corner of the earth from nearly every culture and historical period of mankind. It's a marvel to behold rarities such as one of the world's first grand pianos built in 1767 by Manuel Antunes of Lisbon and a tenor viola crafted by Andrea Guarneri in 1664, maintained in pristine condition. iPod Touches enhance the museum experience, as select displays are brought to life through audio recordings that feature performances and anecdotes of the history of each rare instrument.
PLAN YOUR TRIP: Visit Fodor's South Dakota Travel Guide