Mark Soskolne/Dreamstime.com
Picture this: taking a dip in the Trevi Fountain, or belting karaoke with newfound friends in Tokyo, or over-dramatically enjoying a pastrami sandwich in a New York City deli. If these scenarios sound familiar it's because they are key scenes from classic films, set in locations where travelers can relive their favorite moments. You may or may not remember the actors that uttered the lines, but you will remember the shots, frame by frame. Here are 10 of our favorite film locations that are always ready for their close-ups.
By Kathleen Squires
Halie Cousineau/ Fodor's Travel
La Dolce Vita, The Trevi Fountain
WHERE: Rome, Italy
In this 1960 film, the ravishing Anita Ekberg, who plays a Swedish actress visiting Italy's capital city, is so entranced by the beauty of the Trevi Fountain that she decides to get up-close-and-personal with it—by jumping right in. As she wades around in her long black gown, she eventually convinces a suited-up Marcello Mastroianni to join her. The film, directed by Federico Fellini, won the Palm D'or at the Cannes Film festival and an Oscar for best costumes.
PLAN YOUR TRIP: Visit Fodor's Rome Guide
Lord of the Rings, Mount Victoria, New Zealand
WHERE: Mount Victoria, New Zealand
"Get off the road!" Elijah Wood, who plays Frodo Baggins, shouts in the 2001 film Lord of the Rings: Fellowship of the Ring, in order for the Hobbits to hide from the dangerous Black Riders. The first film in the trilogy based on the novels of J.R.R. Tolkien features the lush forest surrounding Mount Victoria just outside of the city of Wellington. The film won four Oscars, including best cinematography.
PLAN YOUR TRIP: Visit Fodor's New Zealand Guide
Khirman Vladimir/Shutterstock
Life is Beautiful, Arezzo, Italy
WHERE: Arezzo, Italy
Though most people will remember Roberto Benigni for his enthusiasm during the Oscars in 1997 when he won for best foreign language film and best actor, he also wrote and directed this classic about a bookshop owner who falls for schoolteacher (played by Benigni's real wife, Nicoletta Braschi). Much of their love affair unfolds right in the Piazza Grande in the center of Arezzo. The tourism board even offers maps to visit the location sites.
PLAN YOUR TRIP: Visit Fodor's Tuscany Guide
Madrugada Verde/Shutterstock
Vicky Cristina Barcelona, Parc Guell, Barcelona
WHERE: Barcelona, Spain
Gaudi's city is the backdrop for this 2008 Woody Allen film about two friends, played by Rebecca Hall (Vicky) and Scarlett Johansson (Cristina), who fall for the same man, Juan Antonio (Javier Bardem). One pivotal scene takes place in Parc Guell: Vicky runs into Juan Antonio and confronts him in front of Gaudi's mosaic-tiled lizard fountain for not calling her. Penelope Cruz took home an Oscar for her performance as Juan Antonio's ex-wife, and the film won a Golden Globe for best picture comedy.
PLAN YOUR TRIP: Visit Fodor's Barcelona Guide
Mark Soskolne/Dreamstime.com
When Harry Met Sally, Katz's Deli, New York City
WHERE: New York City, USA
The legendary Katz's Deli on the Lower East Side is not only known for its pastrami, it's also recognized as the spot where Sally (Meg Ryan) convincingly fakes an orgasm, stunning a disbelieving Harry (Billy Crystal) and spurring a neighboring woman into ordering "what she's having." The woman who utters that classic line in the 1989 film, is director Rob Reiner's mother, Estelle; and the table where Harry and Sally sat is marked with a plaque.
PLAN YOUR TRIP: Visit Fodor's New York City Guide
Krg, via Wikimedia Commons
Out of Africa, Karen Blixen Museum, Nairobi
WHERE: Nairobi, Kenya
"I had a farm in Africa, at the foot of the Ngong Hills," Karen Blixen says at the start of 1985's Out of Africa. The house that Blixen lived in from 1917-1931 is now a museum devoted to the writer, portrayed by Meryl Streep. Though Blixen had to sell her furniture in order to pay off creditors, much of it was donated back to the museum, including a dining table and chairs from the set of the movie, which won seven Oscars.
PLAN YOUR TRIP: Visit Fodor's Nairobi Guide
Courtesy of Park Hyatt Tokyo
Lost in Translation, Park Hyatt Tokyo
WHERE: Tokyo, Japan
Most of the action in this 2003 film takes place in the Park Hyatt Hotel; the characters of Charlotte (Scarlett Johansson) and Bob (Bill Murray) meet in the famous New York Bar on the top floor of the 52-story skyscraper. The bar continues to be a favorite for travelers looking to kick back with a whiskey, listen to some jazz, and shake off some jetlag.
PLAN YOUR TRIP: Visit Fodor's Tokyo Guide
chungking/Shutterstock
The Last Emperor, Forbidden City, Beijing
WHERE: Beijing, China
Writer-director Bernardo Bertolucci was the first foreigner allowed to film in the Forbidden City, the vast, historic palace complex in the center of Beijing. The 1987 film chronicles the life of Puyi, China's last monarch, from his dazzling coronation to his imprisonment and rehabilitation as a gardener during China's Cultural Revolution. A hint at how immense the production was: the film included 19,000 extras and required 9,000 costumes.
PLAN YOUR TRIP: Visit Fodor's Beijing Guide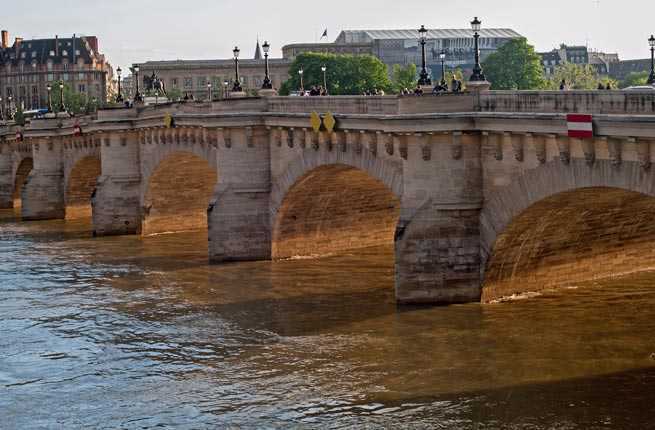 Ross Brinkerhoff / Fodor's Travel
An American in Paris, Pont Neuf, Paris
WHERE: Paris, France
The 1951 Oscar best picture winner includes the famous scene by the Seine, with Gene Kelly and Lesley Caron singing, "Our Love is Here to Stay" under the City of Light's iconic Pont Neuf bridge. Directed by Vincente Minelli and scored by Ira and George Gerswhin, the musical tells the story of a World War II veteran (Kelly) who falls for a French woman (Caron).
PLAN YOUR TRIP: Visit Fodor's Paris Guide
Contact, Arecibo Observatory, Puerto Rico
WHERE: Arecibo, Puerto Rico
This 1997 film, based on Carl Sagan's novel, features a giant telescope that the scientist (played by Jodi Foster) uses to search for alien life. The telescope now resides in the Caribbean island of Puerto Rico, and visitors can check it out at the National Astronomy and Ionosphere Center. The center is currently celebrating the 50th anniversary of the world's largest and most sensitive radiotelescope, and has interactive exhibits to introduce visitors to the basics of astronomy.
PLAN YOUR TRIP: Visit Fodor's Puerto Rico Guide