Trip Report: London & Oxford June/July 2019
Join Date: Jun 2005
Posts: 57
Trip Report: London & Oxford June/July 2019
---
Hi all,
I'm finally posting my Trip Report from London. I read loads and loads of posts to prepare, and can't thank you all enough for the information discovered on this forum. We had a wonderful trip to London, Oxford, Edinburgh and St. Andrews. Below is my trip report (lots of personal opinion in it and I'm happy to answer questions here and direct message.) Here goes
Friday
Wonderful flight on Virgin Atlantic from Los Angeles. Surprised at the legroom in coach. Very attentive service. We were picked up at Heathrow by London Connection's car service and taken to our flat in Mayfair. Rush hour was busy but we were in our apartment within 90 minutes of landing. The apartment was very comfortable, a good size and very pretty. London Connection, based in Salt Lake City, was a pleasure to work with and I would definitely use them again. Regarding the location, the apartment was just off Audley and Mount Street. It was a beautiful location architecturally, close to parks and a Richoux restaurant. The Audley pub closed after I booked this apartment so we didn't find a "local" to go to regularly. We were a 12-15 minute walk to any pub, restaurant or a tube station. (Just a side note: While a 15-minute walk doesn't sound like much, I'd put us a bit closer next time as we were tired in the evenings and would've loved some restaurants and pubs at our doorstep.) After quick showers and unpacking, we walked down to the Red Lion pub on Crown Passage in St. James. We loved this little find!
Then we headed to The Porterhouse in Covent Garden to watch the Women's World Cup. We had heard it was a big "sports" pub. Lively, atmospheric place. Okay food. No one was really watching the game but we had fun nonetheless! From here we walked through Covent Garden, into the Lamb & Flag (which was very quiet), past Petersham and over to Cecconi's Pizza Bar on Old Compton. The street was buzzing! We had an evening cocktail (Negroni on tap!) with wonderful service at Cecconi's, then walked home to our apartment. It was a great introduction to Soho and Covent Garden nightlife!
Saturday
After breakfast at Richoux, we walked to start our walking tour by FreeToursByFoot of the Royal Westminster area. Our guide, Margaret, was fantastic! We received a good overview of the area, saw part of the Changing of the Guard, saw the Royal Horse Guard as well. This tour was a favorite of my family's. After it was finished, we went to the Westminster Tube Station and bought Oyster cards and took the tube to the London Bridge stop. We walked to Borough Market about 1:00 pm and had fun looking at the different street food options. Everyone enjoyed lunch and a cool drink on this very hot Saturday. The market was crowded but not so crowded that I wouldn't go again on a Saturday. The market is huge so my husband found it overwhelming to see all of the vendors, but we weren't frightened off by crowds. After lunch, we picked up frozen coffee drinks at Caffe Nero and sat near the Golden Hind while we cooled off. Everyone needed a little caffeine pick-me-up so this worked out perfectly before we started our walk past Southwark Cathedral, Shakespeare Globe, across the Millenium Bridge and to St. Paul's. We stopped along the way and took beautiful photos of all of these amazing sights, then hopped on the tube to head back to our apartment. That evening, we took the tube up to Hamstead to meet London Walks for the Hampstead Pub Walk. This was a charming area and nice to see something different after Friday night in Soho. We only stopped at one pub and the tour guide didn't come in with the 12-15 of us on the tour.
When we finished up the walk, we took the tube back to Carnaby, found a cute Italian restaurant for dinner, then met some college friends of one of my daughter's at the Blue Post pub. After a pint at the pub, the college kids all went to The Roxy in Rathbone Place/Bloomsbury while my son, husband and I headed back to the apartment. Kids had a fantastic time out with locals!
Sunday
Day trip to Oxford.
My husband and three kids wanted to get out of London and see something smaller. Oxford is a beautiful town and my daughter's selected it as our family's day trip because they are both considering it for further education. We debated between a bike tour or walking tour but in the end, the walking tour let my kids sleep in a little longer so that won out. After an easy train ride to Oxford, we walked the atmospheric streets and alleys and stopped in the historic Grand Cafe, one of the first coffee houses in England, opened in 1650, for tea and cake. I wish we could've stayed longer but we had a walking tour to catch.
We used Footprints-Tour and had a 2-hour walk around town where we heard stories about how the different colleges were started, rivals and traditions, the impact Henry VIII had, and the religious battles. Our guide was well-informed but rather new to the job. I know his herding people skills and storytelling will improve with time. I definitely recommend a walking tour because it is a great way to see the sights. We saw and heard about Christ Church, Bodleian Library and the Bridge of Sighs, Ashmolean Museum, University Church tower and more.
After the tour, we went to the Turf Tavern for Sunday roast. This historical pub with outdoor patios was a great place to have a late afternoon lunch. Reservations are an advantage in July. Our plan was to walk down to the Head of the River pub for a pint on the Thames but my husband was tired of walking
so we made our way back to the train and headed to London. We had beautiful weather this day (after a very hot day in London). Lovely time in a lovely town.
Sunday night, we headed to Big Mama's new restaurant called Circolo Populare in Rathbone Place. We have been to some of their restaurants in Paris and love the menus and atmosphere. It was their second night open to the public so it was super fun to be at this beautiful new restaurant. From here we walked home to the apartment.
Monday
After breakfast at Richoux (we loved having a local place where we got to know the staff), we hopped on the tube to the Tower of London. This was one of my favorites! We had bought tickets in advance and arrived at about 10am. We waited in line for 10 minutes and then we were in. We walked straight to the Crown Jewels which took our breath away. All five of us are history nerds and have absorbed every minute of The Crown, The Tudors and Victoria. To see these grand historic pieces was a true highlight of our trip. From here we went back to front and jumped into a Yeoman Tour. We loved our guide and tour -- funny, interesting, informative -- we hated for it to end. We spent about 3 1/2 hours at the Tower of London, then went and took pictures with the Tower Bridge in the background. Also, very moving to see such an iconic sight!
We then walked through the small park and ruins of St. Dunstan-in-the-East and onto the tube to head back to Mayfair.
We arrived at the Bond Street station and went to Nando's at St. Christopher's Place -- great spot for lunch; we all enjoyed this! After lunch, we split up a bit: husband and son went to rest at the apartment, daughters went shopping and I had a lovely couple of hours at The Wallace Collection followed by cream tea in the cafe.
Monday afternoon, we all met at the apartment to get dressed for the theatre. Grosvenor Park was hosting a lovely little summer festival so we stopped by for a Pimms before heading to the Victoria Palace Theatre for Hamilton. Seeing Hamilton in London was my 19-year-old daughter's favorite activity of the trip.
The play was fantastic! Amazing music and acting -- I knew the story but still cried out loud at the two very sad parts. We all loved it -- such an appropriate play to see while visiting London. It also was one of our all-time favorite activities that we did while in London. Afterward, we stopped in a nondescript restaurant. Our plan was to go to The Drunken Oyster but it was closed for some reason. I wish I had a back-up plan for dinner, a cocktail bar or pub.
Tuesday
The group voted to sleep in a bit so after Richoux we arrived at Westminster Abbey at 11:00 am (the end of our 9:30am-11am window). We breezed right in and took the audio walking tour. We all loved the Abbey, the stories, the history and hold it in high regard. We had wanted to take a Verger Tour but the next one available wasn't until 2pm. After the Abbey, we walked to The Ham Yard Hotel for their Wimbledon Afternoon Tea. It was a great experience; a beautiful hotel and china. Nice crowd. We highly recommend it for tea. The service was amazing. Very flexible, friendly, and attentive.
Afterward, the kids went to Harry Potter Studios (which was my 26-year old son's favorite activity of the entire trip; he read the first book in first grade and the saw the last movie during his senior year in high school. It was a lifetime of reading and movies before his eyes.) My husband and I went to the National Portrait Gallery, which again was a moving experience to see the portraits of so many historical greats come to life. We walked back to the apartment to regroup, but I then went out to Bond Street and Fortnum and Mason to do a bit of shopping. All five of us met up at Market Tavern in Shepherd's Market at about 8:00 pm. There was a great group there watching Wimbledon (not the Women's World Cup) but we all had a great time. I wish we had found Market Tavern sooner. We turned in on the early side as we were getting up early to catch an 8:00 am train to Edinburgh. (I'll post a separate Trip Report so it's searchable.)
Saturday (after 3 nights in Scotland)
We took a 7:30am train from Edinburgh back to London. Again the journey was beautiful. We stayed in an AirBnB in Notting Hill - this time to see a different part of London. Upon arrival, we visited the Portobello Road Market for lunch and shopping. The market was very crowded but all-in-all it was less overwhelming than Borough Market because it's smaller. Great food, fun vendors! We then divided up a bit: my husband headed back to the flat to take a rest from the crowds, my son walked to Churchill Arms for a pint while the rest of us shopped.
My eldest daughter went to the Saatchi Gallery. My youngest daughter and I picked up my son at the pub, then walked through Kensington Gardens to the V&a. It's quite a hike. Kensington Palace was smaller than I thought it would be. The Queen Victoria statue and the Albert Memorial were both beautiful but we were awestruck with the grandness of the Albert Memorial. (Hoping Victoria comes back on PBS!)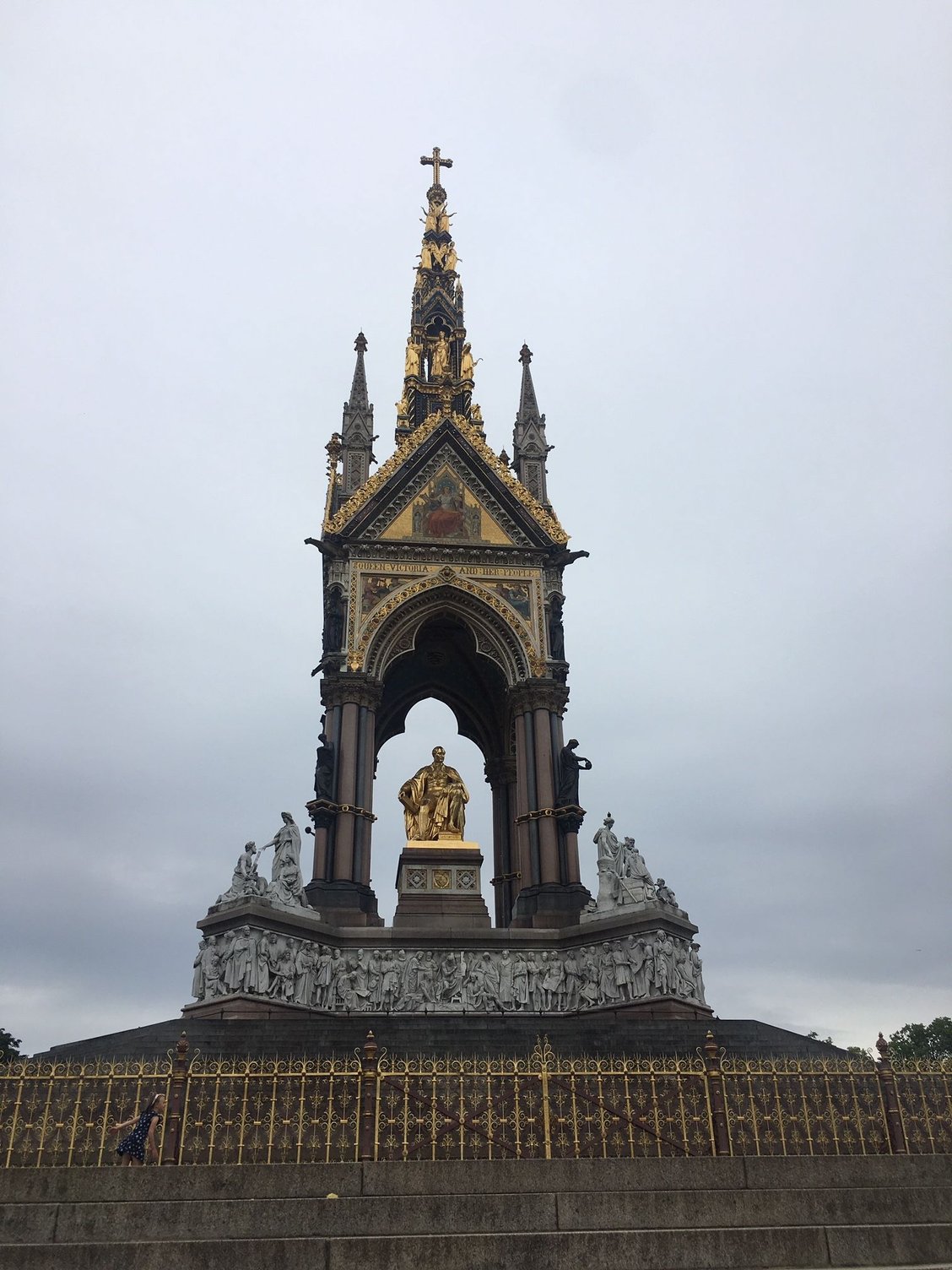 We then went into the V&A so I could see the sapphire and diamond coronet that Albert made for Queen Victoria that is on display in the Jewelry Gallery -- another emotional moment. Upon closing, believe it or not, we made the crazy trek across town to the Tate Modern. After all, it was a Museum Late Night! The exhibits were a bit dark to us; interesting nonetheless -- lots of pieces where art is used as activism. The highlight was the stunning view from the top, although the sun made it impossible to get a good picture. Arriving back in Notting Hill, we had a lovely last dinner at Luna Rossa. The menu and service were fantastic, as was the chianti! It was the perfect finish to an extraordinary trip!
Sunday
Car service picked us up at 11:15 am for a 3:30 pm flight. We arrived at 12:15pm which was plenty of time. Margot Robbie and Danny Devito were on our flight back to LA! Again the service on Virgin Atlantic was wonderful. We must have been served food and beverages 7-8 times during our 11-hour journey.
After eight months of planning, this was truly a trip of a lifetime. We loved London and I hope to return someday. We had a great mix of scheduled sights, free afternoons and evening activities. I appreciate all I read on this forum to help me design our itinerary. I also had lots of inspiration from a few Instagrammers and bloggers like loveandlondon, aladyinlondon, the_lois_edit, lookuplondon, the portable wife, Olive Magazine, and the Joolz Guides videos on YouTube. Amazing memories!
---
Last edited by lrice; Dec 2nd, 2019 at

11:33 PM

.
Join Date: May 2003
Posts: 5,668
Nice report Irice. Glad you found Shepherd Market. I was a bit surprised at your comment early on that you could not find many restaurants within 15 minutes of Mount Street/Audley Street. I was thinking Shepherd Market is not far from there.
Join Date: Jun 2005
Posts: 57
Tulips
Yes, we wish we found Shepherd Market earlier! It is such a charming place. And just down the street.... I actually had plans to have dinner there the first night we arrived but my husband and kids wanted to find a true sports pub to watch the game. Had to roll with the dice...
texasbookworm
bilboburgler
So glad I documented this trip -- now I need to make a couple of photo books!
JamilaZ
Yes! As much as I would've loved the ease of an open-jaw ticket and fly into London/out of Edinburgh, it was pricey. And this way, we got to see Notting Hill a bit!