Should we spend some time in Styria?
Join Date: Jan 2018
Posts: 12
Should we spend some time in Styria?
---
Wrapping up two weeks in Austria in May we have two nights between Klagenfurt and Hallstatt. We have "done" Vienna. The stud farm in Piber sounds interesting. We will have seen enough churches I'm sure. We enjoy scenery, small villages in which to wander, local color. Is Graz of interest? Thank you.
Join Date: Nov 2006
Posts: 2,335
The Hochsteiermark (Upper Styria) is our second favorite place after Tirol for, example, its driving scenery (the Bürgeralm via the panorama road); its wandering (GrünerSee, the lake that disappears in the summer); and food, the classic Styrian Backhendl (exceptional fried chicken) and Vogerlsalat with Kürbiskernol (Bird's Lettuce with Pumpkin Seed Oil).

Graz is also nice; in the near is Schloss Eggenberg as mentioned above, notable for more than just "another Baroque palace." Nearby is Frohnleiten, an adorable town. The Zotter Chocolate Factory is fun, though it is possible to sample too much. The Porsche Diesel Tractor Museum and the Arnold Schwarzenegger Museum are easy day trips; we have visited only the former, so I can not comment on Arnie's place. Burg Riegersburg might be an impressive use of a half day, too.

I hope this is helpful.
Join Date: Jun 2009
Posts: 3,742
I highly recommend Stift Rein and the Pilgrim's Church of Maria Stassengel outside of Graz!
I've posted info on both in this thread:
Ideas for touring Styria, Austria in April
Also, enjoyed the Piber stud farm.
Join Date: Oct 2005
Posts: 242
We spent a night in Graz last September and enjoyed the city. We found this a useful resource
https://www.graztourismus.at/en/see-and-do/sightseeing
.
What we particularly enjoyed was meandering along the beautiful Southern Syrian wine route as we drove down to Slovenia.
Join Date: Oct 2005
Posts: 242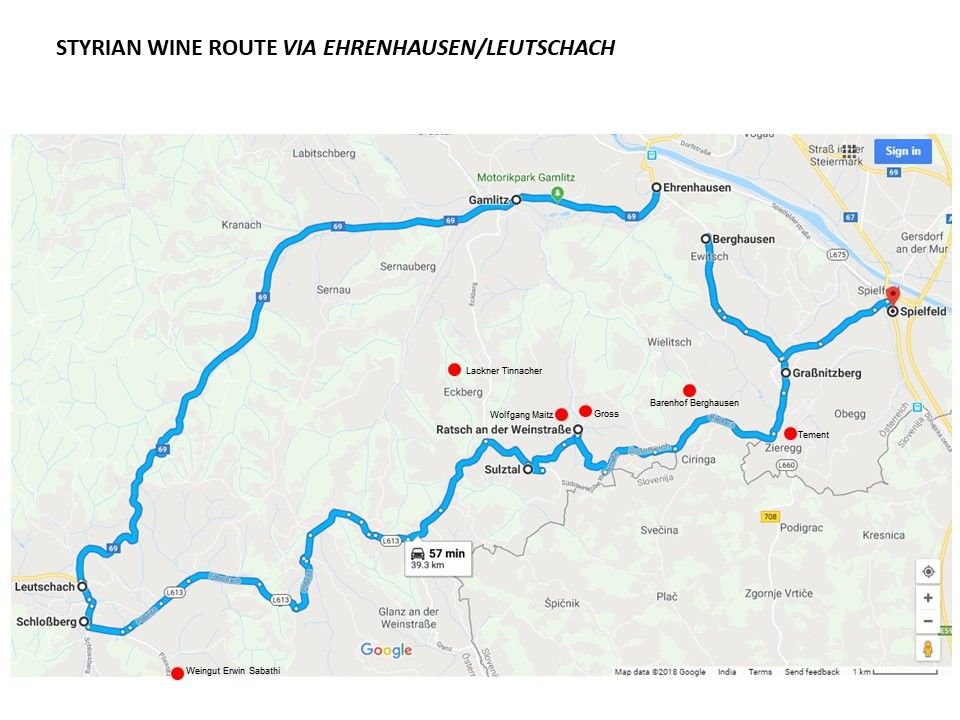 We didn't join any tour, but pieced together a driving itinerary including all the wineries/points of interest we wanted to visit en route. This a high-level map I had created plotting the route (we also stopped at Ehrenhausen tourist office to pickup a detailed printed map of this area before heading further). Most of the wineries have websites with open/close times and contact information, we sent them an email in advance of our visit as a heads-up (though most seemed open to walk-ins as well). The hosts were all very friendly and welcoming, and the white wines in this region are outstanding (a well-kept secret? - we bought several bottles to bring back home), all amidst spectacular Tuscany-like scenery.
After, this we drove across to Maribor where we spent a night, before heading onwards to Ljubljana and Bled. Do remember there are separate "vignettes" (toll stickers) for Slovenia and Austria and you will need both of these as you cross borders.
---
Last edited by ANUJ; Feb 16th, 2019 at

03:50 AM

.