Avignon Apartments
Feb 13th, 2020, 01:12 PM
Join Date: Feb 2020
Posts: 6
Avignon Apartments
---
We are two couples who will be staying in Avignon in October for five days. In addition to enjoying Avignon we will be traveling to other towns in Provence. In searching for apartments to rent are there any particular sections of Avignon that are preferable - for whatever reason? We will need parking. We were thinking we would like to be near restaurants, cafes, music(?) that we could walk to at the end of our sightseeing days. Because we will have a car, it is not imperative that we are able to walk to restaurants, etc.
Do you recommend any particular section or neighborhood of Avignon? I've noticed in the minimal research I've done on VRBO some key terms such as: "historical center", "inside old walls", "Town center", "quiet". Is Bd Limbert a key road to stay within?
In the past I've had good luck [in the USA, Italy] with VRBO/Homeaway, Airbnb. Would you recommend other sites, agents to use?
Feb 13th, 2020, 04:27 PM
Join Date: Aug 2003
Posts: 1,892
You will find out as you drive around Provence that many of the cities and small towns all have kind of circular ring roads around the historic parts of the city, so many times it is preferable to be inside that ring road. Bd. Limbert is that ring road in Avignon-it actually changes names a couple of times. In this case it is even a little different in Avignon because it has rampart walls and Bd Limbert is just outside the walls. In some towns you can't drive into the historic center-it is pedestrian only, but you can drive into the center in Avignon unless they have changed that since the last time I was there 1-2 years back.
Here are a couple of photos to help you visualize it:
The Ramparts of Avignon
Looking into the historic center from the Ramparts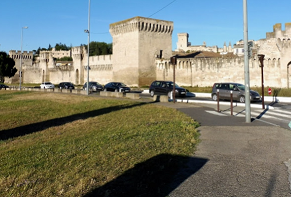 Traffic on the ring road outside the ramparts
In terms of location I prefer inside the ramparts but the trick is to find a place with parking. Even though I know you are looking for an apartment look up the location of the Hôtel Le Cloître Saint Louis 20 Rue du Portail Boquier, 84000 Avignon, France because it is really a great location-and a lovely hotel that is a converted convent. I prefer to use booking.com for booking apartments these days because I can choose units that have a free cancellation. We almost always stay in apartments in Europe and sometimes the units on booking.com may not be as unique as some on airbnb for instance but we just hate to be tied down with no option to cancel if we need to.
Feb 14th, 2020, 01:21 PM
Join Date: Jan 2003
Posts: 33,908
You can look at a map and see the wall/rampart thing, I believe, and the ring road. Avignon is not a small town. The car makes it a problem, you can't be in the dead center. So your desire to be near cafes, etc., is contradictory to wanting a car park. if you were inside the remparts in the area near the gare, that isn't a bad walk to the main square at all. However, if you were over tnear the university, taht is pretty far away. I'd just look at a map and see where the palce was relative to the main square which is where the action is in terms of lots of outdoors cafes, music, etc. That is right where the Hotel de Ville is. They have a new tramway now with one line so far, it runs along that road where the Gare is, but then it goes into the suburbs to the SE. Of course if you are using Avignon as a base for day trips, you don't want to be in the dead center anyway. Some place inbetween les Halles and the ring Road, where all those theaters are would be good.
Like this, this is a good location and not far from the exit road plus has free parking.
https://www.airbnb.com/rooms/35924169