Xura | Dreamstime.com
While much of its 1,073,518 square miles is formed by steppe and desert, Argentine Patagonia is home to a diverse array of wildlife. This rugged, remote landscape encompasses both the Andes and the Atlantic Ocean, skimming the Antarctic 630 miles away. For an alternative safari, plan a nature-spotting vacation around this Big 10 in Patagonia: Highlights includes the southern right whale, orca, and the Andean condor.—Sorrel Moseley-Williams
Imigra | Dreamstime.com
WHERE: Tierra del Fuego
When: Year-round
Contact: Lucas [email protected]
One of several camelids native to South America, the guanaco is perfectly at home in Argentina's cold south, unlike its llama cousin that comfortably lives at 12,000 feet above sea level in the hotter northwest. According to Temaiken Nature Foundation, 88 percent of the world's guanaco population lives in Argentina. Elegant with lengthy eyelashes, an extended neck, and long feet, this herbivore's jaw and teeth are designed to pull tough plants from the ground, leaving roots behind and avoiding erosion. Moving about in family packs of 25 or groups of up to 50 males, you can also spot single, sexually mature males who've left the gang behind in a bid to start a family.
PLAN YOUR TRIP: Fodor's Patagonia Guide
Edurivero | Dreamstime.com
WHERE: Peninsula Valdés, Chubut province
When: Late May to late November
Frequenting the coastline of Peninsula Valdés, the southern right whale (ballena austral) migrates specifically to the Atlantic Ocean to breed and give birth each year. Slow-moving and curious, these vast baleen whales measure up to 50 feet in length and are easy to spot thanks to distinctive patches of white callosities and two blowholes; they are also known for performing acrobatic headstands and flipper waving, feats that marine biologists are unable to explain. Of note is the male's one-ton testes, the largest in the animal kingdom. Whale-watching embarkations only take place from Puerto Pirámides and if you stay at this small village, you can hear pods of up to 12 breathing through their blowholes at night. Head to Playa Doradillo to spot them from the beach–the water is very deep so they swim close to shore–or see them from the shore of port city Puerto Madryn.
PLAN YOUR TRIP: Fodor's Patagonia Guide
Pedro Szekely via Wikimedia Commons, [CC BY-SA 2.0]
WHERE: Santa Cruz province and along the Andes
When: Year-round
They say you'll never forget spotting your first whale, and the same can be said for the majestic Andean condor, the largest in the world with a wingspan measuring up to nine feet. Looking up at it, you'll notice its black chest; males stand out with a white neck and red head spot. Watching it effortlessly soar in search of prey, it's surprising to think this member of the vulture family weighs in at a hefty 15 kilos, which is why it takes advantage of the Andes' gusty air currents. Head to Santa Cruz's Mirador de Los Cóndores on November 28, when a flock of around 15 condors gathers each year.
PLAN YOUR TRIP: Fodor's Patagonia Guide
WHERE: El Calafate, Santa Cruz province
When: Year-round
It's mind boggling to imagine pink, delicate-looking flamingos (flamencos) dwelling in rugged old Patagonian mountains,but they do. If you get close enough—a telescopic camera lens is recommended—you can note the distinctive yellow legs and feet of this vulnerable threatened species that only lives over 6,900 feet above sea level. More spectacular is watching a flock take flight. Head to Lago Argentino to check out a hundreds-strong colony go about their daily business of feeding on algae, honking with pleasure as they do so.
PLAN YOUR TRIP: Fodor's Patagonia Guide
WHERE: Playa Unión, Chubut province
When: Year-round
These lively, black-and-white dolphins love nothing more than swimming alongside a boat, leaping and spinning over and under waves—except perhaps chomping down their favorite snack, crabs. Known as tonina in Spanish, these sociable dolphins play fast and furious, seemingly putting on a show just for you. Given that they frequent waters around 100 meters deep, spotting them from aboard a boat is a both a breeze and rewarding.
PLAN YOUR TRIP: Fodor's Patagonia Guide
WHERE: Beagle Channel, Ushuaia
When: Year-round
A boat trip to Les Eclaireurs lighthouse in the Beagle Channel is just five miles from Ushuaia, the world's most southern city. Here, you can witness hundreds of noisy fur seals and South American sea lions lounging around on top of the five rocky Les Eclaireurs islands.
Insider Tip: Although you can't disembark, your vessel navigates so you can view the whole community—look out for fur seals commandeering the channel's chilly waters. Also visiting Peninsula Valdés? Undertake a snorkeling experience with these friendly creatures.
PLAN YOUR TRIP: Fodor's Patagonia Guide
Echohotel via Wikimedia Commons, [CC BY SA 3.0]
WHERE: Punta Norte, Península Valdés, Chubut province
When: March and April
While the orca, or killer whale, frequents Patagonia year-round, these marine mammals are particularly active during the southern hemisphere's autumn. This is when sea lion and seal pups are at their most vulnerable and orca moms take advantage, teaching offspring how to hunt. Putting on a grisly yet spectacular show, black-and-white orcas stealthily beach on shore to grab an unsuspecting pup, throwing it up in the air or knocking it out with a vicious tail fin slap.
PLAN YOUR TRIP: Fodor's Patagonia Guide
Hdcaputo | Dreamstime.com
WHERE: Río Negro province
When: Year-round
Known as choique or ñandú in Spanish—their respective names in Guaraní and Mapuche indigenous languages—this feathered, flightless friend roams the Patagonian steppe as well as forests and mountains in groups of up to 30. Measuring up to 3 and a half feet in height, the Argentine rhea tends to eat grasses and herbs, although insects also form part of its diet. Given that it runs up to 70 mph, you need to be equally speedy to capture an image of its unusual three-toed feet (the ostrich, a close relative, only has two) in motion.
PLAN YOUR TRIP: Fodor's Patagonia Guide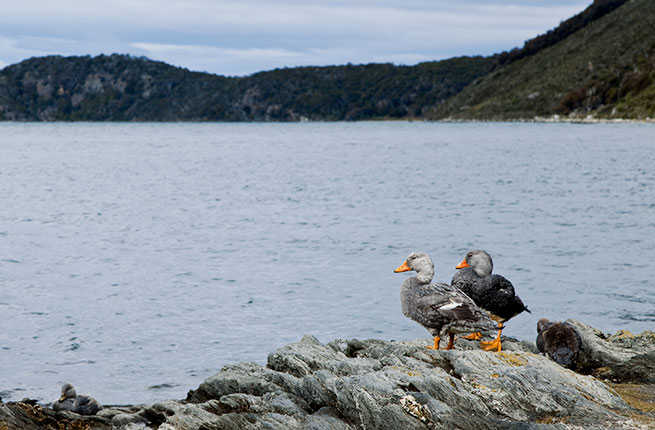 Tupatu76 | Dreamstime.com
WHERE: Beagle Channel, Tierra del Fuego province
When: Year-round
The steamer duck (pato vapor) might compete with the Magellanic penguin as nature's funniest bird. Seen in the Beagle Channel and also off the coastline in the province of Chubut, this comical, flightless bird frantically paddles across water using its wings and feet, splashing up mists of water much like a steamboat. If you do see one take flight, however, this is no Darwinian moment; there are, in fact, four species, which includes the flying genus.
PLAN YOUR TRIP: Fodor's Patagonia Guide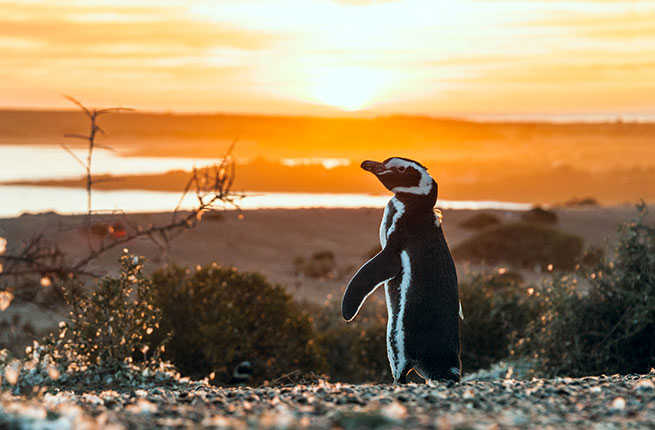 Xura | Dreamstime.com
WHERE: Bahía Bustamante, Chubut province
When: Mid-September to mid-April
Partners for life, around 900,000 Magellanic penguins couples swap Brazil for Argentina every year and up to 100,000 individuals live at Bahía Bustamante, a remote seaweed-harvesting village and luxury lodge in the province of Chubut. Here, mates build nests and mate on "Penguin Island", taking turns to protect their one or two eggs before they hatch. Teens also hang out here and the sight of a waddle of adolescents shuffling along the beach is one of the funniest and most captivating you'll spot in the wild. Also see these flightless birds at Punta Entrada in Santa Cruz and Ushuaia in Tierra del Fuego provinces.
PLAN YOUR TRIP: Fodor's Patagonia Guide