Jessica Nash
At last, spring has arrived in New York City, and with it an exciting lineup of new restaurants. From high-profile downtown eateries to small neighborhood spots, here are the season's buzziest new restaurants. —Kate Donnelly
Evan Sung
Lilia
In Williamsburg, chef Missy Robbins (formerly of A Voce) is at the helm of the dynamite Lilia, a chic 60-seat dining room specializing in simple, minimalist cuisine. Start with an Aperol Spritz and the cheesy cacio e pepe fritters. Move on to delicious, highly Instagrammable house-made pastas like the fluffy ricotta gnocchi in broccoli pesto and the ribbon-shaped malfadini with pink peppercorns and Parmigiano- Reggiano.
PLAN YOUR TRIP: Visit Fodor's Brooklyn Guide
Paul Wagtouicz
Pasquale Jones
From the hip Charlie Bird crew and chef Ryan Hardy, this bright NoLIta spot concentrates on Italian dishes made in two classic Stefano Ferrara brick ovens. Start your meal with a wood-fired pizza topped with littleneck clams with lemon and move on to roasted meats like the rustic pork shank for two. Well-curated wine selections pour easily under a soundtrack of 1970s funk.
PLAN YOUR TRIP: Visit Fodor's New York City Guide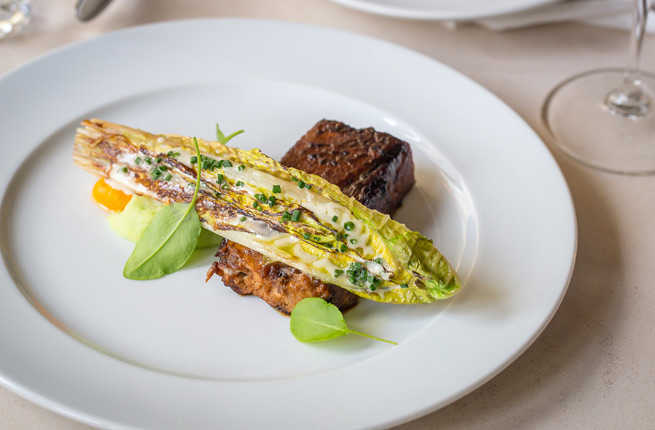 Noah Fecks
Freud
In Greenwich Village, a debut from chef Eduard Frauneder (Edi & The Wolf) offers native Austrian dishes like an Alsatian flatbread and grilled skirt steak. The vintage-chic 65-seat space is dotted with caramel leather banquettes, and the drink menu (slung by The Third Man crew) includes the "Slip", with Zubrowka Vodka, lime juice, egg white, simple syrup, and orange bitters.
PLAN YOUR TRIP: Visit Fodor's New York City Guide
Jessica Nash
Covina
Inside the newly renovated Park South Hotel, the Mediterranean-inspired Covina offers James Beard Award winner Tim Cushman's creations, including a Hungarian fry bread with house-smoked salmon, kefir ranch, and fresh herbs and lamb kofte skewers with charred garlic, yogurt, sumac, parsley, and onion. And for sharing, try the delicious New York-meets-Naples–style pizzas, topped with pepperoni and soppressata.
PLAN YOUR TRIP: Visit Fodor's New York City Guide
Robert Laing
00+Co
These days, 00 flour is all the rage, and chef Matthew Kenney uses the classic Italian pasta and bread flour as the base for vegan-friendly creations at his new East Village pizza spot. Inventive toppings like nut-based cheeses, almond cream, potato, shiitake "anchovies," oregano, and baby kale grace pies that are almost too pretty to eat. For dessert, try the lovely chocolate-mint sundae.
PLAN YOUR TRIP: Visit Fodor's New York City Guide
Kate Previte
La Sirena
The culinary dream team of chef Mario Batali and Joe Bastianich has docked at the Maritime Hotel. Their modern 200-seat Italian trattoria features housemade pastas like the green-hued leek-and-mascarpone-stuffed panzotti with spinach, Perigord truffle, and walnuts. For the high rollers, there's a decadent lardo-encrusted dry-aged bone-in New York strip for two. Obviously, you won't leave hungry.
PLAN YOUR TRIP: Visit Fodor's New York City Guide
Gabriele Stabile
Nishi
From the ever-expanding empire of David Chang, this boisterous Chelsea hotspot is a mash-up of Italian and Korean cuisines. Arrive early to beat the crowds and feast on "ceci e pepe" which is a take on cacio e pepe made with chickpea hozon and black pepper (add black truffle for just under $50). An after-dinner drink like the Ballast Point Opah is a perfect digestif.
PLAN YOUR TRIP: Visit Fodor's New York City Guide
Ken Goodman
The Pennsy
There's finally good food near Penn Station. This airy, high-end food court features celebrity chef creations like Mario Batali's truffle-honey grilled cheese, chef Marc Forgione's pressed lobster sandwich, and butcher Pat LaFrieda's simple steak sandwich. There's also a cocktail bar for those waiting to catch a late (or early) train.
PLAN YOUR TRIP: Visit Fodor's New York City Guide
Christopher Villano
Indian Accent
Situated in a minimalist space inside the upscale Le Parker Meridien hotel, this authentic New Delhi outpost offers modern and reinterpreted Indian cuisine. The prix-fixe menus include a ghee-roasted lamb with roomali roti pancakes (to share) alongside chicken seekh with Kashmiri plum korma.
PLAN YOUR TRIP: Visit Fodor's New York City Guide
Courtesy of Vandal
Vandal
On the Bowery, the team behind Tao has created a booming, bi-level restaurant serving global street food. The art pays homage to street artists with works by Apex and Shepard Fairey. To drink, start with the Demeanor (Bacardi 8, lime juice, Angostura bitters, allspice tincture, and grated nutmeg) and to eat, the Singapore crab claws, lobster and sweet potato soup dumplings, and salsa verde street pizza are easily sharable.
PLAN YOUR TRIP: Visit Fodor's New York City Guide
Courtesy of Speedy Romeo
Speedy Romeo
From chef Justin Bazdarich, this popular Brooklyn spot, well-liked for its pizzas, has opened a sister location on the Lower East Side. The wood-burning grill and oven produces menu staples like "The Kind Brother" and the new "Paul's Boutique" using an all-star lineup: an "everything bagel" crust topped with Katz's pastrami, Dijon béchamel, smoked red kraut, fontina, and Thousand Island Dressing.
PLAN YOUR TRIP: Visit Fodor's New York City Guide