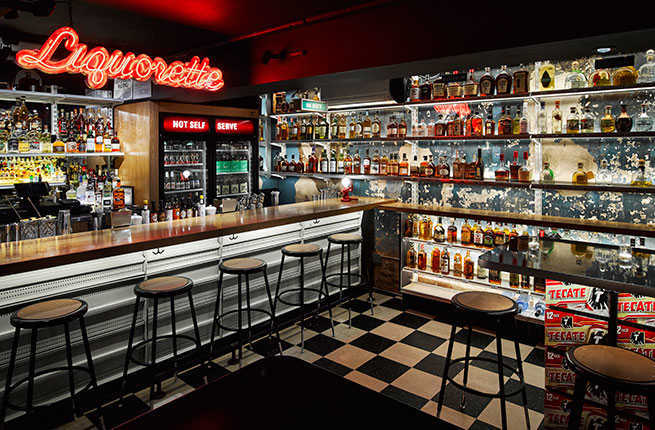 New Yorkers often love their local watering hole, but there are too many choices to remain loyal to just one bar. From creative cocktail dens to boisterous beer halls to intimate wine bars, here are the hippest drinking establishments in New York City right now. — Jessica Colley Clarke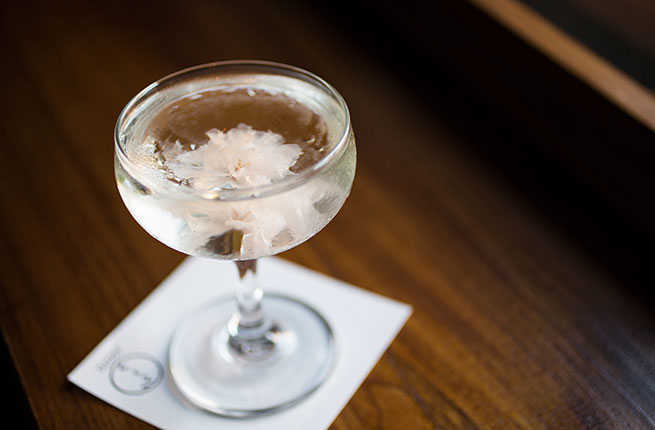 Jennifer Arnow
Japanese-style attention to detail is on display at Bar Goto, a Lower East Side watering hole with a reputation for hospitality from Pegu Club veteran Kenta Goto. Japanese comfort food—from miso wings to a variety of okonomiyaki, a savory pancake-like dish—are served alongside craft cocktails inspired by Japan with ingredients including miso, yuzu, and sake. Dimly lit and tight on space, this is an ideal date night spot. Try the Far East Side, with sake, tequila, shiso, elderflower, lemon, and yuzu bitters.
PLAN YOUR TRIP: Visit Fodor's New York City Guide
Gabi Porter
Walk by this outpost of the Eli Zabar empire on the Upper East Side by day and you'll find a café serving sandwiches and coffee, but once the night shift begins, the focus changes to craft beer. A total of 10 local craft beers are on tap here and change weekly. Oysters, porchetta sliders, and one hefty burger are also served. The focus here is definitely on beer, but the cocktail list is tempting, too; indecisive drinkers should put their fate into the bartender's capable hands with the Bartender's Choice.
PLAN YOUR TRIP: Visit Fodor's New York City Guide
The Bennett
On a prime stretch of West Broadway in TriBeCa, The Bennett is a new cocktail bar from the team behind Raines Law Room and Dear Irving. Interiors are handsome, with a plush banquette running along one wall, but during the summer, outdoor tables on the sidewalk can't be beat. Alongside small bites (we love the cauliflower croquettes with blue cheese and pepper jelly), sip a house cocktail such as the Dove Dispatch, with tequila, Campari, red bell pepper, grapefruit, and chili salt.
PLAN YOUR TRIP: Visit Fodor's New York City Guide
Natalie Keyssar
On the border of Brooklyn and Queens, Nowadays is a massive outdoor bar with lights strung between trees above picnic tables, ping pong tables, and bocce courts. Kids are welcome—as are dogs on leashes—in this sprawling bar, serving up burgers made with grass-fed beef, grilled cheese sandwiches, and beer-braised bratwurst alongside a constantly rotating list of local beers. Sangria is also available, along with wine by the cup, carafe, or bottle.
PLAN YOUR TRIP: Visit Fodor's Brooklyn Guide
Michael Groth
More than a dozen wines are served on tap at Lois, a bar on Avenue C in Alphabet City. The absence of bottles equals less waste and consistently fresh wines—no sketchy by-the-glass (how long has that bottle been open?) situations here. Small plates are served alongside the wines, including snacks like Castelvetrano olives and cheese plates or more substantial dishes including sausage rolls and a pork rillettes sandwich with slaw.
PLAN YOUR TRIP: Visit Fodor's New York City Guide
Andrew Kist
Blues and soul from a proper jukebox provide the soundtrack for this Southern-inspired bar in Williamsburg from Dead Rabbit veteran Pamela Wiznitzer (also of Seamstress on the Upper East Side). Fried oyster po'boys and chicken on a biscuit with pickles from chef Aaron LaMonica provide ideal drinking fare; wash it all down with A Boss Peaches Sunday Tea, with peach cobbler moonshine, George Dickel white, Southern-style tea, and lemon. And don't miss the jalapeño hush puppies.
PLAN YOUR TRIP: Visit Fodor's Brooklyn Guide
Jennifer Arnow
The Long Island City cocktail parlor Dutch Kills has expanded its reach into Brooklyn, with this new bar in Williamsburg. Veteran bartender Richard Boccato brought all the elements imbibers love about Dutch Kills—the hand-cut ice, fresh ingredients, and down-to-earth attitude—to this new neighborhood bar. Several cocktails are adapted from historical texts, such as the Home on the Range (rye whiskey, triple sec, sweet vermouth, Angostura bitters, lemon and orange twists) that dates back to a cocktail book from 1944.
PLAN YOUR TRIP: Visit Fodor's Brooklyn Guide
Scott Gordon Bleicher
Spices from around the globe serve as inspiration for bartender Nick DeSoto, a co-owner of this East Village cocktail bar. Shelves behind the bar are lined with jars full of curious ingredients that translate DeSoto's travels into the glass. Try the signature Mace, a cocktail with Aperol, aquavit, beet juice, orange acid, young Thai coconut cordial, and mace mist or the Vanilla Bean with vanilla bean-infused bourbon, Cynar, sweet vermouth, coffee, and black walnut bitters.
PLAN YOUR TRIP: Visit Fodor's New York City Guide
Suffolk Arms
With the deceptive exterior of a classic British pub, this Lower East Side watering hole is an unpretentious destination for all that is new and wonderful in the world of cocktails. Barman Giuseppe Gonzalez—formerly of Dutch Kills and Clover Club—shakes and stirs his own concoctions alongside classic cocktails and favorite drinks from other industry stars (with bartender and bar name noted). Slide into one of the cozy booths and order a Tough Room, a clever signature drink that is a cocktail (whiskey sour) and a beer (Guinness) in one pretty glass.
PLAN YOUR TRIP: Visit Fodor's New York City Guide
Garrett Rowland
The design team AvroKo (of Saxon + Parole and Madam Geneva) is behind Genuine Liquorette, a kitschy bar beneath their Little Italy burger joint, Genuine Superette. Master bartender Eben Freeman created the "Cha-Chunker", a device that punches holes in the top of soda cans, which he fills with mini-bar­–size liquor bottles. There's something pretty charming about a tiny bottle of Patron upside down in a can of San Pellegrino grapefruit soda.
PLAN YOUR TRIP: Visit Fodor's New York City Guide
Courtesy of Bierocracy
When the evening calls for space, grab your group and head to this beer hall in Long Island City, Queens. Inspired by the classic beer halls of Central Europe, Bierocracy is filled with picnic-style communal tables alongside a curved bar with lots of stools. There is a rotating list of draught beers (plus many more in bottles) and good drinking fare, too. We wouldn't say no to a Bavarian pretzel with bier cheese spread and house mustard or potato pancakes with sour cream and applesauce.
PLAN YOUR TRIP: Visit Fodor's New York City Guide
Daniel Krieger
When a craving for oysters hits, Grand Army in Boerum Hill should be your destination. This cocktail bar—complete with a wood-burning fireplace—serves up an impressive raw bar with oysters, clams, hamachi, and more to accompany the drinks, including tasty concoctions such as the Casa Rosada, a mix of reposado tequila, Campari, coconut, lime, pepper tincture, and salt. Chris Balla, the beverage director from Mile End, is behind the drinks and beer selection here is fantastic.
PLAN YOUR TRIP: Visit Fodor's Brooklyn Guide
Jennifer Arnow
Do cocktails taste better if you arrive through a secret entrance? Maybe not, but arriving at this second-floor Lower East Side speakeasy is part of the fun. Once inside, the space is cozy, with book-lined shelves and a tufted purple velvet sofa. Veteran mixologist Lucinda Sterling is behind the menu, and this is also a fun spot to opt for bartender's choice: choose a spirit and provide a couple of adjectives (something refreshing with mezcal, for example) and let the bartender get to work.
PLAN YOUR TRIP: Visit Fodor's New York City Guide
Jennifer Arnow
A vision of cocktail legend Sasha Petraske has been realized in Seaborne, a cocktail bar in Red Hook, Brooklyn, that was in the works when Petraske passed away in 2015. Lucinda Sterling, who worked with the Milk & Honey founder, is behind the bar at Seaborne where balanced cocktails (such as the Red Hook with rye whiskey, Punt E Mes, and maraschino liqueur) are served in an unfussy space with cozy red booths and exposed brick walls.
PLAN YOUR TRIP: Visit Fodor's Brooklyn Guide
Kate Previte
Dynamic New York duo Mario Batali and Joe Bastianich have brought new life to the Maritime Hotel in Chelsea with this bar and restaurant. A 38-foot-long white marble bar is a lovely place to sip an Italian-influenced cocktail such as the Sirena Spritz (with blood orange Amara, Limonata, and Prosecco), but the spacious outdoor patio is really the place to be. Cocktails are divided into categories such as Fresh & Crisp or Rich & Robust.
PLAN YOUR TRIP: Visit Fodor's New York City Guide
Nicole Franzen
Underground and inspired by the glamour of Marie Antoinette, this cocktail bar is reached through French restaurant Chez Moi on Atlantic Avenue. Both the bar and restaurant are run by a couple from Paris, with Franky Marshall of the Dead Rabbit as beverage director at Le Boudoir. Expect cocktails and fare that play with the late 18th-century French theme, including the Guillotine with mezcal, Scotch, banana, and honey alongside snacks like crispy frogs' legs, a cheese plate, or French fries with garlic and Parmesan.
PLAN YOUR TRIP: Visit Fodor's Brooklyn Guide
Paul Wagtouicz
Drinkers with a taste for Japanese flavors should head to Hell's Kitchen, for this cocktail bar from the team behind Sushi Seki. Choose between the whiskey and sake lounge upstairs or the cocktail bar on the main level, where Japanese-influenced drinks such as the matcha cocktail (rum, matcha, coconut, kinako, and kuromitsu) are served. Snacks like oysters and udon noodle soup are also available at the bar.
PLAN YOUR TRIP: Visit Fodor's New York City Guide
Courtesy of The Shipwreck Lounge
Unlimited access to the tiki-themed Shipwreck Lounge is reserved for guests attending performances at the Grand Paradise theater in Bushwick, Brooklyn. Everyone else with a craving for beach-inspired cocktails can access the speakeasy-style bar during limited hours (including a late night happy hour). Expect colorful garnishes and lots of decoration on your spicy piña colada, plus light bar snacks including plantain chips on the side.
PLAN YOUR TRIP: Visit Fodor's Brooklyn Guide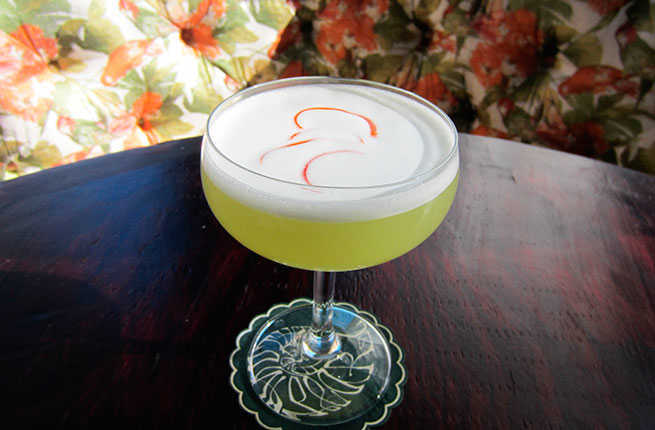 Courtesy of Mother of Pearl
Even the stools are tiki-inspired at this Polynesian-themed cocktail bar on Avenue A in Alphabet City. Owner Ravi DeRossi—of Death & Company, Mayahuel, and many more of New York's most beloved bars—is behind Mother of Pearl, where fanciful cocktails are lavishly decorated and the vegan food is an inauthentic tribute to Polynesia. Snack on lychee potstickers with black vinegar sauce or edamame spring rolls with papaya curry alongside a refreshing tipple like the Mexican Summer #2, with watermelon, cucumber, lime, smoked paprika, and silver tequila.
PLAN YOUR TRIP: Visit Fodor's New York City Guide
Teddy Minford
Like its name suggests, Sea Wolf draws heavily on seaside classics like freshly shucked oysters and tropical drinks. To cool off, start with the sweet strawberry Fernet daiquiri or the refreshing blueberry lemonade with pineapple, coconut, and nutmeg. The lobster corn dog with honey mustard and the wood-grilled chicken on a ciabatta with chipotle mayo pair well with a Montauk Sumer Ale (as does the Key lime pie with whipped cream).
PLAN YOUR TRIP: Visit Fodor's Brooklyn Guide
Michael Tulipan
Films are only $3 at Syndicated, a bar, restaurant, and movie theater in Bushwick, Brooklyn. During screenings of independent films, Hollywood classics, and features, you can order right from your seat in the cinema. Cocktails include an Ancho Margarita with Lunazul Reposado, lime, chili syrup, cucumber, and gunpowder salt rim. Choose between comfort food classics including a classic grilled cheese, slow-cooked nachos, and buttermilk fried chicken. Snack and drink in the cinema or in the full bar and restaurant area.
PLAN YOUR TRIP: Visit Fodor's Brooklyn Guide