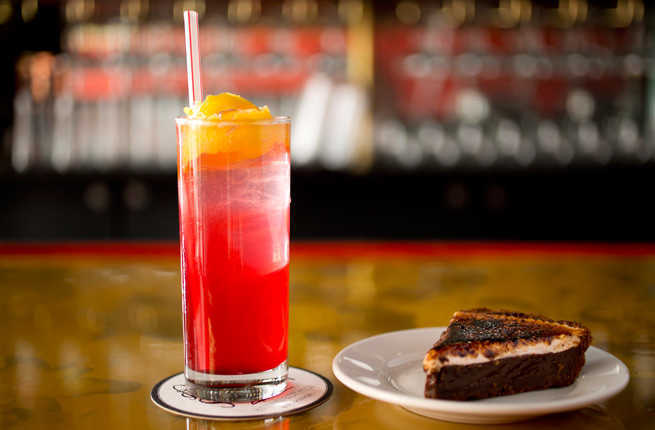 Jennifer Arnow
It's never been that difficult to find a good drink in New York City, but it's so much more fun when there are new places to go and new cocktails to fall in love with. Fortunately, exciting newcomers have opened all over the city in recent months, each one bringing something unique to the city's nightlife scene. Whether you want to see and be seen, pretend you're on a Long Island beach, or eat cake with your cocktails, there's a spot for you at one of the city's best new bars. From the Upper East Side to Bushwick, here's where you should be drinking in New York right now.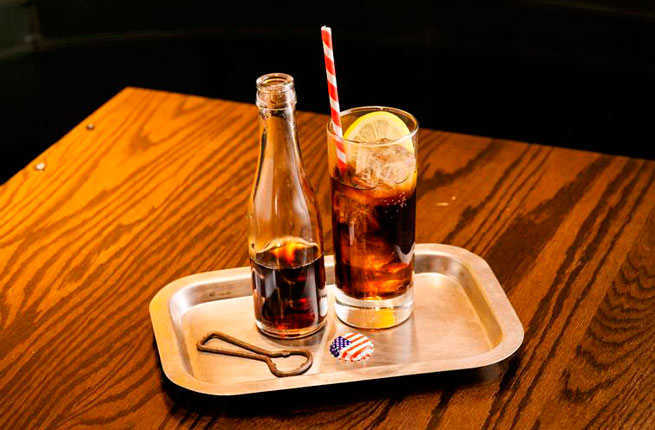 Courtesy of Porchlight
Porchlight
WHERE: Chelsea
Following decades as a legendary restaurateur, Mr. Hospitality himself, Danny Meyer, has finally gone ahead and opened his first standalone bar: Porchlight. Located way off the beaten path on an unmemorable stretch of 11th Avenue, the large, industrial-chic space is all concrete floors and reclaimed wood, but there's also an actual porch with rocking chairs and sofas in one corner. The cocktail program includes a housemade whiskey and cola, a Sazerac made with Cognac, and the Instagrammed-to-death Gun Metal Blue, a combination of mezcal, blue Curacao, and peach brandy. There's also a small food menu, which features avocado & crab toast, warm nuts laced with bourbon, and an unbelievably tasty beef jerky that's smoked in-house.
PLAN YOUR TRIP: Visit Fodor's New York City Travel Guide
Noah Fecks
Evening Bar
WHERE: TriBeCa
Hotel bars can be hit or miss, but this gem at The Smyth seems to have come up with a winning formula: seasonal cocktails, mid-century furniture, and small plates by chef Andrew Carmellini. The focus at Evening Bar is on artisanal distilleries and organic fruit and vegetable extracts, evident in the Apple Buck, a mix of James Oliver Rye, Strega, lemon, Red Jacket Orchards Apple Cider, Boston Bittahs and Fever Tree Ginger Beer. If you need a break from cocktails, take your pick of good Champagne, American beer, sherry, or a small but diverse selection of reds and whites from around the globe. Any of those are guaranteed to taste good with the warm Brie from Vermont.
PLAN YOUR TRIP: Visit Fodor's New York City Travel Guide
Oleg March
Seamstress
WHERE: Upper East Side
Expert mixologist Pam Wiznitzer, formerly of The Dead Rabbit, has moved uptown to the genteel streets of the Upper East Side, where you'll find a wide range of cocktails at Seamstress. The drink menu is organized by fabric-inspired themes such as "patchwork" and "embroidery," but all of the options feature some truly unique ingredient combinations (think rye and chai-infused vermouth). The space is a mix of styles, subway tile contrasting with exposed brick and rugged-looking wood pieces, not to mention mismatched chairs to sit on. Feeling peckish? Though the cocktails are garnering a lot of attention, there's a sizeable dinner menu here as well, with dishes like poached wild cod and a mutton burger.
PLAN YOUR TRIP: Visit Fodor's New York City Travel Guide
Paul Wagtouicz
Holiday Cocktail Lounge
WHERE: East Village
When this cherished dive bar shuttered in 2012, it seemed like yet another sign that the city was losing its classic drinking establishments one by one. Fast forward three years, and Holiday Cocktail Lounge is back, albeit in spruced-up form. Now owned by the founder of the popular Pirate's Booty snack, Holiday has been cleaned up and redesigned while still holding on to some of its original DNA, including the iconic horseshoe bar, which has been smartly relocated to the center of the room. Bartender brothers Michael and Danny Neff oversee the top-notch drink program, which features a mix of newfangled creations and modern takes on classic cocktails. Another update is the addition of a food menu, which features "locally foraged" ingredients from shops in the surrounding neighborhood.
PLAN YOUR TRIP: Visit Fodor's New York City Travel Guide
Courtesy of Forrest Point
Forrest Point
WHERE: Bushwick
Having opened late last September, the best thing Forrest Point has to offer—its large outdoor garden—wasn't a place that could really be enjoyed until now. Now that the weather is finally cooperating, take advantage of this al fresco drinking option, with seating for seventy on chairs, benches, swings, and couches. This pleasant space is also outfitted with fruit trees, hanging ferns, strings of light bulbs, and eye-catching murals. There's a small selection of beer and wine, so this is primarily a cocktail spot. The Fear of Commitment is a nice blend of Old Tom gin and fino sherry, but the most interesting options on the menu are milk punches, dairy-based concoctions with a mix of spirits and spices that are popular in New Orleans.
PLAN YOUR TRIP: Visit Fodor's New York City Travel Guide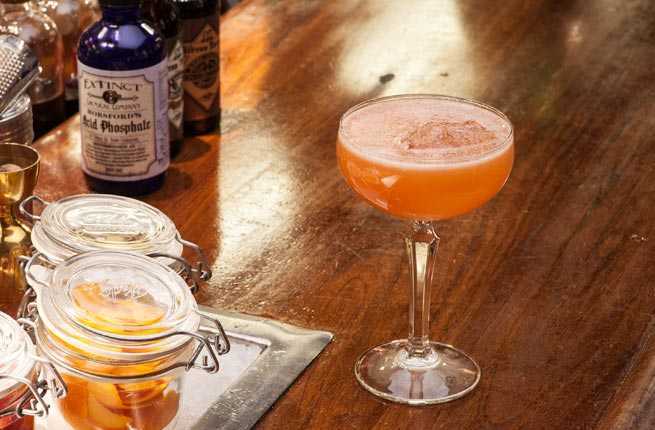 Andrew Kist
The Dead Rabbit
WHERE: Financial District
The Dead Rabbit Grocery and Grog has earned many accolades since opening in 2013, but there are new reasons to tipple there these days, more than sixty of them in fact. That's how many new cocktails head bartender Jillian Vose introduced in February. Formerly head bartender at Death + Company, Vose took over at The Dead Rabbit last summer, but only recently has she fully put her stamp on the place. What to order given so many options? You can't really go wrong with the visually striking Psycho Killer, a combination of cocoa nib-infused Campari, 12-year whiskey, crème de cacao, banana liqueur, and absinthe. There's also a wonderful Irish coffee, which pairs nicely with the full Irish breakfast if you're looking for some serious sustenance.
PLAN YOUR TRIP: Visit Fodor's New York City Travel Guide
Daniel Krieger
The Camlin
WHERE: Williamsburg
The team behind Manhattan wine bar Ardesia has opened up shop across the river in bustling Williamsburg. Modern and airy, The Camlin has clean lines and understated décor; the concept is equally straightforward: thirty wines, beer and cocktails, and small plates and cheese boards to pair with your pours. The wine selection (glasses are priced between $9 and $16) reflects a good balance between Europe, South America, and the U.S., and some of the selections are intriguingly obscure (ever had a wine from Argentina that wasn't made in Mendoza?). There's an equally interesting assortment of cheese to choose from, including surprising selections from Croatia, Indiana, and Connecticut.
PLAN YOUR TRIP: Visit Fodor's New York City Travel Guide
Andrew Kist
Tijuana Picnic
WHERE: Lower East Side
The masterminds behind downtown hot spots Indochine and Acme teamed up with chef Huy Chi Le to open Mexican-with-Asian-influences Tijuana Picnic on bustling Essex Street. The retro-themed dining room is upstairs, but head straight for the basement to find a sexy, spacious lounge featuring a stunning mural by French street artist Remed and a resin-covered bar styled like a vintage surfboard. Expert mixologist Jim Kearns is behind the cocktails, which feature ingredients like avocado, tomatillo, and poblano peppers. Try the Mi Hermano, a take on a Manhattan made with Reposado tequila instead of rye, or the Mi Casa Margarita featuring a mix of tequila and mezcal.
PLAN YOUR TRIP: Visit Fodor's New York City Travel Guide
Matthew Wells
La Contenta
WHERE: Lower East Side
Another Mexican newcomer on the Lower East Side, La Contenta is a small but ambitious spot opened by a chef and bartender who are both natives of Mexico. You'll find the usual range of Mexican beers, margaritas, tequila-based cocktails, and micheladas, but the drinks menu offers much more interesting options for adventurous sippers. For something different, order one of the cocktails made with sotol, bacanora, or raicilla, agave-based spirits categorized on the menu as agaves clandestinos. There's even a selection of drinks made with pulque, milky, viscous, fermented agave nectar with a sour, yeast-like flavor that is combined here with a variety of spirits and fruit juices to achieve balance.
PLAN YOUR TRIP: Visit Fodor's New York City Travel Guide
Destrie Boyar
Lazy Point
WHERE: SoHo
Located in a somewhat sleepy and unglamorous stretch of western SoHo that's sometimes called Hudson Square, Lazy Point brings a taste of Long Island's beaches to Manhattan. Previously a clubby, nautical-themed spot called The Anchor, the owners have brightened the space up with funky colors and circular booths. Bartender Jeremy Strawn (formerly of cocktail den The Mulberry Project) is slinging interesting but not overly complicated drinks like The Bramble Rose (gin, lemon, rose jam, and a muddled strawberry) and Beets by Dre (gin, beet juice, and rosemary simple syrup). If you want some coastal fare, 19-year-old wunderkind chef Greg Grossman is serving up fried oysters and grilled cheeses with unusual components like black truffle marmalade and kimchi.
PLAN YOUR TRIP: Visit Fodor's New York City Travel Guide
Jennifer Arnow
Butter & Scotch
WHERE: Crown Heights
If you've got a sweet tooth to satiate, look to Butter & Scotch to feed your cravings. Part bakery, part throwback soda fountain shop, part cocktail bar, this Brooklyn newcomer speaks to the kid in everyone. If dessert's on your mind, there are pies, cakes, sundaes, and milkshakes (there are also some small savory bites), and of course there are adult beverages as well. Fortunately the drinks steer clear of dessert territory, aside from a couple of boozy ice cream floats. Try the Honeychile Rider (gin, passion fruit, Mike's Hot Honey, lemon, and tiki bitters) or the Masala Manhattan, made with chai-infused vermouth.
PLAN YOUR TRIP: Visit Fodor's New York City Travel Guide
Courtesy of June Wine Bar
June Wine Bar
WHERE: Cobble Hill
Natural wines have a somewhat dubious legacy—some people find that they have a funky, off-putting taste—but if you're a fan or simply looking to get to know this class of wine better, make your way to June. With a 1920s Paris look that easily charms, this wine bar exclusively serves natural and biodynamic wines from around the world, with a diverse selection of sparkling, white, rosé, and red options. (Appropriately, given the bar's look, the majority of the wine list is sourced from France.) While most wines are available only by the bottle, some are also served by the glass or quartino, making it easy for beginners to sample. And if natural wine isn't at all your thing, you can choose from cocktails or beer and the food—baked carrots and duck fried rice—all the same.
PLAN YOUR TRIP: Visit Fodor's New York City Travel Guide
Jennifer Arnow
Livingston Manor
WHERE: Downtown Brooklyn
Does Brooklyn need another bar serving craft beers and cocktails? Yes, actually, in this particular neighborhood, which is curiously devoid of quality watering holes. Inspired by the Catskills, Livingston Manor offers neighborhood-bar charm in a space that was formerly occupied by a bodega. In addition to stocking small-batch liquors produced upstate (Warwick Rustic Gin, Black Dirt Bourbon), the bar is also the first in the city to serve beer from Catskill Brewery, located in Livingston Manor, New York. A rotating selection of other local beers is on tap, alongside four draft wines and a good selection of whiskeys.
PLAN YOUR TRIP: Visit Fodor's New York City Travel Guide
Zandy Mangold
The Happiest Hour
WHERE: West Village
The name's no joke: The team behind this throwback, tropical-inspired spot just wants you to have a good time. A welcome antidote to the self-seriousness of some bars, The Happiest Hour has two levels where you can leave your cares behind and order customized drinks (designed by mixologist Jim Kearns) that allow you to choose from three spirits. Alternatively, you can have any drink on the menu made with vodka if that's your liquor of choice. (Such a request might get you a dirty look at some bars, but it's just part of the program here.) Highly recommended are the Manhattan, enlivened with a bit of chai, and the Link Ray, made with celery, Suze, lime, soda, and a choice of jalapeño tequila, rum, or gin. No matter what you drink, don't pass up The Happiest Burger, an obnoxiously tasty pile of two beef patties, confit onions, and a special sauce—it's the perfect bar food.
PLAN YOUR TRIP: Visit Fodor's New York City Travel Guide
Angela Pham
Happy Ending
WHERE: Lower East Side
What was once a rather grubby (though popular) nightspot has been reborn, after a two-year hiatus, as a cleaned-up, stylish restaurant and bar with a striking Danish modern décor. (Upstairs, at least: The basement now resembles a retro rumpus room.) Though the French menu was a draw initially, Michelin-starred chef Francis Gabarrus was recently dismissed and the menu made a little less Gallic by his replacement. Still, if you're seeking a drink in stylish surroundings with an equally stylish crowd, Happy Ending is your place. The cocktails represent slight variations on classics; the White Negroni, for example, is made with gin, the apéritif Suze, and Dolin Bianco Vermouth.
PLAN YOUR TRIP: Visit Fodor's New York City Travel Guide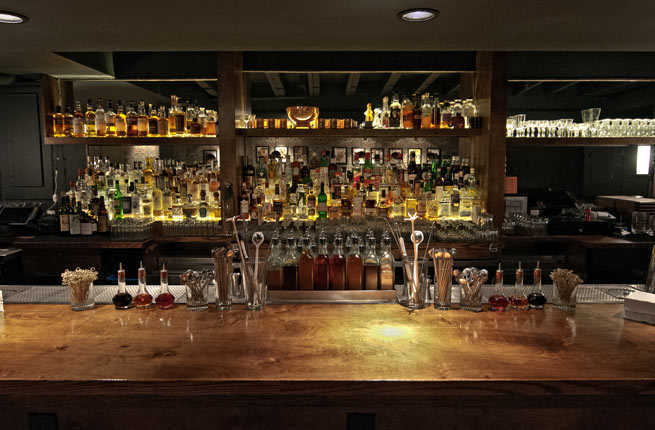 Gregory J. Buda
The Up & Up
WHERE: Greenwich Village
A refreshing alternative to avoid-at-all-costs watering holes laden with NYU undergrads, The Up & Up is a new, respectable cocktail den in the heart of Greenwich Village. Helmed by Matt Piacentini (formerly of The Beagle in the East Village), the space has dim lighting and serious cocktails, but the atmosphere is free of pretention or attitude. Drinks are available in large-format bottles (375 or 750 mL), regular size, or "halfies." There's also wine and beer, plus a variety of delicious meats and pates that can be spread on the accompanying baguette.
PLAN YOUR TRIP: Visit Fodor's New York City Travel Guide