Valery Rizzo
When people think of American born-and-bred distilled spirits, they usually think of the bourbons, whiskeys, and moonshine of Kentucky and Tennessee. But thanks to a series of government grants promoting "agritourism" and the craft beverage industry, the state of New York is now proudly holding its own in this boozy battle. From hip tasting rooms in industrial Brooklyn to sprawling estates in the rural Adirondacks, New York is learning to embrace its roots—the first commercial distillery in North America in 1640 was in good ole Staten Island, with the number of distilleries in the state reaching the hundreds until Prohibition hit and basically ruined everything. But luckily for visitors to the region, New York is now on the forefront of the American distillery industry, with plenty of bourbons, ryes, gins, and vodkas getting produced here. Take a pit stop at these great local distilleries to learn about the distilling process and sample some fantastic spirits.—Amanda Sadlowski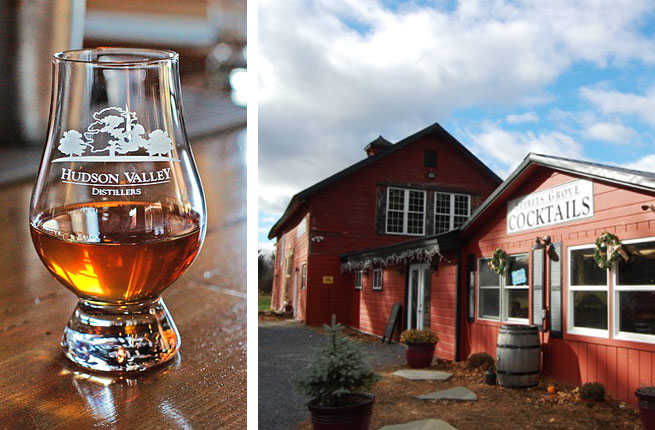 Hudson Valley Distillers
Where: Clermont, NY
Staying true to the farming tradition of the Hudson Valley, Hudson Valley Distillers operates as a cocktail bar, farm and beverage market, and a craft distillery of vodka, whisky, gin, and Applejack (an apple-flavored alcoholic beverage made with Hudson Valley apples). Tours are offered Fridaythrough Sunday, and include extensive walk-throughs of the distillery led by the owner himself. An assortment of cocktails is offered at the Cocktail Grove, while the marketplace has plenty of spirits, ciders, beers, wine, and treats for sale.
PLAN YOUR TRIP: Visit Fodor's Hudson Valley Guide
Five and 20
WHERE: Westfield, NY
There are only eight places in the United States that contain a distillery, a winery, and a brewery all in one spot, and Five and 20 is one of them (and the first in New York). Located in the small town of Westfield in southwestern New York, Five and 20 is a craft distillery and brewery that shares its space with Mazza Chautauqua Cellars, one of the major wine producers in the Lake Erie region. The dfocus here is on ryes and bourbons, with some flavored liqueurs like limoncello and a diverse selection of craft beers. Everything is produced in small-batch fashion using locally-grown ingredients and with conservation-minded farming methods. Tours and tasting of all three facilities are available daily.
PLAN YOUR TRIP: Visit Fodor's Western New York Guide
Bradley Hawkes
Astoria Distilling Company
WHERE: Queens, NY
Queens keeps making its bid as New York City's next must-see borough, and helping lead that campaign is the Astoria Distilling Company, which prides itself on delivering a product that reflects the diversity and history of the area. Their signature spirit is Queens Courage, a New York "Old Tom"-style gin that was most popular in pre-Prohibition New York. While you can't yet tour their Astoria distillery, their tasting room located in nearby Long Island City offers plenty of chances to sample some handcrafted cocktails prepared by the distillers themselves.
PLAN YOUR TRIP: Visit Fodor's Queens Guide
Jerry Cohen
WHERE: Bethel, NY
Another completely sustainable and eco-friendly operation, Catskill Distilling Company takes much of its inspiration from nearby Woodstock, home of the legendary music festival. Their varied spirits include gin, vodka, whiskey, and grappa (the owner spent time in Italy, learning grappa distilling from an Italian farmhand). Daily tours take you from the custom-made copper stills to the Art-Deco bar from the 1939 World's Fair. Many of the names and branding of the spirits have themes of peace and love, and the distillery welcomes a variety of musical performances and festivals.
PLAN YOUR TRIP: Visit Fodor's The Catskills Guide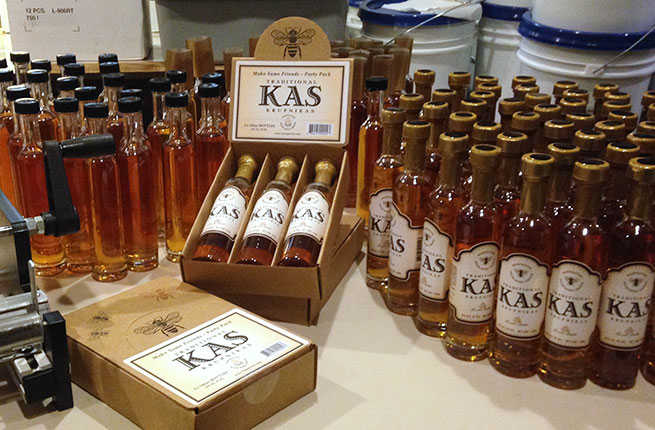 KAS
WHERE: Mahopac, NY
At KAS Spirits, the focus is all on producing krupnikas, a Lithuanian and Polish spirit made with sweet honey and a blend of warm spices. The Brooklyn-born owners (Kas and his wife Marushka) have taken an old family recipe (complete with secret spices, of course) to this small-batch distillery in the Hudson Valley. Much more complex than your typical honey whiskeys, krupnikas feature an assortment of flavors like vanilla, cinnamon, cloves, saffron, and much more. While there is no official tasting room yet, it's still worth it to stop by the distillery to talk to Kas and Marushka about their process and indulge in a few samples.
PLAN YOUR TRIP: Visit Fodor's Hudson Valley Guide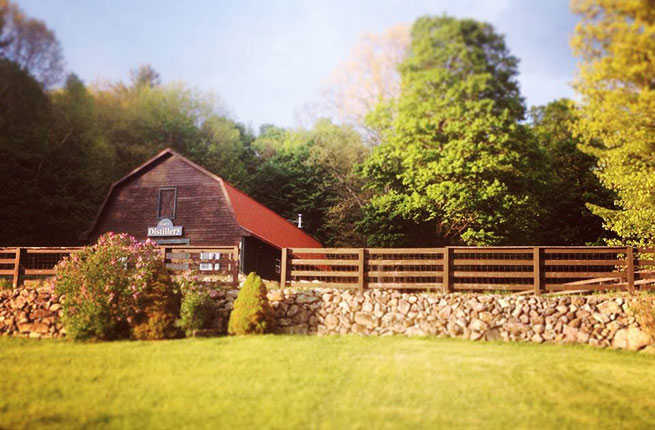 Springbrook Hollow Farm
WHERE: Queensbury, NY
Located within the foothills of the Adirondack Mountains, Springbook Hollow Farm is a small-batch distillery specializing in sustainable, locally-sourced products. Everything in their creation process, from grains to fruits, is harvested from the surrounding farms and mountains (including unprocessed water straight from Springbook Hollow). The results are unique hand-crafted vodka, gin, moonshine, bourbon, limoncello, and orangecello. Free tours and tastings are available daily, which you can enjoy overlooking a fantastic view of the mountains.
PLAN YOUR TRIP: Visit Fodor's Adirondacks Guide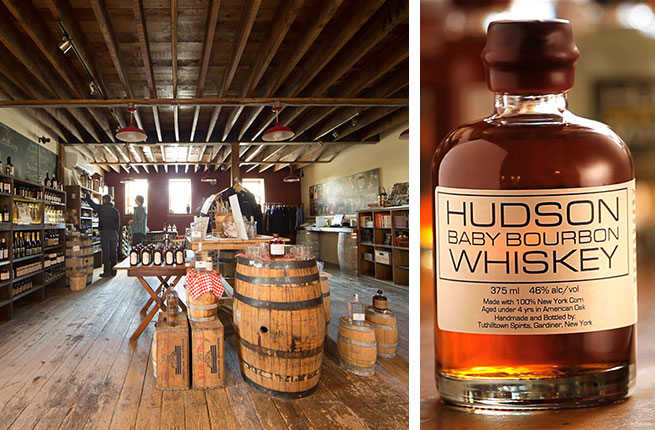 Tuthilltown
WHERE: Gardiner, NY
Home of Hudson Whiskey, one of the most well-known New York brands, Tuthilltown is based within the old Tuthilltown Gristmill (a national historic landmark) and churns out a selection of hand-crafted small batch spirits. Aside from Hudson Whiskey, it also produces apple vodka, gin, and various liqueurs. It was the state's first distillery since Prohibition, and you can learn more about its heritage through weekend tours and in the historical tasting room. An accompanying restaurant serves farm-to-table cuisine alongside creative cocktails.
PLAN YOUR TRIP: Visit Fodor's Hudson Valley Guide
Albany Distilling Co.
Where: Albany, NY
Hudson Valley's renaissance has led to the rise of plenty of hip bars and distilleries, but just north of the region, the city of Albany has retained its charm as the underrated capital of New York. Albany Distilling Co. is the first distillery in the city since Prohibition, located just down the road from the site of the city's original 18th century distillery. It's a small operation, with the company producing spirits one batch at a time, including rum, aged and unaged whiskey, and a coffee/vodka concoction known as DeathWish. Tours are available three times a day on Saturdays, and the small facility guarantees a personable touring experience and an intimate atmosphere in the (whiskey only) tasting room.
PLAN YOUR TRIP: Visit Fodor's Albany and Central New York Guide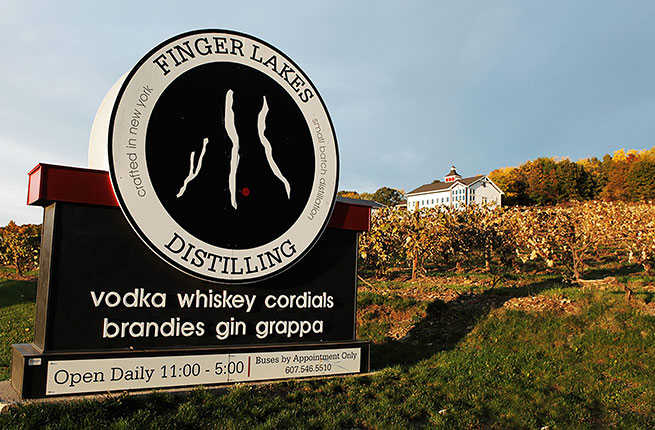 Jimmy Day
WHERE: Burdett, NY
In the middle of a region known best for its wineries, Finger Lakes Distilling is a craft distillery that uses locally sourced materials and traditional methods to create an array of spirits, from aged and unaged whiskey, vodka, and gin, to brandy and grappa. The tasting room is open all year-long, with a friendly staff on-hand to explain the distilling process and offer incredibly affordable samples. Tours are available every Saturday from May through November, and focus on the production of McKenzie Whiskeys, one of their most popular products.
PLAN YOUR TRIP: Visit Fodor's Finger Lakes Guide
Valery Rizzo
WHERE: Brooklyn, NY
Located within the historic Paymaster Building in Brooklyn Navy Yard (not far from the tourist attractions and drinking holes of DUMBO and Fort Greene), Kings County Distillery has led the way in New York City distilling since 2010, when it opened as the city's first distillery since Prohibition. It offers tours Tuesday through Sunday (reservations recommended), but you can stop by their tasting room daily to sample their numerous award-winning whiskeys and moonshine. The tasting room is located in the castle-like The Gatehouses, a nod to the distillery's proximity to the legendary site of the Brooklyn Whiskey Wars of the 1860s. They also regularly offer special historical tours, classes with a dedicated whiskey specialist, and admission to the on-site museum, the Boozeum.
PLAN YOUR TRIP: Visit Fodor's Brooklyn Guide