Courtesy of City of Chicago / Choose Chicago
While it may not be known for having the same sky-high costs as London, New York City, or Tokyo, Chicago is still a big city, and spending time there can add up. Fortunately, it's possible to enjoy much of what the city has to offer without spending too much (or any!) money. From concerts and festivals to Shakespeare and museums, there's no shortage of free activities in the Windy City, whether you want to limit yourself to the Loop or venture out to explore Lincoln, Park, Pilsen, and Chinatown. The next time you visit Chicago, make sure you take advantage of street festivals, improv shows at The Second City, and these other outstanding free activities.
By Annie Bruce
Courtesy of Lincoln Park Zoo
Visit the Lincoln Park Zoo
With free admission every day of the year, the Lincoln Park Zoo is a beloved Chicago institution. There's a lot to see in the 35-acre park, so on a nice day, you can see it all by strolling from the bear habitat on the northern end, to the swan pond, to the nature boardwalk, stopping to spot giraffes, jaguars, gorillas, and pythons along the way. Be sure to visit in the winter months as well, when the Lincoln Park Zoo hosts ZooLights in the evenings (also free of charge). While you can still spot some animals throughout the park, the real spectacle is the collection of more than two million lights that are part of this 20-year tradition.
PLAN YOUR TRIP: Visit Fodor's Chicago Travel Guide
Courtesy of Chicago Park District
Watch Outdoor Movies at Millennium Park
Choose from a range of classics (such as A League of Their Own and Willy Wonka & the Chocolate Factory) and new releases (such as The Lego Movie and Gravity) at one of the hundreds of free movie screenings offered during the summer. As part of the Millennium Park Summer Film series, visitors can head to the Jay Pritzker Pavilion to catch a flick on the 40-foot screen, or branch out to view showings sponsored by the Chicago Park District at parks throughout the city. Preview work from up-and-coming filmmakers as well, when the Park District screens the winning entries from its Local Film Showcase on select nights.
PLAN YOUR TRIP: Visit Fodor's Chicago Travel Guide
Courtesy of Chicago Botanic Garden
Admire the Chicago Botanic Garden
Free year-round, the Chicago Botanic Garden is home to 26 gardens and four natural areas spread across 385 acres and nine islands. While it's impossible to see everything in one visit, be sure to check out the Waterfall Garden, Japanese Garden, and Rose Garden, along with a visit to the five-acre Evening Island. Bring a bike and ride the one-mile path between the Green Bay Trail and North Branch Trail to get a scenic workout. Signs along the route point bikers towards the different moraine, wetland, and woodland regions along the path, and there are bike racks throughout that allow riders to take a break and explore the gardens.
PLAN YOUR TRIP: Visit Fodor's Chicago Travel Guide
Courtesy of Two Brothers Brewing Company
Tour Two Brothers and Lagunitas Breweries
There are plenty of options if you want a behind-the-scenes look at some of Chicago's most talked-about breweries. Take a trip to Two Brothers Brewery in Warrenville for a 45-minute free tour at select times on Saturdays and Sundays—no reservation required. Lagunitas Brewing Company, the city's largest brewery, gives free tours at their Douglas Park location, with tasting tours offered at various times Monday through Friday, and hourly tours on the weekends. Revolution Brewing's Kedzie Production Brewery offers tours of their 60-barrel brewhouse on Wednesdays through Saturdays. Its tours often reach capacity (30 people) on weekends, so be sure to get there early to ensure a spot.
PLAN YOUR TRIP: Visit Fodor's Chicago Travel Guide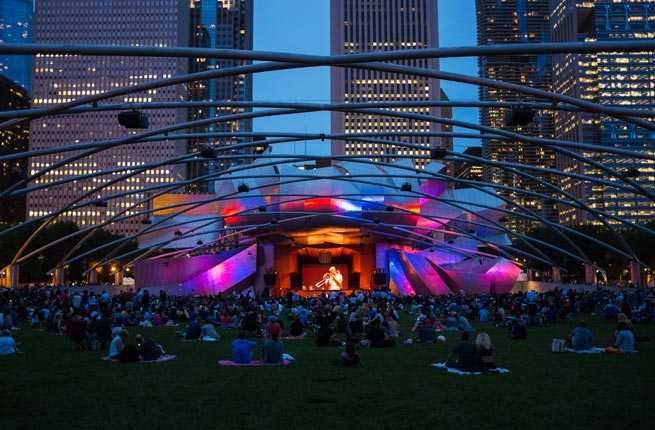 Adam Alexander Photography / Choose Chicago
Listen to Concerts at Jay Pritzker Pavilion
With a lineup that includes the Chicago Symphony Orchestra, performers from the Lyric Opera, and Broadway touring companies, the Jay Pritzker Pavilion hosts a wide range of concerts. On select weekday evenings, rock, pop, and indie performers take the stage as part of the Downtown Sound and Loops and Variations programs. Every year, the Grant Park Music Festival also hosts a number of classical music performances on the stage, with concerts from the Grant Park Orchestra and a number of internationally recognized performers. And Broadway in Chicago hosts a concert performance every summer, featuring cast members from the upcoming season's productions. The pavilion seats 11,000, but visitors can also bring a picnic and blanket and settle down on the Great Lawn for a more relaxed experience.
PLAN YOUR TRIP: Visit Fodor's Chicago Travel Guide
Afagundes | Dreamstime.com
Read a Book at Harold Washington Library
Located in the South Loop, the Harold Washington Library Center is home to a wide range of exhibits and a 385-seat theater. The building, which is the Chicago Public Library's main branch, opened in 1991 and was designed by Thomas Beeby. It has a grand lobby with marble floors and elaborate ceiling designs, but the real stunner is the Winter Garden—known as the building's architectural centerpiece—which has a 53-foot glass-paneled dome and marble floor. Go to take in the scenery, read one of the more than two million books, or admire the center's public art collection.
PLAN YOUR TRIP: Visit Fodor's Chicago Travel Guide
Todd Rosenberg
Laugh at Second City Improv Shows
Watch the next Tina Fey, Steve Carell, or Stephen Colbert after hours at this famous Chicago theater company. Known for sending numerous comedic actors along to successful careers at Saturday Night Live and beyond, you can get all the laughs you want without paying for a ticket. Every night (except for Fridays), you can enjoy free, one-hour improv sets offered after The Second City mainstage performances.
PLAN YOUR TRIP: Visit Fodor's Chicago Travel Guide
Adam Alexander Photography / Choose Chicago
Enjoy Free Entertainment at the Chicago Cultural Center
Sometimes referred to as the "People's Palace," the Chicago Cultural Center is home to the largest Tiffany stained-glass dome in the world. The architectural masterpiece, featuring a Carrara marble lobby and large windows, opened in 1897 and hosts more than 700 free exhibits, screenings, performances, and lectures every year. Visitors can take a free 45-minute tour of the building on Wednesdays, Fridays, and Saturdays at 1:15 pm.
PLAN YOUR TRIP: Visit Fodor's Chicago Travel Guide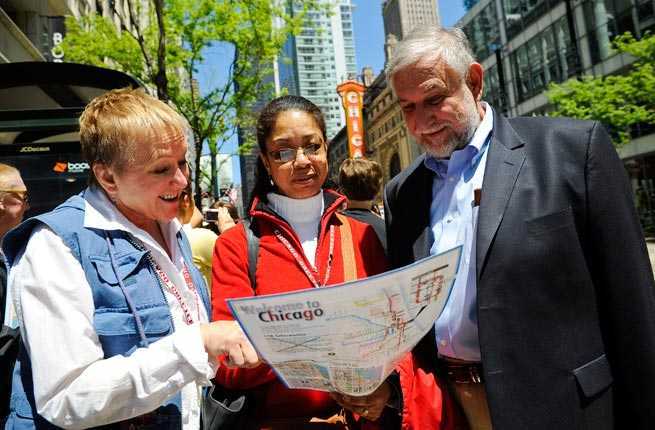 Courtesy of Choose Chicago / Chicago Greeter
Tour the City With Chicago Greeter
Learn about the Windy City from a local by taking a free, two- to four-hour guided tour with Chicago Greeter. Visitors need to register at least 10 days in advance on the website, where they can then select which neighborhoods they'd like to explore and mark specific interests they have (such as the Great Chicago Fire, Latin Chicago, or theater), for a truly customized tour experience. If you want a more spontaneous sightseeing excursion, you can take part in the InstaGreeter program for a one-hour tour (no registration required) on Fridays, Saturdays, and Sundays.
PLAN YOUR TRIP: Visit Fodor's Chicago Travel Guide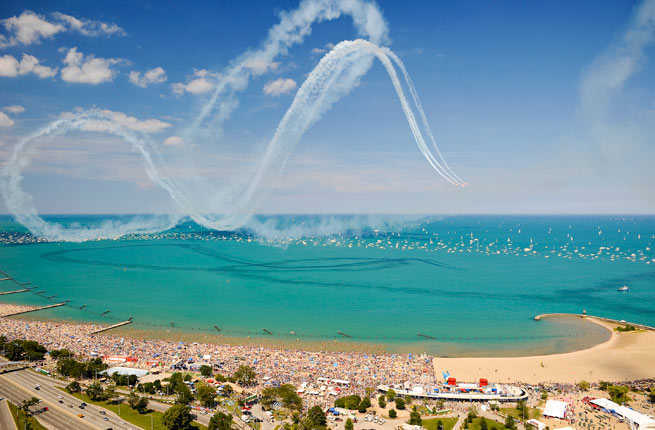 Courtesy of City of Chicago / Choose Chicago
Gawk at the Chicago Air and Water Show
More than two million spectators line Lake Michigan every year to see this free, two-day spectacular in August. The Chicago Air & Water Show is the largest and oldest free air and water show in the U.S. Listen to the legendary Herb Hunter, who's announced the show for the last 20 years, narrate as performers take to the skies and waters with their best tricks. In past years, the U.S. Army Parachute Team Golden Knights, the U.S. Coast Guard, and the U.S. Navy Blue Angels have all performed. Grab a spot on North Avenue Beach from Fullerton Avenue to Oak Street for prime viewing.
PLAN YOUR TRIP: Visit Fodor's Chicago Travel Guide
Courtesy of City of Chicago
Attend Various Festivals Like the Printer's Row Lit Festival and Chicago Blues Festival
Chicago is home to a number of entertaining festivals throughout the year. In June, head to Printer's Row along Dearborn Street for the largest free outdoor literary event in the region. The Printer's Row Lit Festival features book signings, speakers (Rachel Ray, John Green, and Judy Blume have all attended in the past), and readings. Visitors should reserve free tickets to events in advance online, but some standby tickets are available day-of as well. That same month, Chicago hosts the largest free blues festival in the world. The Chicago Blues Festival lasts for three days and has featured the legendary B.B. King, Buddy Guy, and Etta James in past years. The city's Taste of Chicago draws more than three million people to Grant Park each July and features free musical performances, if you don't feel like spending on food tickets. From June through September, more than 40 bands take the stage at the Spirit of Music Garden in for the SummerDance Festival. Visitors head to the open-air dance floor for pre-show dance lessons in a variety of different styles before each performance.
PLAN YOUR TRIP: Visit Fodor's Chicago Travel Guide
Courtesy of the Smart Museum of Art
Explore the Several Musuems, Including the Jane Addams Hull-House Museum
While most of the big-name Chicago museums have free visit days for Illinois residents, you can have free admission year-round at some of these lesser-known institutions. Explore an original settlement house dating back to 1889 at the Jane Addams Hull-House Museum, with a rotating crop of exhibits and film screenings throughout the year. The National Museum of Mexican Art is a hidden treasure in Pilsen, with a 7,500-piece permanent collection that dates back 3,000 years. The Museum of Contemporary Photography, founded by Columbia College Chicago, regularly displays work produced by up-and-coming national and international artists, and it is home to the Changing Chicago Project—photographs recording city life taken by 33 commissioned photographers. The University of Chicago's Smart Museum of Art opened in 1974 and has a collection of ancient, modern, and contemporary art from around the world, including work from Frank Lloyd Wright and Henry Moore. And the DuSable Museum of African American History offers free admission on Sundays to any visitor. This Washington Park-housed museum is the only one of its kind in the country and includes letters from W.E.B. DuBois, handwritten lyrics from Motown performers, and a number of rotating exhibits.
PLAN YOUR TRIP: Visit Fodor's Chicago Travel Guide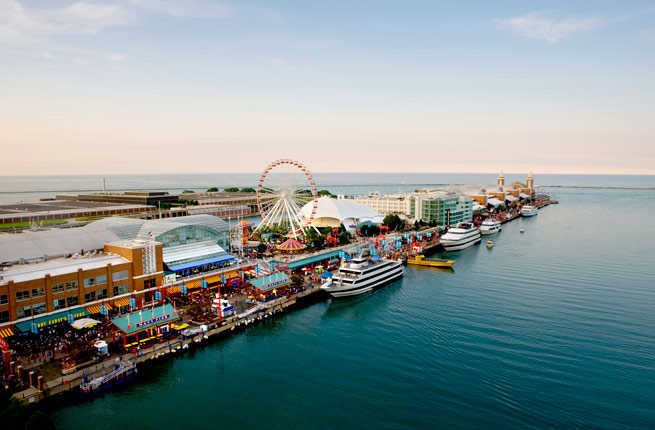 Courtesy of Choose Chicago
Located right on Lake Michigan, Navy Pier not only provides visitors with stunning lakefront and skyline views, but it also has a number of free activities offered year-round. The winter is filled with Snow Days Chicago, a snow-sculpting competition that draws professional teams from around the world, and the Neighborhoods of the World tribute, featuring performances from members of Chicago neighborhoods. During the warmer months, head to the Landshark Beer Garden to enjoy live musical entertainment.
PLAN YOUR TRIP: Visit Fodor's Chicago Travel Guide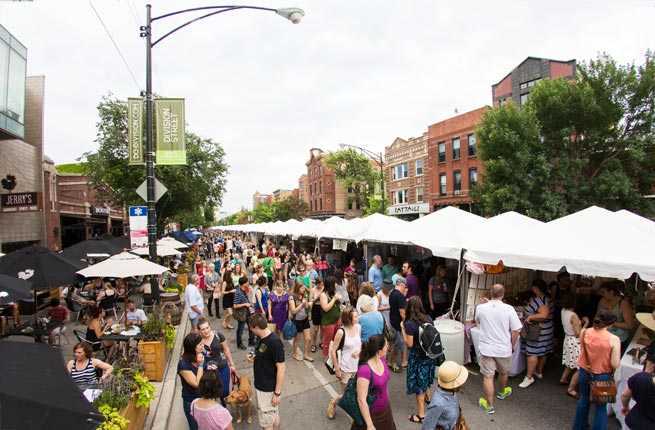 Adam Alexander Photography / Choose Chicago
Explore Neighborhood Festivals in Humboldt Park and Wicker Park
Every year, more than 400 festivals occur in neighborhoods throughout the city. Each one highlights unique characteristics of the different parts of Chicago, with special themes, traditions, music performances, and food offerings. No need to pick and choose—visit them all from June through November. Highlights include the Fiestas Puertorriqueñas (Puerto Rican Festival) in Humboldt Park, the Green Music Festival in Wicker Park, and the Fiesta del Sol in Pilsen.
PLAN YOUR TRIP: Visit Fodor's Chicago Travel Guide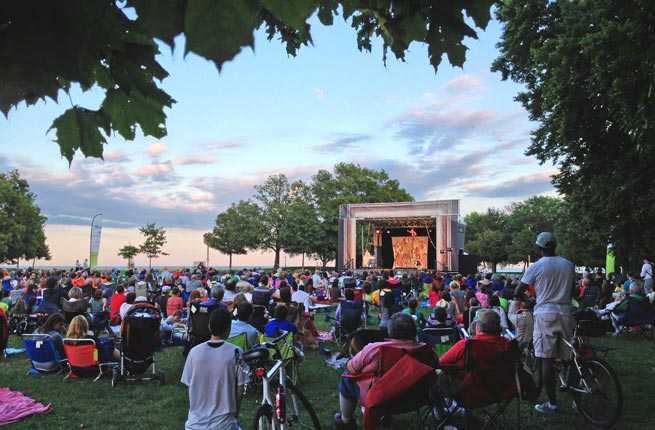 Julie Stanton
Watch Shakespeare in the Parks
Members of Chicago Shakespeare Theater take the stage at 18 different parks throughout the city each summer to perform a new production. From their home base at Navy Pier, to Tuley Park in Chesterfield, to Loyola Park in Rogers Park, the company brings their own stage to the different destinations to perform for audiences of all ages.
PLAN YOUR TRIP: Visit Fodor's Chicago Travel Guide
Blueelephant | Dreamstime.com
Cool Off at North Avenue Beach and Oak Street Beach
Contrary to popular belief, Chicago weather does get hot. When it does, take your pick from the collection of public beaches along 26 miles of scenic lakefront. North Avenue Beach and Oak Street Beach tend to be the most popular in the city, but all beaches are open from Memorial Day through Labor Day. The Oak Street location stretches just over a mile and has the largest span of deep-water swimming. The North Avenue beach holds volleyball courts and a path along the lake for bikers and joggers. For a change of scenery, head to the 57th Street Beach, where you can admire Promontory Point and the skyline, and dip into the water across from the Museum of Science and Industry.
PLAN YOUR TRIP: Visit Fodor's Chicago Travel Guide
Adam Alexander Photography / Choose Chicago
Admire the Navy Pier Fireworks
Fireworks aren't just for Fourth of July celebrations in Chicago. From Memorial Day weekend through Labor Day, Navy Pier hosts fireworks twice every week, with additional shows added throughout the season. The lights show is synched with music, so if you want to get close enough to hear, watch from the pier. You can also catch great views of the sky by heading south to Buckingham Fountain.
PLAN YOUR TRIP: Visit Fodor's Chicago Travel Guide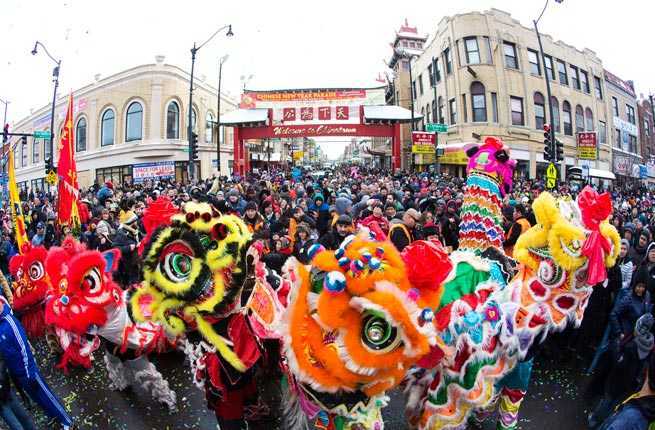 Adam Alexander Photography / Choose Chicago
Join the St. Patrick's Day Parade or the Chicago Pride Parade
No matter the season, there's usually a reason to celebrate in Chicago. In March, one of the biggest St. Patrick's Day Parades in the country winds its way up Columbus Drive. Before the parade even starts, head to the Chicago River to watch the water turn a bright shade of green during the annual dyeing ceremony. In November, the city hosts the Magnificent Mile Lights Festival, featuring elaborate floats, Mickey Mouse and Minnie Mouse as grand marshals, and a tree-lighting ceremony at the end. Over the summer, head to North Halsted Street (between Belmont Avenue and Grace Street) for the best views at the Chicago Pride Parade, which features more than 200 floats, cars, and participating groups. Various neighborhoods host additional parades that you can attend throughout the year, including the Mexican Independence Day Parade in Pilsen, the North Halsted Halloween Parade, and the Chinatown New Year Parade. You can always pull a Ferris Bueller and join right in.
PLAN YOUR TRIP: Visit Fodor's Chicago Travel Guide
Adam Alexander Photography / Choose Chicago
Ice Skate Around the City at McCormick Tribune Ice Rink
If you bring your own skates, you can head to the McCormick Tribune Ice Rink at Millennium Park or the Maggie Daley Park Skating Ribbon for free ice skating during the winter. From November through March, "the Bean" is your backdrop as you skate around the McCormick Tribune Rink off of Michigan Avenue. If you need to brush up on your skills, you can attend free lessons on Fridays, Saturdays, and Sundays before the rink opens. Maggie Daley Park offers a more unique skating experience, with a track that takes visitors through a winding, quarter-mile path with stunning skyline views.
PLAN YOUR TRIP: Visit Fodor's Chicago Travel Guide
Celebrate the Season at Christkindlmarket
This festive German marketplace is the perfect location to soak up some holiday spirit. Inspired by the Christkindlesmarkt in Nuremberg, Germany, the Chicago version of the festival dates back to 1996. From November through December, visitors can admire the handmade crafts (more than half of the vendors travel from Germany to Chicago to participate each year), take pictures by the giant Christmas tree in Daley Plaza, watch the lantern parade on St. Martin's Day, and listen to live music.
PLAN YOUR TRIP: Visit Fodor's Chicago Travel Guide