Presenting a royal flush of the world's greatest theme parks complemented by a flourishing roster of family-oriented activities, it's no wonder that Orlando has surpassed New York City as the most visited city in the country (62 million visitors to Orlando in 2014). For those considering a trip this winter, these newly minted attractions make the case even more convincing as incredible heights are now attainable on a new landmark, a Star Wars attraction brings fans even closer to the Force, and an Iron Chef sets up shop in triumphant fashion. With an average 236 days of sun annually, Orlando promises balmy days of fun this winter. —Zachary Laks
Courtesy of SEA LIFE Orlando Aquarium
Sea Life Orlando Aquarium
A kaleidoscope of colors wows families as 5,000 sea creatures explore their new habitats at the SEA LIFE Orlando Aquarium, set in I-Drive 360. Plan to spend the better part of an afternoon exploring the attraction, as all ages delight at the close encounters with the aquarium's sharks, Green Sea turtles, and jellyfish. With an emphasis on education and conservation, the Sea Life Aquarium's exhibits are playful and informative, with fun features that include a 360-degree ocean tunnel and a children's soft play area.
PLAN YOUR TRIP: Visit Fodor's Orlando Travel Guide
Courtesy of Universal Orlando Resort
The Wizarding World of Harry Potter
From boy wonder to theme park phenomenon, Harry Potter has triumphantly arrived in Orlando by way of The Wizarding World of Harry Potter. Thrilling Muggles since 2010 with the impeccably-themed Hogsmeade at Universal's Islands of Adventure, incredible demand for more Potter brought 2014's Diagon Alley, a new extension accessible only by the Hogwarts Express (arriving on Platform 9¾, of course). Among the highlights of the two lands, Diagon Alley's Harry Potter and the Escape from Gringotts is a flagship attraction, taking riders on a 3-D steel coaster through detailed sets, physical effects, and stunning video sequences.
PLAN YOUR TRIP: Visit Fodor's Universal Orlando Travel Guide
Courtesy of Disney
Opening this past September, Disney Springs welcomes its newest flagship restaurant, Morimoto Asia, a gourmand destination for the finest in sushi and fresh takes on Pan Asian cuisine. Created by the master himself, Iron Chef Masaharu Morimoto, marvel at the prep and masterful pairing of flavors in the custom-crafted sushi rolls with exotic offerings that include Japanese red snapper, uni, and sea eel. More traditional Asian cuisine excites taste buds with a menu that includes dim sum plates, Morimoto's indulgent spare ribs, and orange chicken. Packed nightly, reservations are accepted and highly recommended, accepted from 180 days prior to your visit – a culinary experience that's worth the wait.
PLAN YOUR TRIP: Visit Fodor's Walt Disney World Travel Guide
Chip Litherland; Courtesy of LEGOLAND Florida Resort
Legoland's Heartlake City and Legoland Florida Resort Hotel
Only four years old, LEGOLAND Florida continues to expand its 150 acre property with this past summer's new land, Heartlake City and the new LEGOLAND Hotel. Based on the LEGO Friends toy series, Heartlake City brings a girl-focused experience to the park, with attractions that include Mia's Riding Adventure, a rotating disc coaster featuring horse shaped seats, as well as the new Friends to the Rescue live stage show. As for the new LEGOLAND Hotel, Lego construction is always underway as activities include the chance to learn from a LEGO Master Builder in a special workshop, nightly LEGO building competitions, as well as nightly visits from LEGO characters, a pajama party, and movie screenings.
PLAN YOUR TRIP: Visit Fodor's LEGOLAND Florida Travel Guide
Courtesy of Orlando Eye
Get the best lay of the land and the region's theme parks as you ascend to the heights of one of Orlando's newest attractions, The Orlando Eye. Only fifteen minutes from Walt Disney World and Universal Studios Orlando, the 400-foot Ferris wheel anchors I-Drive 360, Orlando's new $250-million family entertainment destination. The wheel's thirty high-tech capsules complete a rotation every thirty minutes. Apple iPad Air tablets onboard help to locate points of interest throughout the trip which include the nearby theme parks, scenic landscapes, and visibility of more than fifty miles east to Cape Canaveral and the coast of the Atlantic. A hot new attraction on the Orlando scene, be sure to book tickets ahead of your visit as time slots can sell out.
PLAN YOUR TRIP: Visit Fodor's Orlando Travel Guide
Courtesy of Disney
Fire up your lightsaber and prepare for incredible access to the Star Wars galaxy with Disney World's newest attraction, Star Wars Launch Bay. Serving as the new hub for the park's Star Wars craze and capitalizing on the timing of the record-breaking new film, Star Wars: The Force Awakens, this walk-through attraction features an immersive world of replica props, models, and costumes that have become treasured artifacts of cinematic history. A ten minute featurette in the Launch Bay Theater takes fans on a behind-the-scenes look at the creation and inspiration of the Star Wars films including interviews with cast members, directors, writers, and more who've played a part in bringing the iconic films to the silver screen.
PLAN YOUR TRIP: Visit Fodor's Disney's Hollywood Studios Travel Guide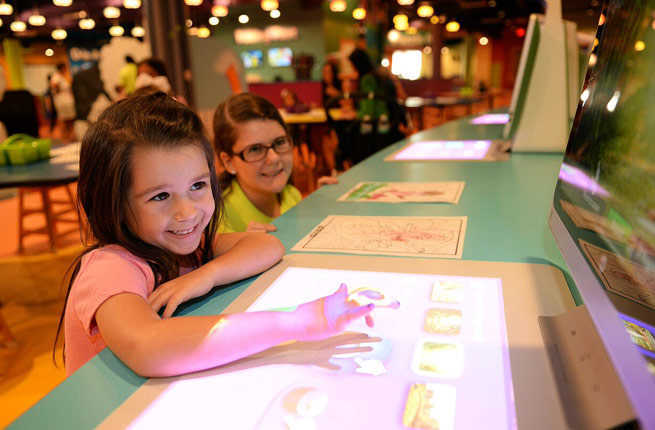 Courtesy of Crayola Experience
Spend an afternoon exercising your right-brain as creativity runs wild at the Crayola Experience, a 70,000-square-foot haven of color that arrived in Orlando this past summer. An overwhelming twenty five interactive stations extend throughout the two floor center. Don't miss the younger set's favorite: You Design, a virtual studio for coloring and digitally accessorizing a car or fashion wardrobe before watching the personal design make its debut on a large projected screen. Also be sure to make it a priority to check out the Crayon Factory, where live demonstrations show the crayon creation process from wax to wrapper.
PLAN YOUR TRIP: Visit Fodor's Orlando Travel Guide
Courtesy of Disney
Retooling Downtown Disney into the newly christened Disney Springs, The BOATHOUSE arrives as a contemporary and upscale seafood eatery on the waterfront. The fresh seafood and appetizing entrees take a back seat to the restaurant's main attraction, amphicar tours. Vintage retrofitted vehicles offer the chance for a one-of-a-kind tour of Disney Springs as the vessel's four wheels submerge underwater and a propeller jet glides riders throughout the lake. The tour costs $125 which includes a Car Captain and seating for up to three guests. Before and after dinner, you'll want to be sure to make time to explore the restaurant's impressive fleet of nineteen rare boats throughout the premises, with some featuring custom table arrangements in the dining room for a most nautical experience on land.
PLAN YOUR TRIP: Visit Fodor's Walt Disney World Travel Guide
Courtesy of Disney
DISNEY'S POLYNESIAN VILLAS & BUNGALOWS
Enjoy the nightly fireworks of Disney's Magic Kingdom from the comforts of your private plunge pool on the deck of your bungalow (with the music of the show piped in through outdoor speakers on the deck!), one of the newest lodging options offered at Disney's Polynesian Villas & Bungalows. Taking a page from the picture-perfect overwater retreats of the South Pacific, Disney has built twenty overwater Bora Bora Bungalows, the first of their kind in the US, on the Seven Seas Lagoon. With rates that start at $2,137 per night, guests can expect accommodations for up to eight, with a full kitchen and dining table that seat eight.
PLAN YOUR TRIP: Visit Fodor's Walt Disney World Travel Guide
Courtesy of WinterClub Recreation Indoor Ski & Snowboard
WinterClub Indoor Ski & Snowboard
Proof that heading south doesn't cancel out winter sports, opt for the truly unique experience of skiing and snowboarding in shorts and a t-shirt at Orlando's WinterClub Indoor Ski & Snowboard. Having opened just a few weeks ago, the region's first and only indoor ski center welcomes ski and snowboarding enthusiasts at all levels to come practice and play on their high-tech "endless slopes." WinterClub's interactive Ski Simulator fuses high-definition large video wall ski runs with a unique chassis that allows skiers to experience the same G-force effects as they would skiing in real life.
PLAN YOUR TRIP: Visit Fodor's Orlando Travel Guide