Brude Damonte
When you first arrive in San Francisco, you will want to check certain things off your list: crossing the Golden Gate Bridge, visiting Alcatraz, Chinatown, and even Fisherman's Wharf. But after the first trip or second or third, then what? It turns out there are many things that are well worth discovering but that remain under the radar, even for locals. Here are 23 of our favorites.—Amy Sherman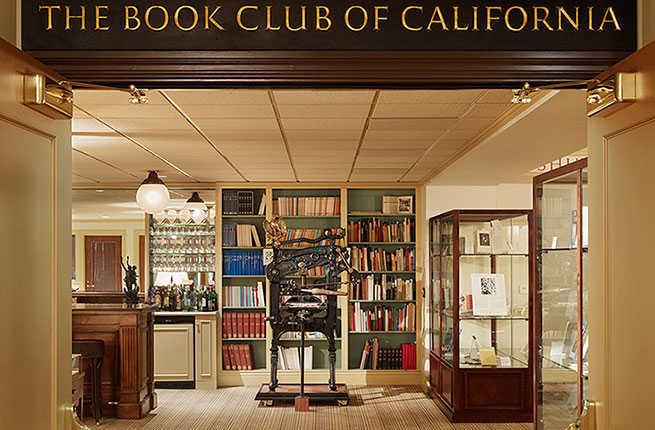 Matthew Millman
Visit the hidden Book Club of California
Imagine a secret haven for book lovers tucked away in downtown San Francisco. Meet the Book Club of California. Past the inconspicuous entrance is a library as well as a clubroom with cozy chairs, a fireplace, and a bar. The club has a collection of more than 10,000 volumes and ephemera. Many of the books are about the history of California and the evolution of printing in the state, as well as plenty of books and materials about books. You don't have to be a member to attend their frequent Monday night events and exhibitions, including a popular annual Christmas card exhibit.
PLAN YOUR TRIP: Visit Fodor's San Francisco Guide
Courtesy of Pier 24 Photography, San Francisco
Check out Pier 24 photography
San Francisco is a city that inspires photographers and photography collectors. Pier 24, just beneath the Bay Bridge along the Embarcadero, is home to world-class photography exhibitions. Nondescript from the outside, the remodeled building provides a fantastic space for displaying photography of all sizes and styles, and exhibitions are generally open for several months at a time. Admission is free but by reservation only.
PLAN YOUR TRIP: Visit Fodor's San Francisco Guide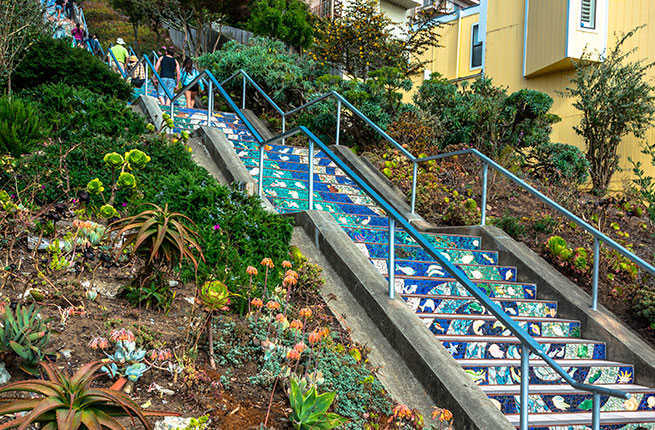 Pikappa | Dreamstime.com
Climb the 16th Avenue tiled steps
San Francisco is known for hills–and with hills come stairs. While some are quite famous, the 16th Avenue steps are relatively unknown. Located on Moraga Street between 15th and 16th Avenues, the steps are covered in 163 mosaic panels. About 300 neighbors worked on this beautification project, led by artists Aileen Barr and Colette Crutcher, that features fanciful swirls of birds, fish, and other animals. At the top of the steps is Grandview Park, which does indeed provide a "grand view" of the city.
PLAN YOUR TRIP: Visit Fodor's San Francisco Guide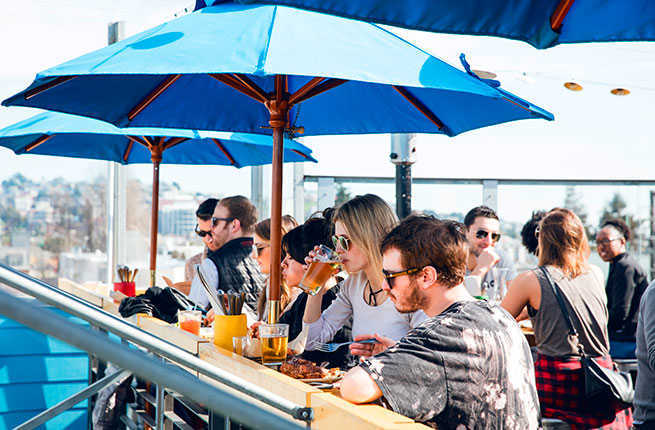 Aubrie Pick
Lounge at El Techo de Lolinda rooftop bar
Rooftop bars aren't all that common in San Francisco, but El Techo de Lolinda in the Mission is an exception. The retractable roof and heat lamps keep roof dwellers warm while enjoying cocktails, delicious street-style food, and panoramic views of the city. A great place to start or end your evening, the kitchen is open until at least 10 pm every night of the week, and the bar stays open even later.
PLAN YOUR TRIP: Visit Fodor's San Francisco Guide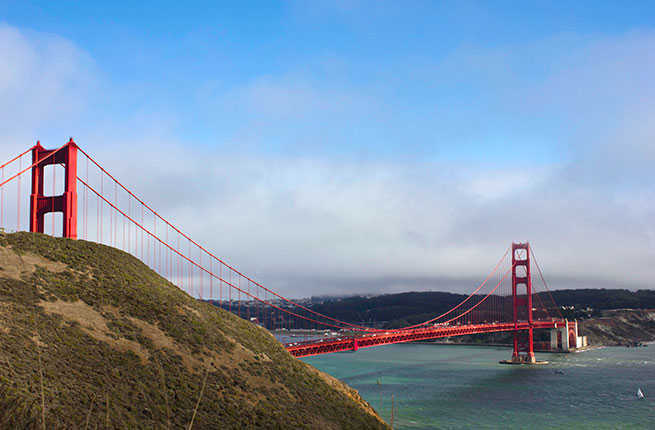 Greta6 | Dreamstime.com
Take A Walk in nature at the Presidio
You don't have to get out of the city to enjoy the great outdoors; there are plenty of trails in the Presidio. One good choice for about an hour-long hike is the 2½-mile Bay Area Ridge Trail, which runs from the Arguello Gate to the Golden Gate Bridge. You'll pass through a forest to three scenic overlooks, and also see Spire, artist Andy Goldsworthy's 100-foot sculpture made of Monterey cypress tree trunks.
PLAN YOUR TRIP: Visit Fodor's San Francisco Guide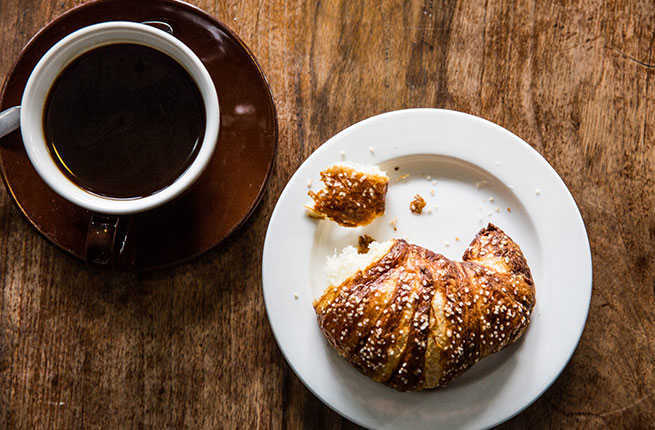 Aubrie Pick
Sit in the cafés of Hayes Valley
A mecca for dining and shopping, Hayes Valley has several destination-worthy cafés. Artis Coffee features coffee roasted in small batches on demand for coffee connoisseurs. After ordering at the counter at Arlequin Cafe, head back to a wonderful garden hidden from street view. For something even more leisurely, step into the old-world charm of 20th Century Cafe for beautifully composed salads, scrumptious pierogis, or a slice of divine nine-layer honey cake.
PLAN YOUR TRIP: Visit Fodor's San Francisco Guide
Slickspics | Dreamstime.com
Take a day trip to Fruitvale for the taco trucks
A short ride from San Francisco on BART leads to the Fruitvale Station in Oakland. This neighborhood is ground zero for tacos, all within walking distance of the station. Plot out a map on International Boulevard: head to Mariscos La Costa at 3624 International Blvd. for seafood tacos and ceviche; either Mi Grullense truck at 2925 International Blvd. for lengua tacos; Tacos El Grullo on 27th Ave. just up from International Blvd. for carnitas, tripas, or cabeza; and Taqueria Sinaloa at 2138 International Blvd. for suadero or camerones tacos. Still hungry? You'll find barbacoa tacos at Pipirin at the corner of 34th Ave. and Farnam St.
PLAN YOUR TRIP: Visit Fodor's Oakland Guide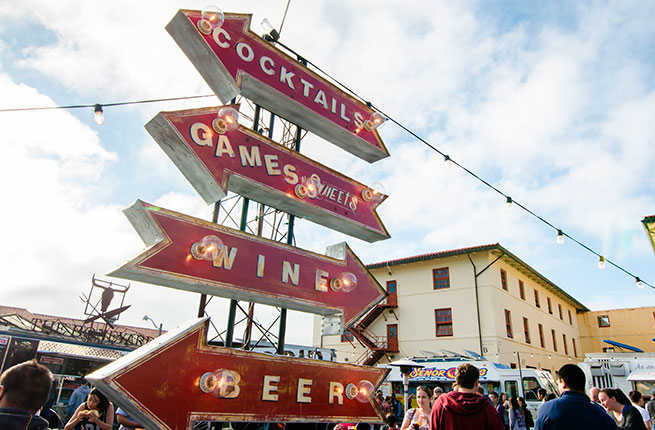 Tkay | Dreamstime.com
Visit the locals' favortie farmers' markets
The busy farmers' market at the Ferry Building attracts chefs early on and tourists later in the day—the results are crowds and lines. But the city is filled with other local neighborhood farmers' markets. Two particularly good ones are the Fort Mason market on Sundays, which has plenty of organic produce and prepared food, and the Heart of the City market on Sundays and Wednesdays, where you'll find a good selection of Asian foods and specialty produce. These are markets where you will not only find locals shopping but you can chat with farmers if you like.
PLAN YOUR TRIP: Visit Fodor's San Francisco Guide
Courtesy of The Roxie
Catch a movie at a vintage theater
Independent movie theaters are a dying breed, but San Francisco has several that often host speakers and independent film festivals with niche themes like "Food & Farm Festival" at the Roxie and the "Mostly British Festival" at the Balboa. They're funky but full of character—unlike the more common sterile megaplexes.
PLAN YOUR TRIP: Visit Fodor's San Francisco Guide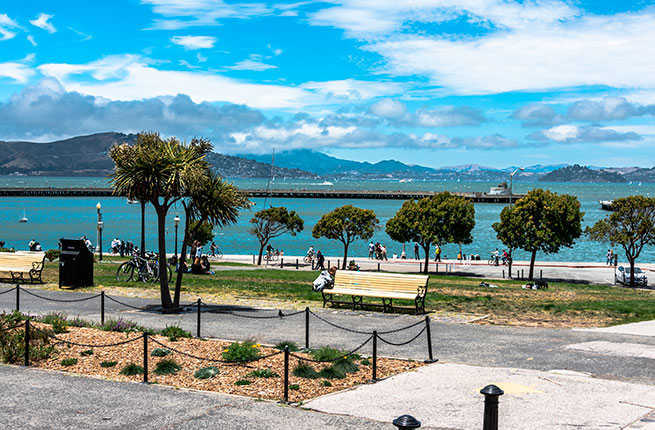 Pikappa | Dreamstime.com
Enjoy the beach at Aquatic Park
San Francisco may be surrounded by water, but it's not really thought of as a beach town. But Aquatic Park Cove, right in front of the Maritime Museum, is an idyllic spot for gazing at the bay or digging your toes in the sand. As a bonus, you'll have a great view of the historic ships at the Hyde Street Pier.
PLAN YOUR TRIP: Visit Fodor's San Francisco Guide
Eddie Hernandez
If you want to meet and mingle with locals, San Francisco offers several good opportunities. To rub elbows with both locals and some VIP types at restaurants, check out Nommery. They hold dinners with local CEOs, entrepreneurs, start-up movers and shakers, and more. In the Mission, 18 Reasons is a nonprofit that hosts community dinners once a month. These themed dinners cost only $10 per person, with wine and beer available at an additional charge. Another option, EatWith, allows you to dine at the home or special event space of a local chef or talented home cook. Check out the menus and venues, and read the diner reviews to find something that appeals to you.
PLAN YOUR TRIP: Visit Fodor's San Francisco Guide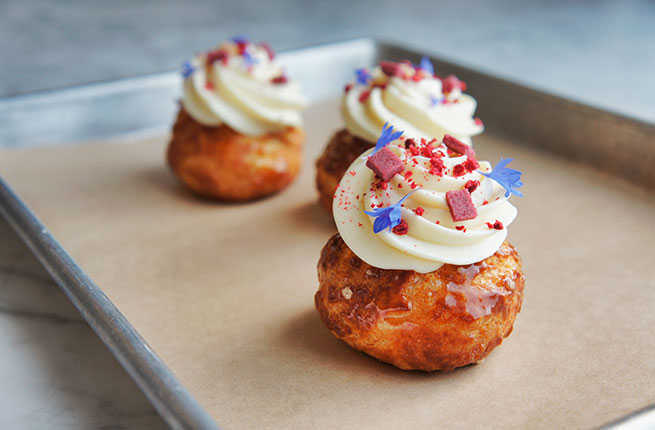 Brude Damonte
Taste the sweets of the Mission
The Mission is a great place to take a dessert trek. Instead of standing in line at Tartine Bakery, go directly to Sixth Course for their chocolate bonbons and luscious ice cream treats. Next, head to Dandelion Chocolate, a bean-to-bar chocolate maker offering confections and a view of a chocolate factory in action. Buy some bars and don't miss their rich hot chocolate or cacao fruit smoothie. Just next door is Craftsman and Wolves, a modern and inventive pastry shop with twists on classic cakes, croissants, and muffins that will surprise and delight you. They also have a small selection of candies, jams, and marmalades to take home.
PLAN YOUR TRIP: Visit Fodor's San Francisco Guide
The Alemany flea market takes place every Sunday year-round, rain or shine. Most of the vendors sell antiques and vintage items. It's a particularly good place to look for old cameras, costume jewelry, furniture, and housewares. Because it's much smaller than other Bay Area flea markets, it often gets overlooked. On Saturdays, the same spot is used for a farmer's market.
Another fun (and much larger) flea market is held monthly on Treasure Island. The Treasure Island flea features hundreds of vendors, craftspeople, artists, plenty of free parking, food trucks, and live entertainment.
PLAN YOUR TRIP: Visit Fodor's San Francisco Guide
Stroll through Cayuga Park
Located in the Outer Mission, Cayuga Park features trails, picnic areas, a basketball court, clubhouse, playground, tennis court, and turf. The highlights of the park, however, are the themed gardens filled with folk art wood sculptures of whimsical creatures created by a former gardener, Demitrios Braceros.
PLAN YOUR TRIP: Visit Fodor's San Francisco Guide
Scott Chernis
One of the best hikes in San Francisco takes you along the Land's End Coastal Trail. The project took seven years to complete and involved restoring habitat, improving forest health, creating overlooks and vistas, enhancing trail experiences, and building a new visitor center. The trail is about 3 miles long and provides views of the beach and Lobos, Black Head, and Pyramid Rock formations, the Point Bonita lighthouse in the Marin Headlands, not to mention a breathtaking view of the Golden Gate Bridge. When it's low tide at Eagle Point, you may even see evidence of the wreckage from the ships that have run aground over the years. Keeps your eyes open for the stone labyrinth as well.
PLAN YOUR TRIP: Visit Fodor's San Francisco Guide
Picnic with view of the bridge at the Warming Hut
Walking over the Golden Gate Bridge can be a blustery experience, but head down to sea level and you'll find a port in the storm. At the Warming Hut, site of both a café and bookstore/gift shop, you can get something warm to drink and a bite to eat while you browse for souvenirs and escape the elements. It's also a perfect starting spot for viewing the bridge, having a picnic, or exploring the waterfront.
PLAN YOUR TRIP: Visit Fodor's San Francisco Guide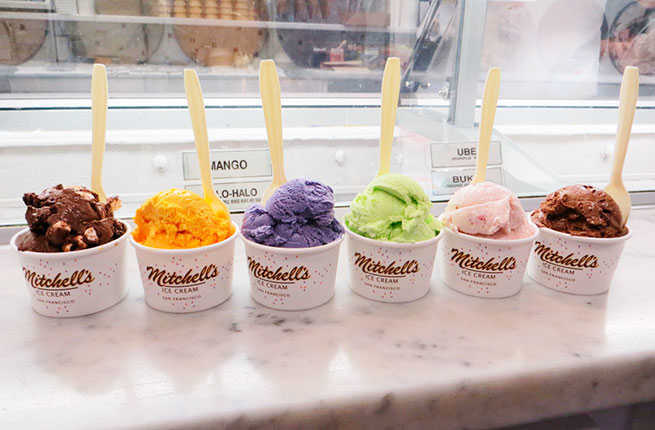 Courtesy of Mitchell's Ice Cream
Sample exotic ice cream at Polly Ann or Mitchell's
San Francisco is filled with hip ice cream shops with wild flavors, but two of the older shops (both open for over 50 years) stand out for their unusual offerings as well. Polly Ann Ice Cream has ice cream flavors like Thai tea, durian, taro, and red bean. Mitchell's offers tropical flavors including avocado, langka, lucuma, ube, and buko. Not sure which to choose? Try a taste!
PLAN YOUR TRIP: Visit Fodor's San Francisco Guide
Courtesy Creativity Explored
Explore unique art galleries
The Mission may be gentrifying, but that doesn't mean it doesn't still hold allure for arts and artists. Start at Creativity Explored, a gallery and studio dedicated to providing artists with developmental disabilities the means to create, exhibit, and sell their art. Next up is 500 Capp Street, the former home of conceptual artist David Ireland. The house is not a museum with gallery space but also a work of sculptural art in its own right; reservations for tours are available online. Finally, a peephole museum exists on Savernack Street. Open 24 hours a day! Peer through the reverse peephole to see site-specific exhibitions that range from prints to one-night performance residencies.
PLAN YOUR TRIP: Visit Fodor's San Francisco Guide
You probably expect to hear music in church, but what about jazz? Medieval chants? Classical chamber music? Head to the St. John Coltrane church if you want to jam! They encourage mass attendees to bring their own instruments or to sing, clap, and dance. At the Society of St. John the Apostle, mass is led in Latin and the St. John Gregorian Schola of San Francisco sings Gregorian chants each Sunday and holy day. At St. Mark's you'll hear mostly chamber music performances; links to tickets are on the website. At Old First Church, the classical music performances vary with emerging and established musicians as well as ensembles of different styles.
PLAN YOUR TRIP: Visit Fodor's San Francisco Guide
Mary Destri
Giggle through laughter yoga
Laughter has been shown in medical studies to benefit cardiovascular health and mood, so why not give laughter yoga a try? It's only fitting that this form of yoga, which features deep breathing, stretching, and voluntary laughter, is at the prestigious University of California–San Francisco Medical Center. One-hour classes are free twice a month at UCSF's Osher Center for Integrative Medicine on Divisadero Street, and the schedule is online. It's drop-in and no registration is necessary.
PLAN YOUR TRIP: Visit Fodor's San Francisco Guide
Enjoy the sunshine in a beer garden
The weather in San Francisco is best described as mild, but the fog and breezes can make being outdoors in the summer a chilly experience. On the next sunny day, head to a beer garden. One of the best is Biergarten, an offshoot of the popular German restaurant Suppenküche. It offers a range of Bavarian draft beers as well as sausages, pretzels, and other hearty beer-friendly fare. Another cult favorite is Zeitgeist, which features about 40 beers on tap plus barbecued burgers and brats. A seasonal option is the newly opened beer garden at Ghirardelli Square, which runs Memorial Day through Labor Day.
PLAN YOUR TRIP: Visit Fodor's San Francisco Guide
Take a spin around the Church of 8 Wheels
You haven't lived until you've roller skated in church. The former Sacred Heart Church is now the Church of 8 Wheels, a bonafide roller disco for holy and not-so-holy rollers. Saturday afternoons are for families, while Friday and Saturday nights are for adults only—with plenty of old-school funk to get your groove on. Skates are available for rent.
PLAN YOUR TRIP: Visit Fodor's San Francisco Guide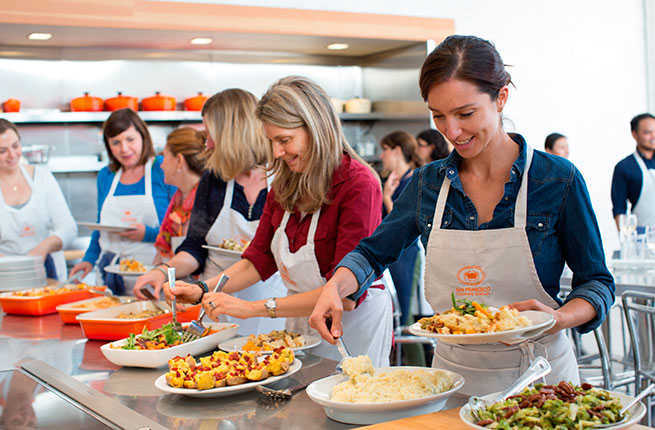 © San Francisco Cooking School
Learn something new and enjoy a great meal! SF Cooking School holds cooking classes during evenings and on weekends and often features local chefs, cookbook authors, and sommeliers. Williams-Sonoma at Union Square and Sur La Table on Union Street also offer fun cooking classes—some even designated for "date night."
PLAN YOUR TRIP: Visit Fodor's San Francisco Guide