You land in San Francisco, rent a car, and roll the windows down. You drive across the Golden Gate Bridge, and as traffic thins, Sonoma comes into sight. This California county isn't only the relaxed, cool cousin of Napa—it is also home to fresh, soulful cuisine. From wineries to oyster bars to restaurants to farms, Sonoma County offers dining experiences that rival the quality of its wines. Here are 10 of our current favorite places to indulge in Sonoma County, but when the ingredients are this fresh, it hardly feels like indulging at all.
Jessica Colley is a freelance travel and food writer. Follow her on Twitter @jessicacolley.
Adrian Gregorutti
It's a frequent occurrence—you're sipping something lovely at a winery, but there's not a morsel in sight. Ram's Gate Winery solves that problem with style. It feels just as much like a chic restaurant as it does a working winery, with cozy chairs huddled around fireplaces and a refined, relaxed dining room overlooking the vines. After a winery tour and barrel tasting, settling into lunch will make the thought of visiting other wineries fade away. Here, food is paired with wine (not the common opposite), with an on-site chef designing dishes to highlight the wines. Picnics by the pond are also available.
PLAN YOUR TRIP: Visit Fodor's Napa and Sonoma Travel Guide
Courtesy of Zazu Kitchen + Farm
In Sebastopol, The Barlow is a collection of galleries, restaurants, distilleries, breweries, and more. There are many culinary temptations here, but the place to save your appetite for is the sleek and airy Zazu Kitchen + Farm, where you'll find a menu full of sophisticated cocktails and seasonal, hearty food. The best meals start with black pig bacon caramel popcorn and cocktails. Salumi should come next, maybe with some pickles or a glass of lambrusco. Handmade pastas shouldn't be skipped—try anything with pork ragu. Any main dish with goat is also a must-order.
PLAN YOUR TRIP: Visit Fodor's Napa and Sonoma Travel Guide
Leslie Sophia Lindell
Stone Edge Farm Estate Vineyards and Winery
When visiting wine country, it can be easy to fall into a common trap: moving so quickly between places that they all become a blur. Slow down for Stone Edge Farm, open by appointment only, where you can learn about organic farming and bee keeping before getting your hands dirty with a cooking classic in a gorgeous converted barn. Then, overlooking the vines, sit down to taste the fruits of your labor alongside a glass of Stone Edge Farm Estate Cabernet Sauvignon. This is simply a perfect wine country day.
PLAN YOUR TRIP: Visit Fodor's Napa and Sonoma Travel Guide
For a feel of Sonoma's vintage side, stop into Jimtown, a roadside country store in Alexander Valley with a modern twist. In 1989, a couple from New York restored an abandoned general store, and a Sonoma County institution was born. Visitors can take a picnic to go or eat in the peaceful back patio. Tempting options include a breakfast biscuit sandwich to fill up before a day of wine tastings (baked egg, bacon, cheddar, and spicy pepper jam) or sandwiches like prosciutto, fig and olive spread, and Pt. Reyes blue cheese on a baguette. This classic spot is getting better with age; hospitality is just as important as the fresh ingredients.
PLAN YOUR TRIP: Visit Fodor's Napa and Sonoma Travel Guide
Kelly Puleio
Located on Main Street in Guerneville, Big Bottom Market is an adorable roadside café; here, visitors can grab picnics for a hike through the nearby Armstrong Woods, home to 300-foot-tall Redwood trees. Biscuits come with honey butter (or stuffed with ham and melted cheddar), and sandwiches are fun and interesting, like a Vietnamese veggie sandwich with sriracha or the Colonel Armstrong sandwich with curried chicken salad, currants, cashews, apples, and garlic aioli on warm brioche bread.
PLAN YOUR TRIP: Visit Fodor's Napa and Sonoma Travel Guide
Chris Chowaniec
Some of the best Sonoma dining experiences aren't in restaurants at all. Metes and Bounds, run by Chef Heath Thomson and sommelier Drew Duggan, is a "traveling dining experience" that sets up gorgeous tables between rows of crops on local farms. The five-course menu couldn't be fresher—it is created from the harvest on the farm the day you dine. Local wine, of course, is paired with the dinner. With a limit of 40 guests, this is an intimate experience with the chance to meet farmers and vintners too.
PLAN YOUR TRIP: Visit Fodor's Napa and Sonoma Travel Guide
Hillary Younglove
Much more than just a cute name, Spinster Sisters, located in Santa Rosa, is a restaurant with a match for every appetite. If you only want a snack (like a seasonal pickle plate) or small plates (such as grilled flatbread with baba ghanoush, carrot harissa, and marinated local feta) to go with your glass of local beer or wine, that's just fine, and those with heartier appetites can turn that glass of wine into a bottle and tuck into crispy pork shoulder with white beans, zucchini, and poblanos.
PLAN YOUR TRIP: Visit Fodor's Napa and Sonoma Travel Guide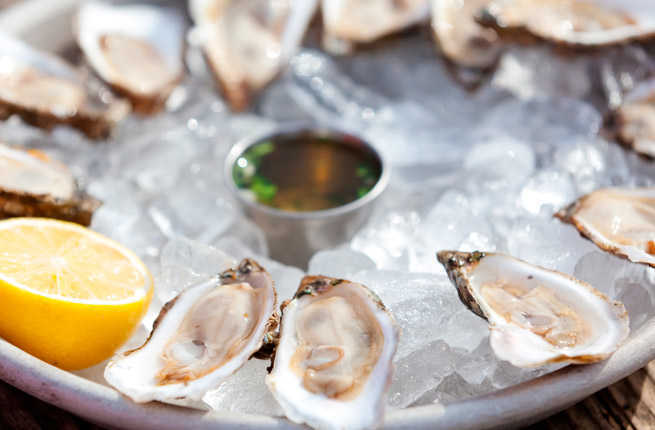 Noblige | Dreamstime.com
A bit of a "Restaurant Row" has been developing in Guerneville, and the Seaside Metal Oyster Bar is a welcome addition to Main Street. Owned by twin brothers Mike and Tim Selvera, of popular Bar Crudo in San Francisco, this seafood-centric spot is ideal for slurping local oysters and clams, devouring crab and lobster, or on a chilly day, warming up over seafood stew and pan roasts. Warning: The cozy, relaxed space will almost certainly induce a spontaneous ordering of another round of a dozen more oysters.
PLAN YOUR TRIP: Visit Fodor's Napa and Sonoma Travel Guide
Courtesy of Pullman Kitchen
A Santa Rosa favorite, Pullman Kitchen serves the kind of California cool cuisine that visitors (especially from colder locales) crave during a visit. The ingredient-driven dishes include fish tacos with avocado, red cabbage slaw, and chipotle aioli or yellowfin tuna salad with golden beets, haricot verts, egg, and olives. Desserts here are especially noteworthy—the chocolate budino for two, with caramelized sugar, almond, and hazelnut biscotti, has our vote.
PLAN YOUR TRIP: Visit Fodor's Napa and Sonoma Travel Guide
Courtesy of Social Club Restaurant and Bar
Social Club Restaurant and Bar
If you want some live music along with your meal, check out Social Club in Petaluma. Known for its whiskey selection and craft cocktail list, this is the spot for rustic, satisfying fare like white cheddar mac and cheese with applewood bacon or country fried chicken with classic potato salad and grilled corn on the cob. Brunch is equally appealing, with big bloody marys, buttermilk biscuits served with whipped honey butter, and smoked short rib hash with poached eggs.
PLAN YOUR TRIP: Visit Fodor's Napa and Sonoma Travel Guide