Courtesy of Pella Historical Society & Museums
As the spring season revs up this year, festivals across the country make celebrities of their green-thumbed citizens. From a town that showcases 4.5 million tulips a year to a remote island filled with lilacs, the country's best spring flower festivals celebrate the season and provide a good reason to stop and smell the roses. —Zachary Laks
Courtesy of Dallas Arboretum
WHERE: Dallas, Texas
When: April
The expansive 66 acres of gardens on the shore of White Rock Lake in east Dallas come to life each spring with great fanfare at the Dallas Arboretum and Botanical Garden. Known as the largest floral festival in the Southwest, Dallas Blooms has been a Texas favorite for over 30 years. Expect to see almost every color imaginable as 500,000 flowers (notably tulips, daffodils, and hyacinths) bloom on the grounds. The six week-long festival gives the Arboretum the chance to rotate their floral arrangements often, depending on what's in bloom each week, so multiple visits are encouraged to appreciate the full scope of botanical variety. And while exploring the gardens, don't pass up the opportunity to indulge in warm bread pudding, a park favorite.
PLAN YOUR TRIP: Visit Fodor's Dallas Travel Guide
Rosemary Showmaker
WHERE: Charleston, Missouri
When: April
The stroll along the 6-mile Dogwood-Azalea Trail for the Dogwood-Azalea Festival is the most beautiful time of year to visit Charleston, Missouri. As evident by the name of the festival, Charleston's three-generation dogwoods and azaleas are the two most prominent plants seen throughout the trail. The festival celebrates the area's many local vendors and merchants who've kept the classic town unique. A visit to the festival offers a colorful insight into the locally-proclaimed "history, hospitality, and tradition" of Charleston, Missouri.
PLAN YOUR TRIP: Visit Fodor's Missouri Travel Guide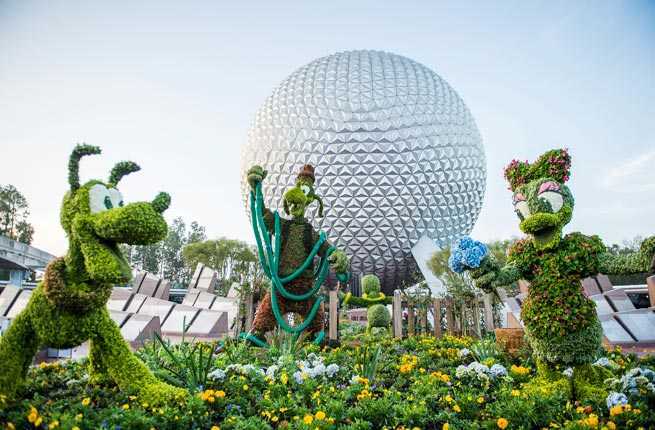 Courtesy of The Walt Disney Co.
Epcot International Flower & Garden Festival
WHERE: Orlando, Florida
When: May
Follow your nose to Epcot as Disney's annual Epcot International Flower & Garden Festival returns, transforming the park into a topiary wonderland. Disney favorites from every era are brought to life through flower sculptures and manicured trees, offering a sensory overload of whimsical fun. Among the many festival activities and entertainment on offer, those interested in learning more about gardening should seek out the Disney horticulturists onsite each weekend, where best gardening practices and inside information on the festival is shared.
PLAN YOUR TRIP: Visit Fodor's Disney World Travel Guide
Courtesy of The Biltmore Company
WHERE: Asheville, North Carolina
When: May
Noted as a Fodor's favorite for its grand and opulent estate tour, the annual Biltmore Blooms brings out the best in the treasured North Carolina estate. Visitor's can spend hours exploring the vast private gardens of the estate, designed to evoke unique hideaways of peace and quiet. Check in with the Biltmore's Bloom Report page where periodic updates about the gardens provide a handy guide to navigating the grounds. You're going to want to stick around for the better part of the day for live music from the bandstand at Antler Hill Village, accompanied by a refreshing ice cream cone from Antler Hill Village's bustling Creamery.
PLAN YOUR TRIP: Visit Fodor's Asheville Travel Guide
Steve Piacente
National Cherry Blossom Festival
WHERE: Washington, D.C.
When: April
As one of the nation's most acclaimed flower celebrations, the National Cherry Blossom Festival ushers spring into the nation's capital with a flourish of pink. Washington, D.C.'s Yoshino cherry trees are a gift that date back to 1912, when Mayor Yukio Ozaki of Tokyo offered trees to the city in an effort to enhance the growing friendship between the U.S. and Japan. The cherry blossom trees grow in three areas of D.C.: the Tidal Basin in West Potomac Park, East Potomac Park (Hains Point), and most notably on the Washington Monument grounds, where weekend crowds swarm for the perfect photo opportunity.
PLAN YOUR TRIP: Visit Fodor's Washington D.C. Travel Guide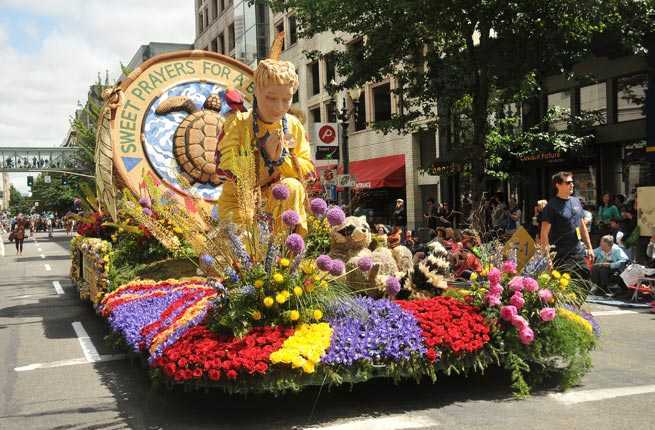 Vern Uyetake
WHERE: Portland, Oregon
When: May – June
The Portland Rose Festival transforms hip Portland into a buzzing center of fun. Marked by three parades throughout its three weekends, the festival is an exclamatory celebration of Portland's roses as well as its high-end local culture. Portland's Spring Rose Show is the largest rose show in the nation and overflows with more than 4,000 blooms renowned for their intricate beauty and rich fragrance. The festival extends throughout the city with a good portion of the events held in the Waterfront district, where the annual CityFair is setup with rides, live music, carnival games, and on-brand deep fried rose petals.
PLAN YOUR TRIP: Visit Fodor's Portland Travel Guide
Steven Blair
WHERE: Mackinac Island, Michigan
When: June
Just an hour south of the Canadian border, Mackinac Island sits in Lake Huron with a population of less than 500 people. A popular destination for day-trippers, the island can swell up to 15,000 people during summer months when the Lilac Festival is in full swing. Originally established as a parade in 1949 to showcase the island's many lilacs, the festival has expanded to a 10- day celebration. The car-free island lends itself well to horse drawn carriage tours, as well as an annual 10K Run & Walk. A multitude of concerts, culinary events, wine tastings, and even a Dog and Pony Show complete the perfect day away at Mackinac Island.
PLAN YOUR TRIP: Visit Fodor's Michigan Travel Guide
Courtesy of Pella Historical Society & Museums
WHERE: Holland, Michigan
When: May
With an eye-popping 4.5 million tulips planted throughout Holland, Michigan, when they say it's Tulip Time, they mean it. As millions of tulips blossom into bursts of color, the town's rich Dutch heritage awakens. Traditional Dutch dancing is a favorite in this old-world town and there's plenty of it as the festival hosts dancing events practically non-stop throughout the weekend. Take in one of the three parades, where participants brave the pavement with wooden clogs and traditional Dutch outfits, before heading to the Marktplaats, to complete the Tulip Time experience.
PLAN YOUR TRIP: Visit Fodor's Michigan Travel Guide
Courtesy of Shenandoah Apple Blossom Festival
Shenandoah Apple Blossom Festival
WHERE: Winchester, Virginia
When: April – May
Shenandoah Valley's springtime Apple Blossom Festival welcomes crowds of over 250,000 people each year to toast to spring as the town's pink-and-white apple blossom trees come to life. Drawing primarily from Washington, D.C., Philadelphia, and Baltimore areas, the Festival ignites the town with a carnival, parades, band competitions, and a fierce on-site apple pie baking competition. And leg warmers and side-ponytails are encouraged, though not required, at the always-popular 80s dance party.
PLAN YOUR TRIP: Visit Fodor's Virginia Travel Guide