Courtesy of Daylight Mind Coffee Company
Procuring quality java while in an unfamiliar city can be a challenge. But even outside of coffee meccas like Seattle and Portland, there are micro-roaster-operated cafes serving up delicious brews from coast-to-coast. Expect to see award-winning baristas tamping espresso, and even the occasional in-store roaster. Whether brewed with a French press or a laboratory-style pour-over, this coffee is worth getting out of bed for. Here are 15 of America's best indie coffee shops—where you may just be sipping the next Big Thing.
By Kristine Hansen
Intelligentsia Coffee
WHERE: Chicago, NYC, and Venice Beach, California
With a history of turning out US Barista Champions, who in turn train most of the baristas, you can be sure your cup of joe is made by the best at Intelligentsia Coffee.  Check out locations on the east coast, west coast, or midwest. Find your new favorite coffee at one of six Chicago cafes (the first opened in 1995), inside New York City's High Line Hotel, or experience the highly individualized brewed-to-order service in Venice Beach (pictured). Try the Black Cat Espresso, a cult favorite among coffee geeks.
Insider's Tip: Choose a seasonal cup of coffee, a new project from Intelligentsia where beans are brewed no more than nine months after harvest.
PLAN YOUR TRIP: Visit Fodor's Chicago, NYC, or Los Angeles Guide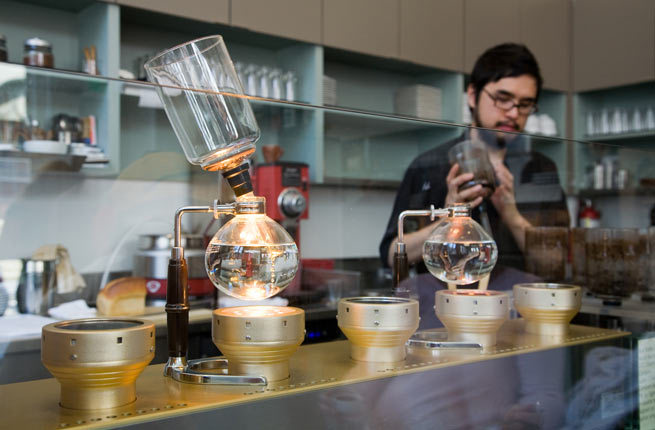 Blue Bottle Coffee Company
WHERE: NYC, San Francisco and Oakland, California
Earlier this year, Blue Bottle Coffee—which started in Oakland in 2001—literally wrote the book on coffee (The Blue Bottle Craft Of Coffee: Growing, Roasting and Drinking, with Recipes). The Big Apple also has this amazing coffee, with a location in Chelsea featuring the Siphon Bar coffee machine and a cafe in Brooklyn with a Kyoto dripper. For west coasters, enjoy your java jolt with fine art at Blue Bottle's location in the San Francisco Museum of Modern Art.
Insider's Tip: For on-the-go java, check Blue Bottle's website for news of farmer's market's stands in New York and California.
PLAN YOUR TRIP: Visit Fodor's NYC, San Francisco or Oakland Guide
Courtesy of George Howell Coffee
George Howell Coffee
WHERE: Newtonville, Massachusetts
In coffee circles, George Howell is considered a god. He buys top-notch beans from farmers he visits around the world, and then freezes the unroasted beans to lock in flavors. His namesake coffee shop, George Howell Coffee, opened in February of 2012, features some incredible flavors and coffees. A weekly pour-over menu highlights the farmer who grew the beans along with altitude, tasting notes, harvest dates, and production methods.
Insider's Tip: Put a European spin on your coffee by drinking it with an ice cream-filled affogato crepe, a Howell creation.
PLAN YOUR TRIP: Visit Fodor's Massachusetts Guide
Courtesy of Stumptown
Stumptown Coffee Roasters
WHERE: Portland, Seattle, Los Angeles, and NYC
Although this once-little roaster now straddles both coasts, Stumptown Coffee Roasters' location at the SE Division Street cafe in Portland, Oregon, is where it all began in 1999. Stop in across town at The Annex for free tastings. Or for New Yorkers, Stumptown's West 8th Street location has both a brew bar and traditional espresso bar. Whichever coast you're on, Stumptown offers a wide array of brewing methods.
Insider's Tip: Stumptown sells brewed coffee in growlers for your cold-press fix.
PLAN YOUR TRIP: Visit Fodor's Portland, Seattle, Los Angeles, or NYC Guide
Courtesy of Brooklyn Roasting
Company
Brooklyn Roasting Company
WHERE: Brooklyn, New York
For coffee brewed from Fair Trade, sustainably grown, certified-organic coffee beans (yes, it's a mouthful), Brooklyn Roasting Company may be be your next caffeine muse. One of their cafes is located on Flushing Avenue at Navy Yard and the central roastery and main cafe is at 25 Jay St. All wholesale orders are delivered on bicycle or in a biodiesel-fueled van. Drop by a brand-new pop-up coffee bar at the Brooklyn Museum—open since early November—and taste for yourself.
Insider's Tip: Bite into a local pastry to further enhance the nuances in your coffee with donuts from Dough or cookies from Brooklyn Fare.
PLAN YOUR TRIP: Visit Fodor's Brooklyn Guide
Courtesy of Saturn Photography
Colectivo Coffee
WHERE: Milwaukee and Madison, Wisconsin
From a single cafe in 1997 to a dozen throughout the Milwaukee area today, Colectivo Coffee's focus on locally produced products has fueled their success. They even employ a full-time coffee buyer to educate customers about where their coffee comes from. Each cafe rocks an industrial-chic, eco-friendly décor. The Lakefront cafe features original machinery inside a former city water-flushing station dating back to 1888.
Insider's Tip: Visit the original location (Prospect Avenue), or the second-newest one in Milwaukee (Bay View) and try a coffee prepared at the pourover bar.
PLAN YOUR TRIP: Visit Fodor's Milwaukee Guide
Courtesy of Daylight Mind Coffee Company
Daylight Mind Coffee Company
WHERE: Kona, Hawaii
Get your java at the source with Daylight Mind Coffee Company. Newly opened, this innovative cafe is the first roaster in Hawaii with a coffee school. Not only can you sip a latte prepared with Kona-grown beans but you can also splurge on Aussie snacks and flaky French pastries. Coffee trees on the property complete the authentic experience.
Insider's Tip: In the future they'll be offering public coffee cupping events and more intense coffee-education classes.
PLAN YOUR TRIP: Visit Fodor's Hawaii Guide
Zoka Coffee Roasters and Tea Co.
WHERE: Japan, Seattle, and Kirkland, Washington
Launched in 1996, Zoka Coffee Roasters is a veteran of the competitive coffee-roaster scene. Visit any of their three cafes in Seattle for more than just a delicious caffeine buzz. Through initiatives like Family Direct Trade (where Zoka pays farmers above market price for hand-selected beans) and small-batch roasting, each cup is born out of love and care.
PLAN YOUR TRIP: Visit Fodor's Japan, Seattle, or Washington Guides
Courtesy of Victrola Coffee Roasters
Victrola Coffee Roasters
WHERE: Seattle
Another Seattle roaster with artisan, single-origin coffee beans is Victrola Coffee Roasters. Of the three Seattle cafes, the East Pike Street location—where the roastery is headquartered inside a former 1920s auto shop—puts you closer to the coffee-making process.
Insider's Tip: Drop in on Wednesdays at 11 am when free coffee cuppings are held.
PLAN YOUR TRIP: Visit Fodor's Seattle Guide
Panther Coffee
WHERE: Miami
Snug in the artsy Wynwood Arts District of Miami, three-year-old Panther Coffee brews their coffee using a roaster dating back to pre-World War II. They also have another locations in Miami Beach. Owners Joel (former roaster at Stumptown) and Leticia Pollock (former trainer at Portland's Ristretto Roasters) source the beans themselves from small coffee farms.
Insider's Tip: Pick up bags (or shots) of East Coast and West Coast Espresso (formulated for preferences of customers on opposite coasts) for a side-by-side tasting.
PLAN YOUR TRIP: Visit Fodor's Miami Guide
Courtesy of Thomas Valdez
Madcap Coffee Company
WHERE: Grand Rapids, Michigan; and Washington DC
Grand Rapids' five-year-old Madcap Coffee Company produces delicious java at their downtown cafe that offers the perfect place to sip your morning brew as you take in the aroma of coffee roasting on-site. This company's urban ambiance is now also at home in the nation's capital with a lab and roastery.
Insider's Tip: Try a cup of the Oktoberfest coffee, a unique seasonal blend of beans from Borana, Ethiopia; and Santa Lucia, Costa Rica.
PLAN YOUR TRIP: Visit Fodor's Washington DC Guide
Courtesy of Handsome Coffee Roasters
Handsome Coffee Roasters
WHERE: Los Angeles
Although open for less than two years, Handsome Coffee Roasters has already built a reputation for delicious coffee. They package small-batch roasted beans into bags that reflect the handicraft that goes into each roast. Handsome Coffee was founded by three experienced coffee-lovers all boasting extensive experience with brands like Intelligentsia Coffee Roasters, Gimme Coffee, Counter Culture Coffee, and Ritual Roasters. Co-founder Michael Phillips is a two-time U.S. Barista Champion (2009 and 2010) and also World Barista Champion (2010).
Insider's Tip: To taste with the experienced baristas, visit a public coffee-cupping session on Tuesdays at 3 pm.
PLAN YOUR TRIP: Visit Fodor's Los Angeles Guide
Courtesy of Coffee by Design
Coffee by Design
WHERE: Portland, Maine
With a staggering menu of coffee choices—categorized into sections like "Community Coffee" (a portion of each bag benefits a local charity) and "Single Origin Coffee" (beans bought from small coffee co-ops and estates)—Coffee by Design has something for every discerning caffeine addict. Test for yourself at one of their five locations in the Portland area, including the flagship cafe inside L.L. Bean's massive store in Freeport.
Insider's Tip:  Find funky latte art at the Congress Street cafe.
PLAN YOUR TRIP: Visit Fodor's Portland, Maine Guide
Courtesy of Parisi Artisan Coffee
Parisi Artisan Coffee
WHERE: Kansas City, Missouri
From within historic Union Station in Kansas City, Parisi Artisan Coffee brews delicious pourover-brewed java. Pair your drink with house-made seasonal syrups to amp up a latte. They also have another location in the Kansas City suburb of Leawood that has an evening coffee, cocktail, and dessert service.
Insider's Tip: Try a Cappuccino Tradizionale with European-specific proportions (in other words, not the milked-down American version of a cappuccino.)
PLAN YOUR TRIP: Visit Fodor's Kansas City Guide
Courtesy of John Curry/Buona Caffe
Buona Caffe Artisan Roasted Coffee
WHERE: Augusta, Georgia
Roasting coffee since 2010, Buona Caffe Artisan Roasting Coffee quickly became a locals' favorite. Its brand-new coffee bar brings the beans to the masses with coffee that is years in the making (co-owner John Curry turned his passion for home roasting into a small business). The beans come from far-flung coffee-growing regions including Hawaii, Rwanda, and Papua New Guinea.
Insider's Tip: Consider splurging on a bag of beans as $.50 from each bag sold goes to Children's Safe Drinking Water, a charity that makes sure kids around the world have access to purified water.
PLAN YOUR TRIP: Visit Fodor's Augusta, Georgia Guide