Xantana | Dreamstime.com
The birthplace of skiing offers travelers much more than slopes and chalets. From art to food to outdoor adventures, there's so much to enjoy when you visit this small country. Here's our advice on what to do when you're in Switzerland. —Jess Moss
Jess Moss
Take a Hike on the Zermatt Lake Trail
With thousands of miles of well-marked trails, Switzerland is a mecca for hikers of all abilities. Stroll in the shadow of the iconic Matterhorn on the Zermatt Lake Trail, take in the country's history on the Swiss Path along Lake Luzern, or spot native animals like the ibex or marmot hiking through Swiss National Park in Graubunden. Switzerland Tourism offers a free iphone app that details 32 of the country's routes. Tip: walking poles and sturdy hiking boots help prevent twisted ankles and knee injuries from uneven ground.
PLAN YOUR TRIP: Visit Fodor's Switzerland Guide
Alexander Chaikin / Shutterstock
Learn Some Languages
Switzerland packs a linguistic punch for a country its size. Travel between four distinct cultural regions without crossing a border and speak French in the west, Italian in the south, German in the northern and central parts of the country, and Romansh in Graubunden, in the east, where there's an enclave of the traditional language. Most Swiss speak English as well, but greeting people with the appropriate local term—bonjour, boungiorno, or gruezi (Swiss German)—will get you far.
PLAN YOUR TRIP: Visit Fodor's Switzerland Guide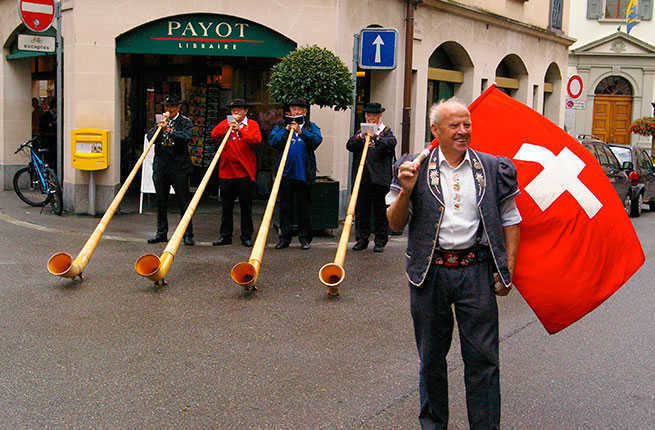 Jess Moss
Join a Local Festival Like the Marches Folkloriques
Visitors can easily experience local traditions and national pastimes. Every Saturday from mid-July through August, the Marches Folkloriques in Vevey features Swiss folk music, alphorn performances, crafts, and wine tastings. During the Foire de Martigny in Valais, check out Swiss wrestling, flag or stone hurling, or Hornussen (like golf and baseball in one). Or head to Appenzell on the last Sunday in April to watch the open-air elections in the town square.
PLAN YOUR TRIP: Visit Fodor's Switzerland Guide
Olgysha | Dreamstime.com
Retreat to the Quaint Villages of Chateau d'Oex, Wengen, Murren, and Others
If you want to slow down and unwind, ditch the city and head to one of Switzerland's smaller towns. Chateau d'Oex, a peaceful resort in the Lake Geneva region, is a great base for outdoor or hot air balloon enthusiasts. Wengen and Murren, two villages perched overlooking the Lauterbrunnen Valley offer access to the Bernese Oberland peaks without the crowds of Interlaken. And quiet Gandria, on the shore of Lake Lugano, has winding alleys and Italian flair.
PLAN YOUR TRIP: Visit Fodor's Switzerland Guide
Jess Moss
Get to Know the Cows in Gruyeres or Appenzell
Odds are when you travel to Switzerland, you'll have some sort of interaction with cows—from the production of cheese to hearing the clank of cowbells in the countryside. Get to know the cows on a hike or a dairy farm tour near Chateau D'Oex. Or join the seasonal processions in Gruyeres or Appenzell when cows are led to and from the hills to graze. In fall, Martigny's cow fights are popular events—cows lock horns but don't hurt one another.
PLAN YOUR TRIP: Visit Fodor's Switzerland Guide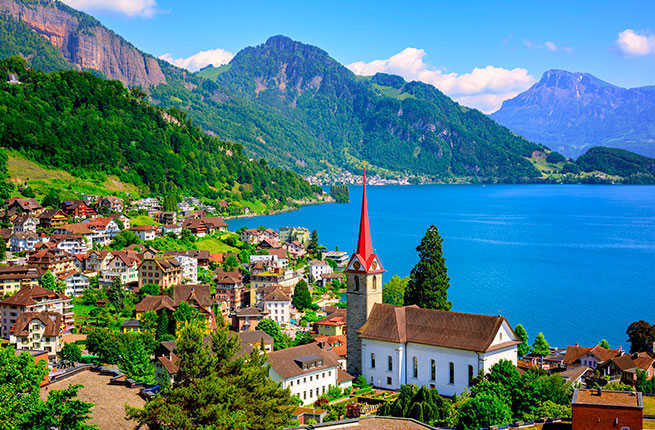 Xantana | Dreamstime.com
Take to Lake Geneva
Switzerland's mountains hog the spotlight, but the country's lakes are equally awe-inspiring. Glacial blue waters and shoreline vineyards create great photo ops, and locally sourced fish are a specialty on many menus. Cruise by the cascading Jet d'Eau and imposing Chateau de Chillon on Lake Geneva, ride a historic paddle steamer past the Rutli Meadow and Wilhelm Tell Chapel on Lake Luzern, or cross the border into Italy on Lake Lugano. City slickers in Zurich cool off with a dip in Lake Zurich, and bird watchers flock to Lac Neuchatel.
PLAN YOUR TRIP: Visit Fodor's Switzerland Guide
Katyenka | Dreamstime.com
Gorge on Cheese in Fribourg
Just because the Swiss only eat fondue in winter doesn't mean you can't indulge year-round. The best is in Fribourg, where Gruyere and Vacherin Fribourgeois cheeses are melted together with white wine, garlic, and kirsch (cherry brandy). Other cheese dishes to try include raclette and alpen magronen (alpine macaroni and cheese). But also be sure to sample local regional varieties such as Sbrinz in Central Switzerland, Emmental in Bern, or Bundner Bergkase in Graubunden.
PLAN YOUR TRIP: Visit Fodor's Switzerland Guide
Anaglic | Dreamstime.com
See Contemporary Art in Gruyeres or Basel
Home to some fantastic classical collections, Switzerland is also a top spot for cutting-edge contemporary art. Gruyeres, a medieval village best known for its cheese, is a surprising art hub—stroll around the chateau to see modern works inside a 13th century castle, or pop in the nearby Giger Museum and bar to see alien-like designs by H.R. Giger. In June, Basel hosts the glamorous Art Basel festival; check out the Kunsthalle and Carnival Fountain while you're here. For serious art buffs, a trip to the spectacular Beyeler Foundation, 20 minutes from Basel, is not to be missed.
PLAN YOUR TRIP: Visit Fodor's Switzerland Guide
Astra490 | Dreamstime.com
Sip Local Wines in Lake Geneva, Ticino or Valais
Whether it's white wine made from Chasselas grapes on the shores of Lake Geneva, Merlot from Ticino, or Pinot Noir from the Valais, take advantage of the chance to savor local labels. Most Swiss wine is not exported so it's hard to get outside of the country, but that doesn't mean the quality is lacking. In Vaud, take a walk through the protected Lavaux vineyards—the views of Lake Geneva from the steep terraces are breathtaking.
PLAN YOUR TRIP: Visit Fodor's Switzerland Guide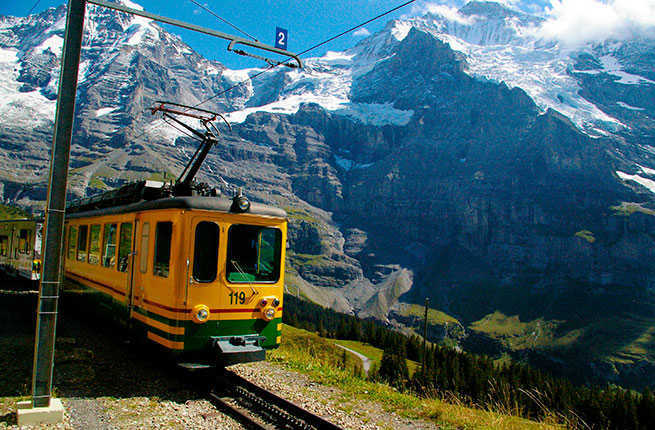 Jess Moss
Reach Great Heights at Piz Gloria
Vistas from Switzerland's summits are spectacular, and you don't need to be a climber to enjoy them. Cable cars, funiculars, and trains whisk you up thousands of feet to viewing stations and mountaintop restaurants. Visit a James Bond villain's lair at Piz Gloria, an eatery atop Mt. Schilthorn, breathe in the chilly air on the Sphinx Terrace on the Jungfraujoch, or ride the world's steepest cog railway to the top of Mt. Pilatus near Luzern.
PLAN YOUR TRIP: Visit Fodor's Switzerland Guide
Sapientisat | Dreamstime.com
Indulge in Chocolate at Nestle's Callier Factory
Once you try really good Swiss chocolate, it's hard to go back. This is where milk chocolate was invented (you can thank the cows for that), and chocolate-making is as much an art as it is a business. Satisfy your sweet tooth on a tour of Nestle's Callier factory, or pick up some tasty bites as gifts or souvenirs. Our favorite shops are Sprungli and Teuscher in Zurich, Martel in Geneva, and Poyet in Vevey.
PLAN YOUR TRIP: Visit Fodor's Switzerland Guide
Mlehmann78 | Dreamstime.com
Take a Scenic Train Ride Aboard the Glacier Express
With 46 railway companies, more than 5,000 km (3,100 mi) of track, and a transportation system that's rarely delayed, taking the train is the best way to get around Switzerland. Views from most trains will have you reaching for your camera, but for visually-stunning extras try one of the dedicated scenic routes, like the Glacier Express or Bernina Express, which often have panoramic windows and travel at slower speeds to let you soak in the sights.
PLAN YOUR TRIP: Visit Fodor's Switzerland Guide