Caravana | Dreamstime.com
No matter where you are in Portugal, you're never very far from a beach. Located on the Iberian Peninsula jutting out into the Atlantic Ocean, the picturesque country may be small compared with neighboring Spain, but it boasts more than 500 miles of coastline. Even inland, soft-sand beaches abound along rivers and at the edges of lagoons, where the calm waters attract swimmers, windsurfers, and families looking for placid paddling. Just a stone's throw from Lisbon, hidden bays are carved from rocky cliffs in the Serra da Arrabida, where the clear turquoise waters look more Caribbean than European. There are windswept beaches whose giant waves attract surfers from across the world; sheltered coves with calm, crystalline waters; and bays where dolphins can be spotted at play. Clean water and sand are pretty much guaranteed, too—this year the coveted Blue Flag is being hoisted on 314 Portuguese beaches—putting the country in the top five worldwide. And with so many beaches comes some of the best seafood on the planet—tuck into giant tiger prawns, locally harvested goose barnacles, or a simple plate of grilled sardines, and wash it down with a deliciously refreshing glass of vinho verde. Your taste buds will thank you.—Lucy Bryson
Katatonia82 | Dreamstime.com
Praiada Rainha
WHERE: Lisbon Coast
The buzzing capital city of Lisbon is blessed not only with a gloriously long, hot summer, but also with extremely close proximity to beautiful beaches. A train ride from Centro chugs along the coast, and the first strands appear just 10 minutes or so from the city center. Fine beaches can be found around the famous casino town of Estoril, but it's worth staying on until the end of the line at Cascais. Turreted mansions and striped lighthouses give this former fishing town something of a storybook feel, and there are more beaches than you can shake a spade at. The tiny Praia da Rainha (Queen's Beach) is a small cove whose beauty once captivated Portuguese royalty (hence the name), and its location just a stone's throw from the train station makes it a good place to start a sunbathing or beach-hopping session.
PLAN YOUR TRIP: Visit Fodor's Side Trips From Lisbon Guide
Sergeypeterman | Dreamstime.com
Peniche
WHERE: Estremadura
Drive just 40 minutes north of Lisbon and you'll start to see the famous surf beaches of Peniche, an otherwise unassuming seaside town surrounded by soft sandy strands with breaks that attract serious surfers from across the world. You don't need to be a water sports enthusiast to enjoy the natural beauty of these beaches; while there's no scope for swimming at the long, windswept strand of golden sands at Praia Azul, the gorgeous beach at Foz do Arelho has everyone covered. On one side are crashing Atlantic waves, on the other side, the calm waters of a saltwater lagoon. Kids can splash around here to their hearts' content, adults can enjoy a leisurely swim, and the water is reputed to have healing properties.
PLAN YOUR TRIP: Visit Fodor's Peniche Guide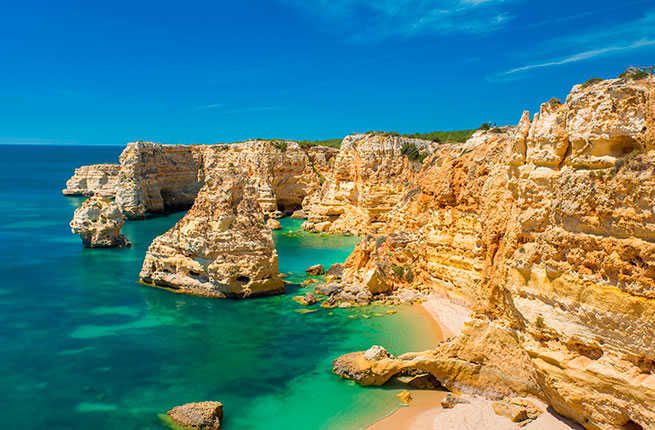 SimonDannhauer | Dreamstime.com
Praia da Marinha
WHERE: Algarve
The quintessential Portuguese paradise beach, this pocket-sized Algarve beach boasts clear waters that lap against curious rock formations that have formed coves and caves from orange limestone. The same brightly hued rock makes a dramatic backdrop to snorkeling and sunbathing in this idyllic spot and, although it's located in prime tourist territory in the middle of the Algarve coast, the relatively challenging descent means it's less visited than other beaches in the region and maintains a hidden treasure appeal.
PLAN YOUR TRIP: Visit Fodor's Algarve Guide
Trax08 | Dreamstime.com
Nazaré
WHERE: Silver Coast
Famed for its monster waves—surfer Garrett McNamara famously rode a record-breaking 78-footer here in 2011—the sands of Nazaré have plenty of appeal even to less adventurous visitors. The long, wide half-moon of sand is dotted with colorful beach tents during the summer, and a pretty chapel sits atop the cliffs that provide a suitably dramatic backdrop to the crashing waves. The record-breaking waves are the result of a natural phenomenon known as the Nazaré Canyon. The largest underwater canyon in Europe, it stretches around 105 miles along the coast and creates the perfect conditions for towering waves. The town itself is still heavily focused on fishing, and visitors can sit on the seawall to watch the local fishermen dragging in their heavily laden nets. Unsurprisingly, the seafood is excellent. Head here in summer for a buzzing beach vibe, or off season to have the beach virtually to yourself.
PLAN YOUR TRIP: Visit Fodor's Nazaré guide
Caravana | Dreamstime.com
Praia Zambujeira do Mar
WHERE: Alentejo
The small, picturesque Alentejo village of Zambujeira do Mar sits atop rugged, wind-beaten cliffs, down which trails lead to some seriously picturesque beaches. The vigorous breezes make it a popular spot with surfers and bodyboarders during the summer, but the sands are gloriously deserted off season. Simple family-run restaurants in the village serve delicious portions of fresh seafood along with excellent local wines, and hikers can take in dramatic views as they follow trails along the cliffs. In early August, a hugely popular music festival, Sudoeste, transforms the village from one-horse town to hotspot for music-loving youths.
PLAN YOUR TRIP: Visit Fodor's Portugal Guide
G0r3cki | Dreamstime.com
Troia Peninsula
WHERE: Setúbal
If the packed beaches of Cascais and Estoril don't appeal as a day trip from Lisbon, head south of the city to the colorful small city of Setúbal. Although less polished than its beautiful sister city, Setúbal is rich in handsome historic buildings and manicured gardens, and its bay is officially ranked among the most beautiful in the world (it's been a member of the Most Beautiful Bays in the World Club since 2002). The real treasures for beachgoers lie across the dolphin-filled waters, though, at the Troia Peninsula, where almost 11 miles of sandy beaches offer plenty of space and crowds are conspicuous by their absence. Visitors can take the regular ferry, jump aboard a dolphin-watching boat trip, or even take part in wine cruises that allow passengers to sample the region's famous vinhos, cheeses, seafood, and sweets as they take in the scenery. From here, visitors can head back to Lisbon or embark on a beach-hopping road trip along the Alentejo coast and down to the Algarve.
PLAN YOUR TRIP: Visit Fodor's Side Trips From Lisbon Guide
Membio | Dreamstime.com
Prainha Alvor
WHERE: Algarve
The name means "little beach," and although this little spit of sand is smaller than many of its neighboring Algarve strands, it's no less scenic. It's close to the much larger and busier Praia da Rocha, and shares the same dramatic rock formations and craggy coves and grottoes, all of which are ripe for exploring and photographing or just finding a moment away from the crowds. The green-blue waters lend themselves well to snorkeling, a popular activity here, and while it's pleasingly unspoiled, there are excellent fish restaurants in the town of Alvor itself.
PLAN YOUR TRIP: Visit Fodor's Algarve Guide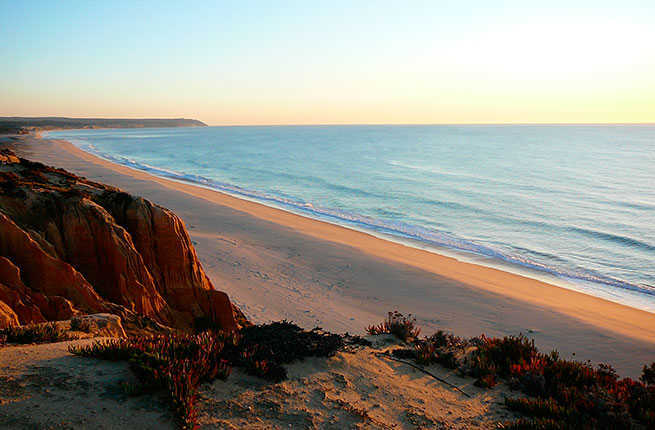 Lagoa de Albufeira
WHERE: Setubal District
Tricky public transport access means that few international visitors make it to this unique beach, but it's well worth taking a day trip here from either Setúbal or Lisbon, both of which are around a 35-minute drive away. On one side, the beach is part of the 18 miles of sand that makes up the western side of the Setúbal peninsula, while the other side faces a series of rivers and lagoons flanked by dunes and beaches. The calm waters attract windsurfers and swimmers, while floating platforms silently collect mollusks that are later harvested by local fishermen. Part of a national ecoreserve, it's also a top spot for birdwatching, and there are several viewing stations close to the beach.
PLAN YOUR TRIP: Visit Fodor's Portugal Guide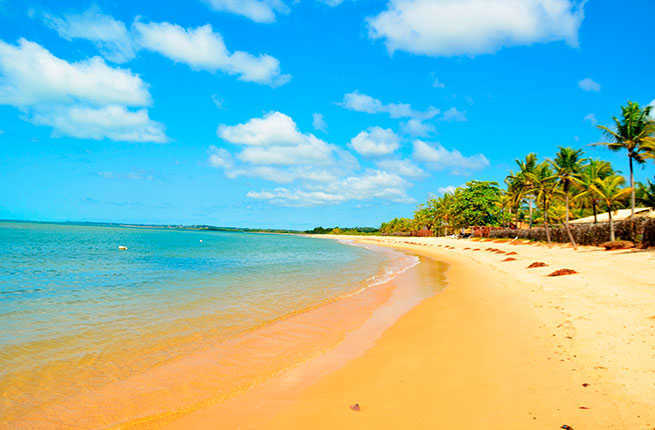 Praia da Costa de Santo André
WHERE: Alentejo
Another compelling reason for beach lovers to explore the Alentejo is that this beach offers choppy Atlantic waves on one side and the tranquil waters of the Santo André Lagoon on the other. Surrounded by sand dunes and in the middle of the Santo André and Sancha Nature Reserve, the beach is popular with birdwatchers and nature lovers as well as sun-seekers and water sports enthusiasts. The near-white sands stretch for miles, and a visit here is as idyllic an afternoon in Portugal as it's possible to imagine. The impressively biodiverse waters here offer rich foodie pickings, notably mollusks such as razor clams.
PLAN YOUR TRIP: Visit Fodor's Portugal Guide
Ze Caetano via Wikimedia Commons, [CC BY 2.0]
Portinha da Arrabida
WHERE: Serra da Arrabida
Located in the middle of the beautiful Arrabida National Park, where pine-covered mountains and rocky cliffs give way to pristine hidden beaches, Portinho da Arrabida is frequently cited among the most beautiful beaches in Portugal thanks to its clear, multi-hued waters and gorgeous setting. It's a relatively short drive from either Lisbon or the colorful port town of Setubal, and there are a handful of simple restaurants serving super-fresh seafood to hungry beachgoers. It throngs with families on the weekends, but weekdays offer plenty of elbow room, especially outside the July–August peak season. This is prime territory for adventure sports—the cold but clear waters lend themselves well to canoeing, swimming, and windsurfing, while hiking, cycling, and bridle paths lead through the hills. There's even a vast, whitewashed monastery hidden high in the tree-covered hills.
PLAN YOUR TRIP: Visit Fodor's Serra da Arrabida Guide
Praia da Miramar
WHERE: Porto
It may lack Lisbon's sunshine, but the scenic riverside city of Porto is currently enjoying a moment, pulling in hordes of visitors thanks to its impressive restaurants, lively nightlife, and packed cultural calendar as well as handsome architecture (and let's not forget the port wine). This being Portugal, a picture-worthy beach is not far away. Just 6 miles south of the city is the pretty seaside town of Miramar, where 17th-century chapel Capela do Senhora Pedra sits proudly amid the waves on a rocky headland that juts out from the sandy beach. Still pleasantly uncrowded, Praia de Miramar is good for swimming in the summer, while the wind whips up surfer-pleasing waves in the chilly winter.
PLAN YOUR TRIP: Visit Fodor's Porto and the North Guide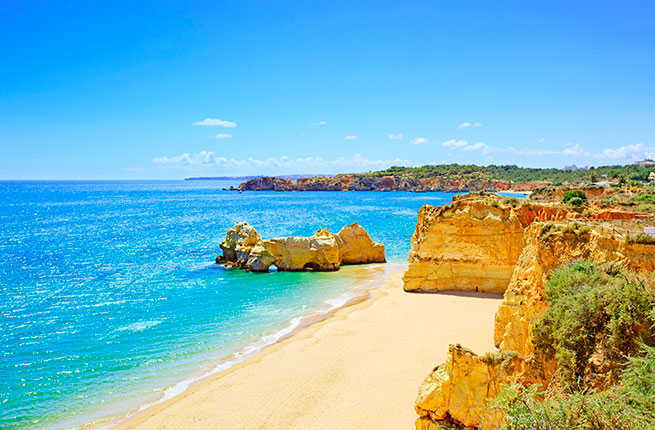 Stevanzz | Dreamstime.com
Praia da Rocha
WHERE: Algarve
Many Portuguese beaches are notable for the curious rock formations that form nooks and crannies among the sands, and the popular Praia da Rocha is a prime example. The name literally means "Beach of the Rocks," and visitors can explore caves and caverns and swim through natural arches carved from the craggy yellow stone. Although this is prime visitor territory—the sands are packed with families and groups, and there's a lively nightlife scene—the beach stretches for miles, ensuring there's always plenty of space to set up camp. With so many hidden spots among the rocks, it's easy to escape the crowds.
PLAN YOUR TRIP: Visit Fodor's Algarve Guide
Mrfotos | Dreamstime.com
Praia da Comporta
WHERE: Alentejo
Portugal's Alentejo coast is often overlooked by beachgoers in favor of the Algarve or the Lisbon coast, but this scenic, rural, culinarily rich region is home to some of the finest beaches in Europe. While some are difficult to access, others, such as the beautiful Praia da Comporta, are well equipped to cater for visitors. Here, snow-white sands are dotted with colorful sun loungers and straw-roofed beach huts selling cocktails as well as fresh seafood, and the clear, bright blue invites you to take a cooling dip. Although one of the busier beaches in the Alentejo, this is still quieter than the beaches of the Algarve, and there's plenty of elbow room even during the summer high season.
PLAN YOUR TRIP: Visit Fodor's Evora and the Alentejo Guide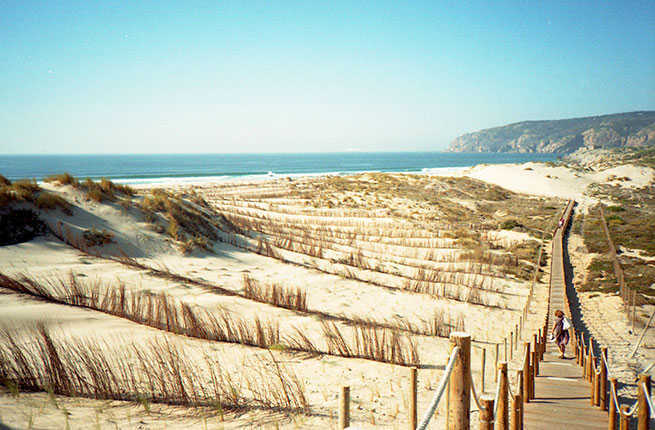 Praia do Guincho
WHERE: Lisbon Coast
Flanked by rocky cliffs and dotted with sand dunes, this gorgeous beach on the western side of Lisbon's coast is located within the Serra da Sintra national park, and draws serious surfistas from Lisbon and abroad thanks to the near-constant winds that whip the water into giant waves. Although it's just a short hop from Lisbon, it feels like a real escape from city life, and a plate of fresh seafood from one of the beach bars is the perfect way to refuel before heading back to the big smoke. If it looks oddly familiar, that may be because the beach appeared in the pre-titles sequence of the 1969 James Bond film On Her Majesty's Secret Service, and the area's protected status means little has changed since the scenes were recorded.
PLAN YOUR TRIP: Visit Fodor's Guincho Guide
Lucy Bryson
Praia do Ribeira do Cavalo
WHERE: Serra da Arrabida
This picture-perfect beach is renowned as one of the most beautiful in Portugal, but the steep cliffside scramble to reach it has defeated many a would-be beachgoer. From the pleasant seaside town of Sesimbra, 40 minutes from Lisbon, visitors need to abandon their cars midway up a steep road, and follow a less-than-obvious trail through gorse bushes before being rewarded with a view to die for: water in varying shades of blue, green, and turquoise washes gently against giant rocks, while the towering cliffs offer a sense of splendid isolation. During the summer high season, it is sometimes possible to hire a kayak and paddle here from Sesimbra, or jump aboard a fishing boat for a less strenuous way to make the short trip.
PLAN YOUR TRIP: Visit Fodor's Side Trips from Lisbon Guide