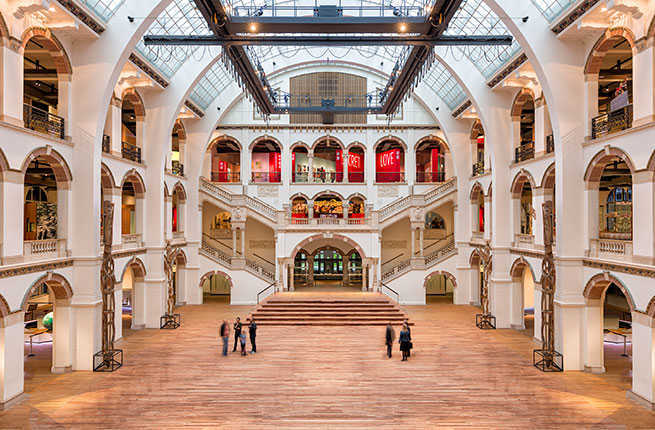 Rob van Esch, Courtesy of Tropenmuseum
Amsterdam has no shortage of important cultural institutions, from the Rijksmuseum with its Vermeers and Rembrandts to the Van Gogh Museum, filled with works by the celebrated Dutch artist. But the consequence of all that greatness is endless lines and crowded galleries. So when the queue to the Rembrandt House is too long, or you can't score a ticket to the Anne Frank House, don't despair—the city is home to 50-plus museums, many of which are little-known gems that showcase everything from contemporary Dutch photography to the purses of the rich and famous. We've rounded up a dozen of our favorites to check out the next time you're in town. Note: A great time to visit is during Amsterdam's Museumnacht, or Museum Night, which takes place the first Saturday in November, when more than 40 institutions across the city will stay open from 7 p.m. to 2 a.m.—Jennifer Ceaser
Ahavelaar | Dreamstime.com
It may seem incongruous to view contemporary photography in a Golden Age mansion that dates back to 1665, but somehow it works. In the 13 galleries of Huis Marseille—with rooms that feature glorious painted ceilings from the 17th century—you can view cutting-edge works by photographers from around the globe. Currently on view is Dutch photographer Scarlett Hooft Graafland's Shores Like You, which documents her travels to remote spots around the world (through December 4, 2016), and opening on December 10 is Chrystel Lebas's Regarding Nature, which reveals the change of seasons in the Scottish and English countryside.
PLAN YOUR TRIP: Visit Fodor's Amsterdam Guide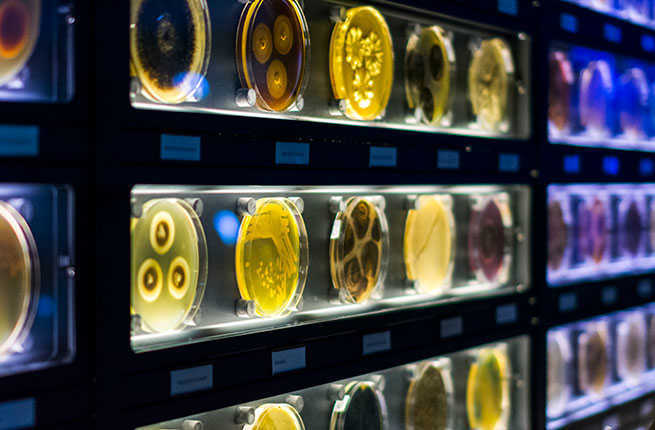 Ciotu Cosmin via Wikimedia Commons, [CC BY-SA 4.0]
Ever wondered how much bacteria live on your body? Or in a piece of cheese? Or what's lurking on the surface of your toothbrush? This interactive museum filled with living microbes lets you examine this invisible world in amazing detail, using joystick-operated microscopes to zero in on minuscule, strangely beautiful organisms as they flit around in petri dishes and big bubbling containers of water. You'll learn the difference between "good" and "bad" bacteria, and even discover how much bacteria is exchanged during a kiss at the Kiss-o-meter (you'll be shocked). Be sure to stamp your microbe "passport" as you go; at the end of the self-guided tour, your collection of stamps will be displayed on a massive video screen.
PLAN YOUR TRIP: Visit Fodor's Amsterdam Guide
Birute | Dreamstime.com
Behind the façade of this rather ordinary-looking canal house is a remarkable secret: a church in the attic. Built when it was prohibited for Catholics to hold mass publicly during the Protestant Reformation that began in the 16th century, it was one of many such "hidden churches" built in private homes across the city. Holding approximately 100 worshippers, the chapel features a beautiful altar flanked by religious statues and wood columns (painted to look like marble) and an enormous painting of the baptism of Christ over the pulpit. The church's soaring ceiling was created by cutting away a portion of the upper floors; the surrounding galleries—ingeniously supported by metal bars—were where the lower class gathered for services. In addition to the church, you can also see how a successful 17th-century Catholic merchant lived and worked, with living and dining areas, bedrooms, and even the kitchen remaining virtually intact. Be prepared for lots of steep, winding stairs as you navigate the museum.
Insider tip: Catholic mass continues to be held in the church, the first Sunday of each month, from October to May. You may attend 11 am services for free, but note that the mass is conducted entirely in Dutch.
PLAN YOUR TRIP: Visit Fodor's Amsterdam Guide
Jorge Royan via Wikimedia Commons, [CC BY-SA 3.0]
If you love cats—really love cats—then this is your museum. Dutch financier William Meijer established the Cat Cabinet in 1990 in his mansion on the prestigious Herengracht canal to celebrate the memory of his favorite feline, Tom. Throughout the years, Meijer collected all manner of artwork depicting cats—posters, paintings, photographs, lithographs, sculpture—and arranged it haphazardly on the first floor of this impressive 1667 home. Rembrandt, Pablo Picasso, and Henri de Toulouse-Lautrec are just a few of the notable artists whose works (of cats, naturally) are part of the collection. Fun fact: The house served as the set for the movie Ocean's 12.
PLAN YOUR TRIP: Visit Fodor's Amsterdam Guide
Jean-Christophe BENOIST via Wikimedia Commons, [CC BY-SA 3.0]
The centerpiece of this historic canal house is a magnificent marble entrance hall replete with a soaring staircase and ornate brass banister—offering a glimpse of how the Dutch elite once lived. The home dates from 1672 but is named for its last occupants, the venerable Van Loon family—descended from Willem van Loon, co-founder of the Dutch East India Company—who lived here from 1886 to 1960. The Van Loons restored and furnished the house as it would have looked in the 18th century, with decorative fabric paneling, chandeliers, and Neoclassical and Rococo furniture; rooms also feature portraits and possessions of the family. There's also a lovely formal garden where you can enjoy coffee and cake from the café. From October 16, 2016, to January 17, 2017, a sumptuous golden state coach that once transported the Van Loons through the streets of Amsterdam will be on view in the carriage house.
Insider tip: The museum regularly hosts live classical music and opera recitals throughout the year; check the website for details.
PLAN YOUR TRIP: Visit Fodor's Amsterdam Guide
One of two major museums in Amsterdam specializing in photography (and, occasionally, video art), Foam presents shows that veer from the splashy—a recent Helmut Newton retrospective—to the serious—Ai Weiwei's #SafePassage exhibit, which documents the current plight of refugees, runs through December 7, 2016. Also showcased is work by promising young artists, as well as seldom-seen archival photographs. On the top floor, you'll find limited-edition and signed prints for sale.
PLAN YOUR TRIP: Visit Fodor's Amsterdam Guide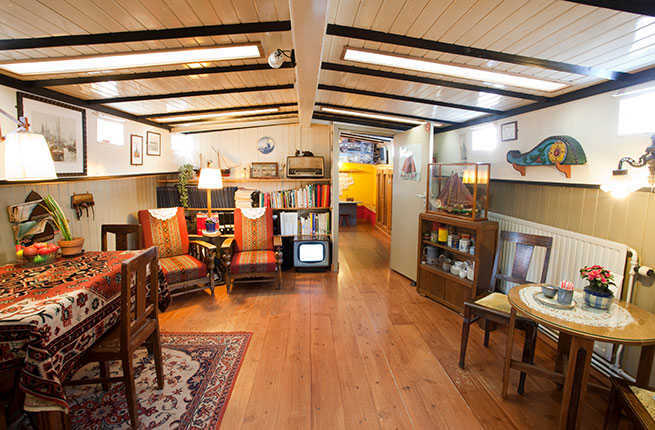 Houseboat Museum
Lining Amsterdam's waterways are its famous houseboats, but only one allows the public an opportunity to climb aboard and get a look at this unique way of living. Moored along the famed Prinsengracht canal, the Houseboat Museum started out in 1914 as a cargo ship, the Hendrika Maria, then served as an artist's studio in the 1960s before being converted into a houseboat in the 1980s. Its current owner, Vincent van Loon, renovated the ship and established it as a museum in 1997. A self-guided tour answers all the questions you might have concerning the practicalities of living on the water in a big city—for example, how the electricity and sewage function. And if you're inspired to own one yourself, there's even a board listing houseboats currently for sale.
PLAN YOUR TRIP: Visit Fodor's Amsterdam Guide
Tassenmuseum
A fashionista's dream, this vast collection of bags—the largest in the world, numbering more than 5,000—includes everything from leather "man purses" dating from the 16th century to Art Deco-era metal and chrome clutches to iconic contemporary handbags by top designers like Lulu Guinness and Karl Lagerfeld. Set in a grand 17th-century canal house and organized by time period, the museum reveals how bags changed over the centuries from practical leather pouches to hold money and writing implements to glittering fashion accessories for the modern woman. A special exhibition, Royal Bags, through February 26, 2017, features purses, trunks, and travel items belonging to European royalty, including one of Princess Grace's signature Hermès Kelly bags and a gold purse carried by the former queen of the Netherlands, Queen Juliana.
Insider tip: The museum café is renowned for its High Tea; reserve a table in one of its glorious period rooms to enjoy sweet and savory bites along with classic scones and clotted cream. Museum admission is required.
PLAN YOUR TRIP: Visit Fodor's Amsterdam Guide
Joeppoulssen | Dreamstime.com
Architect Michel de Klerk designed this fanciful orange-brick social housing block known as Het Schip, or The Ship, one of the most important buildings in the Amsterdam School of architecture. The hallmark of this early 20th-century movement—a mix of Expressionist, Art Nouveau, and Art Deco styles—was intricate, highly ornamental design both inside and out. The triangle-shaped complex, completed in 1919, once housed 102 apartments, a post office, and a nursery school; with a guided tour, you can visit portions of the interior—including the beautifully designed corner post office. A small museum offers a history of the Amsterdam School, along with furniture and decorative pieces created by major figures in the movement.
Insider tip: There's just one guided tour of Het Schip conducted in English, at 3 pm, and group size is limited. Arrive early and sign up at the desk; you can visit the museum or café beforehand.
PLAN YOUR TRIP: Visit Fodor's Amsterdam Guide
Rob van Esch, Courtesy of Tropenmuseum
Set in a stately brick building dating from 1926, this anthropological museum showcases artifacts and artwork from non-Western cultures, primarily Indonesia, Africa, India, and the Caribbean. While some of the permanent collection can feel a bit stale—particularly the wax figures and dioramas depicting the Dutch colonization of the East Indies—the temporary exhibitions offer a vibrant take on indigenous cultures and religions. The Buddha, on view through January 31, 2017, is an exhaustive and illuminating look at Buddhism throughout the world; the exhibition features relics, statues, paintings, videos, and more from India, China, Tibet, Thailand, Sri Lanka, and beyond.
PLAN YOUR TRIP: Visit Fodor's Amsterdam Guide
Courtesy of De Appel Arts Centre
Known for its cutting-edge exhibitions, this museum, set in an 18th-century canal house near the Red Light District, showcases experimental artists whose works often defy categorization. On view through November 6, 2016, is Unresolved, a mix of video, sculptural, and sound installations and wall text by the Dutch artist and filmmaker Gabriel Lester.
PLAN YOUR TRIP: Visit Fodor's Amsterdam Guide
Chajm Guski via Wikimedia Commons, [CC BY-SA 2.0]
In continuous use as a place of worship since it was built in 1675, this enormous, square-shaped synagogue still has no electricity—it's illuminated by natural light through windows and with candles during services (it can take about four hours to light them all for the High Holidays). Despite the name, the synagogue served both the Spanish and Portuguese Sephardic communities who fled Spain during the Inquisition. In the buildings surrounding the synagogue, you can view the mikvah, cantor's office, the intimate winter synagogue, and Ets Haim (Tree of Life), one of the world's oldest Jewish libraries.
Insider tip: Each month the synagogue presents live classical music— with hundreds of lighted candles as a backdrop—as part of its candlelight concert series. Check the synagogue's website under events for dates and ticket information.
PLAN YOUR TRIP: Visit Fodor's Amsterdam Guide